Vizio TV, established in 2002 is an American company that sells television sets and sound bars. The television sets, especially of this company, are in great trend. The company keeps adding new features to these television sets. Its great features attract the audience more.
Now, just like every coin has two sides, this television too, has pros and cons. Its users are all over Reddit and other sites asking for help while downloading updates. So if you are one of those users who want to rectify the downloading updates stuck, you are at the right place.
---
Why is Vizio TV Stuck on Downloading Updates?
Short Answer: Vizio TV update is stuck because of an internet issue or because there are minor bugs in the system.
Now to get most of your Vizio TV, you should keep the firmware updated. You must be thinking about what exactly firmware is. It is a software program or a set of rules that are accommodated in the device itself.
A firmware update can occur if a device is facing any problem or when new features are introduced. These are released systematically during the continuance of the device. Vizio TVs have the speciality of receiving these updates automatically.
If the device is connected to the internet, it will experience firmware updates automatically. You don't have to request any of these updates, just connect your television to the internet and it's done.
Now if your firmware is not updated you will face many problems which include freezing of your screen, downloading problems, and many more.
---
SEE ALSO: Fix Vizio TV keeps disconnecting from Wi-Fi
---
Fix: Vizio TV update problems (Vizio stuck on checking for updates)
You just need to follow these simple methods, and you will be good to go!
This method is the primary step to fix your Vizio TV stuck on updates. It will prevent the entrance of bugs of any sort. Bugs are pretty common in devices that are connected to the internet.
Note: As per Vizio, you can power cycle your TV even if there are instructions on your TV screen that you should not (if TV is stuck on Downloading update screen for more than 10 minutes)
Step 1: Turn off your TV set
First, turn off your Vizio TV set using the remote. Now unplug the power cable from the main power supply. Make sure it is totally disconnected.
Step 2: Wait for 3–5 minutes
Have patience and wait for a few minutes without disturbing the television set. This will help it refresh properly.
Plug the power cable from the main supply. On the switch so that the TV is connected to the main supply outlet. And now just leave it untroubled.
Step 4: Wait for 10 minutes
This will be your last test of patience. Leave it undisturbed for 10 minutes now. This step is important because your television needs time to initialize completely.
Step 5: Connect your TV to the internet
This is the final step and you are done. You can now start the update accordingly again without any problem.
---
Method 2: Check your internet connection
Updating your Television set requires a stable connection. You might be facing an issue because of your internet's poor connection.
Sometimes, your Vizio TV could have issues detecting the network. Well, if you are facing the same issue, we will suggest you check our dedicated guide on – How to fix Vizio TV 'No Network Detected'.
Well, if you do not see any error messages, you can try a few troubleshooting methods on your own. This will get you an idea of whether the internet connection to the television is working or not. So now let's get started with the troubleshooting process.
Ensure that the power cable of your TV is connected to the main switch. Press the power button on your remote and turn the TV on.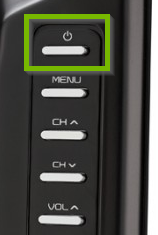 Step 2: Press the menu on your remote
A dialog box will appear showing many options.
The moment you press ok, many options related to your network will be displayed.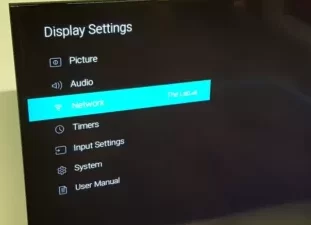 Step 4: Go to Check connection
In the 'Network' section, you will have to find and select the 'Check Connection' option.
As soon as you press OK, your device will start troubleshooting and display the results in a few minutes.
Also, try:
Use a Wired connection
Reboot your Wi-Fi Router
Try updating your mobile data
---
SEE ALSO: [Fix] Vizio TV lagging, Freezing, Buffering, & Crashing issues
---
Method 3: Checking your firmware manually
Keeping your TV set's firmware updated is important for its smooth functioning. As long as the TV is connected to the internet, it updates automatically. But if that's not the case with your Vizio TV set, don't worry we got you covered!
 Step 1: Turn on your TV set
Power on your television set. Make sure the main cable is connected to the main power outlet. We suggest our users check the power cables connection before starting the procedure to avoid common problems like black screen and blue tint, and even the issue where the TV sticks on the logo screen.
Step 2: Check your internet connection
Make sure you have a strong internet connection connected to your television. The speed of your update will depend on your internet connection. Stronger the internet connection, the faster will be your update.
Connect your internet to another device and check if It's working or not. If not, then troubleshoot it before performing the steps given below.
Step 3: Press menu on your remote
Select the menu button on your Vizio remote. The menu box will appear on the extreme left of your screen.
Step 4: Select Admin and privacy/ System
If you have an older model you will find System instead of Admin and privacy in the menu. Navigate your cursor down and select accordingly. A different box will now appear.
Step 5: Click on check for updates
A small dialog box asking for updates permission will appear on your screen as soon as you select the above option.
The moment you click on Yes, your update will start automatically provided your internet connection is working fine. A progress bar is also shown on your screen. Leave your TV undisturbed and wait for it to complete all updates smoothly.
Note :- Your set will restart automatically after every update. It may happen multiple times. Usually, after the second restart, the TV is updated and is ready for you to use.
---
Method 4: Factory reset your Vizio TV
Well, you might have solved the issue using the methods discussed above, but if you are still facing the same issue, you can try resetting your TV to the factory settings.
This procedure solves most of the problems but also deletes data like registered internet connections – Wi-Fi passwords, Picture settings, and all. Well, if you use your TV for gaming, you might have to check the Best Vizio TV settings for Gaming.
And if you are ready to factory-reset your TV, follow the steps mentioned below –
Step 1 – Press and hold the 'Volume Down' and 'Input' buttons present on the back side of your Vizio TV.
Step 2 – Release both buttons after 10 seconds.
Step 3 – Press and hold the 'Input' button on the back of the TV for another 10 seconds.
Step 4 – Wait for the TV to restart.
If you do not have access to the remote of your Vizio TV, we will suggest you check our dedicated guide on how to Reset Vizio TV without Remote.
---
Method 5: Contact Vizio Support
If you have tried everything mentioned above and still your Vizio TV is stuck on the downloading update screen, the next thing you can do is contact Vizio TV Support.
Vizio support contact details and hours of operations:
Chat & SMS: Monday-Friday  8am-8pm CST, Saturday-Sunday 8am-6pm CST

For SMS support text 205-301-3729
For Chat Click Here

Phone: Monday-Friday  8am- 11pm CST, Saturday- Sunday 8am- 8pm CST

For phone support dial (844) 254-8087
---
Method 6: You can Skip the update
If your TV was running fine, you don't need to update the firmware if you are having issues with it.
Sometimes there might be an issue with the update, so you can skip this time and update directly to the next version of the firmware.
So, keep an eye on when the next update releases. You can check the latest firmware update list here.
---
FAQs
Q1. How do I stop my Vizio TV from checking for updates?
Answer: If your TV set in the middle of the streaming starts checking for updates, then there are two ways to rectify it depending on your internet connection. If your device is connected to a Wi-Fi network,  then follow these three easy ways.
First of all, go to the menu. Press the menu button on your remote. Now navigate the cursor on your screen to network. Now select WPS (Wi-Fi Protected Setup). Then click on cancel. This will disconnect your internet connection from your TV.
Wait for a few minutes and then enter the password and connect your set to the internet.
Q2. Vizio TV won't update firmware – Reasons
Answer: There can be multiple reasons why Vizio TV won't update firmware. Check your internet connection on a priority basis. Your update might be stuck due to a slow internet connection. If your TV still is stuck then check the above article to fix the issue.
Q3. How long does Vizio SmartCast update take?
Answer: The update usually takes a few minutes, depending on your internet speed. It will take longer if more updates are piled up. You can also track the progress of the update from the progress bar.
Hope this article helped you solve your Vizio Smart TV problem.
---
Further Reading:
Vizio TV Best Picture settings for Gaming
Best Audio Settings for Vizio TV 
Fix Vizio TV keeps switching to Smartcast 
How to check Vizio TV Model number: Vizio TV serial number lookup