Shuffling playlists, albums, or artist profiles on Spotify helps you mix up what to play next without messing up your head & mood. But Why does Spotify play the same songs on shuffle?
As we all are familiar with the fact that Spotify is a platform that bestows free Access to Your Favorite Artists' Songs, podcasts, and Albums with just a click.
It has so many features that help you listen to songs without any interruption. Aside from the standard features, like creating customized playlists (wherein you can add as many tracks as you want), and repeating the song, users can shuffle their playlists too. 
Shuffling playlists is a great way to switch your listening or when you just don't want to follow the same playlist of long duration. In other words, you can turn on the shuffle feature on Spotify and randomize the order of the songs in your playlist or album. 
---
Why does Spotify play the same songs on shuffle
Answer in Nutshell: Spotify plays the same songs on Shuffle because the option to repeat the playlist is enabled, Spotify considers a specific playlist as Taste Profile, or you haven't provided the required command to your
Reason 1: Hitting The Like Button
Adding songs to playlists appears to be treated by Spotify similarly to the way a Like is treated, giving you the best of both worlds: properly curated playlists and well-trained algorithms. Hence, creating the problem.
---
Reason 2: Not Specific With Alexa/ Home Mini/ HomePod
If you have enabled Alexa or Google Home devices to shuffle a playlist, you have to be precise with the virtual assistant technology you use. By default, the speaker starts with the first song added to the playlist and works its way through in chronological order.
---
Reason 3: Playlist Requires Re-Ordering
Spotify organizes playlists chronologically, beginning with the songs you added first. Nevertheless, if you take the time to make a playlist of songs you like you'll end up playing the same songs again and again. You should reverse the order to find the new stuff.
I know now y'all must be like "Knowing the root cause isn't any help tell us the solutions to fix it, duh!" So, we'll quickly get started without eating much of your time.
---
How to Fix Spotify playing the same songs on shuffle? 
Method 1: Avoid adding songs to Liked list
If you keep hitting Like on your favorite songs, Spotify will adjust its algorithms to suit your tastes, but later it was found that it resulted in too much of a good thing. I'd rather suggest you stick to building playlists of your favorite tracks.
If you added a song to your Liked list, you will see the green tick option on the right side of the name of the track. The good thing is, it can be disabled easily. Follow the steps below –
Step 1: Open the song player
Step 2: Tap on the green check icon on the right side of the track name. Check the provided screenshot below.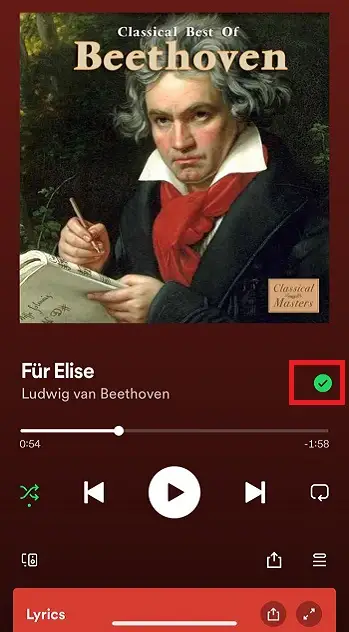 Step 3: Now, uncheck the box next to Liked Songs and select Done to continue.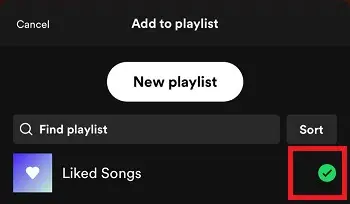 ---
Method 2: Be Specific To Alexa
To properly shuffle your playlist, you got to say:
"Device you're using (Alexa/Ok Google), shuffle my Spotify playlist."
It's important to stick with the above-mentioned phrase and nothing else. Otherwise, the speaker [Alexa/OkGoogle] might confuse a generic playlist of the same name with the one you've curated in your own library.
---
Method 3: Reverse The Playlist's Order
To re-order a playlist on mobile:
Click on the playlist > press the three-dots menu button > select Sort playlist.
Now choose Recently added from the dropdown menu.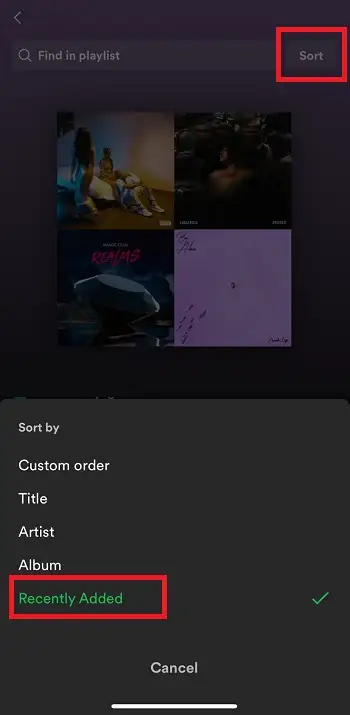 Desktop users can:
Click the little calendar icon at the top of the playlist to put the songs in reversing order.
---
Method 4: Exclude from your taste profile option in Spotify
If you are being recommended songs from a specific profile, it is because Spotify considers them to be your profile taste. But, the good thing is, you can exclude a playlist from your taste profile easily. Follow the steps provided below –
Step 1: Go to Your Library and select the playlist.
Step 2: Select the more options or the three-dot icon
Step 3: Finally, select the 'Exclude from your taste profile' option

---
Method 5: Disable the Repeat play option
Try playing the playlist with both shuffle and repeat options (only once, so no option to repeat the same track) simultaneously, as depicted below.

Now, you should be able to play the playlist without repetitions. As it will resume from the first song (chosen randomly at the beginning) and repeat the shuffle mix after playing all the tracks – Reference Spotify Community.
---
Method 6: Restart your Spotify App
Log out of the Spotify app by heading to Your Library and then your Settings.
Restart Spotify > Clear all the background apps > Log in back.
Now play a playlist of yours and check whether Spotify Shuffle is shuffling your music or not.
---
Method 7:
Update The App
Spotify could have already updated its Shuffle play algorithm, that's why your Shuffle play is not random. You will never know since you are using an older version of Spotify and when it still plays that same song on repeat.
Simply navigate to Play/App store > search for Spotify > Update it (it won't take much of your time). 
You can also try reinstalling the app if nothing works. Make sure to restart your device after reinstalling the app.
---
Method 8:
Use Spotify Shuffler 
As it's totally free you can opt for this option as an instant solution.
Spotify Shuffler is a completely free & safe third-party application that helps shuffle all your music for you much better as compared to Spotify.
Navigate to spotifyshuffler.com.
Sign in for free & enjoy without facing Spotify playing the same songs on shuffle.

---
Final Words
I hope this article assists you to get out of an issue like Why does Spotify play the same songs on shuffle? Please make sure you go through each step. Follow them thoroughly for instant effect. 
As this article has all the major causes & effective solutions for the issue. I'd consider you to share it with your near & dear ones if you think they are in need.
I hope you find it insightful! Thank You!
---
Further Reading:
[3 Ways to Fix] Why does Spotify add songs to my playlist
[Fixed] Why does my Spotify keep pausing at 9 seconds
[4 ways to Fix] Why are some Spotify songs blocked?
How to fix Spotify radio not working?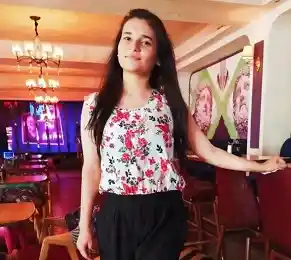 Sakshi is a Terpsichorean (dancing all her stress out), she always had a keen interest in writing creative content since her school days. Basically, balance & short-term goals are something she looks forward to. She's a big time foodie yet a fitness freak pursuing this job to fulfill her day-to-day needs.