Instagram, as we all know is a fantastic app when it comes to interaction via media. There are just so many options and methods to use with media that we would never be bored of it. One of them is Reels, but unfortunately, a problem we face with it is Reels getting no views after we post them.
Ever since the Reels were introduced to Instagram it has gained a lot of popularity. Most videos people post are in Reels for views. Disappointment is evident when we don't happen to get views on our Reels.
If your Instagram reels are stuck at zero views, you have landed on the right page. Here, we have discussed some tips and tricks that will help you to gain views on your reels on Instagram.
So, let's get started
---
Why are my Reels not getting Views
Your Reels are not getting Views because –
The account is shadow-banned
Your content is not creative
You are not creating trendy topics
You are not using trendy meta tags
You are not using trendy music/ Reel sound
Your content is duplicate or just a reupload
Your account is very new
You are not working on a narrow niche
You are not consistent in creating content
Viewers reported your account
Your content violates community guidelines
Now that you know the reasons, let us see some of the methods to fix the issue as well as some tricks to get more views on Reels.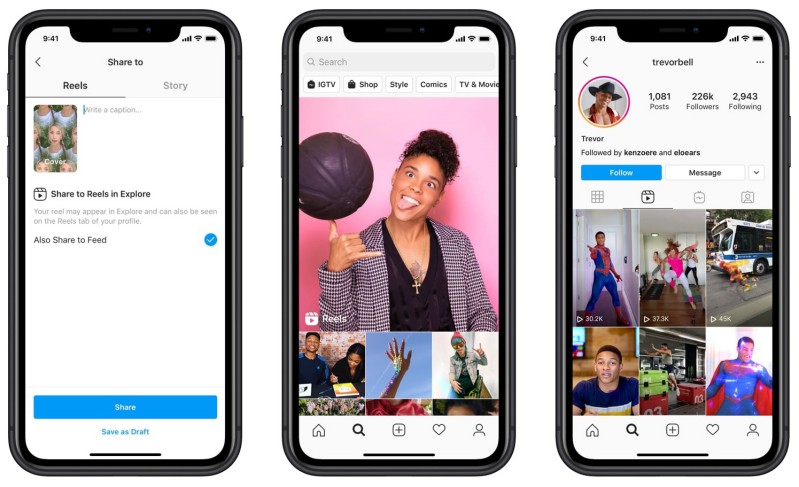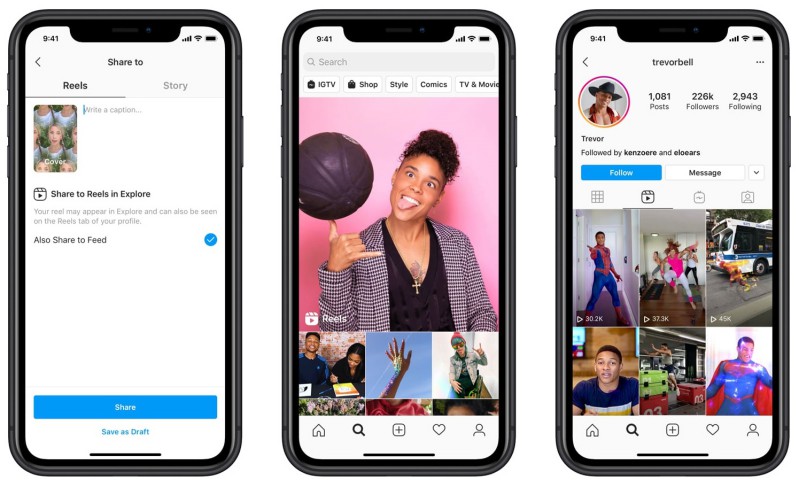 ---
ALSO SEE: How to save other people's photos from Instagram
---
Fix: Reels not getting views
So you have made an interesting video. You also know how to watch them. Maybe you even posted it but it garnered a very less amount of views. And it feels bad because we all post things with lots of positivity. Do not worry, there is a lot we can do to improve the views. And I promise this does not involve those fishy apps which promise free followers, views, and likes.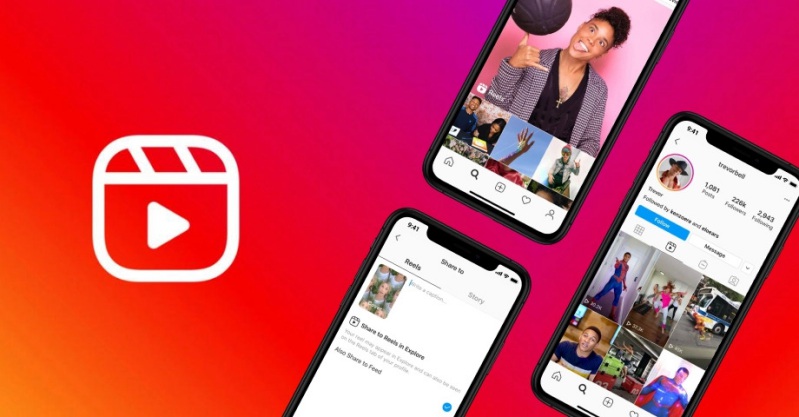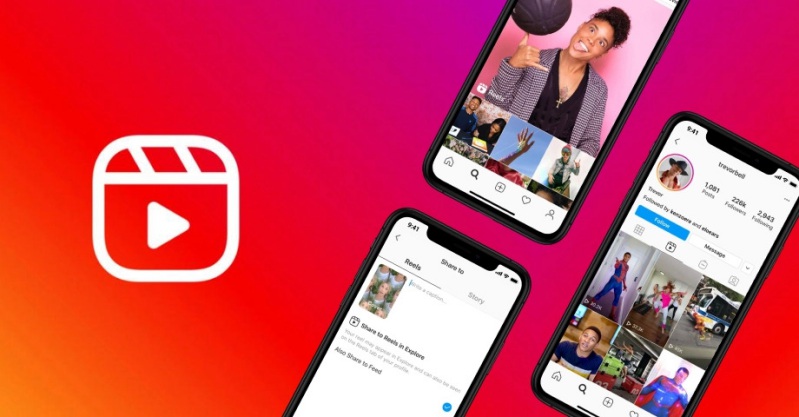 1. Check if Account is Shadowbanned
Instagram has billion of users and millions of creators. With a gigantic user base on board, Instagram is very strict when it comes to the content which is being posted on their platform. Accounts that produce content that can be categorized as copied, harmful, and also violates community guidelines, are restricted by Instagram.
Accounts are not always blocked for violating guidelines, Instagram simply restricts their visibility. And the creator calls this restriction – 'Shadowban.' If you are not posting Reels that are considered suitable by Instagram, you are probably shadowbanned.
You can easily check if your account has been restricted.
Open the Instagram app and go to 'Settings.' There select 'Account' and then go to 'Account Status'. Here, if your account is working fine you will see – 'You haven't posted anything that is affecting your Account Status' on the screen. That's good news!
But, if you have been restricted, you might have to consider tweaking content topics and strategies.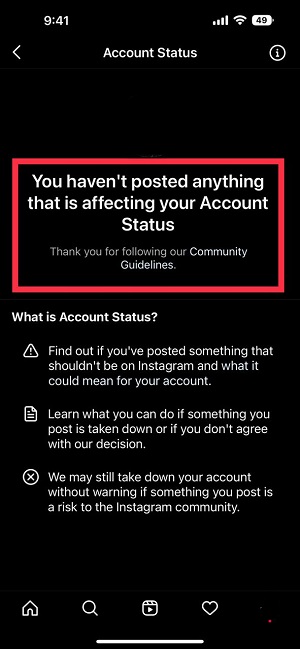 ---
2. Add trendy audio/ music:
The easiest way to get more views on your Reels is to create content around the music that is trending in your region or globally. You just need to ride the wave.
Content created with the trending music are promoted by Instagram on feed. Moreover, people search for the content created using that music/ audio as well. This might help you get some more impressions.

---
3. Use Appropriate Hashtags:
We all know how important hashtags are, and this is the first trick you need to master. Knowing which hashtags to use in your video determines who would receive your content. And that affects your views. Always use appropriate hashtags.
Never use other hashtags just because they are more popular. It would lead to uninterested viewers. Sometimes users reported that Instagram shadowbanned their Reels because they overused hashtags.
So, you must use only appropriate and limited hashtags.
---
4. Avoid using inappropriate and abusive words
Instagram algorithm affects the reach of a Reel if it detects the use of inappropriate and abusive words on Reels. The word can be detected from captions and text added as subtitles. Best way to avoid the negative effect is stop using any problematic word.
Words like – De.ath and Ki.ll may cause the problem. Avoid their usage if possible. And if it is required, you can use tags in the words.
Instead of wrtting – 'Mυrder', you can write – 'Mu#der'.
---
5. Use Trending Hashtags and Content:
The second thing to note is to keep an eye on which hashtags are trending. If possible try to use them, but only if the video relates! The goal here is to create the video in a way it covers those hashtags in some way. You can also focus on what content is trending. People tend to watch more content related to it.
Stay tuned for the latest games, new songs, and popular memes. Including any of these would help gain lots of views.
Instagram can help you in finding trending hashtags as well. While writing the caption for your Reel, put a hashtag (#) and the first letter of the topic you made the Reel about. For instance, here we tried searching hashtags related to photography, so we put '#p' in the caption.
And as you can see, Instagram shows the list of hashtags that are being used on Instagram. But, again, use the related hashtags only.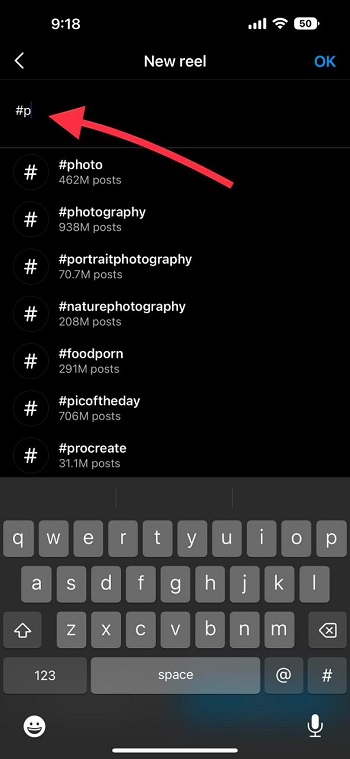 ---
6. Digital Trend:
Even the name of hashtags changes with time a place. If you want to make a Reel on a song, put #SongReels as a hashtag if it works better than just #Song. Things always change when it comes to digital media and you would need to check out which one gathers you more audience.
---
7. Curious Covers:
Always use covers or thumbnails which generate curiosity. If you have seen a movie thumbnail you know how they manage to show relevant info without revealing any plots. Use the same method to showcase important things but without revealing the content. There are a lot of ways you can make good covers.
Apps like Canva are available on a wide variety of OS and are very useful.
---
MUST READ: How to get moving images on Reels (Instagram)
---
8. Great Captions:
Good captions serve two functions. One is to generate curiosity of the user and excite them about the content. The second is to be a good way for getting found out through a search. A caption that is quite good but too complex would be ineffective, as viewers are less likely to search for something that long and specific. Keep captions short, easy to search, and creative.
---
9. Post timings:
In most cases, the majority of your viewers would be from your time zone or country. That is if you're not a global-level celebrity in which case the scenario is different. This is why it is important to time your posts. For instance, if you post at 4 in the morning, it would get lost in the Reels timeline before people can even see it.
To be honest, even global celebrities take care of this too, even though they have viewers all around the world. Their method is just a tad bit more complex than we are discussing right now.
---
10. Stories for Success:
Whenever you get views in a large amount say, 3k views, make sure to post it on your story. Milestones like these would show your followers that you have been posting quality content. In return, they would be more interested in watching your Reels.
You can also make use of advertisements if you have some money to spend. These would help you get more views but remember to be precise and go for a targeted group of viewers. Targetting all kinds of audiences would lead to fewer views as the content would seem less specific.
---
SEE ALSO: Top 10 Best Filters for Reels (Instagram)
---
11. Use text on Reels:
Different types of creators are using Reels to educate their followers on Instagram using a variety of content. Reels isn't all about those funny short videos. Creators these days even share content on personal finance, health, and more.
If you are also on Instagram to educate your followers and influence them, you should try this method. A lot of users will be checking Reels at their work or school in intervals and probably without turning the volume on. And if your Reel doesn't speak to them without any sound or music, you will definitely lose their attention.
The best way of making a Reel relevant to all types of users is to include text or subtitles to your Reel. While browsing through the Reels feed, if users see your video as relevant info, they might stay to watch the full Reel and share it with others.
We have a dedicated guide on 10 Methods to Add Text on Reels – LINK
---
12. Select a specific niche:
If you are not getting views on your Reels, it could be possibly because you are not making videos on a specific niche or around a specific topic.
Most of the time, creators find it hard to select a specific topic to make videos on. So, before anything else, select your goal and topic. If you are making educational videos on health, and personal finance, you must not change them from any other unrelated topic. However, you can experiment with other mico-niches anytime.
Switching topics in between you will make it hard for the Instagram algorithm to suggest your videos to users interested in a specific topic.
Make it easy for Instagram to understand your content and niche. And we are pretty sure you will start receiving views very soon.
---
13. Be adaptive and unique:
As mentioned previously, Instagram is all about trends and hashtags. You can easily grab attention if you follow a trend. But does that mean you should make content like everyone is making? The answer is No.
You might not get much value for content if you end up creating the same content. But, if you can adapt the trend smartly, you will get more views and possibly a new follower wave.
You have to adapt to the trend by sticking to your content by following the trend. There are a few more tricks and suggestions you must follow. Check them out in the next part.
---
14. Share on social feeds:
If you are a new Instagram Reel creator, it might take a few weeks, if not months, to get the attention of your potential followers. The story can be different if you are lucky and talented enough to break the internet with your content. But, that's not always the case.
You cannot always rely on luck to get views on your Reels. And the best way to give your Reels a boost is by sharing them on social media platforms.
If you have been active on other social media platforms and have a great following, you can share your Reels to get that required boost. Select the Share option from More options (three-dot icon) and paste the link to share your Reels.
To get the most out of the sharing campaign, do not forget to put relevant hashtags.
---
15. Be consistent:
This would be the most common suggestion that everyone will give you. But, do you understand the actual meaning of being consistent? Well, let us tell you.
The actual solution to Reels not getting views is consistency. Never publish multiple Reels in a single day, but plan them for each day. If you cannot post Reels on consecutive days, post them consistent intervals.
If you are to publish three Reels a week, the best way is to post one Reel in two days, rather than posting all three Reels in a single day. Apply this trick along with the previously discussed 'Post Timings' trick.
---
16. Have Patience:
I know this is not a trick you would consider to be helpful but good things come to those who wait.
There is a lot of competition on Reels. You would need time to establish your image and then to let people know the constant quality of the Reels you deliver. It would be very fruitful for you in the long run.
---
17. Create a New Account
We have tried our best and included all the possible ways to fix the 'No Views' issue on Instagram Reels. But, if you are still having the same issue and even after waiting for a long time you are not observing any improvements, we will suggest you create a new account.
There is a possibility that your previous account has been flagged by Instagram for multiple violations. That's why you are seeing any progress. Try creating content with a new account. Refer to Instagram community guidelines before you start posting.
---
How to create & watch Reels video
Before we talk about how to increase views on Reels videos, we need to know how to create and watch Reels. Both the process of creating and watching Reels is quite easy as you would see.
To create an Instagram Reel you would need to head to your Profile page. From there select the square icon with a + on it. Instagram would ask you what you would like to create. Posts, Stories, Reels, etc are some of the few options.
Click on Reel and you would be taken to the Reels screen. There you can record a video normally. Afterward, you can add texts, stickers, or various other things. You can find the options for these on the side toolbar on the same screen. So this is how you make a Reels video.
Watching Reels is even easier. All you need to do is click on the video Reel icon in the middle of the toolbar Instagram has on the bottom. If you feel like watching a specific video then search it by name or hashtags. Most popular videos are generally featured first if you do not search for anything.
---
Conclusion
In this article, we discussed many ways to get views on Instagram Reels. Hopefully, you found this article helpful. If you want to check more reel-related content, don't forget to click here!
---
Further Reading:
10 Methods to add text on Reels (Instagram)
How to get moving images on Reels (Instagram)
20 apps to tell you who views your Instagram
How to tag friends in Reels (Instagram)
How to delete Reels draft on Instagram
Fix: Instagram Reels bad quality after Upload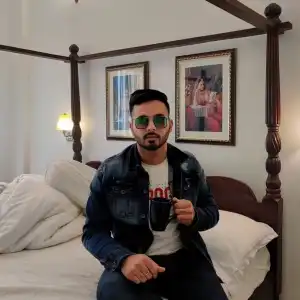 Ankit is an engineer by profession and blogger by passion. He is passionate to do all the stuff such as desiging the website, doing the SEO, researching for the content, writing tech blog posts and more.