Instagram Reels is the strongest Tik Tok alternative with a large user base. Also, the reason is quite obvious. Instagram itself has billions of downloads and millions of active users. So, they smartly integrated Reels into the core app itself. In this way, they have all the users of Instagram into the Reels as well.
On the contrary, some of the other apps need to promote their apps and gain such a user base. Well, in my view, it is not gonna happen anytime soon. Anyways, you got the overall idea. So, if you want to watch or create any Reel video, you can do it in the Instagram app itself. Also, recently, Instagram has replaced the search bar or explore tab with Reels option. This is definitely a move in the direction to promote Reels and other features.
To sum up, they have made some changes to integrate Reels into Instagram. Now, the thing is that for any changes made there are basically two types of people. One who liked it while the other is who did not like much or rather dislike it. If you fall under the first category, then no issues. You can straight away leave this page and go back to Instagram. But for the other section, here are two methods with which you can hide reels on your account. So, let's begin.
---
How to hide Instagram Reels on Android or iOS:
Method 1: (Download Older Instagram version)
First, let us address the elephant in the room. Instagram officially does not let you disable or remove the Reels from the feed. In fact, they want their users to watch and make Reels. This is the way to promote any new feature or addition in the app. So, Instagram is trying out the same thing with Reels. Thus, these methods are mentioned with the above point in mind.
In case you do not know, Reels was first introduced on 5th August last year. So, this first method revolves around this date. Just click on this link and download the APK file. This APK file is the older version of Instagram in which you will not be able to see the Reels option.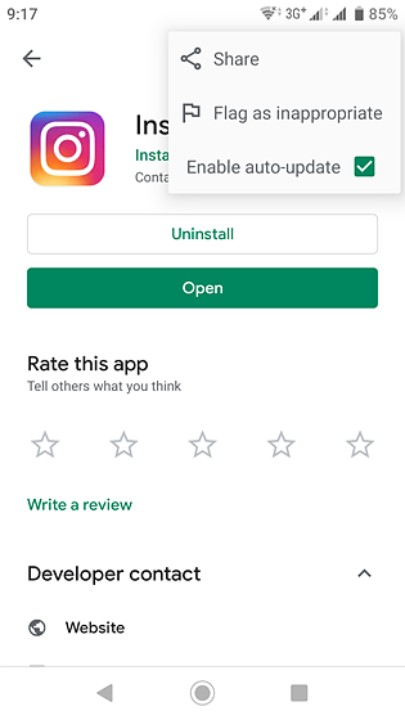 Along with this, you need to turn OFF the toggle of Auto-update on Google Play Store. Open the Play Store app, search for Instagram, click on the relevant result, navigate to the three dots menu, and turn OFF the toggle. Unfortunately, this method will not work for iOS users as APK is not compatible with the Apple ecosystem.
Method 2: (use Instagram via Mobile Browser)
This next method is more like an alternative way of using Instagram rather than an individual method. The only thing is to uninstall the Instagram app and open the mobile browser. Any browser such as Google Chrome, Safari, Edge, Opera, will work. In the browser, search for Instagram and start using the web version. In this way, neither you will see Reels nor any other privacy concerns. Also, your usage will drastically reduce.
---
Conclusion: 
Although these methods are not the complete and proper solutions, but they should work. This is because there are no other ways to disable or hide Reels. Alongside, we can expect that Instagram comes up with an update in which you can disable them. Till that arrives, you can share this article with your friends who also want to get rid of Reels.