Stremio, if not the best, is one of the best apps available in the market through which you can stream the latest movies, shows, etc. for free. Now, the term free is free from any sort of terms and conditions. In other words, you get no ads, recommendations, sponsored content, banners, etc. Also, there is no dedicated space for paid users. It implies that all users are treated in the same way.  Not just free, Stremio is also completely legal.
Now, Stremio does not host any of the media content. Rather it provides you with the redirective links and these vary from one title to another. Once you search for the movie or show you want to watch, Stremio displays the list of available servers. From this list, you can choose and watch your show on your respective device. Talking about devices, you can use this app on Android, iOS, Windows, Mac, TV boxes, Roku, Amazon Firestick, Google Chromecast, and more.
Overall, this list may have comprised of all your devices. Now, one major thing missing in this list is Sony Playstation 5. So, if you have are luckily enough to get a Sony PS5 and are looking for Stremio on it, then you are at the right place. Without any further ado, let's get started with the process.
---
How to use Stremio on Sony PS5:
First things first, the process to download and install Stremio on Sony PS5 is not a straightforward thing. On other devices, you can get a compatible APK or setup file, download it, start your stream. The case of the Sony PS5 is a bit different. Thus, the dedicated article. For starters, you need to download the app on your Android or iOS device. In case it is not on your device, then you can install it from the official store, website, or third-party APKs.
Next up, you can search for any movie, or play the first thing that pops up to your mind. Once you have decided on the video, play it on your device. On the media player, you can see a small screencast option on the bottom bar. Click on it and select phone or tablet. Once you do that, it displays a QR code and unique URL. Now, go to the browser on your Sony PS5, enter the exact URL, and start to stream.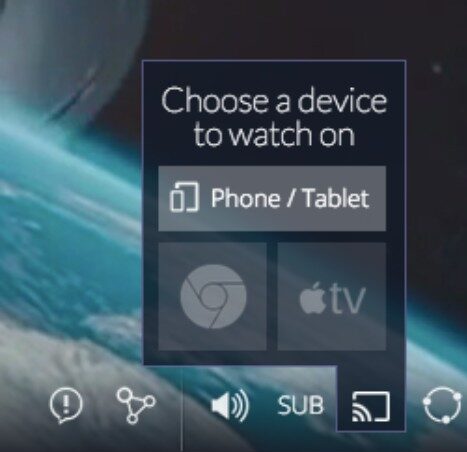 The only caveat with this process is that does not host any control. In other words, for anything you want to modify, you need to go to the host device only. Also, this method may not work in every case. So, you can look for alternatives. It may be because of the app version, device compatibility, and more. So, you can try the same method in Windows, Mac, Linux, etc.
---
Conclusion: 
In summary, the process of using Stremio on PS5 is hectic. But, it is at least useable. Moreover, we may expect it to launch officially for PS5. Because already existing Playstation Vue is shut down. So, let us wait for the time being. And you can use the above process. Do note that this works for earlier generation PS consoles as well. With that being said, share this article with your friends who own any of the PS devices.
---
Further Reading:
is Stremio Safe and legal to use : Explained 2021
Stremio Download Movies : How to Save Movies on Stremio
Fix Error Fetching Item Data: Invalid HTTP Status in Stremio
123movies addon not working on Stremio mobile: Here is how to fix.
Fix Stremio 4.4.132 not working
Fix error retrieving information about this Stremio
Stremio Cache : What is it and where is Stremio Cache folder in Android, Mac, Windows Pc