We are living in the era of online shopping, and thousands of firms with cool marketing tactics have grown their business through online platforms. Today we are going to discuss one such online market called SHEIN. We will talk about the following issue; why is SHEIN tracking not updating?
SHEIN is an online fashion company that harbors one of the cheapest sets of productions. All clothes are manufactured with a touch of the latest trends and these clothes are tagged with the lowest price possible. Yes, it is pretty cool and has a safety mechanism for transactions.
Online shopping has turned out to be the most convenient yet a lot of risk factors gets associated with it. Predominantly, when there isn't much contact option or exclusive personnel who can assist users through their purchases, you get left on your own to proceed with an irresistible purchase.
SHEIN users have faced a similar issue related to the status of their orders. This article will discuss all there is to know about recovering from such a situation.
---
Why is my SHEIN tracking not updating?
When most of the orders are placed on the SHEIN shopping platform, they should be taking about four business days as per their statements. However, users are unable to see their order status updating beyond 'Order placed'.
Many reports confirm this glitch in the SHEIN application and feel frustrated when they have no contact option to be informed about their order delivery. Moreover, the case turns out that the order gets delivered in the official time stated by them, but the status remains the same.
This may seem non-problematic but under the situation where your order gets lost during the transit period, and you are offered a refund or an option for a reorder, the panic strikes for real. It is indeed tiring to not know the exact position of your order.
But don't worry, we have some possible causes for the above-mentioned issue. Try to troubleshoot your situation using the following points.
---
1. What does In-transit indicate?
Sometimes when you try to look up your order through the 'track your order' tab, the status is shown as 'in transit. This tells that your order is facing some kind of adversity that causes the delay in delivery.
It could be possible that your order, along with surplus other orders are waiting for a shipping warrant which gets certified only when there is a sufficient quantity of deliveries that would actually demand to ship.
Apparently, the reasons for longer delays should be taken seriously as this may include damage to your product, misplaced package, or even detected an error in the address.
In all these situations your order might stay in transit and not make it to the destination on time. Or it could take a minimum of 10 to 20 days, as is usually the case reported by many users.
If the delay prolongs further, we advise you to get in touch with the seller for understanding how to proceed with the decisions.
---
2. Contact the SHEIN customer service; why is your SHEIN tracking not updating?
The most crucial measure that you need to adopt while attempting any kind of online purchase, is to make sure you have the contact information for your order and services provided by the company.
In the worst case, such as these, where your product delivery is delayed, or you are unable to track the order, you will have to get in touch with the concerned authority for compensating for the inconvenience.
You can check on the SHEIN app for contact information. As is the case, SHEIN has provided users with the chat-bot feature that tends to the majority of the queries. Request for a number that could connect you to the retailer. This way, you may find out about the order quickly.
---
3. Track your order in the SHEIN app.
There are two different order routes in SHEIN, which are express shipping and standard shipping. If you have chosen the former, then it will take a minimum of 2 to 4 days for the order to reach its destination. Whereas, via standard shipping, it takes about 6 to 8 days at the least.
Now, if the delays extend beyond the already determined duration, then confirm the status of your order through the SHEIN app. Here is how you can track your order;
Enter your account login
Once you get in, then select 'My Orders'.
Then select 'View details' and you will be able to see whether your order is shipped or not.
If it is shipped, then select 'track' to look up your order status. Also, you will find a tracking number along with the status.
Use this number to track your order. Type it in the search box to find out the current location of your order.
---
SEE ALSO: Why is SHEIN express shipping not available?
---
Frequently Asked Questions
Q1. Why is my SHEIN tracking not updating?
Sometimes the order that you may have placed might get delayed and wouldn't reach its destination. The circumstances under which this might have occurred could vary from delay in the shipping procedures to more severe reasons such as misinterpreted addresses. Now, these obstacles will surely be reflected on the SHEIN app tracking details, hence it will fail to get updated.
However, if the delay is suspiciously prolonged you can contact the retailer to know more about your product's status. The above article explains in detail all about the tracking status of your product.
---
Q2. How to track SHEIN order?
You can always track your SHEIN order in the SHEIN app once you have placed the order and completed the payment procedures. Here is how you can go about this; first enter into your SHEIN account, and click on 'My Orders'.
Then select 'View details' and the screen will present the details of the shipment. If it is shipped, then you might want to check or track your delivery. For this enter the tracking number provided along with the details, onto the search box. You will get the location and other details with this step.
Hope this helps.
---
Conclusion.
This article explains all about why SHEIN tracking is not updating and how to handle the issue. Hope it helps you.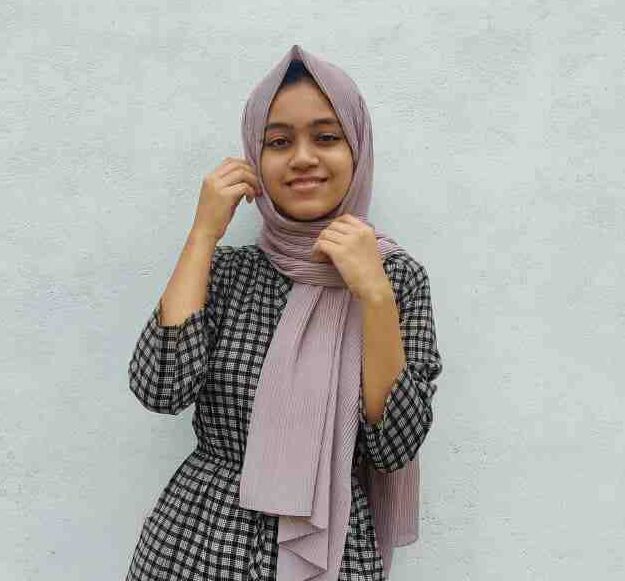 Dilha is a writer who loves composing poems and going into deep research on all kinds of tech stuff that they don't teach in school.
anything that marks the extraordinary part of this generation excites her. she is currently persuing her degree in genetic engineering. here at Android Nature, she is assigned with various cool topics and is responsible for sharing cool insight and updates on the same.