We are living in the era of online shopping, and thousands of firms with cool marketing tactics have grown their business through online platforms. Today we are going to discuss one such online market called SHEIN. We will talk about the following issue; why is SHEIN tracking not updating?
When most of the orders are placed on the Shein, they should be taking about four business days as per their statements. However, users are unable to see their order status updating beyond 'Order placed'.
Many reports confirm this glitch in the Shein application and feel frustrated when they have no contact option to be informed about their order delivery. Moreover, the case turns out that the order gets delivered at the official time stated by them, but the status remains the same.
This may seem non-problematic, but under the situation where your order gets lost during the transit period, and you are offered a refund or an option for a reorder, the panic strikes for real. It is indeed tiring to not know the exact position of your order.
But don't worry, we have some possible causes for the above-mentioned issue. Try to troubleshoot your situation using the following points.
---
Why is my SHEIN tracking not updating?
Short answer: Shein order tracking may not update due to multiple reasons – it needs more time to get updated, Shein servers could have crashed, use choose economy shipping which doesn't have tracking details, possible Shein app glitch, shipping company hasn't updated tracking details, your package might have held by customs or have been lost.
If the tracking isn't updating, it could be that it needs more time to get updated.
It's possible that your package is still in transit and hasn't yet been scanned by the carrier.
Sometimes even if your order is shipped via an express carrier, the tracking information may not always be updated in real-time.
So, allow a day or two for tracking information to be updated.
Shein servers could have crashed
If the servers of Shein have crashed, due to a high number of orders on big holidays such as Christmas, tracking of your package will not get updated timely.
In this case, you will need to allow some time to get the servers fixed to track your order.
Economy Shipping is selected
Another reason why there is no tracking information about your Shein order could be that you have chosen Economy Shipping for the order.
Usually, Economy shipping is a lower-cost shipping option that does not have a tracking number or does not include real-time tracking information. 
So, check in your Shein order history whether you chose economy shipping or express shipping.
The shipping carrier has not updated the tracking information
Shein uses third-party courier services to deliver your orders. In the United States, Shein orders are usually shipped by China Post and delivered by USPS when you've chosen Standard Shipping and by FedEx for Express Shipping.
So, if your Shein package tracking isn't updating it may be because the tracking information is not yet updated by the carrier.
The package might have been held by Customs
As you may know, Shein orders are shipped from China and it may be held by customs for a variety of reasons.
Customs clearance times vary depending on the country and package type, it can take as little as a couple of days or as much as several weeks, which may cause a delay in the package's delivery.
Your order may have been misrouted or lost
Other reasons why your order tracking isn't updating could be that your package might have been lost during transit due to various reasons such as damage to the package, mishandling, or an error in the shipping process. A package may also be stolen or go missing after being delivered.
Well, don't worry. Below, we have listed and explained all the possible things you can do if your Shein package tracking isn't updating.
---
Shein tracking not updating: What to do
1. Check your internet connection
The first thing you need to do if Shein tracking isn't updating for you is to check your internet connection.
If your internet connection isn't working or having issues, you will have trouble tacking your Shein order.
That being said, reboot your Wi-Fi router or move it closer to your device.
Try using your mobile data instead of Wi-Fi or vice-versa.
2. Wait for tracking to update
If your network is fine and still Shein order tracking isn't processing it might be that you are checking it too early.
Give the tracking some time to get updated.
Sometimes there may be an issue with the carrier's tracking system.
So, allow a day or two for tracking information to be updated by the carrier.
3. Check the tracking on other Websites
If the Shein tracking isn't working or updating, it could be due to several reasons such as server overload, increased shipping volume, etc.
In this case, you can try to track your Shein order on other universal order tracking websites. These websites are capable of hundreds of carriers such as DHL, UPS, FedEx, TNT, USPS, China Post, and many other post offices or logistic companies.
Some of the universal tracking services you can use are:
Ship24
17Track
ParcelsApp
Parcel Monitor
Tracktry
Aftership
To use these services, you just need to input the tracking number for your package and track your order delivery status, including the carrier and shipping status.
Some services even provide SMS or email notifications to update the tracking status for the package, so you can register for that too.
4. Update Shein App
Next, if you are not using the latest version of the Shein app, you might have several issues such as tracking not working or updating due to several underlying bugs.
To update the Shein app on your mobile device, you will need to follow these steps:
Open the App Store (iOS) or Google Play Store (Android) on your device.
Search for the Shein app and check if there is an update available.
If an update is available, tap on the "Update" button next to the Shein app.
Wait for the update to download and install.
Once you have the latest version of the Shein app installed on your device restart your device and then try tracking your order, it might get updated this time.
5. Log out and Log in again
Sometimes logging out and logging back in can fix small technical issues that may be causing the problem such as tracking not working. By logging out, you will refresh the session and refresh the data.
So, simply log out from your account on your Shein app and then log in again.
6. Reinstall Shein app
Reinstalling an app can help fix technical issues that may have occurred during the initial installation or usage of the app. It can help if there's a bug that causing some problems.
So, just uninstall the Shein app from your device and reinstall it from App Store or Google Play Store on your iOS or Android device, respectively.
Make sure to note or backup any data that you may want later.
7. Check Shein server status
Moving on, the next thing you need to do is to check the server status of the Shein.
If the servers of Shein are down, you won't be able to track your orders. On big occasions such as Christmas or Black Friday when a large number of orders are placed, it can cause Shein servers to get crashed.
That being said, to check the server status of the Shein you can visit any of the online servers tracking websites such as Downdetector, Servicesdown, etc.
You can also check Shein's social media handles for any recent outages, updates or maintenance notifications.
If the servers of the Shein are down, you will need to wait till the servers get restored to track your placed order.
8. Wait till the estimated delivery date
If you're having trouble tracking your Shein order, it's also possible that the package is still in transit and hasn't yet been scanned by the carrier.
Delivery times vary depending on the shipping method you selected (Express and Standard), the location of the warehouse, and the location of the delivery address.
You can check the estimated delivery date for your order by logging into your account, going to the order history, and checking the details of the order. 
It's a good idea to check the tracking information periodically but keep in mind that the package may not be scanned by the carrier until it reaches a sorting facility or a delivery location.
Well, if the estimated delivery date has passed, and you haven't received your package, you should either contact the shipping partner or Shein customer service.
Related: Why Is My Shein Order Still Processing?
9. Contact the Shipment Company
If you're having trouble tracking your Shein package, or if the estimated delivery date has passed, and you haven't received your package, you can contact the shipping company directly for more information.
You should be able to find the contact information for the shipping company on the tracking page for your order, or through the tracking number.
Note: When you contact the carrier, keep your tracking number ready and be prepared to provide any other information they may request to help them locate your package.
The carrier may be able to provide you with more specific information about the status of your package, such as where it is in transit and when you can expect to receive it and what are the possible causes of any delays.
10. Contact Shein customer support
Lastly, if you have tried all the methods listed above and even contacted the shipping company and still can't get an update on your Shein order, the last thing that remains is to contact Shein support.
You can check on the SHEIN app for contact information. As is the case, SHEIN has provided users with a chatbot feature that tends to the majority of the queries. Request a number that could connect you to the retailer. This way, you may find out about the order quickly.
You can also choose any of the following ways to contact Shein customer support.
---
How to track your order in the SHEIN app
There are two different order routes in SHEIN, which are express shipping and standard shipping. If you have chosen the former, then it will take a minimum of 2 to 4 days for the order to reach its destination. Whereas, via standard shipping, it takes about 6 to 8 days at the least.
Now, if the delays extend beyond the already determined duration, then confirm the status of your order through the SHEIN app. Here is how you can track your order;
Enter your account login
Once you get in, then select 'My Orders'.
Then select 'View details' and you will be able to see whether your order is shipped or not.
If it is shipped, then select 'track' to look up your order status. Also, you will find a tracking number along with the status.
Use this number to track your order. Type it in the search box to find out the current location of your order.
---
SEE ALSO:Why Is My SHEIN Package Taking So Long To Ship?
---
What does Shein In-transit indicate?
Sometimes when you try to look up your order through the 'track your order' tab, the status is shown as 'in transit. This tells that your order is facing some kind of adversity that causes the delay in delivery.
It could be possible that your order, along with surplus other orders is waiting for a shipping warrant which gets certified only when there is a sufficient quantity of deliveries that would actually demand to ship.
Apparently, the reasons for longer delays should be taken seriously as this may include damage to your product, a misplaced package, or even detected an error in the address.
In all these situations your order might stay in transit and not make it to the destination on time. Or it could take a minimum of 10 to 20 days, as is usually the case reported by many users.
If the delay prolongs further, we advise you to get in touch with the seller for understanding how to proceed with the decisions.
---
Conclusion
This article explains all about why SHEIN tracking is not updating and how to handle the issue. Hope it helps you.
---
Read more:
Why Does SHEIN Package Say 'Delivered' When It's Not
How Long Does Shein Take To Refund A Cancelled Order
Why is SHEIN express shipping not available?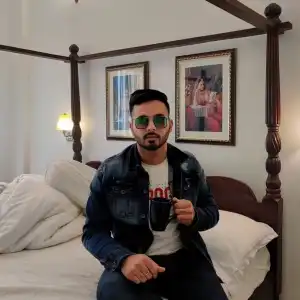 Ankit is an engineer by profession and blogger by passion. He is passionate to do all the stuff such as desiging the website, doing the SEO, researching for the content, writing tech blog posts and more.