SHEIN has an outstanding reputation as an online shopping platform. However, users are bugged with an issue where the SHEIN package says 'delivered' even though the delivery was not performed successfully.
This article will discuss everything there is to know about the issue. Read on to know more.
---
Why does my Shein package say 'delivered' when it's not
Quick Answer: SHEIN package says 'delivered' when it's not because of a technical error, or your order has been received by someone else in your family, or sometimes it can be a mistake by the delivery partner.
The first reason could be that the delivery agent may have marked your item as delivered. This issue can occur when there are numerous deliveries in the same area, leading to confusion​​.
Package Received by Someone Else
Sometimes, your order might be delivered to and accepted by a neighbor, family member, or office receptionist without your knowledge. This is especially likely if Shein does not provide a proof of delivery image​​.
Delivery to the Wrong Address
There are instances where the delivery agent might deliver the package to the incorrect address. This can happen due to errors in the shipping label, GPS coordinates, or a mistake by the delivery driver. It's also possible that Shein accidentally used the wrong shipping label on your package​​.
Package theft is another possible reason, especially if the parcel was left unattended for an extended period. In such cases, it's important to report the theft to the delivery company and the police​​.
Lastly, the reason could be a technical glitch or error on the Shein's end which might get fixed in some time,
---
Solutions: SHEIN order Delivered but not Received
1. Find your Track ID
Although most of the delays are not all caused due to technical glitches or some kind of misplacement that might have occurred during the course of the delivery, it is recommended to refer to the information of your parcel yourself.
Also, before coming to a conclusion, it is essential to make sure that you have acquired all the possible details that the SHEIN app presents to you regarding your order.
Here is how you can track your product to confirm that the SHEIN package says delivered, and you have not received it;
Step 1: First, give your login credentials and log into your SHEIN account.
Step 2: Then, look for the 'My Orders' tab and tap on it.
Step 3: Click on 'View details, and this will show you whether they have shipped the order that you have requested or not.
Step 4: Click on 'Track' and find the information regarding its location and other details.
Step 5: Copy the 'track number' provided along with the information and enter it into the search box.
Step 6: This search will give you the exact location of your order.
If the details of your order come up as 'In-transit', then it is indicative of delayed shipping of your order. They might be awaiting more orders to avail shipment services. Either way, you can affirm further delay in this case.
Otherwise, move on to the next method of proceeding with this issue.
---
2. Refresh the page or Restart the app
Maybe there could be an error in the update regarding the item that was ordered. Try refreshing the page to restore the right information regarding the order. You can try restarting your SHEIN app or rebooting your device.
Unnecessary delay might have crept in due to various factors such as trying to interpret the address or misplacing the packages. But these issues are not your concern rather getting your order delivered as soon as possible is more important.
If the information regarding your product still appears contrasting to the actual situation, do not panic and keep reading.
---
3. Connect with customer service
The customer service on the SHEIN app is a useful feature that gives you easy and quick ways to file your concern.
Step 1: On clicking the tab labeled 'Customer service', a screen opens requesting you to fill out a form comprising your details.
Step 2: Provide the necessary information and proceed further.
Step 3: 6 AM to 9 PM is the designated time to avail of customer service. You will be directed to a chatbot page, and they will present a set of deduced possible queries.
Step 4: Click on the relevant queries to be led to the final action that is required for resolving this issue.
---
4. Demand a refund
If you are convinced that your package won't make it on time, then it is wise to take the necessary actions to make sure your money is safe. Waiting for further response from their side will only weaken the credibility of your complaint (if you report it later on).
So after learning about the usual time span taken by the organization for completing a delivery, you may take the next decision of canceling your order and demanding a refund.
If your SHEIN package says delivered but not there, it is more than enough reason for questioning their service. Here is how you can proceed with this decision;
Step 1: Enter the SHEIN app using your login credentials.
Step 2: Then select 'My Orders'.
Step 3: Check if they have updated the status of the order that you have been expecting.
Step 4: Now, select 'Cancel' on the order that has not been delivered.
Step 5: Next to this option, you will find the option to return the order.
Step 6: Click on it and await the response from SHEIN regarding further procedures.
Step 7: They will credit the money into your account in about 5 to 10 business days before which you will receive an email acknowledging the success of the refund processing.
SHEIN is the most trusted organization when it comes to settling transactions in the most sincere way possible. So there is no need for you to worry about such refund formalities.
---
5. Wait a Few More Days
Sometimes, the issue may resolve itself within a few days if the delivery company has incorrectly marked the shipment as delivered
---
6. Contact SHEIN support
If nothing has worked so far, the only option left is to contact SHEIN customer support. The guys in the support team will be able to provide you with professional assistance.
You can visit the official support link and address your issue in detail and submit the report.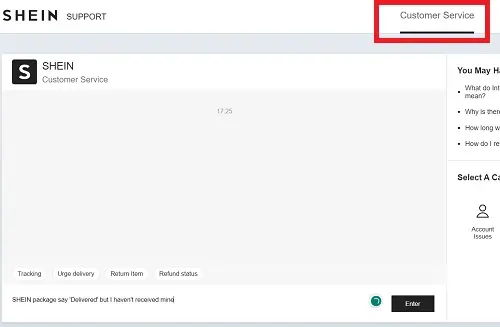 You can reach out to customer support by simply selecting the 'Customer Service' tab when you log in to your SHEIN account on web.
---
SEE ALSO:
WHY IS MY SHEIN TRACKING NOT UPDATING?
Why SHEIN express shipping not available [Get it for free]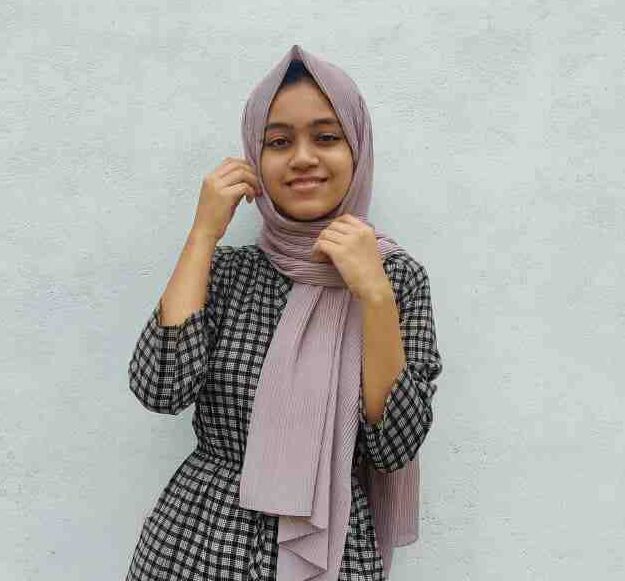 Dilha is a writer who loves composing poems and going into deep research on all kinds of tech stuff that they don't teach in school. Anything that marks the extraordinary part of this generation excites her. she is currently persuing her degree in genetic engineering. here at Android Nature, she is assigned with various cool topics and is responsible for sharing cool insight and updates on the same.