YouTube is an American online video-sharing platform that allows users to upload, view, rate, share, report, and comment on videos. It offers a huge variety of user-generated and corporate media videos. The type of content uploaded includes TV show clips, trailers, music videos, live streams, vlogs, short original videos, educational videos, and much more.
In short, YouTube is an enormous cloud storage. It is a universal media consumption platform that is used and loved by millions globally. Lately, YouTube has been bloated with annoying advertisements for monetization purposes. The advertisements recur often heckling the video playback posing as a distraction.
There is a premium version of YouTube that offers an advertisement-free experience along with a sprinkle of benefits. A majority of users feel that investing in a premium version of YouTube is not worthwhile. Fortunately, there is an application that offers all these privileges free of cost.


YouTube vanced is an advertisement-free modded client of the official YouTube application. It provides the premium features of the YouTube application that users have been longing for ages. Using the application, a user can block advertisements, force High Dynamic Range (HDR) playback, override the maximum resolution key, and toggle themes.
Apart from this, the picture in picture (PiP) mode can also be toggled on selected devices. To download the latest version of the application, it is crucial to have Google Play Services installed on the phone. Proceeding to the main topic, downloading the latest YouTube Vanced application is an elementary task.
How to download the latest YouTube Vanced application
Step 1: Uninstall the previous version:
Uninstall any previous YouTube Vanced APK builds that might be present on the device.
Sift through the settings, search for microG, and then proceed to uninstall it.
---
Step 2: Install MicroG Apk
Now, Download and install the latest microG APK.
---
Step 3: Download YouTube Vanced Apk
Download the latest version of YouTube Vanced using the link provided.
---
Step 4: Install YouTube Vanced Apk and grant all permissions
Head to the location of the APK using the in-built file manager application on the device.
Tap on the APK. Grant the permission to install from unknown sources if prompted.
---
Step 5: Launch YouTube Vanced Apk
Launch the application once it is installed. Complete the formalities to use the application.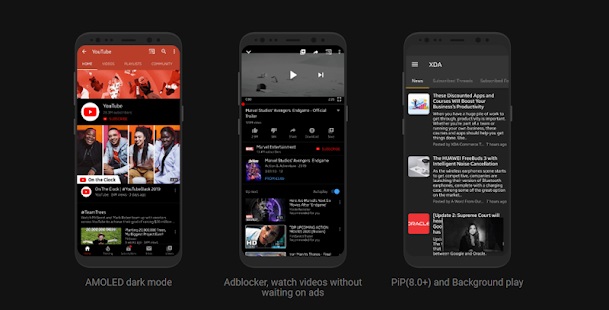 Download latest YouTube Vanced APK (latest version):
Download YouTube Vanced APK- Version 12.25.37
---
Conclusion:
YouTube Vanced is the perfect alternative to YouTube. It has an easy-to-use user interface that is familiar to a certain extent. It also provides a dark mode to reduce eye strain. The procedure of download is hassle-free taking only a few minutes.
---
SEE ALSO:
Latest Smart YouTube TV APK Download for Android TV (No-ads)
Download Youtube Vanced IOS Apk 2021
How to Download and use Free tube: YouTube client
Fix cannot load video error on YouTube Vanced app