Yes and no. This is a little tricky because, TikTok does not give you an option to send an image in direct messages.
To know more how to send an image or gif on TikTok direct messages, continue reading.
TikTok is an app originated in China. It is a version of the app Douyin releases in China. Douyin is available only in China. But TikTok is  available in some foreign countries too.
It is a social media application with short videos, popularly known as shorts by everyone. With all kinds of people using it, there are no specific kind of shorts.
It is very popular with people of all ages. As you can observe in other social media apps, Instagram has Reels and YouTube has YouTube Shorts which are very similar to TikTok videos.
---
Can you message someone on TikTok?
TikTok has direct message to option to talk with your friends. But there is an age restriction, any TikTok user under the age of 16 will not have this option.
You can message someone, but it depends on your and the other person's settings in Tiktok.
TikTok has a Direct Messages option in the Privacy settings. Here you can choose whether anyone can send you a message, only your friend or no one.
If you select everyone, then any person can send you a message. So even if the other person does not follow you, or you do not follow them back, you can still send them a message.
Setting it to friends, will allow you to message them only if both of you follow each other. If one of you does not follow the other, then the message will not be sent. They should be your friends on TikTok.
No one setting is for people who do not want to receive or send a message on TikTok to anyone. These people generally only use TikTok to scroll through the videos.
If you try sending a message to a user with No one setting on, you will get a warning that you cannot send messages due to the user's privacy settings.


---
Can you send pictures on TikTok messages?
Yes and no. This is a little tricky because, TikTok does not give you an option to send an image in direct messages.
But you can get around this by using a filter called green screen. Select the photo you want from your camera roll, select share and select TikTok. From the filters, select green screen filter and make a short video.
You should then post the video. After posting it, you can select the paper plane icon of your video and send it to your friend through a direct message.
Or there is another option where you can select and copy the link for the image and paste it in the direct messages of your friend.
---
How to send a GIF on TikTok message?
It is very easy to send a GIF on TikTok message. As you know, you just have to tap the message bar, and it will open the keyboard.
The keyboard will have a GIF option, just select it, and you can send any GIF from a wide range of selection available on GIPHY.
If your keyboard does not inherently have a GIF option try downloading GIPHY or any other keyboard with a GIF option embedded in it.
---
SEE ALSO: [Fixed] TikTok cannot send messages due to privacy settings
---
How to send a screenshot on TikTok?
As said before in the article, TikTok does not have an option in its direct messages to send images of any kind.
But, you can share it from the camera roll as mentioned before or from TikTok. You should create a new post on TikTok and select the green screen filter.
Then you can add the image of the screenshot from there and make a short clip of it. Then post the video and click on the paper plane icon to send it to anyone.
---
How to send a TikTok video in text message?
There are various options to share a TikTok video. You just have to click the paper plane icon and share it to whoever and however you want.
When you click the paper plane, you will see a lot of options for sharing the video through various applications. You can select the default application for messages and send it as a text message (which will be a link) to anyone.
There will also be an option to copy the link address. After copying the link address, you can paste it in any text message and send it to your family/friends.
---
SEE ALSO: How to Fix Tiktok direct message not working
---
FAQs
Q1. Why isn't there an option to send a photo in TikTok messages?
TikTok did not give an option in the application to send images, yet. But there is another way to solve this problem by posting the picture as a short clip and sending it to your friend on TikTok.
Q2. I am unable to send message to a person I follow-on TikTok. It is showing me an error saying that I cannot send a message because of the user's privacy setting. What does it mean?
This is because the person has different privacy settings which maybe only friends or no one. If they have set the no one option, then they will not be able to send any message. But, if they set only friends, then they have to follow you back for the message to be sent from you.
Q3. Why don't I even have a direct messages option? Has it been removed? People I know have the option, why don't I have it?
If your age is less than 16 years, you will not be able to send or receive messages. You will not have the option available in your application.
---
Final Words
We begin this article by getting to know a little bit of information about the TikTok.
We find out whether we can message someone on TikTok messages. It depends on the user's privacy settings for Direct Messages and age of the user.
Also find a way to send the images through chat in TikTok. We can post the image like a short clip and share it in direct messages.
We can also send the GIF using a GIF keyboard from the message bar in direct messages in TikTok.
The same way we can send any image by posting it as told before, we can also send any screenshot.
At the end, we also learn the way to send a TikTok video as a text message to share it. And frequently answered questions to some common problems.
If you have any queries, please leave them in the comments section below. Thank you.
---
Further Reading:
How many followers do you need to put link in TikTok bio
[7 Ways] Fix TikTok this effect doesn't work with this device
TikTok no website option : Reason & Solutions
[Solution] TikTok Account Gets Banned
[Remove red filter] Why is my TikTok camera red?
[Solved] Fix Tiktok say sound not available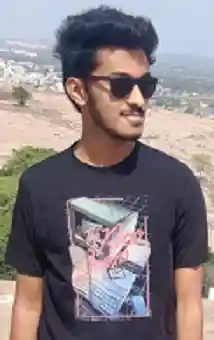 Sri Sahith is a B.Tech graduate specializing in Electronics and Communication. He writes articles by ensuring attention to detail. Any kind of technical revelation or news is his jam. Writing and technology are the things he is most passionate about and you can see it in his articles. Also, he loves to read books and talk about them for hours together.