Honestly, SHEIN has the greatest collection of fashion there is, and its customers range from over the globe. So today, we are going to discuss a question most users have in regards to ordering on SHEIN; what do you do if your SHEIN package says delivered but never arrived?
There is always some sort of hassle when we are put in situations that involves a lot of details. One such situation is where we ordered a product online and eventually wishes to return it. Any client would feel burdened with a lot of worries regarding it.
However, SHEIN has always been generous and user-friendly considering all aspects of online shopping. Yet, you are not always free from occasional misfortunes. And this article is all about one such misfortune where your SHEIN package never arrived.
---
What do I do if my SHEIN package never arrived?
The possibility for your SHEIN package to never arrive is not slim. And this is the case only if you have crossed paths with a scammer. As SHEIN simply connects users from all over the world to potential sellers who can provide the latest trends, there is not much validation on their identity.
With that being said, you may be connected with sellers that could be indulged in fraudulent activities. But that doesn't mean that you have overestimated SHEIN in terms of reliability. SHEIN indeed has a set of defined tactics made available for the users to follow under such circumstances.
So what are those tactics offered by SHEIN?
---
1. Check the order status through the SHEIN application
The first step that you must follow as soon as you realize that your order has not reached its destination unlike the claim presented on the SHEIN app, is to cross-check your order location. You can track your order via the SHEIN application and navigate the locations that your order has been to.
You may then contact the locations. It could be post offices or storerooms, and you can cross-check with the employee to get details on your delivery.
Here is how you can track your order;
To start, log in to the SHEIN application using your credentials.
Then click on 'My orders'.
This will display the details of your order, and its current status.
Select 'View details' to know more regarding whether your order is shipped or not.
If it is the former, then go ahead and select 'track' to get the location of your order.
This way you will know where to contact to find information on what to do if your SHEIN package is not delivered.
You might probably get the notification that your order has been delivered from tracking it. If you didn't find the track information useful, don't fret and move on to the next method.
---
2. Misinterpreted delivery address.
There could be various reasons for your order to not reach you even though it says 'delivered'. One such reason could be that you have provided the wrong address for delivering the order.
So try to connect with the local post office shown on the track details immediately to get information on the SHEIN personnel who had made the delivery. This will provide you a way to proceed with the issue. Hope it helps.
---
3. Visit customer care service if SHEIN package never arrived
SHEIN is open to all and constantly improvising itself to accommodate the queries and complaints of its global users. Hence, they have indeed brought forth various systems to assess the communications that users wish to present regarding their concerns with the orders from SHEIN.
Under such a huge network, SHEIN has its own customer care services allotted over the internet which presents a live chat service, where all your queries will be answered. These are previously programmed set of answers that would be relevant to the issues faced by the users.
Now where to find the customer service?
Open the SHEIN application and look at the top right-hand side corner.
You will find a headphone symbol. Click on the symbol to open customer service.
Provide your queries and follow the instructions that they give in turn. This should remove a lot of stress. Hope it helps.
---
4. Contact SHEIN
You might have frantically searched the SHEIN page for a contact number to help you get to the bottom of this issue. However, there are several ways to contact SHEIN under any sort of issue. Here is how you can go about with it;
First, visit the SHEIN page.
Then scroll down towards the bottom of the page and stop when you see the list of options that comes under the title 'Customer care'.
Then click on 'Contact us to open a page with various types of issues. You may select the relevant issue type that you are facing.
In this case, you are supposed to select delivery issues. Move the cursor on top of the panel which is named 'Delivery issues'.
This will display a few questions that users may ask.
Click on the relevant question to find the required answer.
If it still doesn't clear your query, then go ahead and select 'Contact customer service' which is next to the statement 'have more questions?'
A page will open requesting you to provide your details and the issue at hand.
This is another method that would surely give you some help.
---
SEE ALSO: Where to find the SHEIN return label?
---
Frequently Asked Questions
Q1. What do I do if my SHEIN package says delivered but I never got it?
Just to confirm that you have received the right communication from SHEIN, try to cross-check your order status on the SHEIN application. Go to your SHEIN account and select 'my orders'.  This will show the details of your order. Click on 'View details and select 'track' if your order was shipped.
This will be your first step. After confirming that your order has been delivered, check with the last post office that your order was delivered to and find details on the delivery personnel.
There are chances that your order was provided with the wrong address. So try contacting the personnel as soon as possible.
---
Conclusion
This article explains some ways to tackle the issue of what to do if your SHEIN package says delivered but never arrived. We have compiled some simple ways you could move to find a solution. Hope it helps.
---
Further Reading:
Why does SHEIN refund without returning the item?
(7 Ways) How to use SHEIN points at checkout (2021)
What does United States arrived at local facility mean SHEIN?
If I cancel an order on SHEIN will I be refunded?
When does SHEIN have Free shipping (2021)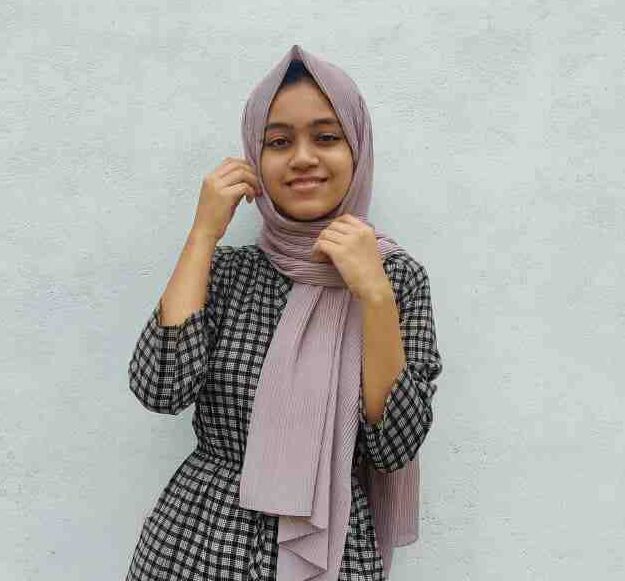 Dilha is a writer who loves composing poems and going into deep research on all kinds of tech stuff that they don't teach in school.
anything that marks the extraordinary part of this generation excites her. she is currently persuing her degree in genetic engineering. here at Android Nature, she is assigned with various cool topics and is responsible for sharing cool insight and updates on the same.