Which instant messaging and image-sharing app do you like?
Snapchat is one of the highly popular and widely adopted instant messaging apps which allows quick image-sharing. It offers dedicated Snapchat stories that allow users to view a collection of snaps for 24 hours.
Users already know that Snapchat recommends different stories to users in a specific order. Hence, users do think about the Snapchat friend's story order.
So today, let us know if the order of the Snapchat friend's story means something relevant to you or not.
We'll also understand if your name will go up after rewatching a Snapchat story. Let us start our exploration of this feature on Snapchat in detail.
---
Does the order of Snapchat stories mean anything?
Snapchat friend's story order presents the order in which this social media platform recommends different stories to the user. It is one of the methods by which Snapchat ensures that you stay engaged on the app.
The different stories of your Snapchat friends are presented in the order you're likely to watch them. You may notice that the Snapchat stories of your friends are at the start followed by the stories of other people. This is based on the frequency of interaction and level of interest taken by you in the Snapchat stories of others.
Thus, friend's story order on Snapchat offers initial listings from your close friends followed by the stories from the Snapchat accounts that you like frequently. The stories from other accounts follow in the list of your Snapchat stories.
Learn what happens if you ignore a friend request on Snapchat, do they know?
---
When you rewatch a Snapchat story does your name go to the top?
Many people look for the answer if they rewatch a Snapchat story and whether their name will go to the top or not. The answer is yes. However, the user may not be able to check how many times you've rewatched a Snapchat story of their account.
It is noticed only if the Snapchat user keeps a strict monitoring of the total list of the story viewers. It is essential to note here that Snapchat stories are sorted in reverse chronological order. It refreshes the overall story viewers list every time some Snapchat user watches it on their device.
Take an example where someone has a Snapchat account and an account named Ands is you. If Ands rewatch the Snapchat story of any account, your name will appear at the top of the list of the total Instagram story watchers list of the account. Hence, with the increase in the number of rewatches, your name tends to appear at the top of the Snapchat story viewers list.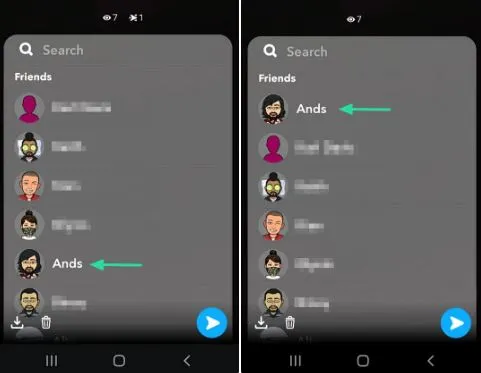 ---
Can you see who viewed your Snapchat story multiple times?
After understanding the Snapchat friend's story order, you may ask if you can see who viewed your Snapchat story multiple times.
Sadly, the answer is no as there is no such feature on this platform. However, there is an option for the rewatch indicator for Instagram stories.
It is an emoji having a pair of eyes. The number ahead of this emoji indicates the total number of Snapchat friends who've rewatched your story. However, it doesn't show which friends have viewed your Snapchat story multiple times.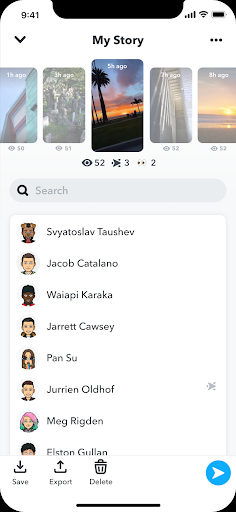 Further, understand why can't I see someone's Snapchat story when I'm not blocked here.
---
SEE ALSO:
---
Summing Thoughts
So, what are your views on Snapchat friend's story order?
It is dependent on the method by which Snapchat shows story recommendations to you. It tries to keep your friends or people with whom you interact the most at the top of the stories.
Further, it is easy to understand that your name will go to the top when you rewatch a Snapchat story, and the eyes icon indicates rewatch.
Do let us know in your comments section about your views on this guide!
An active wordsmith delivering high-quality technical content on AndroidNature.com. She loves to keep herself updated with consistent reading. A strong believer of consistent learning, she loves to read about technology, news, and current affairs.