Are you getting the error-Hulu 'we're having trouble playing this'?
If that's the case, you have landed on the right page. Here, we have explained why does Hulu keep saying we're having trouble playing this and how to fix it.
Firstly, do not fret as you are not alone. Many users like you experience the same issue with Hulu.
@hulu trying to watch HORSE #hulu #huludown pic.twitter.com/x7J8sqxeHK

— Jim Foster (@jimbofo) April 17, 2020
Without further delay, let's get started why this error can occur and how to fix it.
---
Why am I getting Hulu we're having trouble loading this right now?
Short answer:Hulu we're having trouble loading this right now is constantly being displayed on your screen can be due to a slow internet connection, issues with the Hulu server, bugs in Hulu App, an older version of the Hulu app, and also due to piling up the cache on your Hulu App.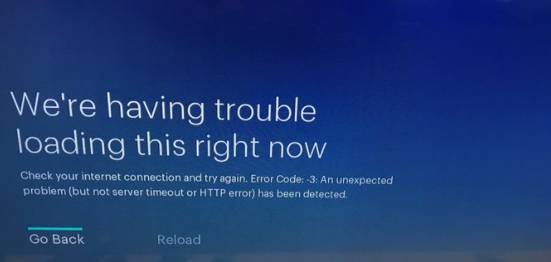 Well, there are always a few ways to fix the issues on your own. Below, we have tried to list and explain all the possible fixes to solve Hulu we're having trouble loading this right now, error.
---
How to Fix Hulu we're having trouble playing this error
1. Check your internet connection
Ensure that your internet connection is stable and has a good signal strength.
You can check your internet speed on fast.com or any other such service. (Hulu recommends 3 Mbps for Hulu's Streaming Library, 8 Mbps for live streams, and 16 Mbps for 4K content. )
Turn on and off your Wi-Fi router.
Switch your internet from Wi-Fi to mobile data or vice-versa.
---
2. Make sure your Hulu subscription isn't expired
If your internet is working fine, the next thing you need to ensure before moving on to other fixes is that you have an active Hulu subscription.
If your Hulu plan is expired, you will not able to stream anything and may receive trouble loading this error.
Check your email for any account expiration notification.
---
3. Make sure Hulu servers aren't down
Sometimes the problem might not be just from your side. The servers of the Hulu might be the culprit.
If Hulu servers are experiencing issues, you will face several issues while streaming shows on the platform.
That being said, we would suggest visiting the downdetector page for Hulu. Here, check the number of reports and user comments. If the reports are significant, it means Hulu are having trouble at the moment.

In this case, you would like to wait till the servers get fully restored.
---
4. Reboot Router
You might be streaming Hulu by utilizing a Wi-Fi router, you're most likely using Hulu on your Smart TV. The error of Hulu having trouble loading on TVs is most likely due to a slow Internet connection.
In order to fix it, follow the steps mentioned below:
Unplug both the router and modem.
Plug the modem back in after 30 seconds.
Plug the router back in after 60 seconds.
After it's all plugged in, wait for about 2 minutes.
Restart the router and modem.
After the modem and the router has been restarted, launch Hulu again to check whether the error of loading the video is fixed or not.
---
5. Restart Hulu app
One of the ways to resolve the error that you're facing can be solved by restarting the Hulu app on your device. The error can be caused by bugs and server errors on the Hulu app to overcome this issue restarting your Hulu app will reload everything and get rid of all the errors.
Follow the steps mentioned below to restart Hulu on your smartphone:
From your home screen, swipe upwards or from the bottom display panel tab on the application switching option.
In the list, find the Hulu app on it.
Drag the app and remove it from the application switching window.
After it's been done you can relaunch the app and most probably the error of Hulu having trouble loading will be solved with this step.
---
6. Restart your device
Moving on, close the Hulu app and restart your device. This can help refresh the app and your internet connection as well as kill any temporary bug causing the Hulu not to load.
---
7. Update Hulu App
Hulu must have come up with new versions of the app and hence the older versions are facing glitches and errors to function properly. The older version of the app installed on your device can lead to the app having issues like trouble playing the videos.
To fix that, follow the steps below to update the Hulu app on your device:
For android:
Go to the Play Store on your android device and in the search bar type HULU and enter it.
Hulu app will be displayed, proceed by tapping on the app icon.
There on, the option to update will be given, tap on the update button.
For IOS:
Open the App Store on your IOS device.
Find the profile icon and tap on it, it's located in the top right corner of your screen.
Find the Hulu app on the list and tap on the update button.
When the app has been updated, launch the app again and check whether the error has been fixed or not.
---
8. Turn off your VPN
If you're using a VPN, try disabling it as it can interfere with Hulu's streaming service.
A VPN disguises your location and hides your identity, so it can sometimes cause issues while streaming shows on Hulu especially when you are streaming any regional specific movie or show.
---
9. Clear Hulu cache
Having a cache of an app on your device assists in making the device perform better but at times even the cache can be corrupted and lead to errors with loading the app and even the movies.
In order to fix that, you need to clear the cache on your device by following the steps below:
Go to settings.
Scroll down and locate the apps option and tap on it.
From the list of apps, locate Hulu and tap on it.
Go to the storage tab and tap on clear cache.
---
10. Log out and Log in again
Logging out and logging back into your Hulu account can sometimes help fix issues you may be experiencing. Here's how to do it:
Open the Hulu app or website.
Click on your profile icon in the top right corner.
Click on "Account."
Scroll down to "Privacy and Settings" and click on "Log Out of All Devices."
Confirm that you want to log out of all devices.
---
11. Uninstall and Reinstall Hulu
Even after updating the app, the error is still there then you will have to proceed by uninstalling and reinstalling the app again as it will get rid of the corrupted files, and you will have the working version of the app on your device.
For Android:
Open up your application screen then locate the Hulu app.
Press and hold the app for several seconds.
The option to uninstall will pop up, tap on it and uninstall the app.
After the uninstall icon, open your Google Play Store and reinstall Hulu back again.
For IOS:
Locate the Hulu app on your device, in the application window.
Tap on it for several seconds, then tap on the uninstall button.
After uninstallation of the app, open your App store.
Reinstall your Hulu App.
---
12. Hard Refresh your Hulu Web Page
Performing a hard refresh of your Hulu web page can help fix issues related to loading or buffering.
Press the Ctrl and F5 keys together at the Hulu Login page to perform a hard refresh.
Press the command(⌘), Option(⌥), and R keys at once.
---
13. Use Another device or browser
If you're experiencing issues with Hulu on a particular device or browser, you can try using another device or browser to see if the issue persists.
By using a different device or browser, you can determine if the issue is specific to the device or browser you were previously using or if it's a broader issue with your Hulu account or service.
---
14. Report to Hulu
Even after following all the steps mentioned above, if you're still facing issues with Hulu having trouble loading then contact Hulu's customer support. On Hulu Help center you can briefly describe your issue and they will assist you.
On Hulu Community, there are people who have faced the same issue, so you can check their comments to find solutions that might have worked for them.
---
SEE ALSO:
How to cancel Hulu through Amazon
How to Find your Hulu Username and Password [4 easy Steps]
[Fix] Why is Hulu not working on my TV
---
FAQs
Q1. Is Hulu available only in the USA?
Answer: Currently, Hulu only streams in the USA and in a few parts of Japan. They might expand their streaming location to other countries but till now even if you use VPN, you won't be able to stream Hulu if you don't reside in these places.
Q2. Does Hulu have a 30-day free trial?
Answer: You can sign up and for new subscribers, you will be free to try any Hulu plan of their choice. They will give you unlimited access for 30 days for both ad-supported and no-ad plans for you to choose. After one month, your free trial will expire, and you will be required to pay for a future subscription.
---
Final Words
Hulu consists of a library filled with movies and TV series, the latest movies are always available on Hulu along with the Disney movies. The streaming platform has been a source of entertainment for almost 6 years, and it has never failed to meet the user's expectations.
Sometimes there can be issues with Hulu servers and there can be glitches as well but all of these issues can be resolved by following all the right steps. We hope that the guides mentioned above directed you to solve your issue and assisted you in being able to stream your videos freely.
---
Further Reading:
Pause Hulu Subscription vs Cancel Hulu Subscription 
Why Does HULU have Ads : Explained
Benisha, a tech enthusiast with a passion for PC gaming (motosports) and a love for all things automotive. With a wealth of expertise in social media apps, software, and devices, Benisha is dedicated to assisting users in resolving their tech-related issues. Whether you're navigating the digital world or hitting the virtual racetrack, Benisha is your go-to tech expert.