Facebook is one of the most loved social media platforms among people. This fastest-growing app has become an inevitable part of our daily lives, where we share the joyous moments of our lives, interact with people all over the globe, and much more.
Many Facebook users have been reporting lately that they are unable to see comments under their posts, which is frustrating at times. 
Imagine posting a humorous post on your Facebook account, and your friends show up under your post with their witty comments, but you are unable to see those comments. 
Such a bummer!
In this article, you're going to learn why Facebook doesn't show you all the comments, or Why does Facebook say 3 comments, But I Only See 2 on My Post, and how you can fix this issue in a jiffy.
Let's begin.
---
Why does Facebook say 3 comments, but I only see 2 on my post
Short Answer: Facebook says 3 comments, but you only see 2 on the post because – the user who made the comment may have deleted it. Facebook may be hiding offensive comments or comments with specific blocked phrases. There could be a glitch in the system. The person who made the comment may have blocked you
There could be multiple reasons why Facebook is not showing you the actual number of comments.
Here are the possibilities:
1. The User has Deleted the Comment
If you are seeing fewer comments than the actual number, then it might be a possibility that the user has already deleted the comment. In this case, give Facebook a few seconds, and it will update the count resulting in showing the actual number.
2. Derogatory Remarks
Another reason why you are not being able to read the actual amount of comments is that you may have blocked specific phrases for the comment section or hidden offensive comments. Facebook algorithm is smart enough to hide all the offensive comments, and you will not see them under your post.
3. It Could be a Glitch
According to the latest report released by datareportal, there are 2.963 billion users on Facebook. So, the app is likely to face some glitches every now and then due to the large user base. 
These glitches could be the reason why Facebook is displaying an incorrect number of comments. In addition, these glitches cause a malfunction in the system. As a result, the comment count seems to be off.
4. You have been Blocked by the User
If you're still seeing fewer numbers of comments then we hate to break it down to you, but the person has most likely blocked you.
That's why you're unable to see their comments.
---
How to Fix Facebook comments glitch (Facebook Comments Disappearing)
Now that we know why Facebook is not showing the correct number of comments, let's talk about the solutions to fix this issue.
Solution 1: Turn off the Comment Ranking
The following steps will ensure the fixation of this error.
Step 1

: Open the

Facebook App
Step 2:

Click on your

Profile Picture
Step 3:

Next, Click on the

Settings & Privacy

option

Step 4:

Now, scroll down and tap on the

Followers and public content
Step 6:

Carefully read the descriptions and mark every option to

Public
Step 7:

Scroll to the very end and turn off the

Comment ranking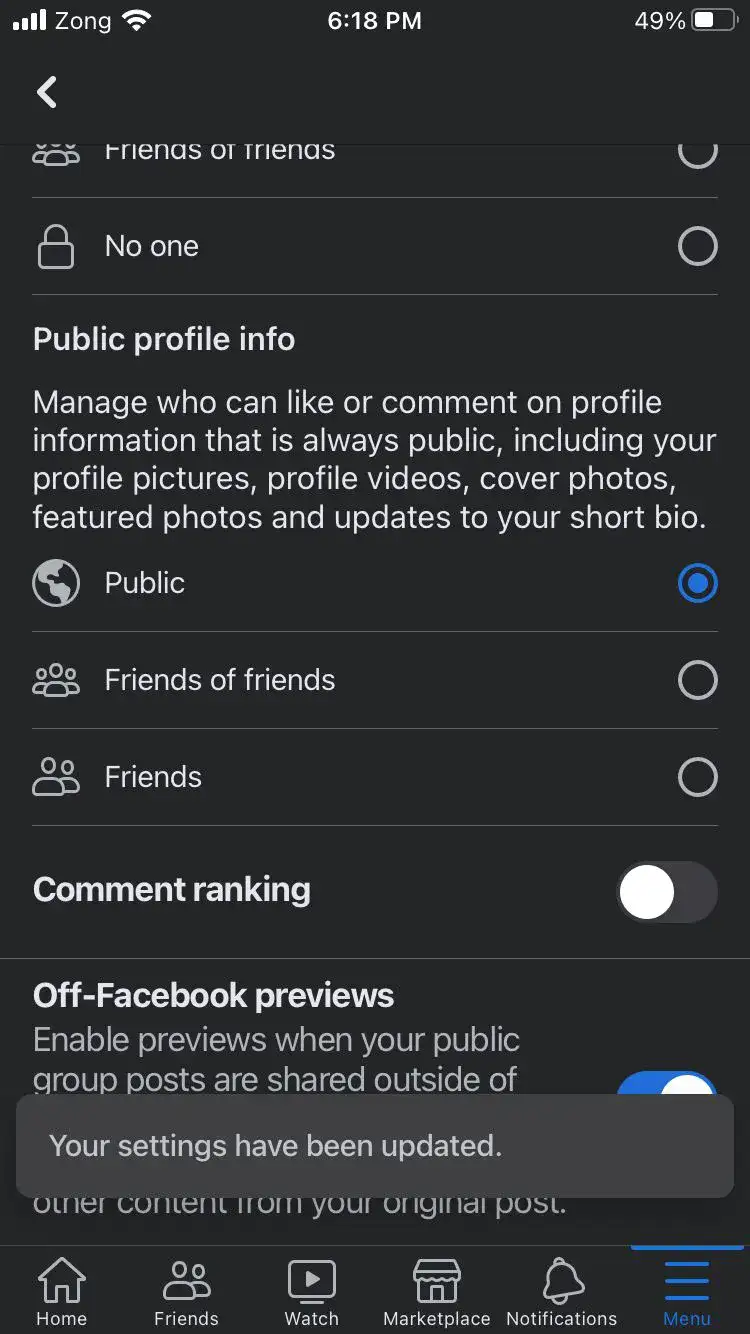 NOTE: Make sure you get a dialogue box saying, "Your settings have been updated."
Now, go back to your Facebook profile page and refresh it.
And, Voilà, your problem will be fixed.
If the error persists, try the methods mentioned below.
---
Solution 2: Check Comments from a Different Account
If you are still seeing fewer comments, then it might be a possibility that the person has most likely blocked you. To check this, log in with a different account and check the comments on the post. If you are seeing all comments, then the person has blocked your account.
Unfortunately, you can't unblock yourself. However, you can contact the person and resolve the issue.
---
Solution 3: Update the App
Nobody likes outdated old-school stuff, and neither do our apps. If the error persists, then it might be time to update the app.
Updating an app is not as hard as updating your lifestyle. Just follow these simple steps:
NOTE: Here you are seeing Open instead of Update because my Facebook App is already updated. However, you will see an Update option if your App is outdated.
---
Solution 4: Remove Your Browser Cache
Over time, Facebook can accumulate extensive amounts of cache that could potentially become the source of this error. Therefore, it's important to clear the cache from your browser.
Here's what you have to do to clear the cache from your browser.
Step 1: Find and open your Facebook App
Step 2: Click on the 3 horizontal lines in the bottom right corner
Step 3: Scroll down, find, and tap on Settings & Privacy
Step 4: Now click on Settings
Step 5: Next, scroll down a little, and tap on the Browser
Step 6: Here, you will see the option saying Clear your browsing data, simply tap it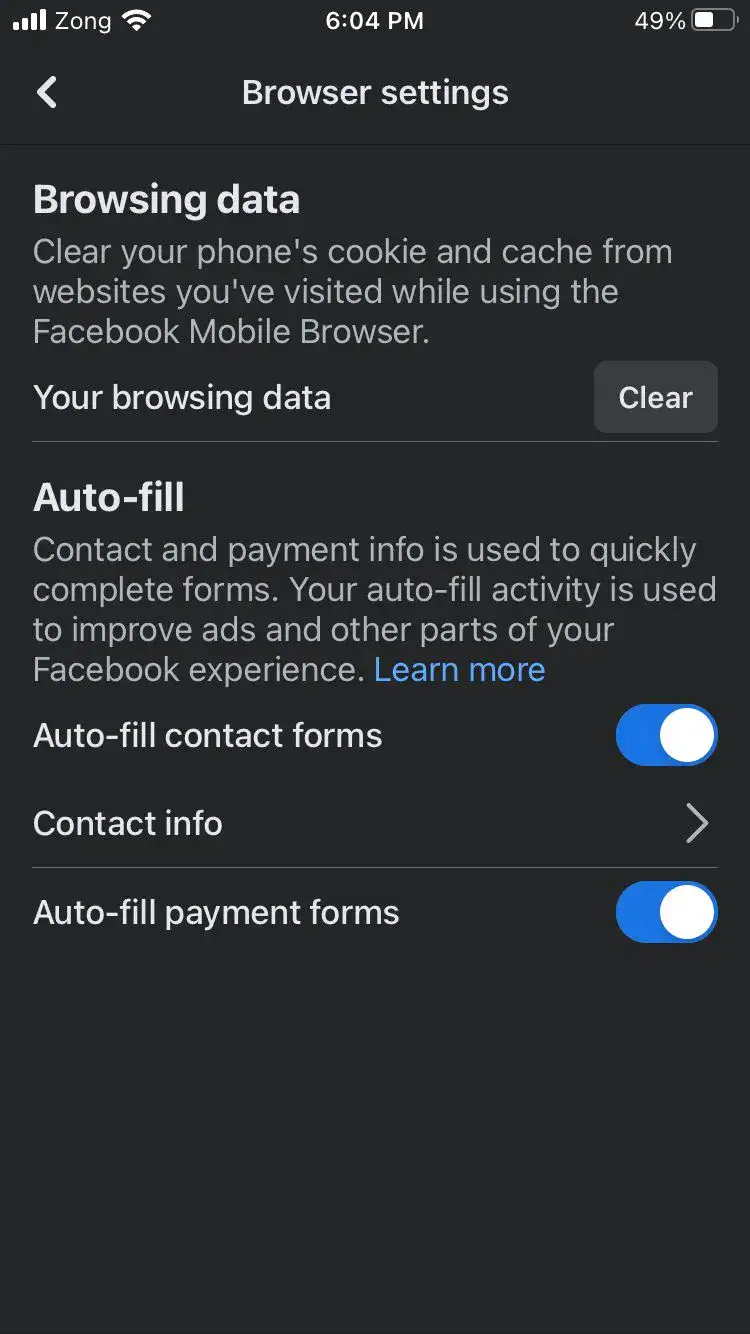 NOTE: This option will clear all your cookies and cache that you visited while using Facebook in the browser.

If the error decides to stay consistent, try the solutions given below!
---
Solution 5: Restart the App
Restarting the app is by far the quickest and fastest way to address any error. This method seems to work for everyone. Simply just close the app and reopen it. 
If that doesn't work, try logging out of your Facebook account and then logging back in again. This helps refresh your account and resolve any glitches.
---
Solution 6: Report the problem
If the error persists, then it's high time you knock on the door of the parent company Meta and report the issue and ask for assistance. They will surely be able to resolve the issue and get your comments back.
---
SEE ALSO:
---
Conclusion
If you have been experiencing this error for a while, then it's time to put an end to it. 
Luckily, you have got your hands on our easy-to-follow guide. Try out the solutions outlined in this article, and we are certain that you will be able to fix the error.
One of the most important steps to take in ensuring a smooth experience on Facebook is keeping your Facebook App up-to-date. This helps to prevent future errors and ensure that you have access to the latest features and updates.
Don't let your valuable comments disappear – take action today to resolve this issue.