Considering how hectic today's world is, people rarely have time to attend to normal phone calls, let alone messenger calls. So, in this article, considering people's concerns, we'll take the Messenger 'No answer' and 'Did not Answer' issues into account.
But before that, we shall introduce you to what actually the issue is. So, whenever you try to contact someone by calling them on messenger, this issue rises, & it says no answer. Getting blocked is the most ubiquitous reason for it.
So, without devoting much of our time to its introduction, let's quickly know the causes & effective solutions for the issue.
---
Meaning & Reasons: 'No Answer' or 'Did not Answer' on Messenger
Quick Answer: Messenger 'No Answer' simply means that the call did not connect due to internet issues or the user on the other side has ignored your call. 'Did not Answer could' also mean that you are blocked by the person or their account is deactivated.
Below we will be including all possible reasons why you are getting the 'No Answer' condition on Messenger. Make sure to check all of them.
Reason 1: Ignored Your Call
A busy person often ignores the call. If you're trying to call someone on messenger &, they don't revert. So, either they are busy with their respective work & declined your call or just deliberately ignoring you
Try to call them twice or thrice. If the issue persists, drop a message to them asking them to pick up your call (if it's urgent), or you can just buzz them normally.
Reason 2: You are Blocked
As we mentioned earlier, getting blocked is the most ubiquitous reason for this issue. There are a few reasons I chose to mention this aspect at the very end.
Firstly, we'll discuss how you will get to know if someone blocked you on messenger, & secondly, nobody likes to get blocked by anyone, as it's desolating.
Reason 3: Phone on DnD mode
There is a possibility that the person you are trying to call has put their phone on the Do Not Disturb mode. In general, the DnD mode in most devices does not block or silence the call notification and ringer.
But, if the person has selected the feature to block calls, your call won't go through their device. The probability of this scenario happening is highest for iPhone users.
DnD mode on iPhone's Focus is aggressive and blocks the call and ringer. But, the calls go through if a second call is made. Repeated calls go through DnD mode in iPhones.
You can either try calling again or wait for their callback.
Reason 4: Notification Turned Off
Facebook Messenger offers a feature where a user can put anyone on their list on the 'Ignore' list. If you are added to the list, your calls won't go through and you will see the 'Did not Answer' text on the screen.
There's nothing to worry about, the next time they'll log in, you might get a callback.
Reason 5: Slow Internet Connection
If there's a connectivity, server, or settings issue at your or your friend's place, you can't make a call. As messenger doesn't require a fast internet connection. At least make sure you have a stable & reliable internet connection at your place.
Turn off the Wi-Fi or cellular data & turn it on again. You might have to restart your Wifi router or contact the service provider.
If the issue persists, reinstall Facebook (Play/App store > Search Messenger > Uninstall > Install)  & then restart ( Hold & press Volume & Start buttons simultaneously) your device.
Reason 6: Not Logged In
If you are trying to call someone on messenger & it says no answer, it could simply mean either they are not on messenger or they haven't logged in yet.
Because without being on Messenger, the call won't show up to them. So, just wait for a while and try calling them back & you're sorted.
---
How do you know if you are blocked or ignored on Messenger?
Method 1: Check Message Status 
Check the status of the messages you have sent till now. If the message is read by that person but hasn't replied yet, they may have decided to ignore it. 
All you have to do is Log in to the Messenger App > Search the ID of the concerned person.
Check the symbol beside the messages. If you see a blue tick on the circle, it means that your message has been sent to the concerned person.
A filled blue circle including a tick indicates the message has been delivered to the recipient.
When you notice the recipient's profile picture next to your message, it indicates that the recipient has successfully read your message but not replying at the moment. 
If the person has read the message through their notification bar then you won't notice any read receipt there. You can check upon them through other sources if there's any urgency.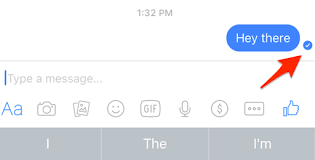 ---
Method 2: Check The Last login to Messenger
Log in to Messenger > Search the ID of the concerned person.
Open the chat & look above for their activity status.
Note: If either have you turned off their activity status, then you both won't be able to check the activity status of each other.
If the activity status is easily accessible to you, you should immediately see it under the name of the user at the top of the screen.
You will see the word Active now or Active X min ago, and if the last access was made after sending your message, the user may have deliberately ignored your communication.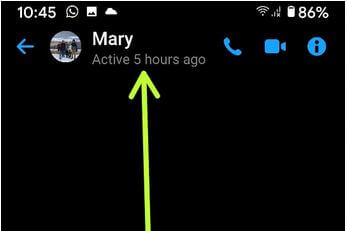 ---
Method 3: Check The Person's Display Picture & Name
If you can see the concerned person's display picture and name at the top of the chat, the user might have deliberately blocked you for some reason & not deactivated or deleted their account.
But if their display picture is a gray outline of a person instead of their old photo, the chances of deactivating is more.
---
Method 4: Check For Any Warning Or Notice
If you see a message like "This person is unavailable on Messenger", then you are probably not blocked—the person has either deactivated their account, or the account was deleted by Facebook. For some reason not explained by Facebook, this text doesn't appear at the bottom of all deactivated accounts.
---
Method 5: Get the confirmation
Well, this method won't seem viable for all the readers, but we think it is the best possible way to learn the correct state of your call.
Contact the user and ask them if they are actively available on Messenger. And if it is awkward for you to do that, you can ask any of your friend for help.
The point is not to stalk them, but to get a clear idea. If the person has deactivated their Messenger account or blocked you, there is not point of making calls.
---
Final Words
In this article, we tried our utmost best to make you familiar with the issue & know whether you have been blocked or ignored by someone or not.
I would like to sum up the important aspects in a nutshell here. You will find various causes & effective methods to encounter the problem fearlessly. Such as, checking their activity status, or their Last login, or checking up on their Display picture, etc.
You should go through all the above-mentioned procedure thoroughly to get best & instant results. In the end, I would like to say that, just reach out to the person anyhow, in urgency, or if the person matters. Sit & sort things out.
Do share the causes & methods to someone who you think are in need. I hope it felt insightful & valuable to you all. Do good, Be good & spread positive vibes all around. Make this world a little better place to live.
Thank You so much guys for lending your eyes to this one!
Have A Mesmerizing Day You all Ahead!
---
Further Reading:
[5 Ways] Fix no sound on Facebook Messenger Video Call (Laptop and Mobile)
When you mute someone on messenger can they see if you're active?
[Solved] Why does Messenger show active?
[Fixed] Why would messages in messenger be sent but not delivered
[FIXED] Why did I receive a Messenger verification code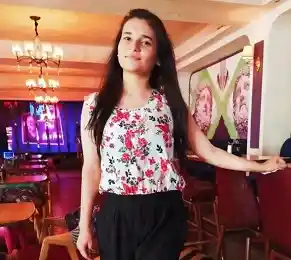 Sakshi is a Terpsichorean (dancing all her stress out), she always had a keen interest in writing creative content since her school days. Basically, balance & short-term goals are something she looks forward to. She's a big time foodie yet a fitness freak pursuing this job to fulfill her day-to-day needs.
---
Stay connected with us for the latest updates! Follow us on Telegram and Twitter to join our vibrant community and never miss out on any exciting content."