Has it been a long while you sent the message, but it's yet to be delivered? Don't really know the reason behind it? There's absolutely nothing to be worried about as in this article we're going to address the "Messages in messenger be sent but not delivered" issue. 
Facebook messenger is one of the most leading applications when we talk about instant messaging. It has spread worldwide in a very short span of time.
Although, after being one of the most popular instant messaging applications nowadays, there are still some disadvantages that people are having using this application.
One of them is "messages in messenger be sent but not delivered". And today we will address this issue & try to encounter the problem efficiently. Without eating much of your precious time, let's begin.
---
Why would messages in messenger be sent but not delivered?
Reason 1: Slow Internet Connection 
If there's a connectivity issue at your place, the messages would probably be sent but not delivered. Either that or there might be a problem on the recipient side – a server problem, settings, or internet problem.
---
Reason 2: Not Logged In/Ignoring
It is possible that the recipient hasn't logged in to the messenger app yet, or deliberately ignored your messages, or have read it through the notification bar, or they might have deleted your message without giving it a read.
---
Reason 3: Not In Your Friends List
If you are new to using the messenger app, make sure you have the recipient on your friends list before sending them a message. If they already are on your friends list, then my friend, you're blocked by that person.
---
Reason 4: Messenger Is Down
It's possible that your chats are currently on the connection requests list and haven't been approved yet. It is possible that the app is down even after your messages are approved, or the message you sent was marked as spam.
---
What is the difference between sent and delivered on messenger?
There is a slight difference between the message sent & delivered on the messenger app. We shall discuss it now.
So basically, "Sent" means that Facebook Messenger has received your message at its servers and is now ready to deliver it to the recipient.
Whereas "Delivered" means that the message has been downloaded on a device that the recipient is now able to retrieve and view.
If you notice a blue tick on the circle, it is the sent icon. It indicates that the message is sent by the Facebook server.
A filled blue circle including a tick indicates the message has been delivered to the recipient.
When you see the recipient's profile picture next to your message, it indicates that the recipient has successfully read your message.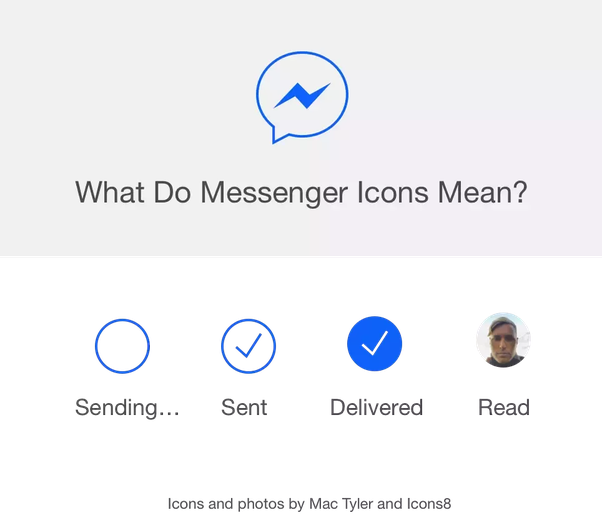 ---
How to Fix message not delivered on Facebook Messenger?
Method 1: Boost Your Internet Connection
Make sure you have a good internet connection. As we all know, Facebook doesn't require fast internet connectivity. Even though, it can't run with the low connection too. So, before logging in make sure you have a good connection.
---
Method 2: Send Friend Request
If the recipient is not on your Facebook friends list, make sure to send them a friend request & become friends on Facebook. So, that this issue gets fixed. Although, you can't really do anything about being ignored or blocked.
I'm sure you must be aware of how to send friend request to your friend, if not, we are there for the rescue. All you have to do is follow the below-mentioned procedure:
Click the search bar in the top left of any Facebook Page.

Type your friend's name into the search bar and click 
To send someone a friend request, click  next to their profile picture. Some people might not have  next to their profile picture, depending on their privacy settings – reference Facebook.com.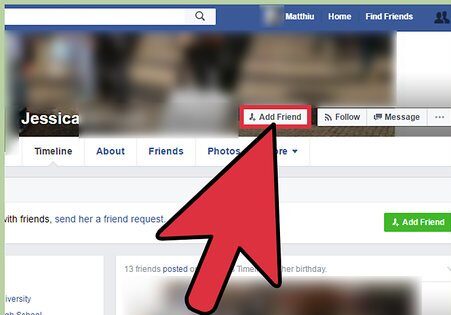 ---
Method 3: Clear Cache
One more thing you can try is Clearing Cache for the Facebook Messenger App. Bypassing unnecessary data may enable the app to send and receive messages more efficiently.
 Go to device 

Settings

, navigate to 

Apps & Notifications

.

Search 

Messenger 

in the list of Installed Apps. Tap on it.

Tap 

Storage & Cache

, as depicted below.

Finally,

 Clear Cache 

to clear cache data.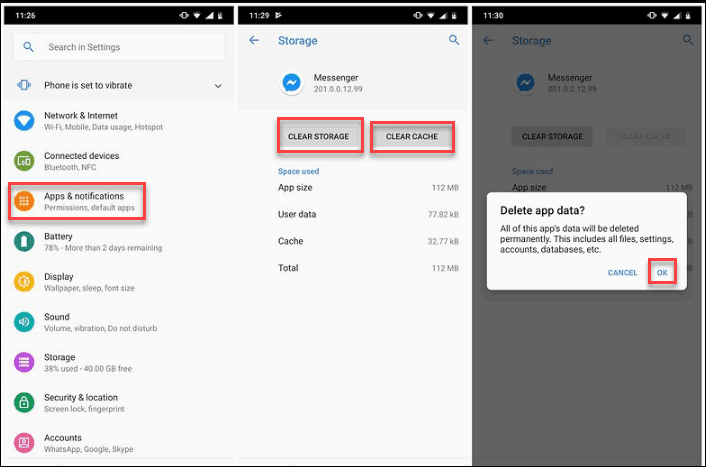 ---
Method 4: Restart & Reinstall Facebook Messenger App
Try to restart the Facebook Messenger app. All you have to do is log out & then log in again. If the issue persists, log out again, reinstall the app from the Play/App store, & this time restart your device (hold the volume & start button simultaneously).
Now, when you sign in to your account, the chances are high that the message will be sent and delivered to the other person.
---
Method 5: Use Facebook Messenger Lite
Messenger Lite is an optimized version of Messenger that is lighter than the original.
Lite works for devices with non-optimal specs.

It works very well as compared to the original version when you don't have the access to a reliable internet connection.

The User Interface is a bit less sophisticated and consumes lesser mobile data.
You could utilize it more efficiently since it still includes the essential feature of sending and receiving messages.
Go to Google Play Store > Search and Install Messenger Lite.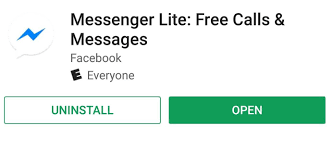 ---
Final Words
In this article, I've tried to address a very common problem people are facing nowadays, that is, Messages in messenger be sent but not delivered. By the end of the article, you will be familiar with a few things.
The reasons behind "Why would messages in messenger be sent but not delivered?", "What is the main difference between sent and delivered on messenger?", & lastly, "How to Fix message not delivered on Facebook Messenger?"
I hope you read the article till the last & is capable enough to encounter the problem now. Do share the above-mentioned fixations to the ones you think are in need of it.
I hope it felt insightful & valuable.
Thank you for lending your eyes to this one. Have A Mesmerizing Day Ahead!
---
Further Reading:
[8 Ways to fix] Why I can't open Messenger (2022)
How to fix Facebook Messenger effects not working?
[4 ways to Fix] Why can't I log-in to Messenger app?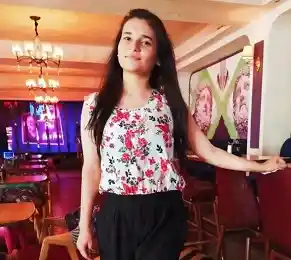 Sakshi is a Terpsichorean (dancing all her stress out), she always had a keen interest in writing creative content since her school days. Basically, balance & short-term goals are something she looks forward to. She's a big time foodie yet a fitness freak pursuing this job to fulfill her day-to-day needs.
---
Stay connected with us for the latest updates! Follow us on Telegram and Twitter to join our vibrant community and never miss out on any exciting content."