Messenger application has innovated its ways of texting, giving it more aesthetic features. Today we are going to discuss an issue related to one such popular feature.
Messenger application allows an emoji to appear when a certain word or phrase is used in text messages. This emoji represents the word or phrase and allows you to use the emoji along with the word and thereby giving you a cooler experience in messaging.
This effect, also called 'Word Effects', brings out a suitable emoji automatically.
However, several users have reported the Messenger word effects is not showing to them. While others reported they don't have word effects on Messenger.
So, if you are also in the same boat, you are at the right place. Here, we have provided a few ways to fix word effects on messenger not showing or not working.
So, let's begin.
---
Reasons: Word Effects on Messenger not Working
Short Answer – Messenger Word Effects are not working because it was disabled by the other user, you are blocked by the user, you are trying it on a PC, you are spelling the wrong trigger word/ phrase, app version is outdated, the internet connection is unstable, there could be issues with your device, or you have exceeded word effect limit.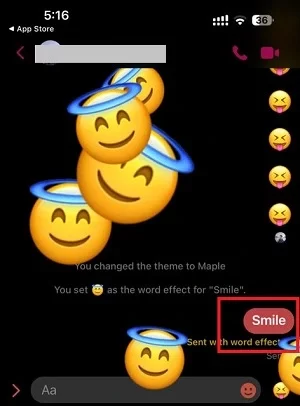 The messenger effect allows the user to add extra emphasis on a word or text using emoji. For this, they are required to save the effect to a corresponding word in the feature settings. There are situations where this does not work out.
1. Trigger word/phrase sent from a PC
Messenger Word Effects is a great feature, but it can only be used on a Messenger app available for Android, iOS, and iPad OS. The word effects cannot be used if you try it on Messenger's web version (Messenger.com) and even the Windows app.
Even if you enter the same trigger word or phrase on the web version, the word won't show any effect. If you enter a trigger word on your mobile app, you will see how it turns Bold automatically, showing it's a trigger word. See the third 'Smile' in red square. The font is in bold formatting.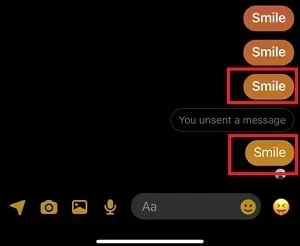 The last 'Smile' is sent from a PC and doesn't change to bold formatting and trigger the Word Effect.
2. You are blocked
If you cannot access the Word Effects settings or add a new word to the list, it is possible that the user has blocked you.
This could be another reason Messenger 'Word Effects' is not working for you.
The screenshots below show how the customization options disappear when you are blocked vs. unblocked.
3. Word Effect removed by the user
In a chat, both users get the ability to add and remove a Word Effect bind to a trigger word/ phrase. What if the other user deletes a word from the list, and it goes unnoticed by you?
This could be the other reason why Messenger 'Word Effects' is not working for you, as it has been deleted.
To check if a word has been deleted, you just have to check the "'name' removed the word effect from the 'trigger word'" notification.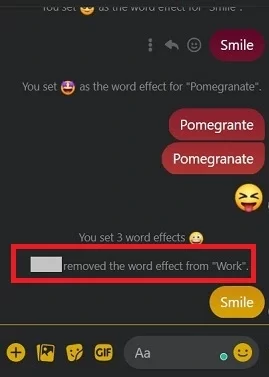 4. Wrong spelling of the Phrase/ Word
If you have used some complex word, there is a possibility you are not putting the correct trigger for the Word Effect to work. You are supposed to use the exact word/ phrase to use the feature.
To know if you are using the right word you can observe as soon as you write the correct word, the bold formatting applies on its own.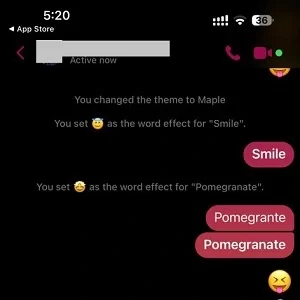 5. Limit for words exhausted
Messenger only allows you to add 50 words to be used as Word Effects to a single chat. If you try to add more words, it won't work.
Limited number of words for a single chat could be the reason why the Word Effects feature is not working for you.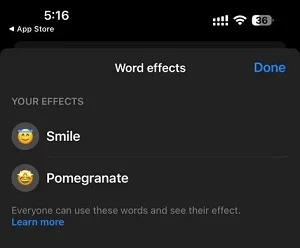 6. Issues with the app
There is a possibility that Word Effects is not working for you because of an app bug or glitch. If you have made sure none of the four above-mentioned reasons apply, it is possible there is an app issue.
7. Issue with the device
Word effects feature might not be working because of an app-related issue. If your device is not connected to a stable internet, you won't be able to use the Word Effects as intended.
---
Fix: Facebook Messenger effects not working
Messenger Word Effects is a special feature in the Messenger app that allows users to send floating emojis on the screen while sending a particular text to a chat. Once the user enters the text and sends it, the corresponding emoji floats over the screen.
This special effect makes the text more dramatic and fun. However, there are instances where the feature is not enabled in your app, or the effects do not appear. We have listed some useful techniques to figure out this issue.
1. Update Messenger application
Firstly, make sure the Messenger application is updated to its latest version. This will allow you to access the effects. If you have any pending updates, the feature would not be made available in the version that you have.
If you are one of those who have their auto-update settings turned off, you should really check if your Messenger app is running on the latest version. Downloading the latest patch update also ensures a bug-free app experience.
2. Send/Receive from the eligible platform
As mentioned above, Word Effects works only on Messenger app for Android, iOS, and iPad OS.
If you are sending any trigger word from your PC, it won't work for you as well as the other person on the chat.
So, to use the word effect use the Messenger app on your mobile device.
3. Check your network connection
Make sure your application is running under a stable network and there is no interference in your Wi-Fi signals.
Check if your router is close to the device. And confirm that all other devices receive adequate signals to make sure there is no fault with the router.
All the special feature in Messenger requires a stable connection if not a faster connection. So, check if your router is working as intended.
You can also try switching to mobile data. Check if you are still facing the same issue.
4. Ensure putting correct word/ phrase
Yes, it's important to make sure you are typing the correct phrase for the word effect you want to use. Word effects are triggered by specific phrases, and if you type the wrong phrase, the effect will not be activated.
5. Delete unuseful trigger words
Messenger word effects have a limit to use. As per Facebook Help Center, you can only add 50 custom phrases as word effects.
To add a new word/ phrase you will have to delete some of the words in the list.
To delete a trigger word or phrase, simply long-press it and select the option to delete.
6. Reboot your device
If you are unable to find the Facebook Messenger effects feature even after updating the application, then try to reboot the device. This will remove any glitches that could have entered the app.
7. Log out and Log in again
Sometimes simply logging out and logging back into the applications fixes a lot of problems.
So, simply log out of your Messenger and log in again. Now, try using the word effect. If it still doesn't work follow the other fixes below.
8. Re-install the application
If neither of the above-mentioned hacks works for you, then try to uninstall the Messenger application and then re-install it. This will ensure that you download the latest version of the app and hence gets the effects to feature activated. It will also assure you of a bug-free version. Hope it helps.
9. Report the issue to the Messenger team
Well, if none of the above mentioned methods have worked, we will suggest you report your issue to the concerned team. We all know, it is really hard to have a one-on-one conversation with FB support. But, you need to try your best to receive assistance.
Use this official link to learn the procedure to report your issues. You will be able to change the platform you need help with using the drop-down menu.

Enter all the details asked, describe your issue in detail.
---
How do you get effects on Messenger
1. 'Word effects'
Here is how you can get 'word effects' on messenger;
Firstly, launch the Facebook Messenger application.
Open the chat that you wish to use the effects for.
Then click on the profile of the chat.
On the profile page, look for word effects.
Then click on it, and then type in a word that you wish to give an effect for.
Now, click on the emoji symbol and choose a relevant effect for the word.
Click on the send button.
Select 'Done' to save the setting.
You may create any number of effects corresponding to the word of your choice.
---
2. 'Text effects'
You can also try to get other effects for texts shared over the messenger app;
First, open the messenger application.
Then a chat that you wish to send a message.
Now, type in the text, and click on the emoji icon.
Choose an effect available in the app.
Then send the message. This will let the effect be shown on the text.
---
3. 'Special effects'
These effects are used for video calls. Here is how you can access them;
Launch the application.
Video call your friend or family member.
Then click on the smiley on the side of the screen.
This will open a menu.
Select 'effects' from the menu.
Then click anywhere on the screen other than the menu. This will confer the effect on the video call.
You can also capture videos and photos with various effects.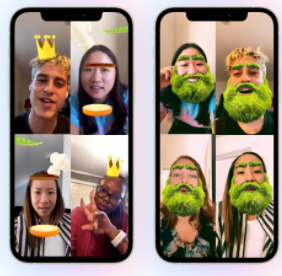 ---
Facebook Messenger Filters gone, what to do
1. Update your Messenger app
Download the latest patch update for your FB Messenger app on your Android or iOS app. If you are using the PC version of the Messenger app, you can check for the updates by clicking on the Top left Messenger logo.
2. Reboot your device
After you have updated your app on Android, iOS, Windows or Mac. Reboot or Restart your device once
3. Check your internet connection
If you are not connected to a stable internet connection, you will find it hard to use this feature. And before you ask, we would like to mention that to use this feature, you will require a decent internet speed. If you are in a region with low connectivity, it will be quite hard to use this feature.
4. Report your issue
If nothing is working, and you are sure you have implemented the steps provided above properly, it is advised to report you issue to Messenger team. Visit the official page for more details.
---
SEE ALSO:  [4 ways to fix] Why can't I log in to the Messenger app?
---
FAQs
Q1 – Why don't I have Word Effects on Messenger?
Answer – You don't have Word Effects on Messenger because you haven't turned it on, you are using Messenger Lite version, your app is outdated, or you are not using Messenger app on PC
---
Q2 – How do I turn on effects on Messenger?
Answer – In order to turn on effects on the messenger app, firstly, launch the application on your device. Then click on any chat that you wish to enable the effects feature. Open the profile page or chat setting page and click on 'Word effect'. Once another page shows up, type in a word and choose a particular emoji to represent it. Then send the word to save the effect.
Now you can try the word on any chat. On sending the word as a message, the corresponding emoji will float over on the screen. For more details refer to the above article. Hope it helps.
---
Q3 – How do I get camera effects on Facebook Messenger?
Answer – In order to get camera effects on the Facebook Messenger application, launch the app, then video calls a chat. Click on the smiley icon on the side of the screen. Select 'effects' and choose an effect of your choice. Click on the screen outside the menu option to exit the menu.
This will confer the effect to the screen. For more details refer to the above article. Hope it helps.
---
SEE ALSO: [Fixed] Why can't I send photos on messenger?
---
Conclusion
This article explains the various ways to fix Facebook Messenger effects not working. We have compiled some effective ways to fix the issue. Hope it helps.
---
Further Reading:
[Fixed] Facebook Messenger chat heads not working
[Fixed] Why is my message not sending on Messenger?
Why does Facebook say I have a message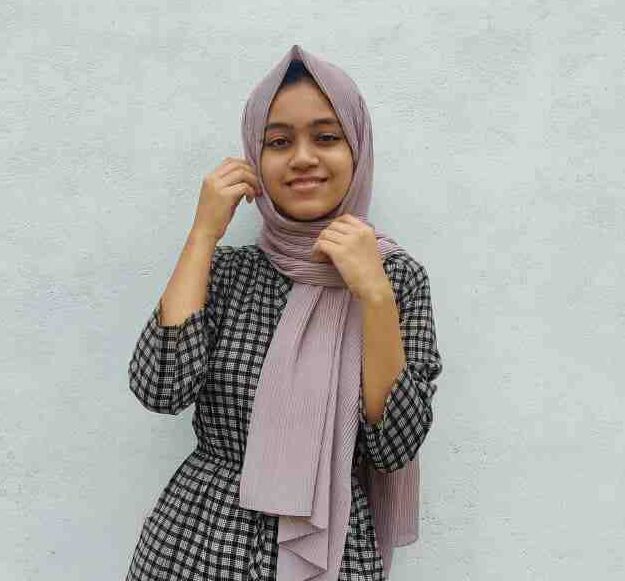 Dilha is a writer who loves composing poems and going into deep research on all kinds of tech stuff that they don't teach in school.
anything that marks the extraordinary part of this generation excites her. she is currently persuing her degree in genetic engineering. here at Android Nature, she is assigned with various cool topics and is responsible for sharing cool insight and updates on the same.
---
Stay connected with us for the latest updates! Follow us on Telegram and Twitter to join our vibrant community and never miss out on any exciting content."