Todays' topic needs no introduction as we're going to talk about one of Facebook Messenger's "Why did I receive a messenger verification code" issue. Without eating much of your precious time. Let's get started with it.
Starting with the basics, Facebook Messenger is a FREE mobile messaging app generally used for instant messaging, sharing photos/videos, voice notes, putting up stories, and even getting involved in group chats. 
Now the question arises, Is Messenger different from Facebook? And the answer to the query is "Yes," it's slightly different from Facebook. Although, users create their Messenger profiles by using their Facebook accounts. 
Messenger is freely available on the web for desktop users. If you choose to set up an account linked with your Facebook profile, then Messenger tends to take information (includes a friends list, profile picture, etc.) from your Facebook profile to set up your Messenger account.
The app syncs with your phone contacts as well. Although, you can change it accordingly.
Facebook Messenger has so many privacy standards to protect your account from strangers. One of them is verification codes (OTP). I'm pretty sure it must be known to every last one. But when you start getting these codes more frequently than you expected. Then it becomes a problem. 
You would like to know why you received a messenger verification code? We will look at this issue (Why did I receive a messenger verification code) in this article.  
---
Why did I receive a messenger verification code
Reason 1: Incorrect Login Credentials
Okay, so if you're trying to login into your account, but you don't really seem to remember the password. You will get a verification code after clicking on forgot password to generate a new password. So, here you just need to change & never forget the password.
---
Reason 2: Two-factor Authentication
If by any chance, you have turned on two-factor authentication in your account & you're trying to log in. You'll get a code in order to log in to your account. 
In this case, you will get frequent verification codes whenever you'll try to log in. It becomes more annoying when you're trying to log in to your account to multiple devices.
---
Reason 3: Phishing/Hacking
Phishing is nothing but a process when someone else tries to log in to your account. It could be a mistake, but if it's happening more frequently, then it's a problem. Just pray you never face this misfortune because it's freaking horrible.
Below we'll discuss the effective solutions to get out of a problem like this.
Now you might want to know how does this phishing actually work? We'll let you know-how.
You'll get a message from a number containing a Facebook confirmation code and a link.
After clicking on that link, it will redirect you to a fake Facebook page asking you to type in the confirmation code to log in. 

The scammer, who already has your phone number, now has access to the confirmation code (and maybe your password) and can access your Facebook account.
---
Reason 4: Glitch In App
There's a possibility that Messenger is glitching and sending you old & delayed verification messages, or
Apparently, someone typed in your Facebook number in their settings and is trying to access their account, or
If you save your credentials on a device with multiple users, someone has accidentally logged into your Facebook account.
---
How do I stop getting messenger verification codes?
Method 1: Change Your Password
Changing a password is the most effective way to get rid of a situation like this. You should immediately change your password if you think you have forgotten it or have been hacked by someone.
Click on forgot password on the sign-in page.
Enter the OTP that has been sent on the registered mobile number or Email.
Generate a new password (make sure you change your password to a stronger one).
---
Method 2: Turn Off Two-Factor Authentication
Turn off the  Two-Factor Authentication in your account.  Go to the Account Settings > Security & Login.
Scroll down a bit to "Use two-factor authentication" > Turn it off.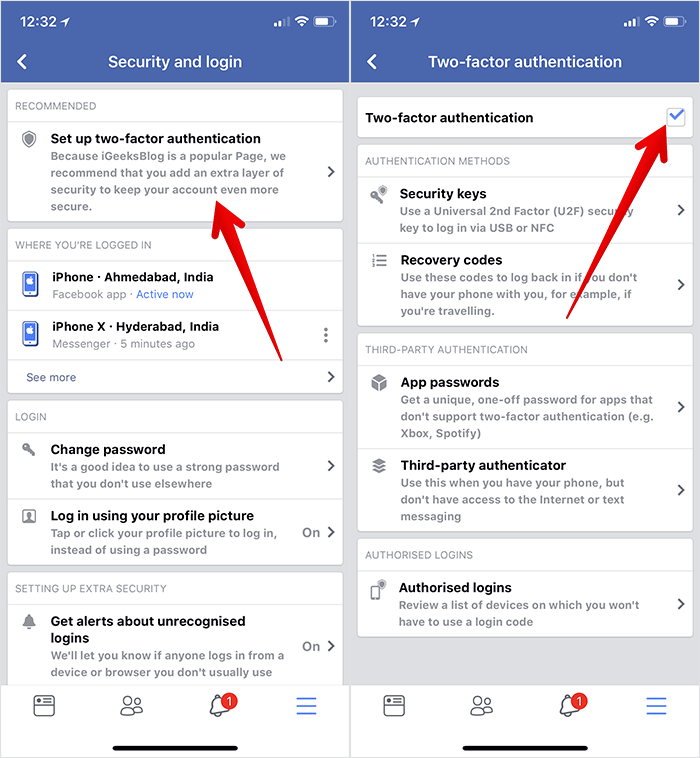 Also make sure to Log out your account from all other devices you have previously logged in to.
---
Method 3: Restart/Reinstall
Restarting the device always serves as an instant solution to all techno-related problems. It may not be obvious to many of you that restart poses numerous benefits.
It Flushes the Memory & Halts Memory Leaks. 
Restarting the device can improve Software Glitches. 
It Can Solve Internet & Bluetooth Connection Issues, Speeds Up Performance. 
Save ample time & Fixes Emergent Issues.
So, I'd suggest you go for that.
Log out of your messenger account.
Go to the Play/App store > Search Messenger > Uninstall > Reinstall it. 
Then simply restart your device by pressing & holding the volume & start button simultaneously. 
---
Method 4:
(Android phones)
Look for the three dots in the top right-hand corner of your text.
Tap on it and select "People" and "Options." Next, select "Block" to stop receiving spam text messages from that number.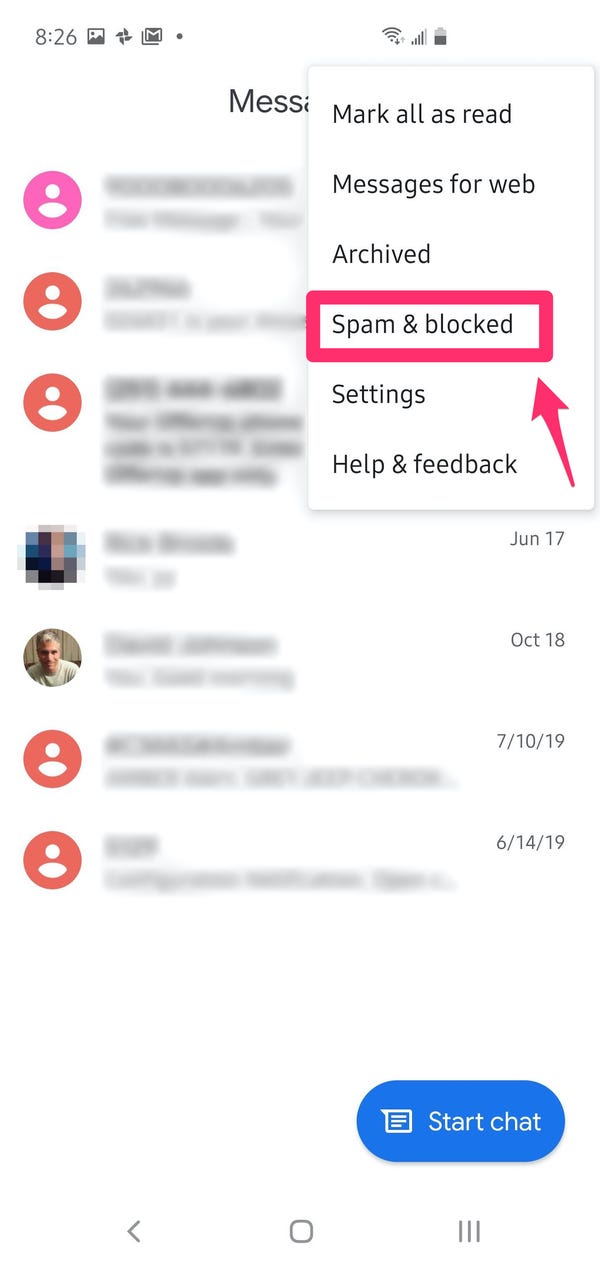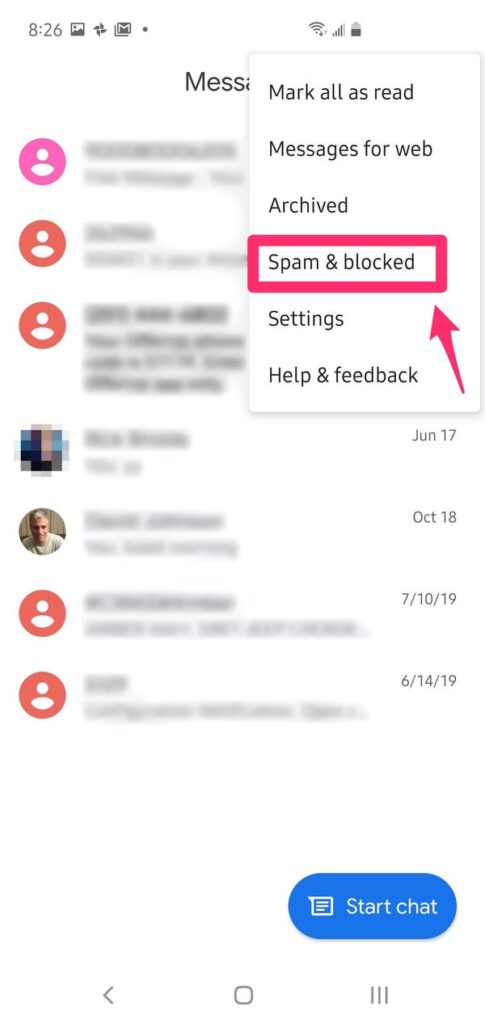 If that doesn't work, you can try changing your number.
---
Method 5: Update The App
There's a possibility that you're using the older version of the app & not the updated one. This can cause the issue too. Make sure to always stay updated.
To update the app, you can go to the Play/App store > search for Messenger > Update it.
---
Method 6: RCS Hack 
The problem may occur if you used the "RCS hack" to prematurely activate the Chat feature on your device. If you attempted this update to your phone, and you are still receiving these verification texts, go through the below solution.
Turn on Airplane Mode.
Clear data and force stop Carrier Services first (if it is installed on your phone) Settings > Apps > Carrier Services > Storage > Clear Storage – Reference Support.google.com.
Reminder: You may have to select "Show system" from the menu to see Carrier Services.
Clear data and force stop Messages second. Go to Settings > Apps > Messages > Storage > Clear Storage.
Wait about 10-15 seconds.
Turn off Airplane Mode. 
---
Final Words
In this article, I've tried to discuss all the possible causes & solutions to encounter the Why did I receive a messenger verification code issue.
I hope you like the article. Do share it with the ones who are in need of it.
Thank You & Have A Good Day Ahead!
---
Further Reading:
[8 Ways to fix] Why I can't open Messenger (2022)
[Fixed] Why can't I send photos on messenger?
[Fixed] Facebook Messenger chat heads not working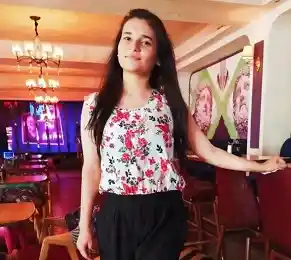 Sakshi is a Terpsichorean (dancing all her stress out), she always had a keen interest in writing creative content since her school days. Basically, balance & short-term goals are something she looks forward to. She's a big time foodie yet a fitness freak pursuing this job to fulfill her day-to-day needs.