Why are my ITV channels not working? How to fix ITV channels not working? Read this article for all the info.
ITV Channels include ITV, ITV2, ITVBe., ITV3, ITV4 and CITV. These are all a part of the British television brand ITV Consumer Limited also known as ITV plc. ITV also has something called ITV Hub.
This is a streaming service which gives you the ITV channels. In addition, it also includes some special sports channels and gives you sports highlights too. ITV Hub is free.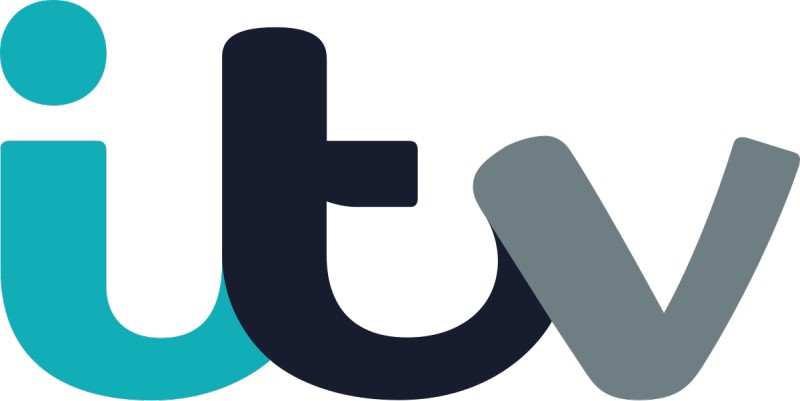 ITV Hub+ is an upgrade to ITV. And it is a paid version which removes ads for streaming but not for live channels. It also allows you to download and binge TV series.
---
Why are my ITV channels not working?
If you are watching the channels on cable and not able to get ITV channels, then you need to contact your cable service provider or network provider. Or if you are trying to watch the channels on the ITV Hub streaming service application, then it might be an issue with the network or the application itself.
Issues with channels on cable TV are usually caused due to the expiry of contract with the service provider of that channel. And on the streaming service there are a lot of factors that cause an issue. Like a technical glitch or a functional error, server might be down and even a network connectivity issue.
ITV Hub is generally favored by people who have cut their cord (cable). The streaming services are chosen by the people who generally try to avoid the stringent rules of cable like the contracts and also the cable outages too. So if errors like these cause a problem for you while enjoying some good old TV, it is annoying.
---
How to fix ITV channels not working?
Let us look at a few methods to fix the issues with channels either on a TV or the ITV Hub streaming service.
For ITV Hub
Step 1 – Check your internet connectivity
If you are using Wi-Fi (for all devices), ensure that the Wi-Fi symbol does not have an exclamation mark beside it, try to check your Wi-Fi connection and turn the router OFF and ON again. If that does not solve it, please contact your Internet Service Provider (ISP).
Or If you are using cellular data (for mobile devices), make sure it is on and displaying two arrows blinking in the opposite direction, with a H+, 2G, 3G or 4G beside it.
Visit www.fast.com to check the speed of your network. At least 5-7 Mbps (megabits per second) is required for you to enjoy any kind of internet service.
---
Step 2 – Clear cache for the application or website
Cache is data stored from each user interaction, which helps the apps respond to future requests faster. Websites use cache too.
To clear cache for an application,
For an Android device, go to settings and find applications. Under applications select ITV Hub, then storage settings and clear cache.
If you are an iPhone user, there is no clear cache option for you. You just need to visit settings find the ITV application, clear the app data and login again to get rid of any errors.
For a website hard refresh is the way to go. Hard refresh clear cookies, cache and all the data saved from previous encounters with the webpage. So, you will have to login again to continue watching.
For a browser on Windows device, press the key combinations Ctrl+F5 or Shift+F5 or Ctrl+Shift+R.
Or if you are Mac user, hold down the key combination Shift+Command+R.
---
Step 3 – Allow permission or cookies for ITV
Permissions are needed for any application to run properly. In the same way a website needs cookies which help the usage of it make it easy for you.
For an application on any device,
As soon as you open the application, it asks you to grant a few basic permissions such as files and media to name one. You need to grant that permission to ensure smooth running of the application.
For a website,
Similar to an application once the website loads completely, you will be asked to accept some cookies. This ensures that you can enjoy your streaming peacefully.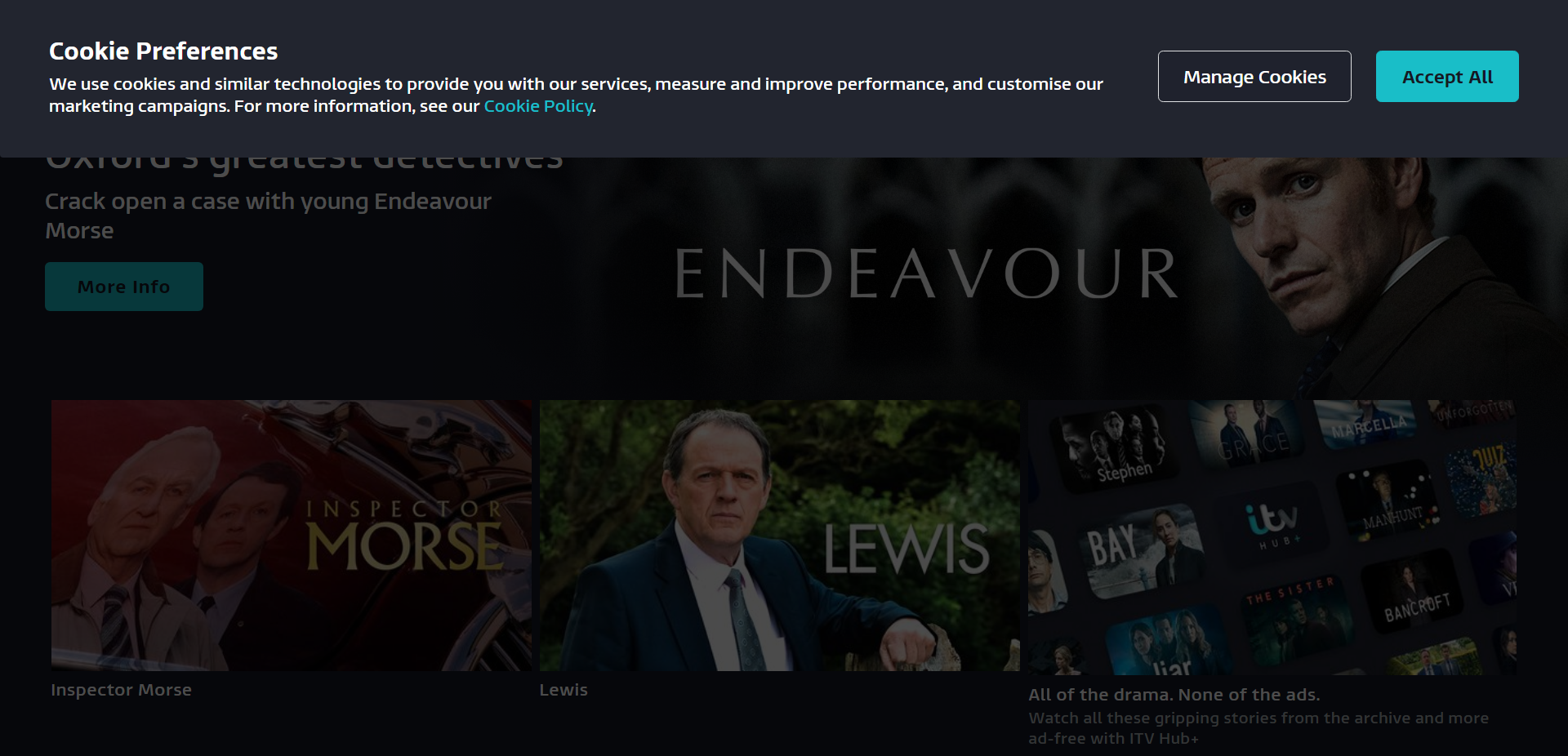 ---
Step 4 – Try changing the browser or using private mode
If the problems persist while using a certain browser, it is recommended to change it and try again. Or you can also try opening the website in incognito or private mode. Also, make sure to disable any ad-blockers so that the website opens and can display all the channels without any problems.
You can try this for a mobile device or a computer.
---
Step 5 – Update ITV application
Updates for most applications are rolled out frequently. If you are experiencing issues with channels on the application, try checking for updates.
Visit the dedicated application store on your device.
Search for ITV, check for any new updates and install if available.
---
Step 6 – Clean install ITV app
Uninstalling a software and then reinstalling a software is known as clean install. This process gets rid of the bugs or errors that are haunting your application.
Visit the application store on your device.
Search for ITV and uninstall it.
Wait for a few moments.
Install the application, login and check if the issue persists.
---
Step 7 – Turn off VPN
Virtual Private Network (VPN) is used for security as well as changing your location by connecting to other networks. This can help you access content that may not be available in your country.
Open whatever VPN application (for mobile) or extension (for browser) is running on your device and turn it off.
After that, try ITV and check if the channels are working now.
---
Step 8- Restart your device
Restarting your device will free up RAM (random access memory), while also clearing app cache and removes minor bugs. This works for all devices.
For an Android device, press the power button on the phone and select the "Restart" pop-up option on the screen.
iPhone users, press the power button and slide the power icon on the screen to the right to turn it off. Or if you have the assistive touch on, select Device, then More and finally select Restart.
Windows users, click on the windows icon and select the power symbol and select restart option. If you are using a computer you can also use the shortcut combination "shift+alt+f4", to get the shutdown window.
If you are using a TV, you can unplug it from the power source or use the power button to switch it OFF. Wait for a few moments and turn it ON again.
---
For ITV cable channels
Step 1 – Check for any loose connections to the TV
When all the channels are having issues, you might need to check for any loose connection to the set-top box or TV. Ensure that all the wires and cables are taut and not hanging loosely.
---
Step 2 – Contact your local ITV service provider
It might be only a single channel or multiple channels, if you have a problem you need to contact your provider. Your local customer service points might help you circle out the problem and also help you find a reasonable solution.
---
Step 3 – Check if ITV server is down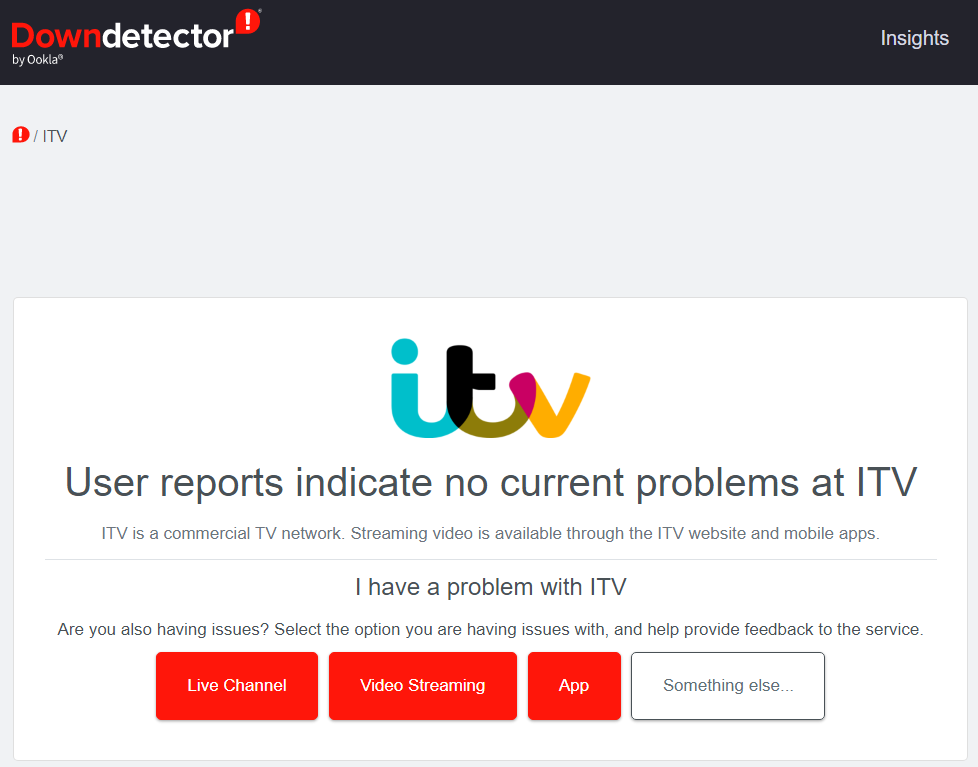 The down detector page of ITV (https://downdetector.co.uk/status/itv/) tells you whether the channels or application is down. You can also report that you have issue by selecting the options mentioned in the picture above. You can select the options mentioned in red or type your issue in the something else box.
Note : This works for checking both channels, websites and applications too.
---
Step 4 – Contact ITV support page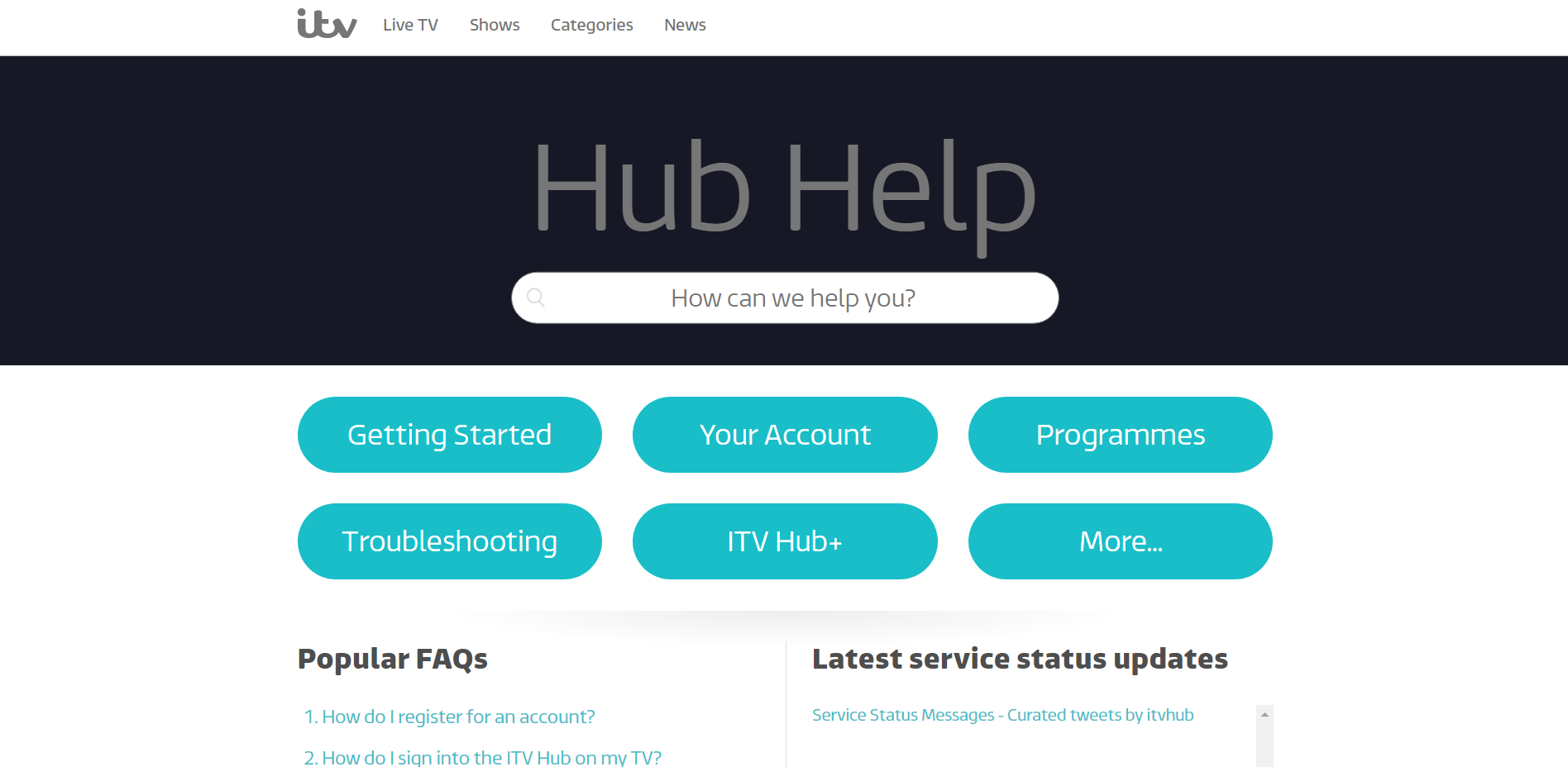 On this website (https://help.itv.com/hc/en-us), you can find popular FAQs and also various guides too. Furthermore, you can type a keyword or your own question to get personalized answers too.
---
FAQs
Q1. Can I watch ITV channels from USA?
You can watch the channels on its streaming service ITV Hub. But, you won't get them from your cable connection. If you are unable to watch on its streaming service too, try using a VPN and set the location to UK. Also, remember that you need to enter a valid UK post code to get the access to channels.
Q2. Can I watch TV content live or do I have to wait until it comes to the ITV Hub?
Some content is directly relayed live to both TV and ITV Hub too. Some special shows or sports events take some time to be uploaded to the application.
---
Final Words
This article gives us a brief introduction to ITV and ITV Hub. Then, we directly get to the reason why the ITV channels are not working. Later we find various methods to solve the channels problem on either ITV Hub application or the channels through cable. Finally, we have a few frequently asked questions. If you have any queries, please leave them in the comments section down below.
Thank you! Don't have a good day, have a great day!
---
Further Reading:
(3 Ways) Fix itv hub live tv not working
[7 Ways] Fix ITV hub not working on Smart TV
(2022) How to Fix ITV player not working
How to clear cache on ITV hub (2022)
(9 Ways) Fix ITV hub whoops what's gone wrong error [2022]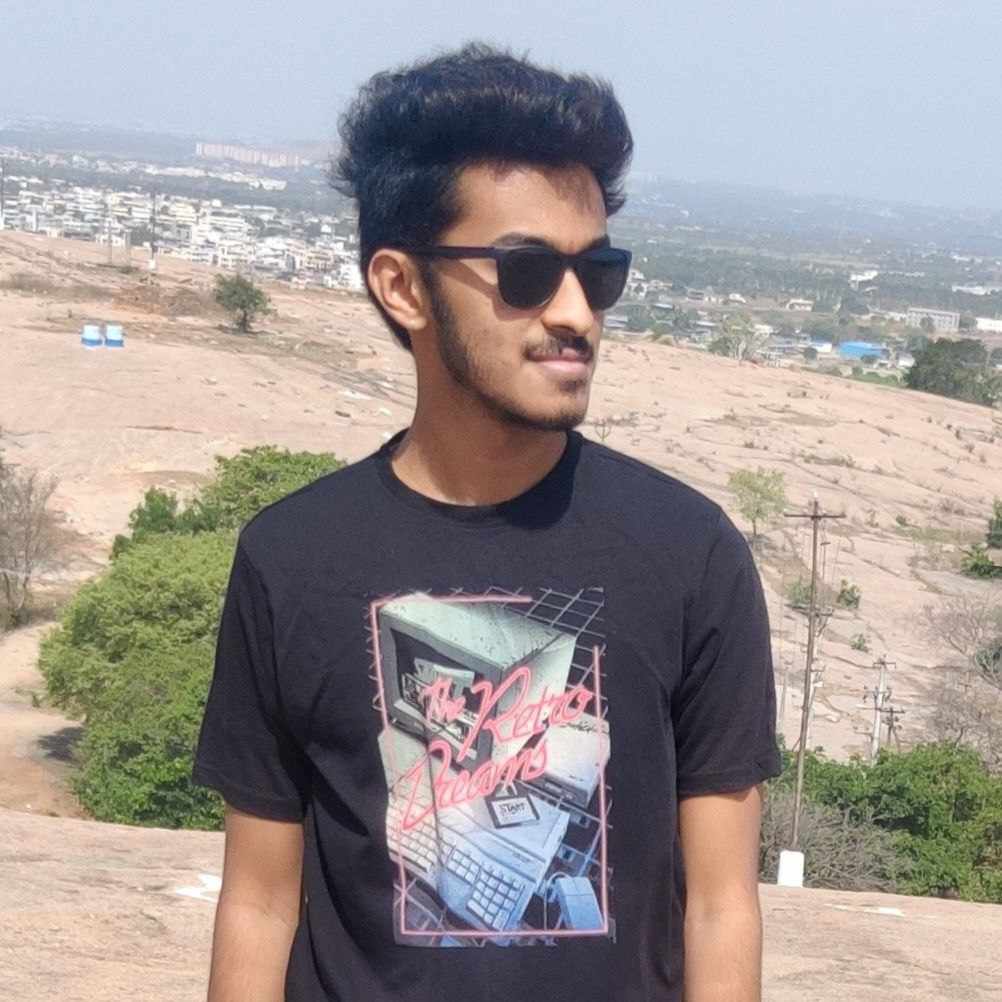 Currently pursuing my final year of B.Tech specializing in Electronics and Communication. I have been following all tech related information since my 9th grade and I never stopped. But technology is not the only thing I follow. I also follow info about cars, watch a lot of movies and series and without a doubt read books. And sometimes write stuff too.