Why does ITV hub say something went wrong?
How to Fix ITV hub whoops what's gone wrong error? Read on to know all about it.
ITV Hub is another online video on demand (VOD) service. This service began in 2008 and is primarily a British service. A VOD service is like a broadcasting or cable, but you don't need a dish or a cable to watch content. The only thing you need is a good internet to access the application or the website.
ITV Hub provides you channels from its developer ITV Consumer Limited also known as ITV plc. This contains channels such as ITV, ITV2, ITV3, ITV4, ITVBe and CITV. It also provides you a list of sports channels and highlights too.
There is a website www.itv.com for access from computers. Also for access from mobile devices such as Android, Windows phones and iPhones, there are separate applications available. So, whether you are at home or outside of your house. You can watch it on a website or from an application. Note that the newer versions of the application might not work on your phone, you might need to watch them on your website.
There is also another option called ITV HUB+ which is available for 3.99 euros per month or 39.99 euros per year. According to its official website, you can watch everything ad-free, except for some livestreaming channels. Furthermore, it allows you to download shows and binge series.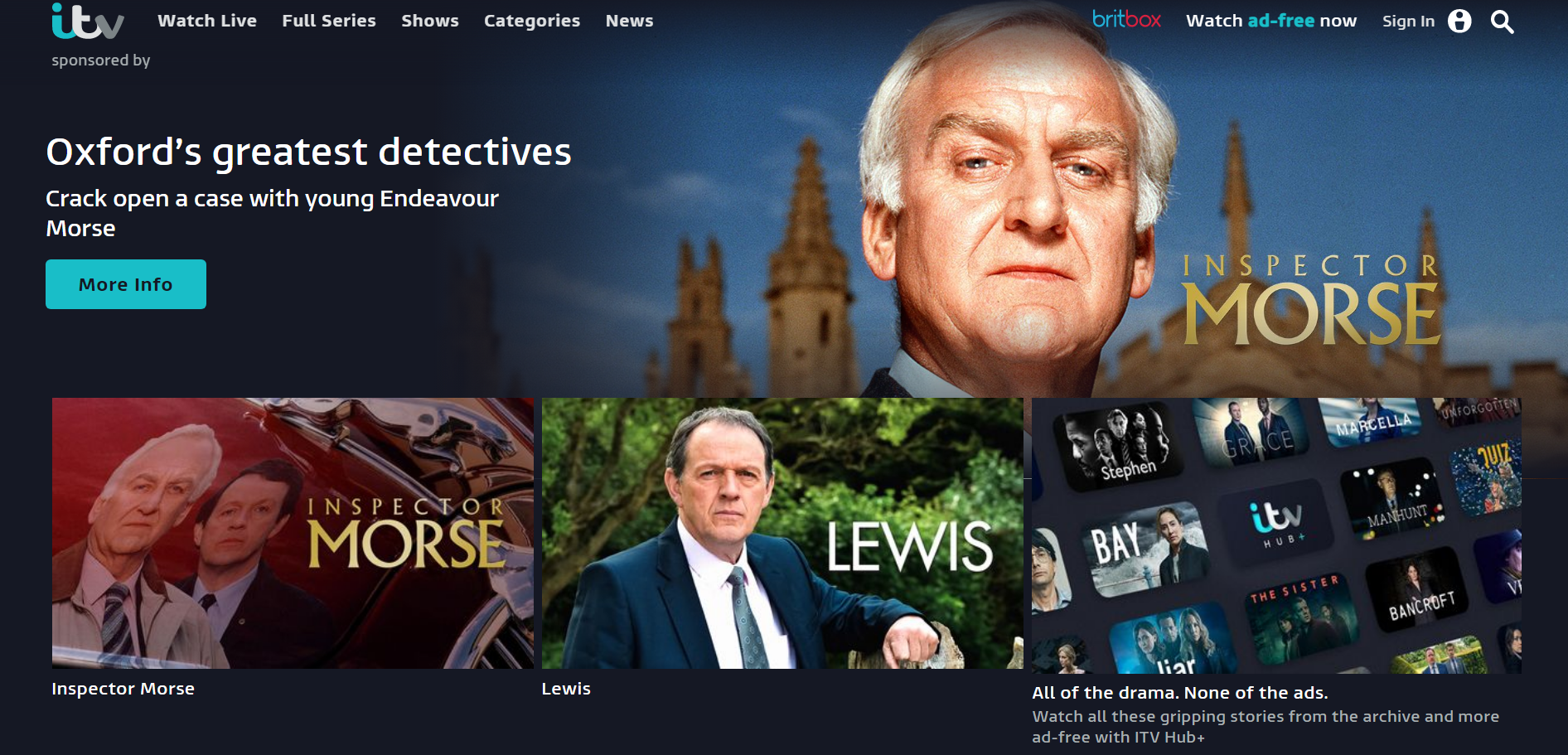 ---
Why does ITV hub say something went wrong?
If you are accessing ITV on a website you need to check whether you are accepting cookies, if you are only allowing essential cookies then the website might not work properly. Or If you are using a mobile phone, check for updates and network issues. TV users might also get problems, the issue could be due to the TV software.
These are some of the main issues faced by people using different devices.
---
How to fix ITV hub whoops what's gone wrong error?
The following methods will help you solve your what's gone wrong error. Look at the list and find out what works for you.
Step 1 – Check your network connectivity
ITV hub is used for streaming and live streaming channels using internet. So, if you lose internet connectivity while watching something then you need to check your network.
Visit www.fast.com to check your network speed. Remember that a minimum of 5-7 Mbps (megabits per second) speed is required for accessing any kind of internet service.
If you are using Wi-Fi (for all devices), ensure that the Wi-Fi symbol does not have an exclamation mark beside it, try to check your Wi-Fi connection and turn the router OFF and ON again. If that does not solve it, please contact your Internet Service Provider (ISP).
Or If you are using cellular data (for mobile devices), make sure it is on and displaying two arrows blinking in the opposite direction, with a H+, 2G, 3G or 4G beside it.
---
Step 2 – Allow cookies for your browser
Cookies are tasty, aren't they? But no, these are not those kind of cookies. Cookies are bytes of data stored each time you access a website, they help provide a customized website for you. So, cookies are very crucial for the proper working of a website.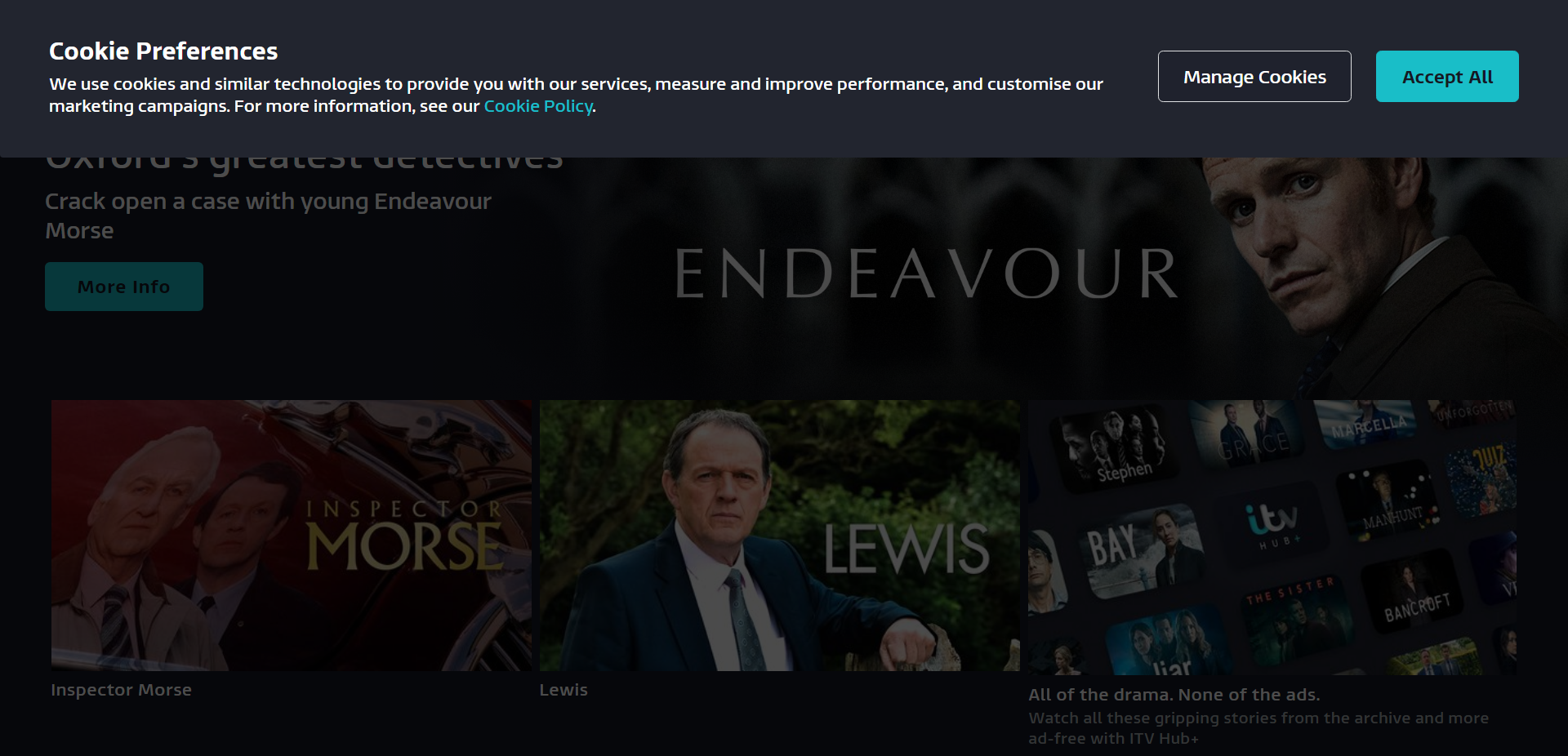 As soon as you enter the ITV website, there will be a pop-up asking you to allow cookies.
If you click on Manage Cookies you will find Essential Cookies, Performance and Functionality Cookies and finally Targeting Cookies for ITV Promotions. Here Essential cookies will always be ON. You will have two options Save and close or Accept All.
Select Accept All so that you will have no problem while streaming content.
---
Step 3 – Change your browser for ITV streaming
If you are facing problems while using a certain browser, it is wise to change the browser to have uninterrupted streaming. For example, a few browsers have ad blockers, java script blockers and other hindrances which will not help you load the site properly. So, choose your browser accordingly.
---
Step 4 – Clear the cache on your ITV application
Cache is the storage of the data from each user interaction, which helps them respond to future requests faster. Mobile phone users can clear cache which can increase memory and performance of the application.
For an Android device, go to settings and find applications. Under applications select ITV Hub, then storage settings and clear cache.
If you are an iPhone user, there is no clear cache option for you. You just need to visit settings find the ITV application, clear the data and login again to get rid of any errors.
---
Step 5 – Check for ITV updates
As you know never versions of any application, improve upon the old features while also getting rid of any bugs or functional errors.
Visit the dedicated application store on your device.
Search for ITV, check for any new updates and install if available.
---
Step 6 – Clean install ITV application
The process of uninstalling and reinstalling a software is known as clean install. This process helps you remove bugs and errors present in the application.
Visit the application store on your device.
Search for ITV and uninstall it.
Wait for a few moments and install it again.
---
Step 7 – Restart the device
Restarting your device will get rid of the cache, bugs and also free up some RAM (random access memory). This method is not only for your mobile devices, but can also be used for your computer.
For an Android device, press the power button on the phone and select the "Restart" pop-up option on the screen.
iPhone users, press the power button and slide the power icon on the screen to the right to turn it off. Or if you have the assistive touch on, select Device, then More and finally select Restart.
Windows users, click on the windows icon and select the power symbol and select restart option. If you are using a computer you can also use the shortcut combination "shift+alt+f4", to get the shutdown window.
If you are using a TV, you can unplug it from the power source or use the power button to switch it OFF. Wait for a few moments and turn it ON again.
---
Step 8 – Update your TV software
Software issue of the TV might also get you to the "what's gone wrong error".
Visit settings on your smart TV.
Search for software updates and check if there are any new updates to install.
Similar to the issue with application software, TV software also get updates frequently. So, do check for those updates in regular intervals and install it.
---
Step 9 – Contact ITV Hub Help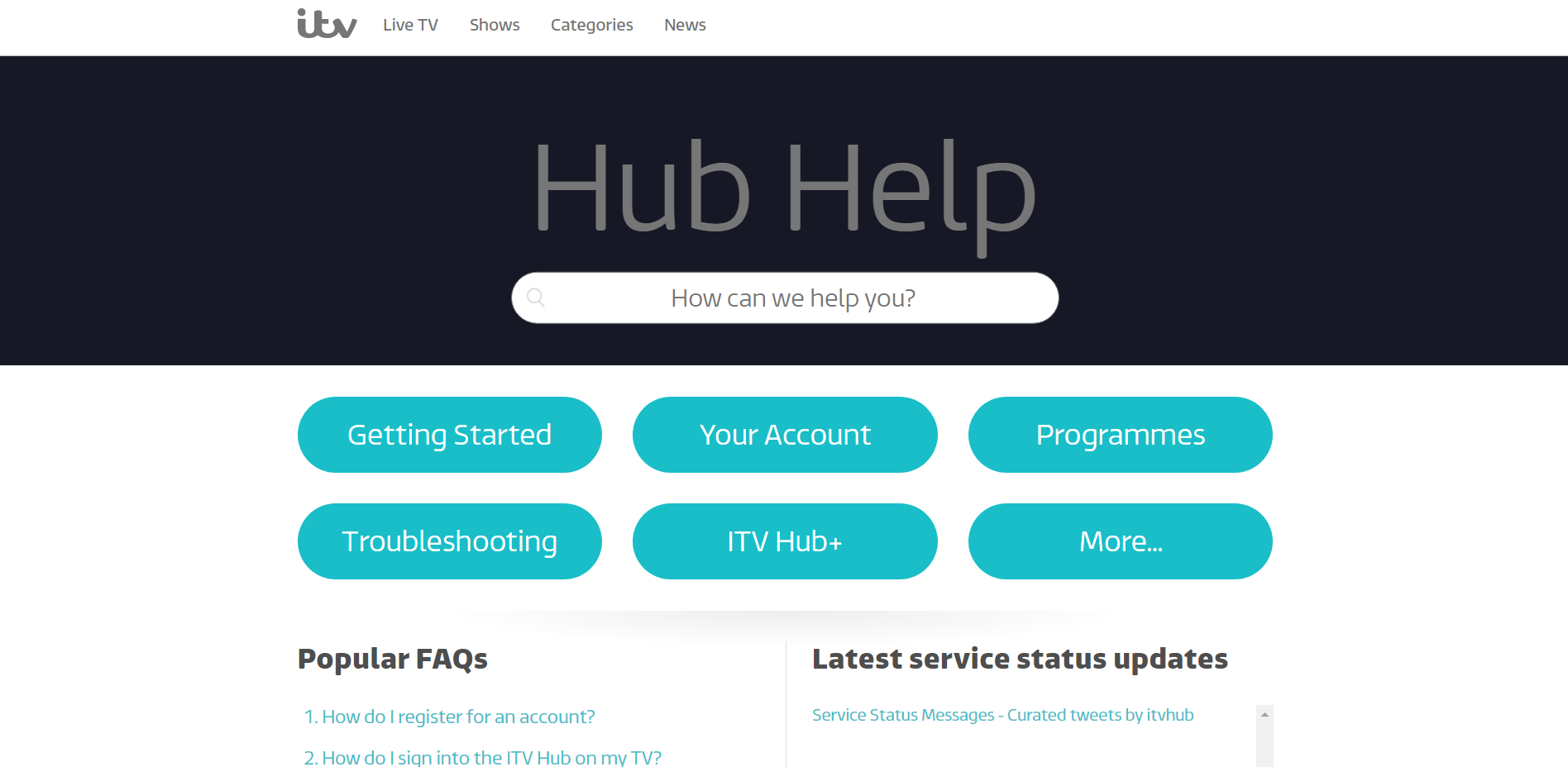 This option is your final resort, when nothing else works. As you can see in the picture above, ITV Hub Help has a lot of topics which are again divided into subtopics. Also, FAQs are answered by ITV support crew and users too. Furthermore, you can type in a keyword or a question related to your issue to get professional help.
---
FAQs
Q1. Can I watch ITV in countries other than the United Kingdom?
ITV was and is always a service for UK and the Europe. But after UK left (Brexit) the European Union (EU), it is currently on available in the UK. You can always use a paid VPN to access the application or website from other countries.
Q2. What are the channels that are available to watch on ITV hub?
As mentioned in the article, only channels from its parent company or developer are the only channels available to stream. You might get occasional sports events to watch on the live programming.
Q3. Is ITV Hub or ITV Hub+ worth it?
Depends on you, the user. If you are a native of the UK, there are a lot of family and fan favorite shows also live ITV channels. And ITV Hub+ gives you ad-free streaming. So if you like these things, you can subscribe to it or leave it if you are not interested.
---
Final Words
This article gives you a little bit of introduction to ITV, its website, application and the features too.
The main question "Why does ITV Hub say something went wrong?" is answered in this article. The main reason for this issue is due to not accepting cookies in the browser, running older version of the app in the mobile phones and software issue on the TV.
The fixes for this issue are checking your network, allowing cookies for the browser, change your browser. Also you need to clear cache for the application, check updates for app, clean install app or restart the device. When none of the methods work, you can seek professional help from the ITV help website and contact customer service for personalized help.
Finally, there are a few frequently asked questions from a few users too.
That is all folks. Please feel free to leave any questions related to any kind of technical topics in the comments section down below.
Thank you!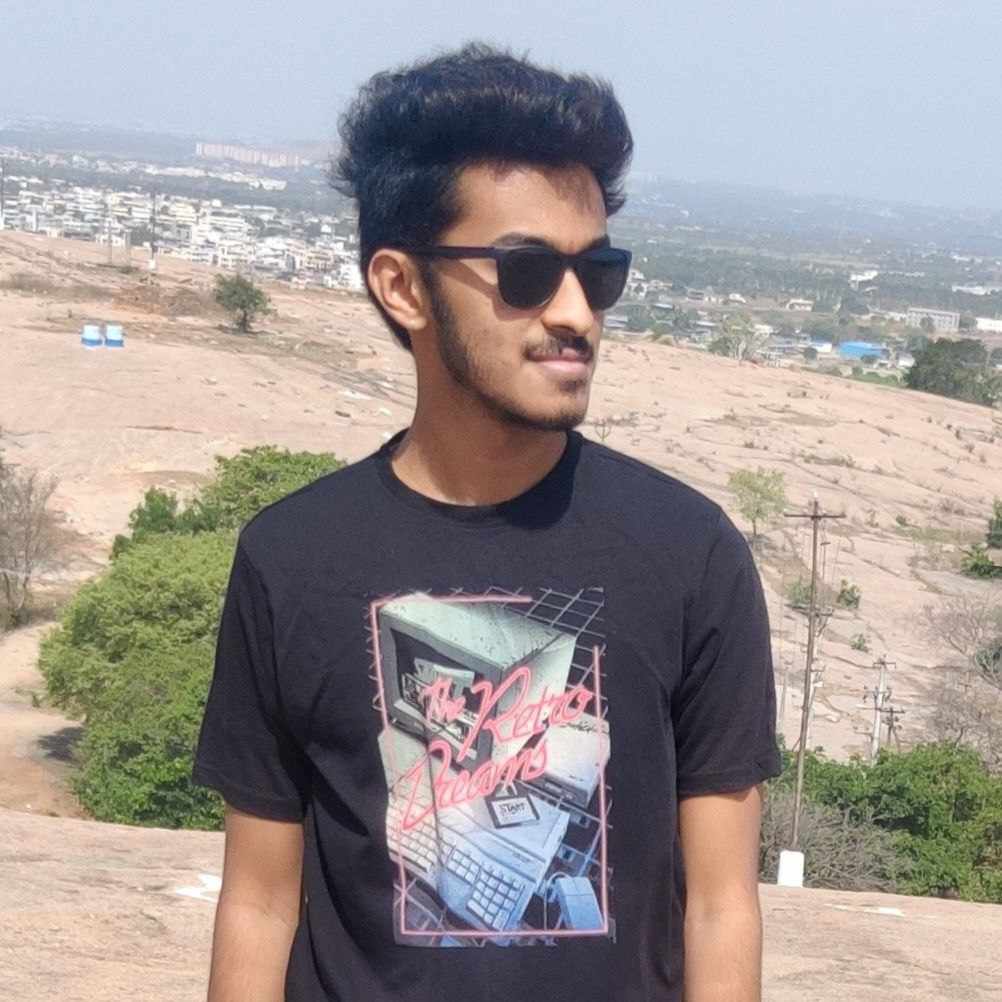 Currently pursuing my final year of B.Tech specializing in Electronics and Communication. I have been following all tech related information since my 9th grade and I never stopped. But technology is not the only thing I follow. I also follow info about cars, watch a lot of movies and series and without a doubt read books. And sometimes write stuff too.