WhatsApp Messenger is a messaging service that began its service is 2009. During those humble beginnings, it only had the option to send and receive messages with the help of a network connection. It helps you to share images, files, documents, location data, and even contact information. Now it allows you to send voice messages, and dial audio or video calls.
Well, some iPhone users are critical of a feature where WhatsApp calls appear in their phone call log.
In this post, we will discuss how this feature actually works and if there is a way to disable this feature. So, if you are ready, let us dive right into the details.
---
How to Remove WhatsApp calls showing on iPhone log?
Apple doesn't let you disable WhatsApp calls from iPhone logs, if you are really annoyed by these integrated calls, there is one option to remove or delete the logs from iPhone call history.
Step 1: Visit the Phone app.
Step 2: Go to "Recents".
Step 3: Select the Edit button at the top right.
Step 4: Then you can see the red (-) icon to the left of all the call logs and you can delete what you do not want.
Pro tip: You can swipe left to delete the call logs faster.
If you are receiving calls from a single person, you can block them to stop receiving calls on WhatsApp or phone.
Currently, other than deleting the call logs there is no other option. Future calls that you do or receive through WhatsApp cannot be stopped from showing up on your normal call logs.
---
Why are WhatsApp calls showing on the phone log?
This is what we call integrated call logs. What integrated call logs do, is they merge calls from all applications which allows you to make calls. Some examples include Skype, Teams, and of course WhatsApp. All calls from these apps appear in your iPhone call log.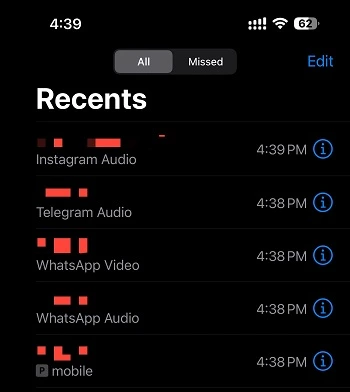 As you know, WhatsApp allows audio and video calls. If you have made calls with WhatsApp they are bound to appear in your iPhone call log. If you do an audio call, it will display the name of the person and the "WhatsApp audio call" beneath it.
A video call would be displayed with a different icon, the name of the person, and a "WhatsApp video call" beneath it.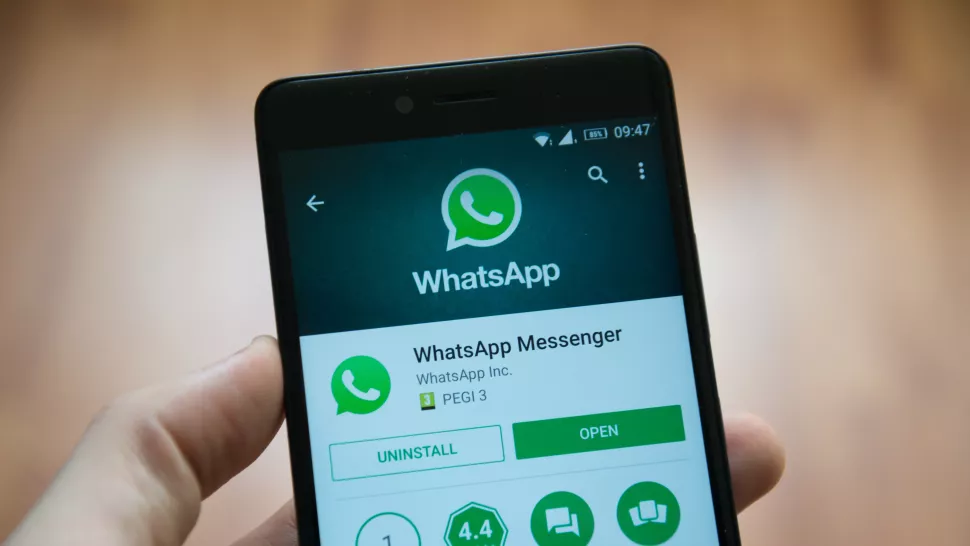 This is a problem only faced by iPhone users. Android users, have their calls separated. WhatsApp calls do not appear in the regular phone log. They might have a choice to integrate them but certainly can turn it off. Android users are at an advantage when this issue is in question.
People's attempt to try and remove these from the call logs is a futile attempt. Because, either you would have to remove the application or log out of your account on the application. This will remove your account from the app, which makes it unusable.
Many people have raised this issue with WhatsApp and Apple, but there is no official fix.
You can check out the support pages of WhatsApp and Apple for updated discussions between the users and developers in the community. Also, try to ask the question as many times as possible in these communities. This will ensure that at least someone will try to take it up with the developers. Then, soon there will an option to disable integrated calls on iPhone.
---
how to stop WhatsApp calls showing on call log iPhone?
You cannot stop WhatsApp calls from appearing on iPhone call log. Apple doesn't let the users switch off the integrated call feature.
As we have mentioned before, there are no official ways of disabling these integrated calls. WhatsApp does not have an option for this in its settings and neither does Apple.
WhatsApp and Apple support pages have queries related to this issue, but there is no official answer to solve this issue.
---
FAQs
Q1. Why are there no options to disable WhatsApp calls from appearing in my phone log?
Ans. No. WhatsApp and Apple are yet to create an option for us to disable WhatsApp calls from appearing in your phone log (Integrated call log). Until then, the only thing we can do is delete the call history or just leave it.
Q2. Will calls done through WhatsApp Web appears in my call log on my phone's WhatsApp?
Ans. Yes. It is really important to remember that WhatsApp Web is just a client for WhatsApp. So, anything you have done on the web client will always be updated on your phone.
Q3. Why am I not being notified of WhatsApp calls?
Ans. Check your notification settings for WhatsApp in the WhatsApp settings and also in the iPhone notification settings for WhatsApp. Once you check these two things and turn on what is necessary, you will definitely be notified of all calls.
---
Final Words
To close out, WhatsApp is a well-favoured app for online messaging. We have looked at a little bit of introduction and the various features of WhatsApp.
Then we get to the main point of this article, "What is the reason for WhatsApp calls showing on iPhone?". This is because of a little unheard-of feature called "Integrated calls". This will blend both the calls from WhatsApp and your normal phone and show it in your phone's call history.
The only fix for this issue is to delete call logs from your phone. Because there is no option to disable integrated calls.
That is all for this article. If you have any queries regarding anything, try to leave them in the comments section below.
Thank you!
---
Further Reading: 
[7 Ways] Fix WhatsApp call disconnects after 1 minute
[7 Ways] Fix WhatsApp incoming call not showing
Fix WhatsApp GIFs not working (Android and iPhone)
How to add new line in WhatsApp Web?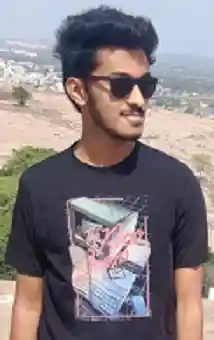 Sri Sahith is a B.Tech graduate specializing in Electronics and Communication. He writes articles by ensuring attention to detail. Any kind of technical revelation or news is his jam. Writing and technology are the things he is most passionate about and you can see it in his articles. Also, he loves to read books and talk about them for hours together.