Why isn't HBO MAX working on Safari?
Want to fix unable to play HBO MAX titles on Safari? Read this article.
So, let's get started.
HBO Max is a streaming service from the very popular Home Box Office (HBO) television network. It houses various HBO classics while also providing you with MAX original shows and movies. The content it offers are provided from HBO, MAX originals, DC, Sesame workshop, TCM (Turner Classic Movies. And also from Studio Ghibli, Cartoon Network, adult swim collection, Cartoonito and Looney Tunes too.
Since its inception in 2020, it has joined the premium streaming services league which includes Netflix, Disney+, Apple TV+, Hulu, Amazon Prime Video among others. By the end of quarter 1 of 2022, HBO Max claims to harbor 76.8 million subscribers from around the world.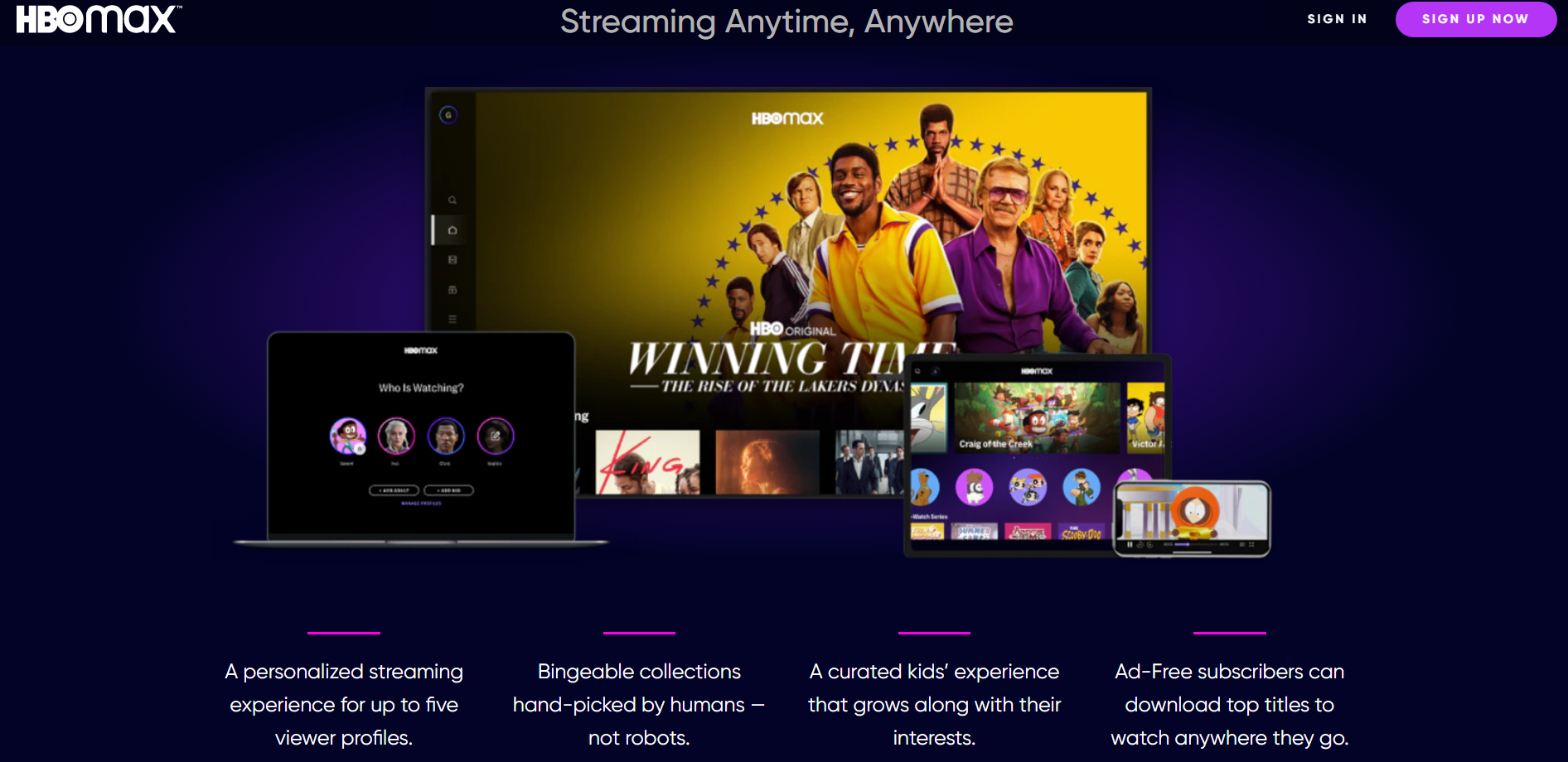 These are the plans you can subscribe to from HBO MAX.
Monthly – With Ads will cost you $9.99/month and Ad-free will cost you $14.99/month.
Yearly – With Ads will cost you $99.99/year and Ad-free will cost you $149.99/year. These plans let you save 16%, according to the HBO Max website.
Safari is the default browser for Apple devices like iPhone, iPad and Macbook. It supports 4k streaming on the browser itself. So, you can be assured that it meets your streaming needs.
---
Why HBO Max isn't working on Safari?
If HBO MAX isn't working on your device it is probably an issue with your network. Try checking your network speed, see that it is suitable for you to stream any kind of content.
Visit www.fast.com and check whether your network is having at least 4 Mbps (megabits per second) for 720p streaming. You need above 5 Mbps to stream 1080p content and above 15 Mbps to stream 4K content.
---
How to fix HBO Max can't play title Safari?
The list mentioned below will help you fix your problem with playing HBO Max titles on your Safari browser.
Step 1 – Check your internet connectivity.
As mentioned before in the article you need a certain amount of speed to stream content without any buffering and the quality dropping. Also, even for the page to be loaded properly. Check your network speed in the website mentioned above, www.fast.com.
If you are using Wi-Fi and your network is not good, you will get a notification from the iOS itself. It informs you that your Wi-Fi is not connected to the internet. Then, try to check your Wi-Fi connection and turn the router OFF and ON again. If that does not solve it, please contact your Internet Service Provider (ISP).
Or If you are using cellular data, make sure that is turned on. If you are having trouble getting data, try restarting your phone. Otherwise, you can try to turn ON airplane mode for a while and then turn it OFF. After doing either of these things, you can try to check your network.
---
Step 2 – Reload the browser page
As you know refreshing or reloading a page, just gives us an updated version of a page. you can reload the page to access an updated page and try playing the title again. For mobile devices you can just click on the reload option near the website address and your page will be reloaded.
There is another option called hard refresh. Hard refresh clears cookies, cache and all the data saved from the previous encounters with the webpage. And there are two ways to hard refresh on your apple computer or laptops. They are,
Hold the "Command-Option-R" key combination and then select the refresh icon in the browser.
 Hold down the Shift key and select the refresh icon in the browser.
---
Step 4 – Check for Safari updates
Make sure that your phone is running a latest version of the Safari browser. This will ensure that you do not have any bugs and your app is up to date. Which will allow you to run any kind of websites on there.
Visit App Store on your iPhone.
Then, click on the Updates icon at the bottom of the screen.
Later, check if Safari is having any newer version and install it.
Note : This is only for iPhone users. Browser on the computers and laptops of Apple devices are updated along with the macOS itself.
---
Step 5 – Check if your device is compatible
Some devices are not compatible or are not allowed to run HBO Max. So, you need to check the HBO MAX website – https://help.hbomax.com/hr-en/Answer/Detail/000001243. This website will tell you what version of iOS software should be running and the devices it supports too. So, check this website out and try watching on the supported device.
---
Step 6 – Check your browser setting for the website
Sometimes settings for certain websites are not allowed which will hinder their full potential. So, you need to check that every setting required for the website to run properly is turned ON.
Select the "Settings for this website" option.
Then, you will find "Auto-play" option.
Under that there are two options "Stop media with sound" and "Allow all autoplay". If it is set to the first option, you will not be able to play title on that website. Whereas, if you select the second option, you can stream content without any difficulty.
---
Step 7 – Check HBO Max server status
If the problem is not your browser, it might be with the HBO Max server. These servers sometimes go down or become non-functional due to a lot of traffic (users accessing it).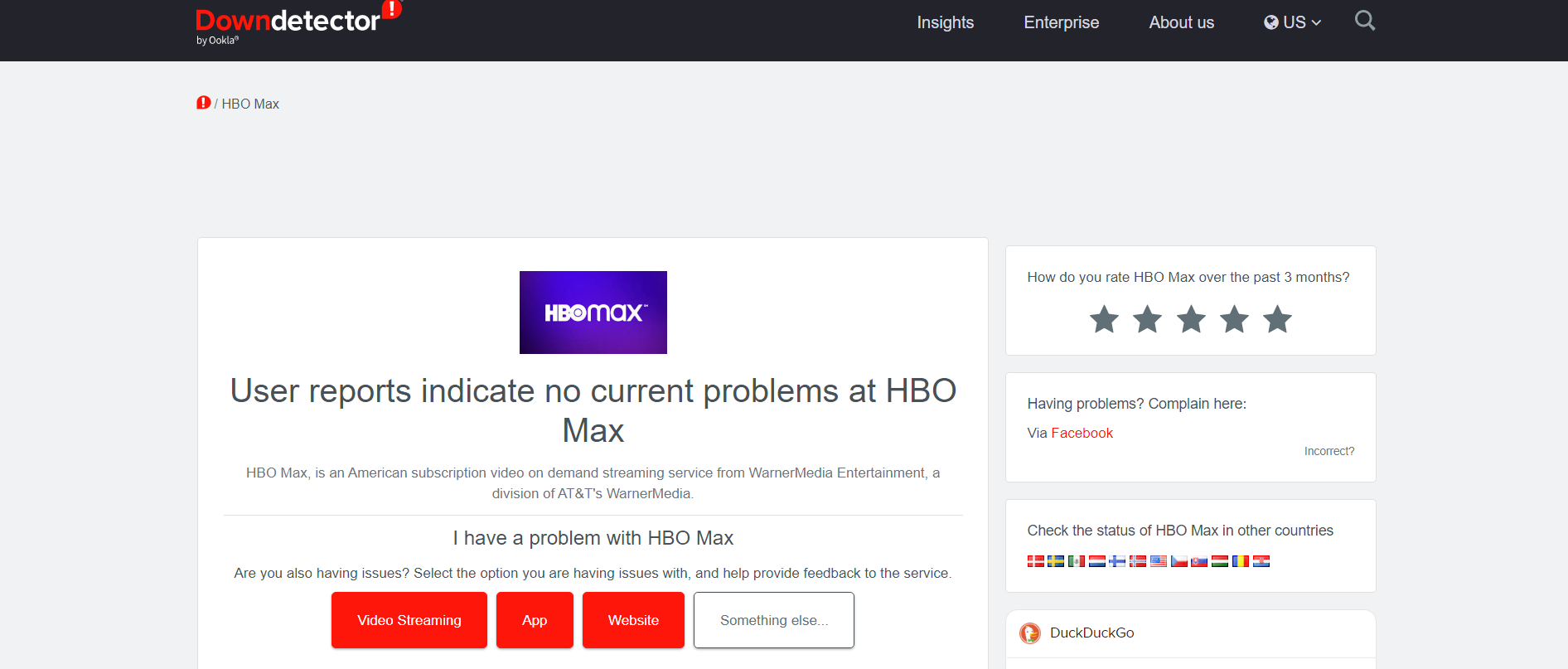 So to check the server status, visit www.downdetector.com/status/hbo-max.
---
Step 8 – Disable VPN
Virtual Private Network (VPN) as the name suggests is a virtual network you can connect to hide your online footprint (browsed data and location). While VPN might give you privacy, sometimes it might not allow certain functionalities of applications and websites to keep your data from being accessed by third parties.
So, go to your VPN app or extension on your browser and turn it off. After turning it off, try accessing HBO Max, you shouldn't have any problems with it now.
---
Step 9 – Try incognito or private browsing mode
Incognito or private browsing mode is used when you don't want the websites you visited to be visible after you exit them. You might not be able to view these websites again in the history, but your Internet Service Provider (ISP) can.
Open a new private/incognito tab and visit HBO Max. Login to your account and try playing something. The problem should be gone.
---
Step 10 – Use a different browser
When Safari is not working to get you HBO Max and you are dying to watch a new series or movie before the spoilers roll out, it is time to consider another browsers.
Try using Google Chrome, DuckDuckGo, Mozilla Firefox or select any other browsers you frequently use. Open the respective browser  on your device, login and try to play something on HBO Max. If you can play something, then voila you have found yourself a browser where HBO Max is working without any issues.
---
Step 11 – Contact HBO Max help center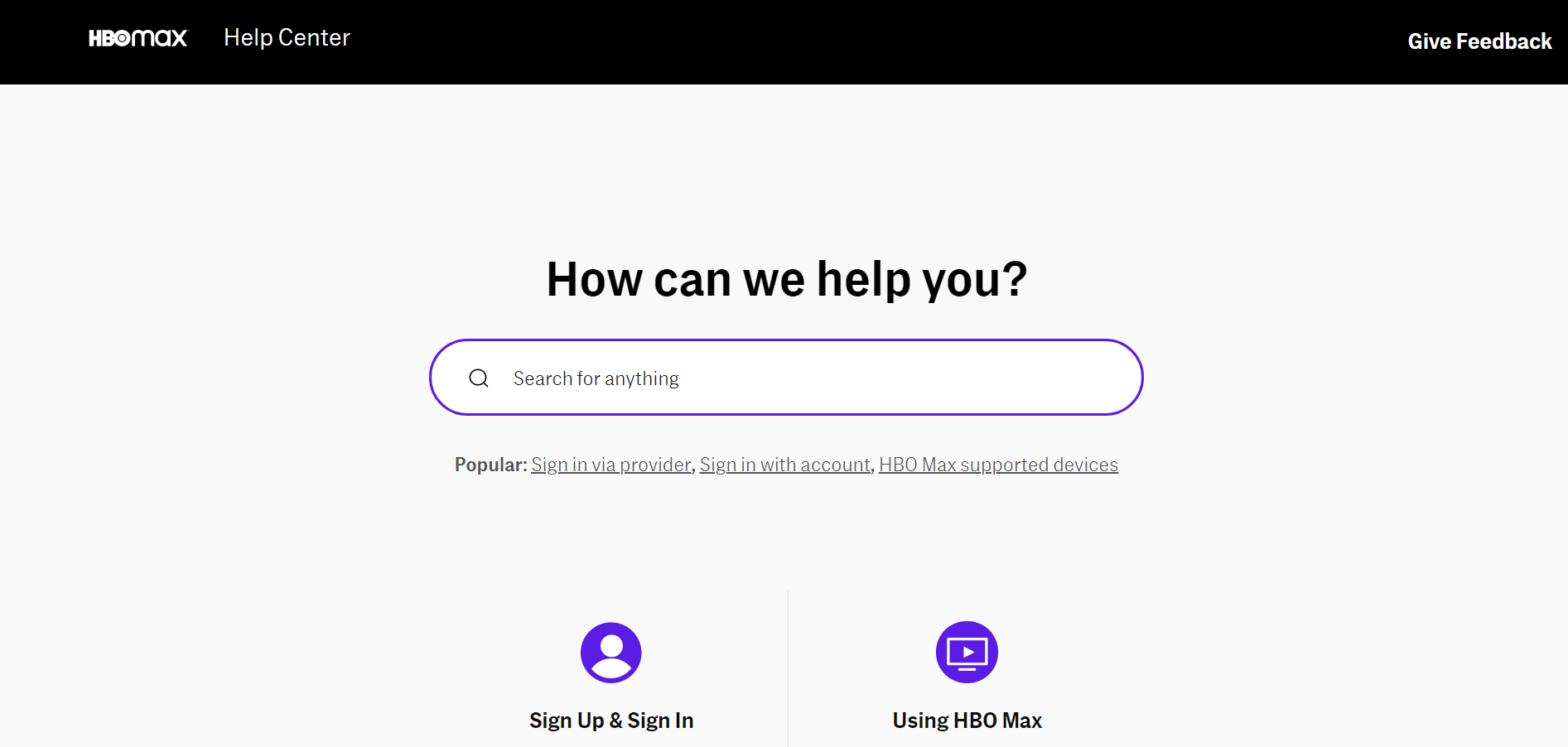 This is the last stand, if nothing else works this website is the way to go. You can contact the customer support representatives and explain your problem clearly and try to get a solution. Rest assured, their solutions will definitely work. They will try to help you, until your problem is solved.
---
SEE ALSO: [12 Ways to Fix] HBO Max can't play title private browsing mode
---
FAQs
Q1. I have logged into HBO Max account from Safari on my iPad but I am unable to play anything. I have logged into the account on my other apple devices' Safari too. This problem is only on my iPad. How to fix it?
As mentioned in the article's Step-5, you need to check your browser settings. Your iPad must have the setting set to "Stop media with sound" in the autoplay settings of the website. After changing that to "Allow all autoplay" and you will not have any problems.
Q2. Does HBO Max run on all version of iOS?
If you use an iPhone devices that runs iOS 12.2 or later you can use HBO Max. Otherwise, you need to update your phone to the latest version.
---
Final Words
This article gives you a little introduction to HBO Max. Then it gives you the reason as to why your HBO Max isn't working.
The issue could be your network. You can check your network speed on the website mentioned in the article.
The methods to fix can't play title are checking your network, reloading your page and checking for any recent Safari updates. Also, check your browser settings and check if your device is compatible to run HBO Max or not. The final option is to contact customer support of HBO Max or maybe even Apple.
That is all folks! If you have any queries please leave them in the comments section down below.
Thank you! Don't have a good day, have a great day!
---
Further Reading:
[Fixed] Why is my AT&T HBO max not working
Why is HBO Max different on Hulu?
Fix HBO Max not working on Samsung TV [2021]
(2 ways) How to watch HBO Max on Xfinity (Comcast)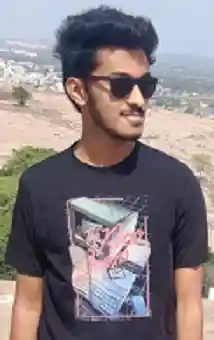 Sri Sahith is a B.Tech graduate specializing in Electronics and Communication. He writes articles by ensuring attention to detail. Any kind of technical revelation or news is his jam. Writing and technology are the things he is most passionate about and you can see it in his articles. Also, he loves to read books and talk about them for hours together.