Do you use Amazon for online shopping?
Well, you're not alone as Amazon delivers several packages daily at different locations. Many times, you may feel the need to return the package due to any issues with it. So you may look if Amazon accepts return or not.
So today, let us understand the Amazon returns and the requirement of original packaging for completing the return process in detail.
---
Can I return an item to Amazon, if I opened it?
Short Answer: The answer is yes. You can return an item to Amazon, even after opening it. However, you must ensure that the item has come not from any third-party seller and that a return is offered within 30 days of purchase only.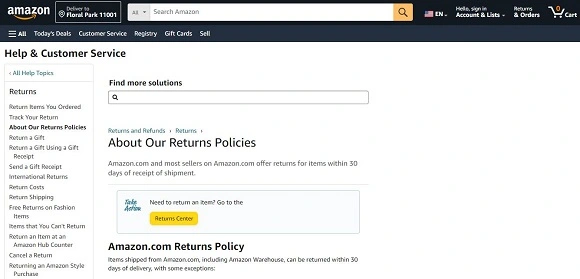 Amazon accepts returns of items shipped, even after opening with the below conditions:
It is essential for the item to be returned within 30 days of delivery only.
It is important that the item should be shipped from Amazon.com covering the Amazon Warehouse. The third-party sellers have different return policy which may or may not match Amazon's return policy.
---
Can you return clothes to Amazon without tags?
The answer is no as you can not return clothes to Amazon without tags.
According to the Free Returns on Eligible Fashion Products section of Amazon's Returns and Refunds policy, you must return fashion goods or clothes within 30-days of delivery, according to the following points:
It is essential for any cloth to have original tags, packaging, or other authenticity certificates for easy return.
Clothes should be in new and unworn condition for easy return.
It is important to note that there should be no changes in the size or color of the cloth that you wish to return.
Are you trying to place an order on Amazon but facing checkout loop? Understand the top fixes for Amazon "Proceeds to Checkout Loop."
---
Does Amazon accept return without original packaging?
No, Amazon doesn't accept returns without the original item packaging.
For all types of item returns within 30 days of the delivery, it is important for them to have original documentation. It includes all original packaging including warranty cards, manuals, and boxes. Further, other certificates of appraisal, grading, and authenticity should be returned with the item.
---
What does return in original packaging mean?
The return in original packaging to Amazon means that you're returning the item in the same box along with all documentation as it was delivered to you.
The original packaging of the item covers
Boxes
Warranty cards
Manuals
Certificates- Grading, Appraisal, Authenticity, or other documents.
---
SEE ALSO:
---
Final words
Hope everything is clear to you regarding the question if Amazon accept return or not.
Amazon offers easy returns for all products shipped from Amazon.com and the Amazon Warehouse within 30 days of purchase only. For all items purchased from third-party sellers, you must go through their return policy before placing the order.
Let's discuss more on this guide in the comments section!
An active wordsmith delivering high-quality technical content on AndroidNature.com. She loves to keep herself updated with consistent reading. A strong believer of consistent learning, she loves to read about technology, news, and current affairs.