Spotify serves a large number of music lovers be it, listeners or artists.
It is a music streaming app that provides several advantages for its users like managing their own playlists, discovering new music from various record labels and artists from across the globe, even having songs unavailable on any other platforms as well as other regional music.
There are many other pros of using the app such as the availability of discounts for student users at the time of Premium Subscription and the Group Session which allows you to listen to the same playlists with 5 friends from anywhere they are by simply sharing your link or scanning code.
What is Spotify Canvas?
Spotify for artists has become a widely used platform for artists to build their careers. They can put up their works in the world's most-followed playlist, connect with their fans and share their music with a large number of audiences, hire producers, mixers, singers and provide the right tool for you and your team, and a lot more.
Spotify Canvas is an important tool for the artists that will allow them to upload their works in 3 to 8 seconds long loops or gifs vertically filling up the screen of  "now playing".  It's a way for artists to share their new tracks on other social platforms such as Instagram from which audiences can stream them in the Spotify app. Canvas allows users to engage much more audiences than before and allows listeners to add it to their own playlists as well as save it.
While it's another cool feature of Spotify, sometimes users come across issues like "Spotify Canvas not working" and other technical problems.
Thus,  we will provide you with different troubleshoots on how to solve the issue of "Spotify Canvas not working" and also clear your doubts about what happened in the first place.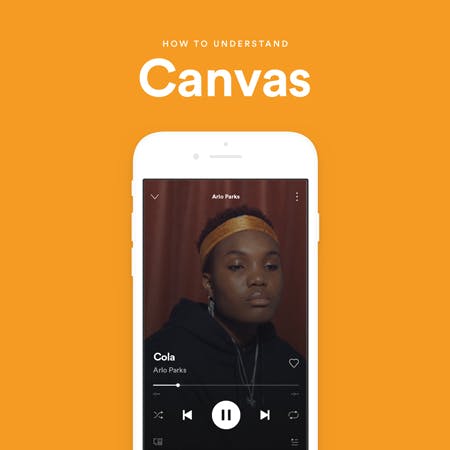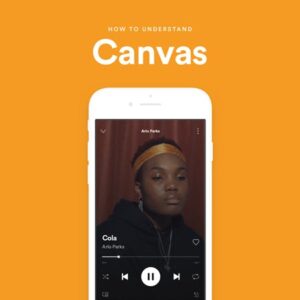 ---
Why is Spotify canvas not working?
There are several reasons why Spotify canvas isn't working.
You can take a look at the following reasons:
---
Reason 1 – Haven't enabled the feature yet
Spotify requires the users to turn on any features from their own app settings and the Canvas feature also needs to be enabled from the settings.
If not, Spotify won't load the tool on its own.
---
Reason 2 – Your data saver is turned on
Have you turned on the data saver as you noticed that you have been using too much of your daily limits at a quick pace?
You can check whether you turned the data saver on as it can be a reason for "Spotify canvas not working".
---
Reason 3 – It's not your phone, nor your account
If you are staying in a region where the new feature isn't introduced yet, it might be the reason behind "Spotify Canvas not working".
Canvas has been introduced to some regions only for the time being and it won't show up in your Spotify features if your region is excluded from the lists where Canvas is available.
So, the problem of "Spotify Canvas not working" is not in your Spotify app or your phone.
---
Reason 4 – It might be Spotify itself
There are many tests and improvements being launched often in Spotify for its users to get more satisfaction while using their app.
So, some users can get a new feature temporarily which others have no access to at the moment. This can be another reason why you got " Spotify Canvas not working" because it was actually available in your account for a limited period.
We are going to mention some steps to solve the issue of  "Spotify not working for iPhone". While keeping the said reasons in your mind, let's head on towards solving the problematic issues.
---
SEE ALSO: Why are some songs unplayable on Spotify
---
How to fix Spotify Canvas not working iPhone?
1 – Simply try logging in again
The easiest method can be logging out of your Spotify account first and logging back again. This might sound simple but it actually helps!
---
2 – Enabling it
You might have forgotten to enable it, if it's the case go to Settings in the Spotify app, and from your profile select Playback, choose Canvas then you can enable it from there.
---
3 – The "clean and re-installing" solution
Open Spotify and select Settings from where you can tap on Storage then delete its caches. Or from Home, you can tap on the gear icon of the app displayed on the top right corner
From your device's Settings select  General.
Go to Storage.
Offload Spotify after selecting it from the app lists. Now, you can tap Delete App
Once you have confirmed the deletion and the app is deleted, you can switch off your device.
After some minutes, switch it on and install Spotify from the app store.
This is another way to correctly solve the issue regarding "Spotify Canvas not working" for your iPhone device.
---
4 – You can create a new account
You can try creating a new account if the above ways have not solved the issue of "Spotify Canvas not working". If you have opted for this step, don't forget to transfer all your old collections to your new Spotify account.
To transfer files, you can :
From your new account, you can try to locate all your public playlists from the old account. Right-click your choice and transfer it over to your new account.
Or, you can download your Spotify playlists using a smart audio recorder that enables you to save any playlist from Spotify in different audio formats.
Then, you can again transfer it to your new account.
---
These are some steps that we found useful in solving the issue of Spotify not working for iPhone users. Hope you approach the right steps in order to get your problems solved.
You can always visit the Spotify Canvas official page for more information.
While we are at the topic, you can continue reading down below to see the requirements for using Spotify canvas.
---
Spotify Canvas requirements
For your digital album artwork i.e. Canvas, the following criteria must be fulfilled.
Your video length needs to be at least 3seconds long and up to 8 seconds.
The proportions of your canvas need to be in the ratio of 9:16 in vertical format.
The video should be between 720px – 1080px high
It is only suitable for an MP4 or JPG file.
Ensure that the pixel of your device isn't greater than 600 wide.
---
We hope that this article helps you to fix the problem of "Spotify Canvas not working" you are currently facing in your iPhone device and you can also refer to our site for more explanations and methods to fix any technical difficulty.
---
Further reading:
(4 Simple Ways) Fix Spotify re-installing every time
[Fixed] why does my Spotify keep pausing when I leave the app?
Why am I getting ads on Spotify premium podcast?