Who doesn't love Spotify? The eccentric features it offers gives a wholesome experience to people with a high quality and clarity of sound and an easy user interface.
Spotify is a pocket-friendly app that drags you to your own little world with assorted playlists and a lot of knowledgeable podcasts with your favorite speakers and exclusive choices just for you. 
Once you are a premium customer at Spotify, the ad display discontinues. We all know that, but what happens once you become a premium customer and listen to your favorite podcast and suddenly ads start to appear which fails the whole notion of being a premium customer? 
We got you! Let us further understand and fix the problem and ensure to get rid of it, so keep reading. 
---
Why am I getting ads on Spotify Premium Podcast? 
Spotify Premium comes at unbelievably affordable prices and it's all worth the money but getting ads whilst listening to podcasts can be a bit annoying. But here's the thing, podcast ads were interwoven with its software. Let us also see the reasons in detail:- 
Reason 1: Spotify's revelation of including ads in Podcasts
As mentioned earlier, Spotify's Vice president announced Spotify ads Insertion or the SAI which would give the better contact for individual podcast makers and make it more friendly for them in terms of making it worth all their hard-earned money.
Reason 2: It's more or less absolutely in control of the podcast host 
 A podcast creator might use different ways such as advertising delivered by another provider, pre-recorded ads, or sponsorship messages in their podcasts, which might remove Spotify from being responsible for ad display. This gives a boost to the host to earn money more conveniently.
Many customers prefer their products or services more likely to try them if recommended by their favorite podcaster. Or there might be ambiguous answers as to why would a podcaster choose it as an option for diverse reasons. 
Reason 3: Spotify's integrated ad system
 Spotify promised its users that by becoming a premium customer it would provide music ad-free. But the integrated ad system also provides for its podcasters to choose ad integration into their content. A dynamic ad can also be chosen as an individual podcaster. 
But fret not, let us try out different methods to solve the issue, therefore keep reading. 
---
How to get rid of ads on Spotify? 
Method 1: Reaching out directly to Individual Podcast creators 
As we have mentioned before, The choice of ads display depends on the Content creators. The ads are integrated into their podcast version. Podcast creators heavily build content with reference to his/her listeners.
Today, it is easy to reach out to your favorite podcaster through different social media platforms such as Instagram, email, Twitter, etc., and let them know the issue with ads display and how it might affect you as a loyal listener to continue dealing with it. The solution might seem a bit too simple but it still can be used. 
---
Method 2: Turning Spotify into offline mode 
The best way to deal with the ad problem is to download various podcasts and listen to them in offline mode. Ads do not get displayed while in offline mode and therefore you can enjoy your podcast without being interrupted at all.
The aim of Dynamic ads in Premium podcasts is about having ongoing internet connectivity. Once the internet is cut off the ads would stop getting in the way or breaking the flow. 
---
Method 3: Pressing FFW 
While getting interrupted by ads one can press the fast-forward button either on the screen or on whatever hearing device you are using. It would skip the ad and your podcast should continue further. 
---
Method 4: Skip-ads button 
Spotify also provides its users with a skip-ads button. It also has a 15 seconds skip button through which you can continuously press repeatedly and skip the ad content completely to enjoy your podcast. 
---
Method 5: Become a premium user! 
If you are here for this method you might be a free version user. The free version of Spotify gives various ads while you are listening to music or while listening to a podcast.
These ads always include pursuing its customers to switch to Spotify Premium, which would make your music go ad-free completely as well as downloading unlimited songs or podcasts to your device and listening to it anywhere without any barriers. 
---
Method 6: Use a VPN 
Using a VPN can be another way to get rid of ads but it is a bit complicated. A virtual private network is a way where you can easily switch servers of any other country and get rid of ads. 
---
Final Words 
While Spotify Premium gives out a gorgeous look to your Spotify display screen, it also blocks ads from music playing on your device and some podcasts. Being a Spotify premium customer gives out a lot of benefits exclusively for you. While the above article tried to solve the issue regarding the ads on premium podcast hearing it also states the various reasons for the ad being played.
There is no agreement infringement by Spotify with its loyal customers. Spotify always tried to improve its user experience and enhance Spotify-exclusive podcasters. 
Spotify provides an idea exchange for its users where you can send feedback, ideas, or Suggestions to Spotify teams through voting and they would check if it suits the Spotify community. These features ensure direct user and Spotify community interaction. 
Hope this helps!
---
Further Reading:
What does the Blue dot mean on Spotify?
(5 Ways) How to Fix Spotify not letting me log in
(Fix) Why do Songs get removed from Spotify?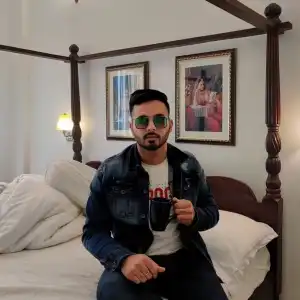 Ankit is an engineer by profession and blogger by passion. He is passionate to do all the stuff such as desiging the website, doing the SEO, researching for the content, writing tech blog posts and more.
---
Stay connected with us for the latest updates! Follow us on Telegram and Twitter to join our vibrant community and never miss out on any exciting content."