Are you not able to load a page or profile on Instagram?
Are you getting the error 'Instagram 'sorry this page isn't available'?
Since Instagram's unique features mesmerized millions of people, Individuals feel the urge to log in daily to see what their family, friends, or their preferred influencers are up to.
However, users have a few complaints lately about glitches while scrolling posts or the inability to comment on somebody's post, etc.
Also, imagine, if you badly want to visit a certain page or account and Instagram continues to show you "Sorry, this page is not available," how would you feel?
You must be wondering "why this is happening to me?"
Instagram is very complex in its operation mechanism such as each user has his or her own unique experience. We can see posts in our languages depending on our preferences and geological location. Since social media administration is different in different parts of the world, Instagram needs to adapt to this diversity. As a result, some of the errors occur due to different regulations prevailing and preventing free access to sensitive information.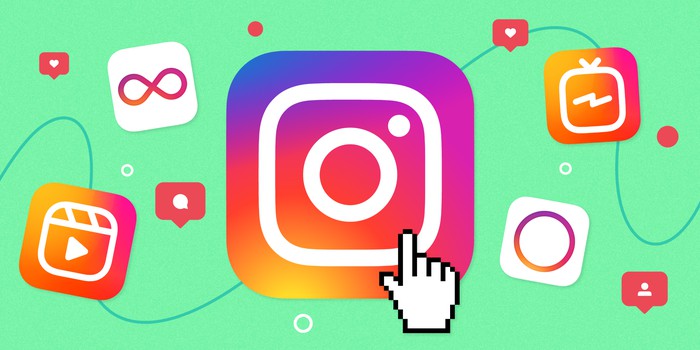 Now, the reason behind "Sorry, this page is not available" can be several things. However, it looks like a link broken problem but Instagram shows this message to cover several issues. The Instagram server probably be down because of its internal issue, or maybe the app isn't cooperative well with your phone. Whatever the reasons behind all this, Instagram users are losing their nerves while using the app.
Well, you are not alone. Hundreds of people have faced the same situation before. So, if you are in this situation right now and want to get out of it, then keep on reading.
---
Why does my Instagram link say 'Page not Found
'
There might be a variety of reasons why clicking an Instagram link displays a page not found such as blocking of viewers by page owners, deletion of accounts by owners, banning of profiles by Instagram, and loading components of webpages on either PC or mobile due to browser settings, etc.
However, the following factors are considered as the prime factors behind showing the page isn't available.
(1) The page you are trying to enter into, it's possible that the page owner blocked you from looking into his/her account.
(2) Maybe the user deleted the account or profile. That's why Instagram displays "Sorry, this page isn't available."
(3) If you are having a hard time opening a page or profile from your computer, consider opening the page from mobile. If it's working smoothly on your phone, then it's likely Instagram is having trouble making sync with the computer, and vice versa.
(4) Perhaps Instagram banned the user or the page. Therefore, you are facing issues landing on that page.
---
Fix: Instagram 'Sorry this Page isn't Available' message
If your Instagram continues showing this same message about 5/6 times, then follow the procedures one by one until it is fixed.
For users of the Instagram app on mobile phones:
1. Update the App to its latest version
Most of the problems of apps can be resolved by updating them from trusted sources. Just open your Play Store or App Store on your device and check whether there is any update of Instagram available. If so, click update and try loading the Instagram page again.
2. First Clear Cache and Clear Data as well if not fixed
The cache is helpful if you want to load your app/page faster with less data consumption. However, it also brings issues to running the app. Clearing cache sometimes removes troublesome cache data and lets the app perform properly. 
However, if clearing the cache doesn't help, try clearing data as well. It will remove all files & settings created after the installation of the app. You will have to log in with a password again and may have to redo some settings but it will boost app performance and perhaps resolves the main issue. 
iPhone users do not have a clearing cache option but offloading access data can be used through phone settings instead. Alternatively, you can simply uninstall and install the app again.
For PC users:
1. Logged off to Search the Page
You are logged into your account and you are experiencing "sorry this page isn't available". Or if you can't reach a certain profile or account, then log out. Now search for the profile and click it. If some content or public information is displayed, then it means that the page owner blocked you from seeing his/her Instagram account. Sorry to say, there isn't anything you can do in this case.
 For further confirmation, you may ask your friend or family member to visit the profile and if he/she can, the blockage is confirmed.
However, if you cannot find the profile or your friend/family, the page owner has likely deleted the profile or account.
2. Open the Link from another Browser or Instagram app
If you are facing some troubles opening a link or profile from the computer's browser, try it with another internet browser. Chrome, Firefox, Edge, Brave, etc. are common internet browsers and can be used interchangeably. 
Or you may open it through your mobile. If it opens with ease from another internet browser or the mobile app, it's clear that the Instagram page has content issues with your current browser. Similarly, if the Instagram app isn't working out through mobile, use your desktop or laptop to see if it's working or not.
3. Search the Page a Week Later
Didn't I say earlier that Instagram acts weird sometimes?
Well, if you are unable to reach a page or profile on Instagram, probably this app banned that page from being visible to audiences. Instagram bans audiences from time to time without disclosing any reason. This is called a shadowban and most times, the validity of such a ban extends up to a week. 
Shadowban is generally imposed to limit someone's content being visible to its audience or specific audience Instagram can restrict an account, page, or photo without showing cause to the uploader. 
So, my suggestion would be to search the page a week later. If Instagram banned the profile for some reason, there is a high possibility that it would lift the ban after a week and you will find it again on Instagram. 
4. Check if the Owner has Deactivated His/Her Account or not
If you click a link on Instagram and it directly appears "this page isn't available," it would happen due to the owner of the page deleting his/her account. So, go back to Step 1 and follow up to confirm if the account has been deactivated or not. You don't want to spend hours and finally, find that the account has been deactivated.
However, try the page or account some days later because the account is deactivated, the page or account owner may reactivate the page or account. 
But if the owner deleted his or her page/account, there is no way to view that again. Deactivation means the content stays but is not visible to the audience until reactivation.
5. Check the Link You are Trying
It seems impossible to have a misspelled link since all links are shared by the share feature or copy-paste. No one tells a link to others over the phone. However, trying with a misspelled link is more common than you think. 
Sometimes, when we copy our link from elsewhere, a part of the link is not copied by mistake. Since links are not sentence types, most users cannot seek the missing characters. This misspelling of the link often leads us to "sorry, this page isn't available." 
So, be careful while copying the link you want to go to.
6. Check what you have installed lately
Software rarely restricts you from viewing an Instagram page but add-ons of browsers may have the possibility to stop a browser from loading some webpage elements. This solely depends on the add-on settings and Instagram has no involvement in it. 
So, if you are experiencing the Instagram issue lately after modifying your internet browser, try to deactivate the add-on or uninstall it. Alternatively, you can try from a different internet browser as mentioned in Step 2.
7. Instagram Servers are not Working
If you follow all the above procedures but still didn't show any improvement, then maybe this Instagram server causing this problem. 
Oftentimes, engineers of the Instagram company work to improve their system and during their service hours, the server may go down. If part of network storage is being serviced or your desired content is in that part, you may see the message "Sorry, this page isn't available. Therefore, don't panic, it will be alright in a few hours.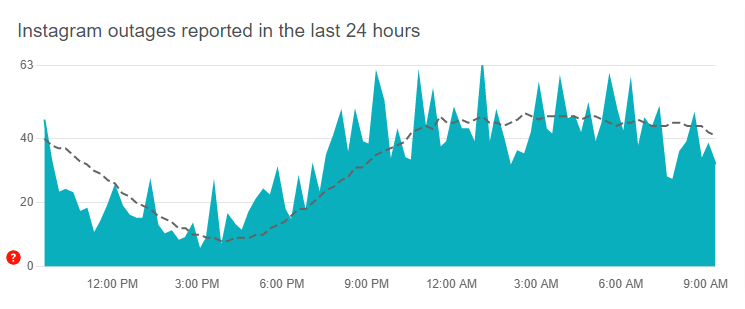 That being siad, we would suggest visiting the downdetector page for Instagram and check the number or reports/user complaints. If these are in significant numbers, it means servers of Instagram are down.
SEE ALSO: Fix Instagram account disabled for violating terms
---
FAQs
Q1: How do I know if I am blocked by a user?
It's simple! Log out from your account. Search for the same page/account. If public information is displayed after clicking it, you are blocked. If you have another account on Instagram, then sign in and search the user's profile. If you find that profile from this account, then it's crystal clear that the person blocked you from his/her profile.
Q2: Why does Instagram show the page isn't found?
There are many reasons for that. Maybe the owner deactivated the profile or he/she may have blocked you. Perhaps Instagram banned this certain profile from audiences. Or the Instagram server is going through a process, that is why this sentence is keep showing up.
Q3: Can Instagram block my account permanently?
Yes, it can. Depending on how you use it and what type of content you share. If you post content that is illegal or hateful, send spam, and share hateful comments on others' posts, Instagram can block your account permanently. However, Instagram generally informs users of questionable content and asks them to put them down. If not put down, Instagram can permanently block the user's account.
Q4: When my IG profile will Shadowban?
Shadowban is a time-bound ban and usually extends up to a week. It's kind of a warning. If you use way too many banned tags and posts, share contents that attract more complaints from other users, Instagram shadowban your profile. However, your contents get visible to the audience again in a week or earlier if questionable items are put down.
Q5: Is my network problem resulting, "sorry, this page isn't available?
It might be. Sometimes network problems cause this type of complication. Without loading all webpage elements, internet browsers cannot display Instagram pages properly. Turn Airplane mode on your operating system and wait for 5 minutes. After restarting your network connection, if the problem doesn't fix, turning off and on the wi-fi router might help you.
Q6: What does it mean "sorry, this page isn't available?''
This means that your current browser couldn't find or load the webpage you are requesting to visit. There are lots of reasons behind it and this article aims at finding possible solutions to the problem.
---
Final Words
Since Instagram is widely used by casual viewers and content creators, huge investments and revenue are involved in it, engineers are continuously working on the betterment of Instagram. 
So, if you have seen this message "Sorry, this page isn't available" and are puzzled out about why it's showing, then being panicked won't help. This is likely appening because of the above points we referred to earlier and you can easily fix this by following the mentioned procedures.
---
Further Reading:
[4 Ways] Fix suspicious login attempt Instagram
[12 Ways to Fix] Instagram something went wrong try again later when posting
[Fixed] Instagram disabled my account for 30 days
Does Instagram automatically follow accounts?
Technical writer and avid fan of cutting-edge gadgetry, Abhishek has authored works on the subject of Android & iOS. He's a talented writer who can make almost any topic interesting while helping his viewers with tech-related guides is his passion. In his spare time, he goes camping and hiking adventures.