Amazon Alexa is a virtual assistant AI (Artificial Intelligence) that can take voice and text-based commands. It has been one of Amazon's leading products and is well-integrated in its other offerings such as Fire TV stick, Smart home speakers, apps, and tablets.
It is a tough competitor to other company's assistants such as Apple's Siri and Google Assistant. 
Alexa is capable of voice interaction, music playback, making to-do lists, setting alarms, streaming podcasts, playing audiobooks, and providing weather, traffic, sports, and other real-time information, such as news. Source: Wikipedia
Vizio is a highly competitive brand in the USA and a major player in the tech space. Vizio deals in television sets, soundbars, software (SmartCast), and remote controls.
In this article, we will mainly be talking about controlling your TV through your Alexa integrated Smart Bluetooth speaker. We will understand how to give voice commands to the TV and the steps to do so.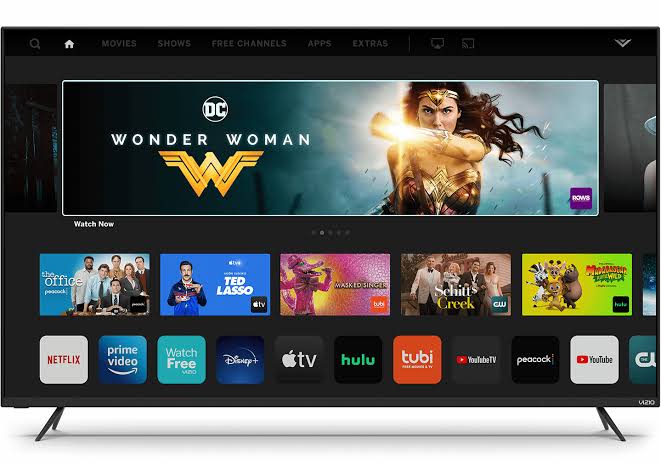 ---
How to connect Alexa to Vizio tv
Want to enhance your TV-watching experience? Want to have a Voice-activated TV? Read on!
Follow these steps to pair your Vizio TV with your Amazon Alexa Bluetooth speaker or any other Amazon-offered Alexa-integrated device.
Step 1: Determine your TV model
Make sure you have a Vizio Television or also called as Vizio SmartCast Display of 2016 -2021.
Step 2: Press the VIZIO button on the top left corner of your remote
This will launch SmartCast TV Home on your TV.
Step 3: Find the Extras TAB
From the menu, go to Extras and click OK.
Step 4: Select Amazon Alexa from the menu
There will be an additional prompt. Follow this prompt to link your Vizio account to Alexa.
Step 5: Enable Alexa
Follow the onscreen steps to login/create (if you don't have one) your myVIZIO account and enable Alexa
You have now enabled the Alexa Skill for Vizio. 
Here is the official description from the website for Alexa Skill. "Easily control your VIZIO SmartCast™ TV with just your voice! Ask Alexa to turn the TV on/off, find your favorite movies and TV shows, adjust the volume, and more."
Step 6: Try commands on your Vizio TV
Here is a list of commands that work on your Vizio TV. Link: List of Commands
Step 7: Setup Power On, on Voice Command

For your TV, powering on your device with voice requires the power mode to be set on Quick Start mode.
Navigate to the Menu on your Vizio remote and select System.
Find Power Mode and select it. Now press "Quick Start Mode" to enable Quick Start mode.
Step 8: Test out your Integration
Alexa integration with your Vizio TV allows you to use your Amazon Echo, Echo Dot, Echo Show, and other Alexa-integrated devices to make Alexa control your Vizio TV set. 
Using voice you can do the following functions and much more : 
Adjust TV volume

Launch apps and install new apps

Navigate between HDMI ports. 

Switch your Vizio TV on and off 

Fast-forward and rewind your media. Skip minutes.

Play and pause the media.
The combination of Alexa and your Vizio TV set gives owners simple, hands-free control of key entertainment features keeping comfort in mind. This definitely makes life easier. You can also combine your TV speakers with your Amazon Echo device for a more homogenized experience.
---
SEE ALSO: How to connect Vizio TV to mobile hotspot
---
Why won't my VIZIO TV connect to Alexa?
Network issues can be a hassle. To be safe, connect Alexa and your Vizio TV to the same network. If there is an internet issue, restart your router. If the problem persists contact your ISP (Internet Service Provider).
There might be an issue with Alexa not being able to detect the TV. In this case, log out of your MyVizio Account on the TV. Restart the router, TV, and Echo device. Unlink the skill and enable it again after the devices have rebooted.
Now repeat the above-mentioned steps given in "How to connect Alexa to Vizio TV?".
If the problem persists, factory reset your TV to default and restart your Amazon-integrated device. Now repeat the steps again. It can be an issue with the Vizio TV and not with Amazon Alexa. 
There is a possibility of server issues. In this case, you can just wait for it to resolve itself or contact Amazon Customer Support.
Make sure you see your TV on the Alexa Phone app. If your TV is not detected on the phone app, there is a high chance it is not detected by your Echo device.
VIZIO TV won't connect to Alexa because of these reasons. Please troubleshoot accordingly.
The consensus is that Alexa only works with Vizio TVs that are Smartcast enabled. This can cause a problem in many instances. Check your model from the company website and see whether it's compatible or not with Amazon Alexa.
---
SEE ALSO: Best Audio Settings for Vizio TV (2021)
---
Frequently Asked Questions (FAQs)
Q1. Can Alexa turn on my VIZIO TV?
Yes, your Alexa integrated device can turn on your Vizio TV. You have to enable "Quick Start Mode".  Enable this Setting in your own TVs menu. You should make sure that your TV is connected to a power supply before giving a command to turn on the TV.
Q2. How do I connect my VIZIO TV to Amazon?
Go to Play Store or your Native TV store (if it's not an Android TV) and install the Amazon Shopping App. Log in with your credentials and enjoy shopping. You can also add products to your cart by asking for your Alexa smart speaker. (Only available in select countries).
---
Final Words –
Alexa and other Voice assistants have certainly made our life easier. Artificial intelligence has advanced so much that we can have conversations with it. NLP (Natural Language Processing) is a powerful tool and branch of AI.
I am sure a lot of your doubts are cleared by now.
We hope that the above-mentioned techniques proved fruitful and your Amazon Alexa device is now connected to your TV. Happy streaming! Enjoy the comfort of giving voice commands to your TV. And as always, come back to Android Nature for more amazing articles.
---
Further Reading:
Vizio TV internet browser app (2021) : Web browser Vizio Smart TVs
Fix Vizio TV keeps disconnecting from WiFi
How to Fix Vizio TV No Network Detected [2021]
[Fix] Vizio TV lagging, Freezing, Buffering, & Crashing issues (2021)
Majorly tech savvy. Updated with the Android Ecosystem. Also have considerable knowledge of gadgets and devices. I follow the tech and innovation industry with passion. Well versed with Linux and other operating systems.