We all are completely exposed to smart-looking home appliances since the era of technology began. However, today's topic is about a long-run necessity for users. We will discuss the Hisense TV volume button location.
The minimalistic design of the Hisense smart TV gives out a simple yet supreme picture for anyone who loves being brought to the future sooner. As manufacturers race to build tomorrow, smart TVs have become the target of expressing their creations.
But there is no way they would drift away completely from the time of manual buttons. Just like how the legacy of mobile phones grew from pressing hard buttons to a simple swipe on a glass screen, TVs have had their own set of improvisations.
Now, the manual buttons built onto Hisense TV might appear useless to many users. Sure, the present technological advances have brought ease to the action of controlling your TV from the comfort of your sofa, using your smartphone.
Besides, users generally neglect the need for turning their TV off so as to get back to it quickly without having to start it once again.
But in the event of certain technical glitches where you have no other means to control your TV, then you ought to learn the basic manual controls. We have the details on all this and more.
---
Where is the Hisense TV volume button located?
Short Answer: Hisense TV volume buttons are located along with the power button, menu, source, and channel controls, on the bottom right side of your TV. It may vary based on your Hisense TV model.
A few doubts that users tend to ask is regarding the volume control of your Hisense TV without using a remote.
This might sound strange for other users who may not be careless enough to lose their Hisense TV remote or in some cases, exhaust their remote batteries.
Either way, it is mandatory to have the right guidance in such situations. So, read on to know about how to control the Hisense TV volume without a remote.
---
How to increase the Hisense TV volume without a remote?
1. Manual volume buttons on the Hisense TV
Don't feel flustered when your TV seems less smart when you don't have the means to control it. Just get up and go over to your Hisense TV.
Peak behind your TV frame and locate those small manual volume buttons along with all the other controls that are needed for basic use. The TV manufacturers won't compromise on easy access to emphasize looks and design.
---
2. Using a remote app to control Hisense TV volume
Now, if you are looking for a more dependable replacement for your Hisense TV remote, then we have the right answer for you.
Usually, android smartphone users may have familiarized themselves with this provision available in the play store. The Remote App is a popular and easy way to transfer the controls of a remote to your Android smartphone.
You won't have to worry about replacing batteries or losing your smartphone, which hardly ever happens.
So how does this app work? Check our in-depth guide on – How To Use Hisense TV Without Remote
or
Check the quick Step guide below –
Step 1: Firstly, connect your Hisense TV and your Android smartphone under the same Wi-Fi
Step 2: Now, search for 'the remote app' in Play Store.
Step 3: Download the application.
Step 4: Run it on your device, and accept the terms and conditions to proceed.
Step 5: On the list of devices, click on the name of your Hisense TV.
Step 6: Turn on your Hisense TV and wait for a code to appear on the screen.
Step 7: Provide this code in your smartphone and then click on the 'pair' button.
Step 8: This will establish the connection and give your phone access to control your Hisense TV without a remote.
Step 9: On the app, the arrows to the right and left allow you to increase and decrease the TV volume, respectively.
This is a general application that is not exclusively for your TV. So, any TV can use this feature to control its TV volume without a remote.
---
SEE ALSO: Fix Hisense TV won't turn on but the red light is on.
---
3. The Roku App
A more exclusive application that is available to control functions like volume, is the Roku App. Although quite similar to the 'Remote app', the Roku app has more detailed controls like a list of recently watched channels and more.
Of course, the volume controls are also available. Read the below steps to find out the procedure of using this app;
Start with connecting your Hisense TV and Android or iOS smartphone to the same Wi-Fi connection.
Open the application and click on the name of your Hisense TV.
Now click on the 'remote' option.
The App can turn on your Hisense TV, control the volume, and much more.
Read on to know about other apps available for this purpose.
---
 4. Google Assistance can help you control Hisense TV volume
This feature provided by google has lot more capabilities other than providing assistance to your smartphone. The Google Home app is a must to have in all mobile phones to make your entertainment much easier, without having to waste time looking for your remote.
The first step is to connect both your TV and smartphone to the same Wi-Fi.
Now install the Google Home application.
Select the name of your Hisense TV and then drag the circle along the curve to adjust your Hisense TV volume.
---
FAQs
Q1. Hisense TV volume button location.
Hisense TV volume buttons are located on the right side bottom on the back of the TV. It might also be present on the side. The location will vary based on the TV model that you own.
The article above will explain the location briefly.
---
Q2. How to turn volume up on Hisense TV without a remote?
You can control the volume using the manual buttons that are located on the bottom right side or behind the TV frame. Or you could
We have given a brief explanation of various ways to control your Hisense TV volume without a remote.
---
Conclusion
This article provides ways to control your Hisense smart TV in absence of a remote. We have given a step-wise guide on going about the various controls without depending on a TV remote. Hope it helps you use your TV with ease.
---
Further Reading:
Best sound settings for Hisense TV
[3 ways] How to find Hisense TV model number
(13 Ways) How to Fix Hisense TV sound not working
[7 Ways to Fix] Hisense Roku TV remote not working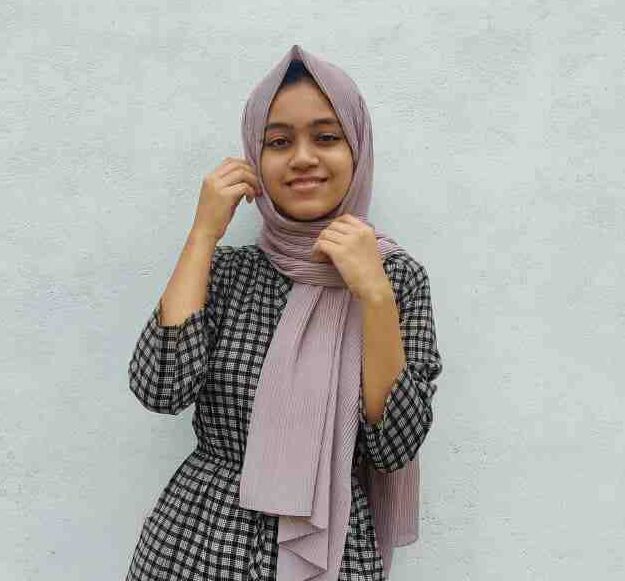 Dilha is a writer who loves composing poems and going into deep research on all kinds of tech stuff that they don't teach in school. Anything that marks the extraordinary part of this generation excites her. she is currently persuing her degree in genetic engineering. here at Android Nature, she is assigned with various cool topics and is responsible for sharing cool insight and updates on the same.