Sound is the most important part of a TV as it connects people to what they are watching making the experience amazing. So as you must have figured, this article is going to be about the Best sound settings for Hisense TV.
Sound plays a major role in settings the right context and connecting people. It effectively delivers the information and plays a major role in engaging the audience. So correct sound settings are very important.
Read the article to know about the Hisense TV sound settings in detail and experience quality sound on your Hisense TV.
Best Hisense TV audio settings
Before we start mentioning the best audio settings for Hisense you must know that there could many variations of audio settings that suit best for a particular experience.
For instance, if you want to watch a movie you must be looking for a surrounding type of sound. Whereas for a baseball match, the high bass setting might not sound balanced.
Here, in the first part of this post, we will include Hisense TV sound settings for a balanced experience, suitable for movies, shows, music as well as sports.
1. Sound Mode: Standard
The very first setting is the Sound Mode. On selecting this option, you will see 6 presets. If you want everything easy and smooth, select the one that suits you.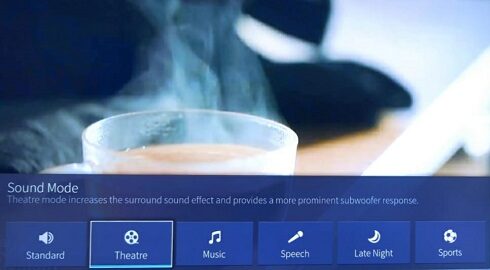 For a balanced experience, if you don't want to change the settings for different types of content, select Sound Mode to Standard.
---
2. Apply Sound Mode: All Sources
Second, comes the 'Apply Sound Mode' option. To reach out to this option, go to Settings> Sound> Sound Mode Settings.
In the Sound Mode Settings, you will see Apply Sound Mode option at the top.
---
3. Total Sonic: ON
This feature optimizes the sound quality of your Hisense TV by providing better sound ranges including bass.
This feature can be turned off as well. You have to check if it works for you well.
---
4. Total Volume: Normal Mode
This is probably one of the best features of the Hisense TV. Total Volume maintains consistency of the sound intensity when switching between the channels.
So, no more jumpscares! We will highly recommend you keep it in Normal Mode. If you watch TV late at night, select Night Mode.
---
5. Total Surround: ON
Using this feature you can get the best surrounding sound possible from your Hisense TV. Kudos to the sound optimizations performed under the hood.
Again, this is an optional feature. If you are enjoying it, or the sound feels weird, you can toggle it off.
---
6. Best Equalizer settings for Hisense TV
Below you can check out the best equalizer settings for Hisense TV for a balanced experience.
100 Hz: 70%
500Hz: -40%
1.5 KHz: 50%
5 KHz: 100%
10 KHz: 90%
Here, you can try changing some of the settings as well. Before you dive into the settings you must know that the 100 Hz range changes the Bass of the sound. 500 Hz & 1.5 KHz range changes the Mid-Range sound whereas 5 KHz & 10 KHz control the Highs.
There are high chances that you might end up creating a mess. Don't worry you can switch to the default settings.
---
7. Wall Mount Setup: OFF
As the name suggests, if you have your TV mounted on a wall, you can toggle on this option. It considers how TV is mounted above the ground and the sound's getting reflected from the wall.
And that's all. Don't worry about the other options given in the Sound Settings menu. You are not missing anything. Trust us!
---
Best Hisense TV sound settings for gaming
1. Sound Mode: Standard
2. Apply Sound Mode: All Sources
3. Total Sonic: OFF
4. Total Volume: Normal Mode
5. Total Surround: OFF
6. Equalizer settings:
100 Hz: 20%
500Hz: 10%
1.5 KHz: 0%
5 KHz: 100%
10 KHz: 50%
---
How to change sound settings for Hisense TV
Step 1: Go to the TV menu
Step 2: Now, go to 'Settings'
Step 2: Select the 'Sound' option
---
Note: The features may vary with different Hisense TV models.
Hope this article proved helpful to you. If you are facing any issue regarding the sound, you can check our dedicated guide on how to fix 'No Sound' issue in Hisense TV.
---
Further Reading:
How to change brightness on Hisense TV
Fix Hisense TV Sound but No Picture
Fix Hisense TV won't turn on but the red light is on
---
Stay connected with us for the latest updates! Follow us on Telegram and Twitter to join our vibrant community and never miss out on any exciting content."