Vizio TVs are one of the most common and right for the price TVs you can find around you. Vizio also deals in sound bars, software, and advertising. These TVs can be an exciting buy though, they come with their own set of problems.
Some Vizio TV owners are facing cut-out video, zoomed-in pictures, and aspect ratio locked which prevents them from watching TV as usual.
---
What is the Aspect Ratio?
Aspect ratio means the ratio of height per the width of any frame of an image or video.
The Vizio TV has 3 aspect ratios that you can change to fit your viewing tastes.
1. Normal
The normal is the default Aspect Ratio setting. This shows the picture in the native resolution. The TV shows the way it is broadcasted by the service provider. There are no alterations here.
2. Zoom
The Zoom settings remove all black areas from all 4 sides. It zooms into the picture, without concern for the picture getting cut to only show the picture. But it does get rid of all black edges. It is not the best mode to select if you are watching something with subtitles as they can get cut out of the viewing area and go beyond the edge.
3. Wide
The Wide Mode stretches the picture on the screen so that it takes up all of the screens. If you have black areas on the left or right side of the screen, they will be covered up in this mode. This can be good especially while watching content in native 4:3 aspect ratio and you want it stretched to cover the black areas.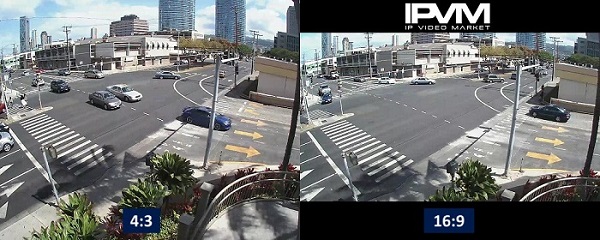 ---
SEE ALSO: (4 Ways) Fix Vizio TV Screen goes black randomly
---
Why is Vizio TV aspect ratio locked
Short Answer: Your Vizio TV aspect ratio is locked because there is change in picture settings, the Zoom mode is turned on, or there could be an issue from the broadcaster's end.
Most modern TVs come in the 16:9 aspect ratio. The old CRT televisions used to be in the 4:3 aspect ratio.
You could be viewing a picture that was originally filmed in the 4:3 mode which is closer to a square.
Alternatively, your TV's aspect ratio may have changed because of a mistake or by an accident. This must have caused the picture to be cut out.
It could also be because of issues from the broadcasting side. The show/ channel you are watching could have a different aspect ratio other than the native aspect ratio of your TV.
If the picture is zoomed in, i.e., the picture is smaller than your TV screen and there may be black edges, the content may be displayed at a lower resolution than your TV main screen.
The content displayed is 720p while the TV is a 1080p screen. Usually, the picture is adjusted on its own, but this issue can also present as a problem.
---
SEE ALSO Fix Horizontal/Vertical lines on Vizio TV screen
---
Fix: Vizio TV stuck in Zoom Mode
Method 1: Restart your TV
Switch off your TV by pressing the Power button on your Vizio TV remote. Now unplug the TV from the power outlet. Wait for a few seconds and replug it in the outlet.
Alternatively, you can also Soft Power Cycle your Vizio TV from the settings menu. This is also essential, restarting your TV.
---
Method 2: Change aspect ratio settings
Press the Vizio key on your remote. This will take you to the menu.
Navigate to the System option in the menu and select it.
Now to go the Aspect Ratio option by using your arrow keys and press OK.
You'll see 3 different options here:
Normal, Wide, and Zoom.
Select the Normal option.
Now, restart your TV.
In some TVs, there is an Aspect Ratio button. If you click that, you'll see the numbers 1-9 on your screen to select as an option. Don't select any of those numbers. Press the number 0 on your TV and the TV should go to its default aspect ratio settings. This method won't work for everyone.
---
SEE ALSO: Vizio TV Best Picture settings for Gaming
---
Method 3: Turn off zoom mode
Press the Vizio/Menu button on your TV remote.
In the menu, navigate to the System option. Select this option.
Now search for Accessibility. Find it and select it.
In the Accessibility settings, turn off the Zoom Mode if it is turned on.
Exit and restart your TV.
---
Method 4: Factory Reset Vizio TV to defaults.
Perform the following steps listed below to go back to Defaults on your Vizio TV.
Using the remote, press the Vizio/Menu button.
Use the Arrow buttons on the remote to highlight the System and select it.
Highlight Reset & Admin and then press OK.
Select Reset TV to Factory Defaults.
Wait for the TV to turn off.
The TV will turn back on and now the Setup App process will start.
---
Method 5: Check the broadcasted content's aspect ratio
Well, sometimes there could be an issue from the broadcaster's end. There is nothing that went wrong with your device. You can check if a particular channel has the issue by simply switching to a different channel.
Try switching to a channel from a different broadcaster family. If a specific broadcaster is having the issue, chances are all related channels can have the same problem.
If you are facing the Vizio TV aspect ratio lock issue for a specific group of channels, you must contact the customer care of the broadcaster.
---
Method 6: Contact Vizio Support
The methods discussed above might have fixed the issue with your Vizio TV. But, if the issue pertains, there is only one thing that can be done. You must contact Vizio customer support for any help.
The issue is software related and can be fixed easily, but if there is anything other wrong with your, Vizio will surely assist you with that.
You can call Vizio's customer support at 844-254-8087. Support is available
Monday – Friday: 7:00 AM – 11:00 PM CST
Saturday and Sunday: 7:00 AM – 8:00 PM CST
You can also reach out to Vizio support through email by visiting the "Contact Us" page on their website and filling out a support request form.
Vizio also provides live chat support through their website. You can access the live chat feature by visiting the official contact page and clicking on the "Chat with Us" button.
You can also reach out to Vizio through their social media accounts on Facebook and Twitter. However, you may not receive an immediate response.
---
SEE ALSO: Fix Vizio TV Blue Screen of Death
---
FAQs
Q1. How do I get my VIZIO TV out of wide mode?
A. You get your Vizio TV out of Wide mode by changing the settings of your TV. Go to settings, Aspect Ratio, and select Normal from the three options of Wide Normal and Zoom.
Q2. Why can't I change the Aspect Ratio on VIZIO TV?
A. If you are having difficulties changing the aspect ratio of your TV, factory resetting your television would be a good option to consider. There also might be the issue of the channel you are watching has a different aspect ratio than your TVs native aspect ratio. Try changing the media or channel you are viewing to troubleshoot the problem.
Q3. How do I reset the picture size on my VIZIO TV?
A. You can go to Settings >> Accessibility >> Zoom Mode and turn it off if it's on. Alternatively, you can change the Aspect ratio in settings to normal. You can also Factory reset your TV to defaults.
---
Final words
It can be a hassle to not being able to view content with its edges getting cut.
The above article explained methods to fixing issues with the TV picture zooming in or out and also problems with aspect ratio.
We hope these methods were helpful to you.
---
Further Reading:
Fix Vizio TV keeps switching to Smartcast
Vizio TV on Button : Where is the Power Button on Vizio TV
How to check Vizio TV Model number: Vizio TV serial number lookup
How to Reset Vizio TV without Remote
Majorly tech savvy. Updated with the Android Ecosystem. Also have considerable knowledge of gadgets and devices. I follow the tech and innovation industry with passion. Well versed with Linux and other operating systems.