The music streaming service Spotify added a Showtime subscription to the Spotify Premium Student Plan.
Showtime is a premium entertainment network, similar to Netflix, featuring critically acclaimed original series, limited series, groundbreaking documentaries, and docu-series. It also has hit Hollywood movies, action-packed sports, hilarious comedy specials, and much more, all without commercial interruption.
In this article, we are going to give you a brief and thorough idea of why your Spotify Premium Account and Showtime are not working properly, and how you can fix this with different methods.
We have also included in this article how to activate your Spotify Showtime Account.
---
Why is Spotify Showtime not working?
There are very limited reasons for Spotify Showtime not working.
One of the reasons why Showtime doesn't work is that the email you use on Spotify does not match the one you use for Showtime.
Another reason might be that you already have a Showtime account before upgrading to the Premium offer.
---
How to fix Spotify Showtime not working?
There are a few ways you can fix Spotify Showtime not working. Check them out.
Method 1 – Cancel and Restart
If your Showtime subscription keeps showing the "7-Day Trial for $10.99" page instead, check the account details for the "Expired-Billed Through Spotify".
For this, cancel and restart the student premium account. It should work as normal now.
If it still doesn't work, check if the Showtime subscription is linked to your Spotify account on your account overview page.
Method 2 – If you already have a Showtime Account
If you already had a Showtime account before upgrading to the Premium offer, try unlinking your Showtime account.
And then, create a new one through your account overview page.
This new account should work perfectly fine.
Method 3 – Contact Support
This is one of the best ways to resolve any issues with your Showtime Account.
Contact the customer support for Showtime and Spotify, though the latter would be more beneficial to you as the Showtime benefit is just a part of the Spotify offer, and thus falling in their jurisdiction.
Method 4 – Transfer Account
If it is account-specific, then the best way for you to solve it would be to create a new account and transfer your student discount to it.
This can only be done through Customer Support, so you would have to reach out to them anyway.
And then sign up for the Student Hulu + Showtime deal again.
This eliminates all issues and gives you a fresh new account with no hiccups.
---
Know more about Spotify Premium and Student Accounts, and the extra benefits of Hulu and Showtime subscriptions here.
---
How to activate Spotify Showtime Account?
Activating your Spotify Showtime  Account is fairly one of the easiest tasks you'll ever come across.
Step 1 – Create/Upgrade to a Spotify Premium Student Account
To do so, you must first activate your Spotify Premium Plan
To activate your Spotify Premium for Student plan, head to the Spotify Student page and sign up if you don't already have a Spotify Account.
And if you already have an account with Spotify, Log In.
You can Sign Up or Login with Facebook or Google, depending on which country you reside in. To Sign Up for Spotify manually, enter your information in the sign-up form and then click Sign Up.
After this, you will have to verify yourself as a student to be eligible for Spotify Premium Student Account.
Go to the Spotify Student Page and click on Get Premium. You will be redirected to a verification page with a form that you have to fill out with your correct information.
The SheerID system will verify your status. Now, enter your payment details to complete the payment and this completes the process of creating a Spotify Premium Student Account.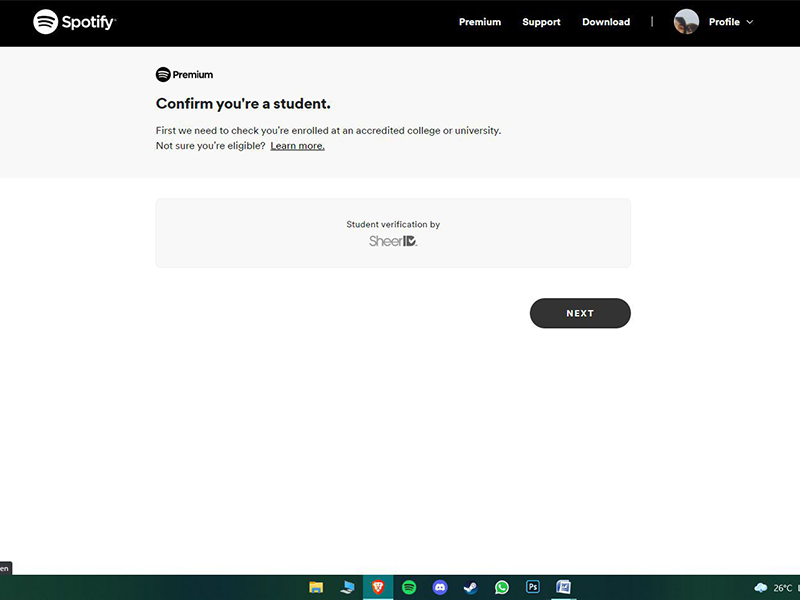 Step 2 – Activation of the Showtime subscription
Let's continue to activate your Showtime subscription.
Go to Spotify Student Page.
To activate and link your SHOWTIME account to Spotify Premium for Students, go to Showtime Spotify Page.
You can then begin watching at www.showtime.com or via the SHOWTIME app on any supported device.
---
FAQs
Q1. Who is Eligible for Spotify's Student Account?
You can easily qualify for the Spotify Student Account if you are 18 years old or above and are currently enrolled at a US Title IV accredited college.
Q2. What is the benefit of a Spotify Student Premium Account?
For college students, Spotify is offering unprecedented discounts. Never before has a streaming entertainment option been offered at an unprecedented and valuable one-stop service.  It also includes ad-free music and Hulu (Limited Commercials plan) for only $ 4.99 per month.
To put things in perspective, a regular Spotify Premium account costs $9.99 a month, while the Hulu Limited Commercials plan costs $7.99 a month, and an online Showtime subscription costs $10.99 a month. So, US students can get the usual $28.97 (9.99+7.99+10.99) subscriptions at just $4.99.
New subscribers can also sign up for the plan for just 99 cents for the first three months.
Q3. What will happen to your Student Account after you graduate?
We all know what will happen – your student account will not be eligible anymore.
They actually make you re-verify your account every 12 months. If you are unable to do so for any reason, you will not be eligible for the account and all the perks it offers.
Q4. Is a Spotify Student Premium Account available globally?
No. Spotify Student Premium Account is available in selected countries where Spotify can easily verify a student's credentials like the United States of America.
They may expand with time but until then, we should be patient.
---
Conclusion
We hope this article gives you a better idea of why the Spotify Showtime Account doesn't work sometimes and how you can fix it.
This article also includes steps to activate your Showtime Account.
The bonus FAQs should be informative too.
If you liked our article you can check out our website for other well-researched write-ups on our website.
Tell us your experience in following our steps and methods, and if you have a better alternative, we would love to know about it.
---
Further Reading:
(Fix) Why do Songs get removed from Spotify?
(5 Ways) How to Fix Spotify not letting me log in