Plex is a multimedia platform that organizes all your essential media like music collection, your favorite web series, to your tv shows whether online or offline all in one place, in short storing all your digital content.
There are both free and paid versions available giving a full user experience. Plus, it's handy as one can share it with their friends and family as well which makes it even cooler and very flexible.
---
Why am I getting "Your changes could not be Saved" error on Plex?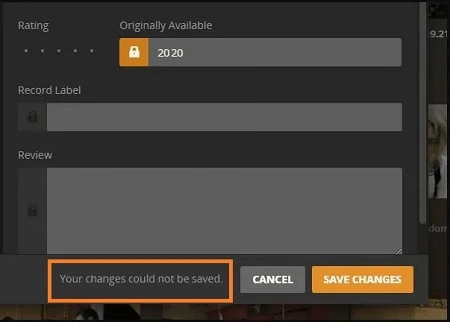 The major problem arises when one realizes that changes made in plex could not be saved. Changes are to be made in editing the information using the pencil icon. The result of this certainly leads to your library not getting updated. Many people have complained of only a particular library where the error appeared or adding a library leads to the same error.
There could be multiple reasons for having this problem. And you don't have to worry we have got you! Simply, keep reading and you might connect your problem and fix it as soon as possible.
The Plex app may not flex its reasons for the error, when you save your changes therefore you might want to check the invalid format of the date saved.  It is also important to check on which OS is Plex running and permissions are set correctly.
Plex Synology has fewer privileges than you do as the owner/admin of the machine so when permissions (or ownership) get disturbed, it wouldn't be able to write back to its configuration files. Therefore, the problem of error might occur.
If it still does not fix the problems let's look at different ways through which you can fix it.
---
Fix: Plex 'Your changes could not be Saved'
Method 1: Change date format
The very first thing you should check is the file's date format. That's the very basic method to fix the issue. And if there isn't anything wrong, you will be able to get through the 'Your changes could not be Saved' error easily.
While saving the file, check if the format of the date is in – YYYY-MM-DD format. For instance, 2023-09-31. Year comes first followed by month and the date.
Change the format and you will see the data files saves correctly in your Plex library.
---
Method 2: Check for a running scan in the background
If you are running a scan library wait until it stops. Scanning could deny the changes your make and reflect a grey box as your click "save" because it does not recognize the changes.
Therefore, one needs to wait until the whole scanning process is done and then refresh, and re-enter the changes until the Save box turns orange and your changes would be saved successfully.
---
Method 3: Repair the Database
To check the problem with your Database, one can try to optimize data and see if it completes.
Or you can go the other way and by entering into incognito or private mode and confirm that there are no problems with your web browser.
While checking for Database problems, one can also try logging out logging in again by using active debug logging.
---
Method 4: Save in correct library locations
The metadata you save manually might be the issue. The data saved should be checked if they are saved in the correct libraries.
In case, you are saving a music in a podcast library the changes may not be saved. you need to ensure the particular data are located in their respective libraries only. 
---
Method 5: Set permissions correctly 
If Plex is running on Linux OS, you might want to check and set the permissions correctly. If you are running Plex on Windows it might be due to security reasons as it detects the file to be potentially harmful. So, you can check the file properties of MAL plugin and resolve it if it's blocked.
If you have interacted with media share in any of the ways, check if you skipped any of the permissions
---
Method 6: Update to the latest version 
Updating any app to its latest version fixes bugs and other issues immediately. App updating plugs all security loopholes and updates the security features of the app.
So, if your app is not updated there might be an issue because of it and after updating, Restart the app and save your changes again.
---
Method 7: Removing user privileges
One should ensure that there are no media in the Plex share. Check for what kind of access it has. If its disturbed you might want to remove the privileges.  Plex should not have your username access to the share. Only root has full privileges.
Manually grab the log files. Also, check if there are no networking issues with Plex which are preventing the changes from being saved.
Then force set the ownership of everything in the Plex share to the user, and restart.
---
Method 8: Reinstall Plex on your device
The previously discussed methods might have fixed the issue with Plex, but if nothing has worked so far, one last thing you can do is to reinstall Plex.
It's not an ideal situation for sure. You will loose your date, you might have to setup things again, but it's the only possible way out.
Uninstall the software from your and device. Restart/ reboot your device and install the software again.
---
Method 9: Contact Plex Support Team
If the toubleshooting methods discussed above didn't help out, you must seek a professional assistance.
We suggest contacting Plex support. The guys at Plex will be able to help you out. Follow the official contact page link and mention the issues you are facing.
---
Conclusion
The above article attempted to solve problems regarding the error in the Plex tv app. There are various methods that need to be checked thoroughly in order to fix any issues that might be resisting the changes to be saved. We have also covered various perspectives which might be blocking the problem to be solved.
It will help you straighten the minute twists which might be the only one-step solution you need to fix the error. Hope it helps.
---
Further Reading:
How to import playlists to PLEX
Fix MKV files not Playing on PLEX
Plex vs Plex Pass : All you need to know about paid Plex Pass
What is Plex Arcade? How to Play games on Plex?
How To Add Netflix On Plex: Guide To Watch Netflix On Plex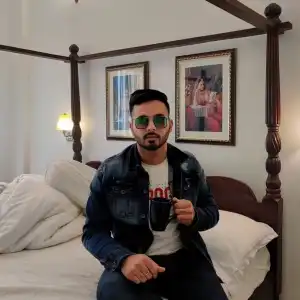 Ankit is an engineer by profession and blogger by passion. He is passionate to do all the stuff such as desiging the website, doing the SEO, researching for the content, writing tech blog posts and more.
---
Stay connected with us for the latest updates! Follow us on Telegram and Twitter to join our vibrant community and never miss out on any exciting content."