Who doesn't like to have a free Live TV service whenever they want, at their convenience? VUDU is one such video-on-demand platform that offers a variety of free and pay-per-click content. Now the question arises, "Does VUDU have live TV?" Stick by the article till the end to know the answer.
The company has been around since 2004, but its offerings have changed, or we can say have evolved. VUDU is owned by Fandango Media (2020-present), a joint alliance between NBC Universal (75%) and Warner Media (25%).
It's a medium that delivers an ad-supported/free as well as paid on-demand streaming service without taking any subscription.
Due to VUDU's free nature, you'll have to watch ads while streaming content, and viewers have reported many of them: one episode of a TV show can have up to four blocks of ads in 20 minutes.
VUDU's library is somewhat large, housing more than 10,000 free movies and television shows, although a lot of these are older or relatively unknown, smaller budget films. Generally speaking, VUDU doesn't produce original content, nor does it offer much popular or critically acclaimed programming.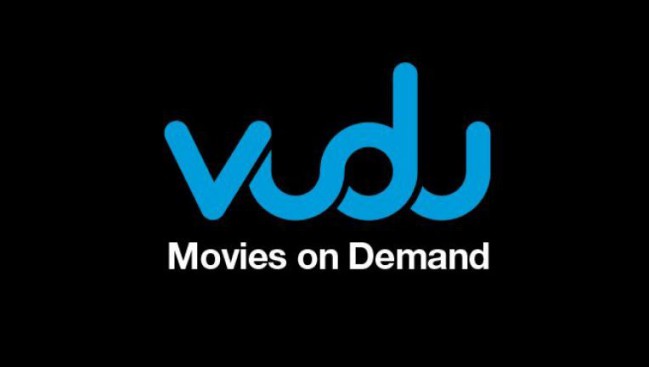 In terms of unique offers, VUDU has a lot to offer. Let's quickly take a sneak peek at them;
Infrequent users can either rent movies, series, or TV shows they like or purchase the same content to watch whenever they want on any device without being a subscriber.
VUDU is an ad-supported, subscription-free on-demand streaming service. 
VUDU lets cord-cutters watch full-length movies and shows and make most of the many VUDU titles that are completely free.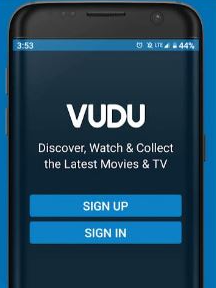 ---
How to get VUDU on a Smart TV?
Turn on your Smart TV and navigate to the concerned 

Play Store/App Store.
Then, select 

the Apps, click on

 the 

Search icon, and 

search for the app, VUDU.
Pick the VUDU app from the top results and simply complete the 

installation procedure. 

Once the app gets installed, launch it

. 

You'll find the app in the menu.
Log in

 to your VUDU account (optional). Make a purchase of the content that you would like to stream anytime at your convenience.
In case of inconvenience, you can also link any supported streaming device to your smart TV and get direct access to watch your favorite content on VUDU.
---
Does VUDU have live TV?
Sadly, VUDU does not offer live TV for any local channel. If you want to know more about this piece of information, visit VUDU's customer service page or the website to check if they've provided any further details on this topic.
What to watch on VUDU?
If it doesn't offer live television, what else does it have to offer? From family flicks and frightening horrors to intriguing cliff-hangers and heart-touching dramas, VUDU has everything in its mystery box.
As a matter of course, the service's free titles aren't the hottest titles on the market. But almost every recent release out there is available to rent or buy.
The main menu has three major sections:
Some devices tend to offer amazing Deals and Collection tabs, so you can quickly grab the benefit of discounts for VUDU movies that fall under themes, like Still in Theaters.
VUDU offers a variety of TV shows ranging from past to modern sensations comprising titles from Starz, HBO, and other premium channels. Anybody can purchase the TV shows (particular episodes/or whole seasons).
Get over 60 networks for free to choose from, including broadcast (NBC, ABC, Fox), cord (AMC, Comedy Central, Syfy), and premium (HBO, Showtime)—and many exciting shows you won't find anywhere.
---
How much does VUDU cost per month?
As discussed earlier, VUDU does not demand a monthly subscription fee from its users. It is instead an individual payment for each movie or television show you wish to rent or purchase.
Rental pricing varies from $0.99 to $5.99, whereas purchase prices range from $4.99 to $24.99.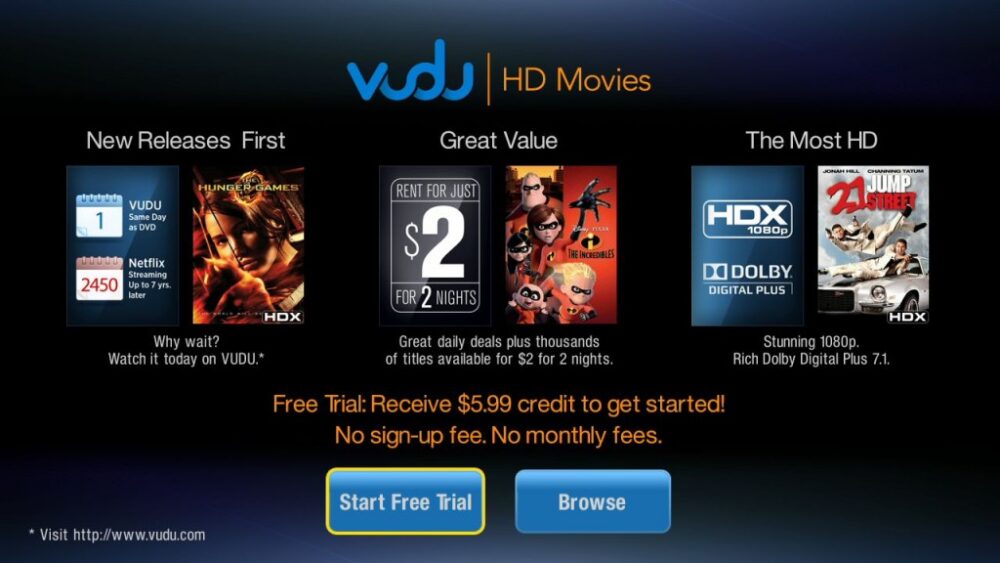 Here's how the whole buying and renting system works— The purchase, and rental costs can go as high as $19.99-$24.99 for the movies that are still in theatres and/or are trendy.
Whereas, older movies are slightly more reasonable: ranging between $5-and $15. Often, you can buy whole series or collections of movies altogether at a reduced price with a movie bundle deal.
All you have to do is Navigate to the website > Select your favorite TV show/Movie > Click on either Rent or Buy > Sign in to VUDU or create a new account > Enter your credentials > Follow the steps, and you're good to go. 
---
Final Words
To conclude the article, I would like to sum up the zest of the topic. The article begins with a foreword to VUDU. Then, we've discussed VUDU's offerings and how one can easily get VUDU on their Smart TVs.
The VUDU app is easy to install & use on all devices or with any streaming device that allows you to enjoy the free streaming.
Following this, the article quickly veers to a few questionable topics related to the VUDU app, such as, "Does VUDU have live TV?", "What to watch on VUDU TV," "How much does VUDU cost per month?"
The article contains the answers to the above questions. VUDU mostly consists of ready-to-watch content, now Walmart offers thousands of movies and TV shows for free to watch on its VUDU Movies on Us program, which comes with a limited amount of ads.
Hence, if you are looking for live TV channels for your favorite shows or movies, do not wholly rely on VUDU. Do share the information with the ones in need and be their troubleshooter.
I hope it felt insightful and valuable. Have a mesmerizing day ahead! Thank You 🙂
---
Further Reading:
[4 Ways] Fix Vudu not working on Chromecast
[Fixed] VUDU not working on Smart TV?
How do I add apps to my Vizio smart TV that are not listed
How to get rid of ads on Tubi TV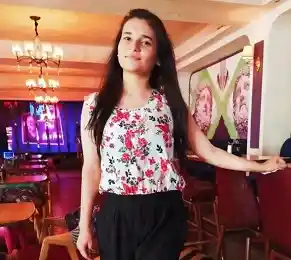 Sakshi is a Terpsichorean (dancing all her stress out), she always had a keen interest in writing creative content since her school days. Basically, balance & short-term goals are something she looks forward to. She's a big time foodie yet a fitness freak pursuing this job to fulfill her day-to-day needs.