Vizio TVs have certainly changed the US market. They have offered affordable TVs with considerable services.
Vizio offers well-thought subscription plans. Vizio TVs are one of the cheapest and right for the price TVs you can find in stores around you. Although, they come with their own set of challenges.
In this article, we will discuss one of the problems Vizio TV owners face with their TVs. Read on!
Why does Vizio TV keep restarting?

Short Answer: Vizio TV keeps restarting because there's a hardware or software issue, there are issues in receiving the power supply, some external factors like power surge might have stuck Vizio TV in rebooting loop, or there could be a manufacturing defect.
Unluckily, the issues you are experiencing can be an internal hardware issue, meaning a faulty power supply cord or power outlet or the wallboard, though there are many possible reasons for this to happen.
This issue could be a manufacturing defect but is also often caused by electricity issues such as shock/surge, fluctuations in over/under voltage conditions, etc.
This could also be the result of general wear and tear; even for the fairly newer versions of the TV, this type of failure could be considered common.
One rare thing that can happen is that your TV could be receiving signals externally from a different remote.
---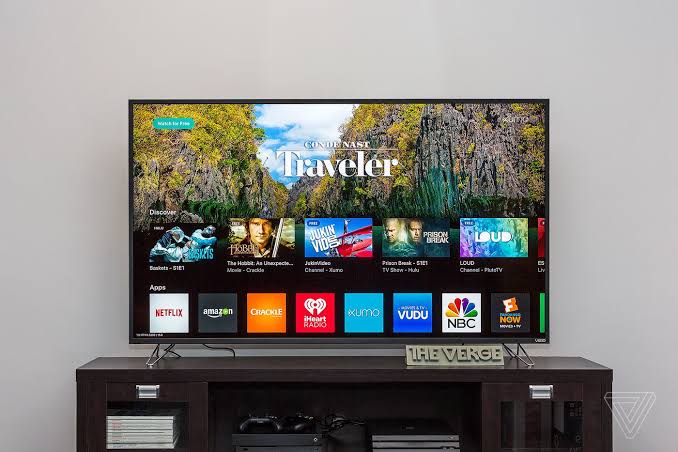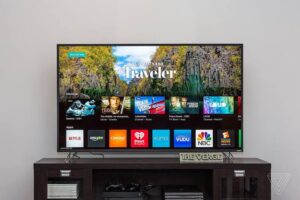 ---
SEE ALSO: [10 Ways] Fix Vizio TV Green Screen issue (2021)
---
Fix: Vizio TV rebooting loop & random restart
Method 1: Reset Your Television
Perform the following steps listed below to go back to Defaults on your Vizio TV.
Using the VIZIO remote, press the Menu button.
Use the Arrow buttons on the remote to highlight the System and press OK.
Highlight Reset & Admin and then press OK.
Highlight Reset TV to Factory Defaults and press OK.
If you have not manually reset the parental code, please input 0 0 0 0 when it asks for the password.
Highlight Reset and press OK.
Wait for the TV to turn off.
The TV will turn back on and the Setup App process will begin.
---
Method 2: Check Voltage
A primary reason is that there is a problem with the voltage for your device. This means that the power coming from the power supply is fluctuating. You can test this by inserting a voltmeter into the power outlet.
Take readings and determine the extent of fluctuations. If the fluctuations are a lot, this could be the culprit. Changing the outlet by calling a technician would be a fix here. Alternatively, you can plug in some different functional ports. You can also install a voltage stabilizer between your power supply and TV to avoid risking power damage.
---
Method 3: Broken Adapter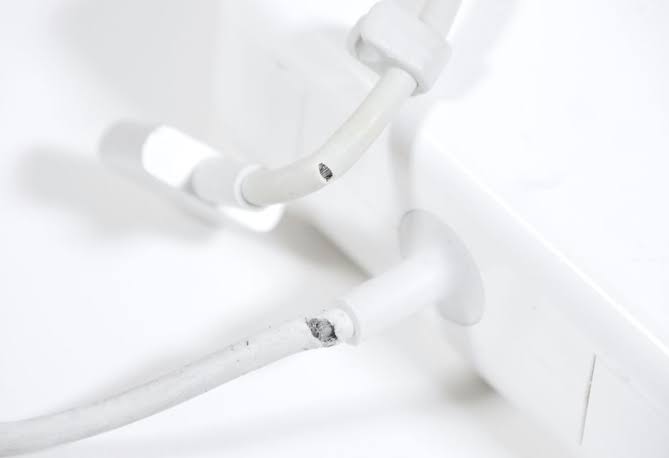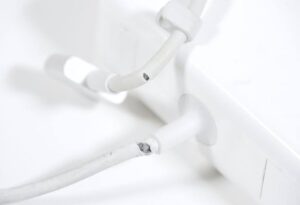 If you are still having the problem then your power adapter could be damaged. Confirm this by attaching a different adapter to power the system. Possibly, they can get damaged over time and need to get replaced. If this is an internal issue, it might be a good option to consider buying a new television.
---
Method 4: Update your Vizio TV
If your Vizio TV keeps restarting and then again installs updates, there could be the issue that your TV has a lot of updates pending since the last time you updated that want to bring you to the latest firmware and software. In this case, your Vizio TV will restart after an update and then go directly into another update, causing it to reboot many times.
---
Method 5: Toggle the power mode of your TV
Toggling the power mode setting can resolve the Vizio TV restarting issue. Follow the steps given below to change power mode:
Navigate to Vizio TV settings.
Select System.
Select power mode.
Now in the menu change the power mode to quickstart mode.
---
Method 6: Power cycle your Vizio TV
Step 1: Switch off your TV
Safely switch off your TV by pressing the Power Off button on the Vizio remote.
Step 2: Locate the power outlet.
Locate the power outlet on your wall where the TV is plugged in.
Unplug the power cord from the power socket in the wall.
Step 4: Hold the power button
Once the TV is powered off and unplugged (this is very important), press and hold the power button for 3-5 seconds.
Step 5: Plug the TV back in
Plug the TV's power cord back in by locating the power outlet and wait for a few seconds.
Once the TV is plugged into the wall, Press the Power button on your Vizio Remote control to power on your TV.
---
Method 7: Check to see if another remote is powering the TV on
There might be other Vizio TVs in your vicinity. Logically there will be an equal number of more Vizio TV remotes. Your TV might be catching up with infrared signals from other TV remotes if they are close enough. This could cause a number of issues including the one you are facing right now. The best possible solution here would be to keep your TV disconnected from any electrical power source.
---
Method 8: Contact Vizio Support
Well, we have tried our best to include all possible methods to fix the issues, but if you are still on the same page and having issues with your TV, we will suggest you contact the support team.
You can contact the Vizio Support team and let them know about the issue you are facing. They will definitely provide you with a solution.
You can also send the Vizio Twitter to handle a direct message describing your issues. Follow this link to the official Twitter handle of Vizio Support.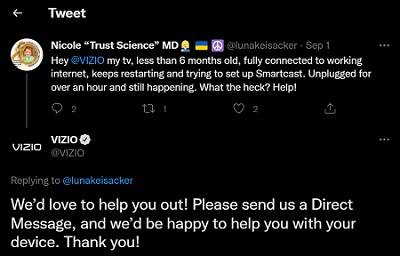 You can try contacting Vizio on other social media platforms as well.
---
SEE ALSO: (4 Ways) Fix Vizio TV Screen goes black randomly [2021]
---
FAQs
Q1. Why does my Vizio TV keep turning on and off by itself?
A. Your TV could be receiving unnecessary signals from your remote or any other remote in the vicinity. This could be also because of CEC (Consumer Electronics Control), where multiple consumer devices communicate with each other and would be turning on the TV. It could also be due to predetermined settings by the user or the manufacturer to turn on the TV when receiving external inputs such as screen-casting. It can also be a power supply issue due to fluctuations or a hardware defect. If it's a serious issue, contact Vizio Support.
Q2. How do you soft reset a Vizio TV?
A. Follow these steps to soft reset your TV:
Step 1: Press the Vizio button on your TV remote.
This will give you access to the TV menu.
Step 2: Navigate to System.
Select the System option and then select Reset & Admin in the next menu.
Step 3: Soft Reset your Vizio TV
Select the Soft Reset option and click OK.
Q3. Is there a reset button on a Vizio TV?
A. Yes, the power button works in helping as the reset button on the Vizio TV. While hard resetting your Vizio TV, press and hold the power button while the TV is unplugged to reset TV.
---
Final words
Resetting the TV and keeping the TV unplugged can be two of the many helpful solutions. Feel free to experiment around with your TV and see what works.
We hope the above-mentioned methods were useful in fixing your TV. Happy streaming!
---
Further Reading:
How to Power Cycle Vizio TV [2021]
How do I add apps to my Vizio smart TV that are not listed
How to connect Vizio TV to Alexa (2021)
Fix Vizio TV update problems (Stuck on Downloading updates)
Majorly tech savvy. Updated with the Android Ecosystem. Also have considerable knowledge of gadgets and devices. I follow the tech and innovation industry with passion. Well versed with Linux and other operating systems.