TCL TV brings you the best of both worlds: high-definition images and limitless entertainment options. As a result, you can unwind at home while watching all of your favorite movies and television shows in bright, clear images.
But, what if you're enjoying your favorite show or movie on TV when all of a sudden the screen goes blank or dark. A blank or black screen could indicate that your television has been turned off. However, if it is making sounds, you know this is not the case.
When a television screen does not appear or is blank, it could indicate a variety of problems. Some of these issues can be resolved with little effort, but others may necessitate professional assistance.
---
Why does my TCL TV screen goes black but sound still works?
TCL TVs, like any other product, are susceptible to a variety of faults that might degrade your viewing experience. It's usually due to weak cable connections or a technical issue impacting your TV's LED illumination if your TCL Roku TV's screen has gone black but the audio still works.
The problem can be resolved by unplugging the TV from all cable connections, including power, and then plugging it back in after 5-10 minutes. If it's an LED issue, though, you'll need to get professional help.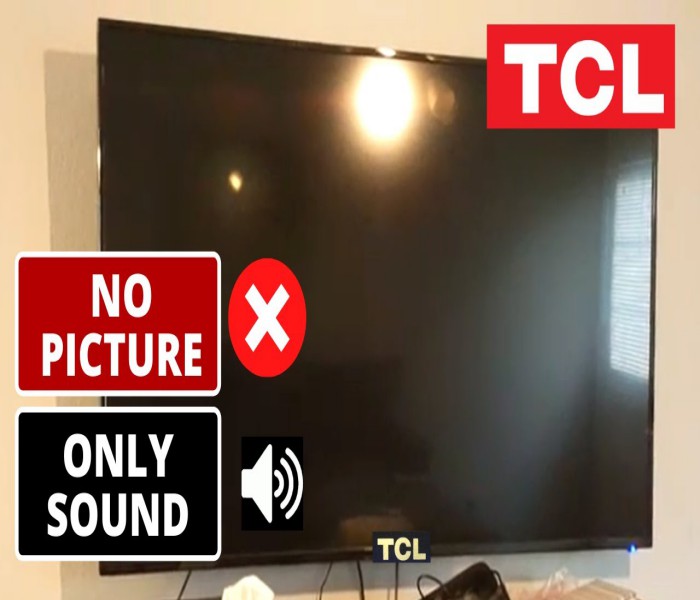 While the aforementioned are the most typical reasons of this issue, they are by no means exhaustive. Here's a list of some more possibilities. They are as follows:
1. The power supply board has failed.
There are several root causes for a TV screen turning out unexpectedly, but the most common is a power supply board failure. A TV may feature multiple power supply boards, as well as a T–con board and other internal components. While such components may appear to be difficult, they are actually relatively simple to repair.
---
2. Backlight issues
This could be the cause of your black TV screen if you have an LCD television. In order to illuminate the images on the screen, LCD televisions employ backlighting.
You will not be able to see anything on your screen if the backlight is malfunctioning.
To fix this issue, you'll need to replace the backlight on your television. However, not everyone is aware of the issue. As a result, it is strongly advised that you seek expert assistance. If you bought your TV lately, though, you may be eligible for a replacement under the manufacturer's guarantee.
---
3. Weak Connections
When your TV's screen is both unresponsive and blank, check the connection between the power supply and the TV, the DVD player, the cable box, and any other auxiliary devices.
The true culprits behind your blank and unresponsive TV are usually inactive power sources and loose connections.
---
4. The "Sleep Timer" is turned on.
The sleep timer on your television is occasionally engaged, leading it to turn off by accident. This is a simple problem to solve. All you have to do is go to your TV's Setup menu and verify the sleep timer settings.
---
5. Replace your TV's power board
If you have tried the first three steps and your TV screen is still black or blank, then consider replacing its power board.
Doing this job is pretty complicated. As a matter of fact, the board's model number and the methods that you are going to use will greatly differ from TV to TV. But one thing is for sure, it is a fix that everybody can perform at home with an insignificant experience.
---
6. Look into the Power Saver Mode.
Although some televisions will turn off the screen if no movement is detected, they will still make sound. If you believe your TV has this feature, make sure the Power Saver Mode or Energy Save Mode is turned off.
---
7. There is an issue with the TV panel.
If your TV's screen appears black or blank, it's possible that the panel has been damaged. If this is the case, you should carefully consider if purchasing a new TV is preferable than purchasing a replacement screen.
Some others reasons are mentioned below:
A hardware issue impacting the screen, such as a difficulty with LED lighting.
There's a software problem with your smart TV.
Cable connections that are too loose
Firmware that is no longer supported
HDMI cable problems
A faulty motherboard or a television chip
A faulty screen
---
SEE ALSO: [7 Ways] Fix TCL Roku TV stuck on Red Screen
---
How to Fix TCL tv black screen of death?
It can be aggravating to have a dark screen on your television. Some of the causes, though, are trivial and can be resolved with a simple DIY fix. Try one of these remedies at a time until the problem is solved:
1. Check the cable connections
Ensure that all external devices connected to the TV are properly connected to the relevant port and are turned on. Unplug and reconnect the connections to the appropriate ports if necessary.
HDMI cables can be particularly troublesome if they are damaged, so make sure they are in good working order. Loose or damaged power cords could possibly be creating the picture problem by causing glitches on your screen.
---
2. Restart your television.
To turn on your television, press the power button. The power button is located beneath the TCL logo on the bottom of the TV or behind the TV towards the right edge on most models. The exact location can be found in your user's manual. Remove the TV from the wall outlet. Reconnect the TV after 30 seconds.
Restarting is a solution that is usually always presented as a device fix, especially for routers and phones. While you may be doubtful, it can also work for your television.
A restart will reboot all of your device's hardware and software. As a result, any minor issues that may be causing the black screen will be resolved, allowing you to resume your normal activities.
---
3. Factory Reset the TV
Is it true that the reboot didn't work? The problem could be a little more significant, such as corrupted TV settings. In this scenario, a factory reset may be helpful in resolving the problem.
There are two methods for resetting your television:
Using the options menu
By doing a hard reset
Because you won't be able to enter the menu without pictures, the hard reset is the best alternative.
Go to the back or side panel of your television (where HDMI and other connector ports are located).
Locate and hit the hard reset button (you might need a sharp-pointed object for this)
Hold the button for 12 seconds before releasing it (your TV will power off).
Turn on the television and follow the on-screen instructions to set it up.
All settings, including network settings and saved data, are erased when you perform a factory reset. As a result, after you're finished, you'll have to re-create your Roku account.
---
4. Update the firmware on your television.
TCL Roku TVs come with firmware that must be updated in order for them to work properly. As a result, if you're encountering a black screen with sound, it's possible that the problem is caused by out-of-date firmware. To resolve the issue, follow these steps:
Go to your TV's settings menu.
Go to the systems update page.
To download and install the most recent firmware, select the update option.
This option will now only work if the menu is unaffected by the black screen. If the menu isn't displayed, you'll need to contact TCL's customer service department. They will then show you how to troubleshoot and resolve the issue.
---
5. Fast Start Option should be updated.
People on online forums claimed that enabling or disabling the TCL TV's Fast Start option corrected their black screens.
Enabling it, if it was previously disabled or disabling it, if it was previously disabled is something worth looking into, and I'll walk you through the procedure below.
Follow these instructions to set up your TCL Roku TV:
On the Roku TV remote, press the Home button.
Select System from the drop-down menu under Settings.
Select a Quick TV Start option.
Android TVs from TCL:
Navigate to the Settings menu.
Choose your strength.
As needed, adjust the "Instant power on" option.
Check to see if the problem has been resolved by restarting the television.
---
SEE ALSO: Best Picture settings for TCL 4k TV
---
Conclusion
TCL televisions are excellent value for money. It's a wonderful option for anyone searching for a 4K TV who doesn't want to spend a lot of money on a Sony or an LG but doesn't want to sacrifice functionality.
The television isn't the only thing that can break down. The Roku remote can malfunction from time to time, but it is rather simple to repair.
TCL's Android TVs, as well as their newer Roku TVs, are excellent choices for your first smart home entertainment system.
What can you do if your TCL TV screen has gone dark but the sound is still working? It can be aggravating to be interrupted when watching your favorite shows.
Fortunately, most of the difficulties that cause the black screen may be resolved utilising the remedies listed above.
If the issue persists, your next best option is to contact customer service. Alternatively, you can have your TV serviced at a TCL authorised repair centre.
So we did our best to compile everything, and this is all we have for you. I hope this information is useful to you and that you will find your answers here.
That's all I've got for now.
Thank you!
---
Further Reading:
[4 ways] How to fix TCL TV No Picture but Sound
How to look up my TCL TV serial number
Best Color Settings for TCL Roku TV
Fix TCL Roku TV restart loop (stuck on startup)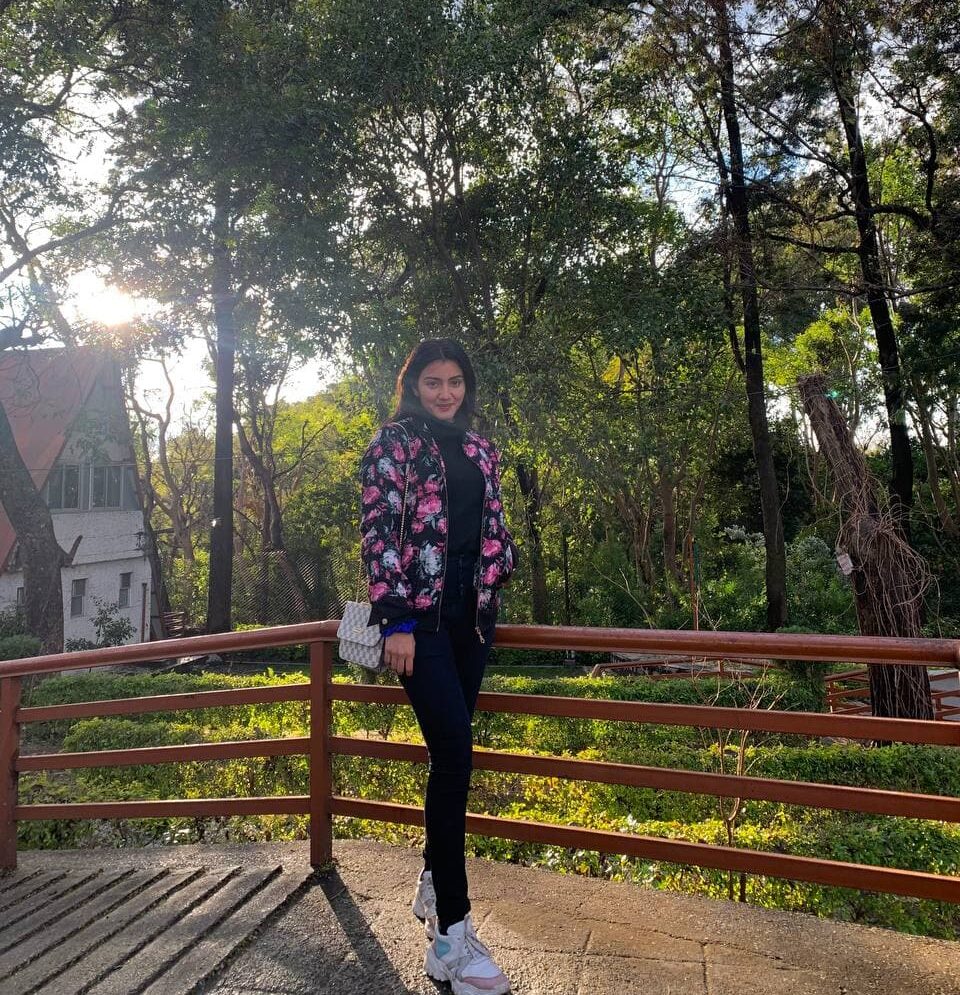 Ishika is a CDS aspirant from Dehradun who is now doing her bachelor's degree at Delhi University. She enjoys reading and doing her own skin care and maintenance, but she is also a fitness enthusiast who can't seem to stay away from junk food. She enjoys the serenity of nature. She is new to Android Nature and works on our tech-related topics.