It is crucial to adjust the colors of your television correctly, especially if you binge-watch shows. Correct color settings give an enjoyable experience and protect your eyes too. So keeping this in mind, today's article is about the Best color setting for TCL Roku TV.
Where can these settings be found?
TCL Roku TVs have the advantage that you can change the picture settings or mode while watching a show. This helps the user to change the presets while watching accordingly. You will find these presets in the Picture mode option.
Go to settings and select Picture mode. If you are streaming a video and want to change the picture settings, then press the gear button on your remote. The picture settings dialog box will open automatically. Change the presets using your remote's arrow buttons.
---
Best color Settings for TCL Roku TV
List of color settings
Brightness
Contrast
Sharpness
Color and Tint
Backlight
Color temperature

Image source: rtings.com(Google)
Let us understand about these presets in detail with their specifications for best experience.
Brightness is the maximum luminance of a TV. Luminance is the intensity of light emitted from a surface per unit area. It is also referred to as the black level. As its other name suggests, this preset is responsible for the control of black or dark parts of the image.
There's a fine line between too high and too low. Too high of brightness will make the image look flat and washed out. Whereas too low will erase the details of the image. For example, the dark areas like shadow will just appear dark without any detail.
For Roku TVs, the brightness preset should be around 50 for its best results. You can also change it according to the demand of what you are watching on your television.
---
SEE ALSO: How to adjust brightness in TCL TV
---
The contrast preset is responsible for controlling, the white and bright parts of an image displayed on your screen. If you set it too high, it will make the white details of the image too whitey. It erases the details, especially in a white picture without enhancing its brightness.
For example, if you increase the contrast and a cloud or sky appears on the screen. You won't be able to see them. It erases the detail. Whereas too low contrast will make the picture appear dim and flat.
For Roku TVs, it is preferable to set contrast to 90, but it can vary from person to person or according to the requirement.
---
Sharpness controls the artificial edge enhancement. At some places, you'll find that it is responsible for false image sharpness. If it is too high, it erases the image details. Instead, it adds a halo to fine lines.
In simpler words, it hides the actual details of the image making it look artificial with fewer actual details. So it is recommended to turn your sharpness down.
In Roku TVs, it is recommended to keep it 0 in order to save your image from diminishing the fine resolution. Depending upon your model it can sometimes be below 20%. So try adjusting the sharpness according to your requirement.
---
Also referred to as G/R is responsible for adjusting the ratio of the image from green to red. Its adjustment affects all the colors on the TV. Also responsible for the saturation. It adjusts the saturation of the primary colors, green or red.
Adjusting this way too much in either way will make the image appear way too green or red. So, increase the green value to saturate the greens and increase the red value to saturate the reds.
In Roku TVs, it is recommended to set the G/R to 0 and color to 45. It may vary according to the pictures demand.
---
This preset controls the light intensity of the entire display. In some TVs, it is referred to as OLED. But this has both pros and cons. If it is too high, then it can cause headaches or eyes strain.
If you are someone who is concerned about power consumption, then too high a backlight is not a good idea for you as it wastes a lot of energy. Now on the other hand, if the backlight is too dim, it will be difficult for the user to see and, this can cause poor eyesight.
So it is important to set it in balance and according to the requirement. It is advisable to keep the backlight moderate. You can adjust it from moderate according to your requirement.
---
This preset is responsible for making the image look warm. However, it is the least touched preset. If you set it right, it will make your watching experience far better. A casual adjustment of the color temperature can make the image look too red or too blue.
Now, this preset can be a bit tricky for your mind. If you change the color temperature even a bit, it will appear wrong. So it will be better if you adjust the color temperature right in the first place.
In Roku TVs, it is advisable to choose a Warm color temperature for the best experience. A warm color experience even gives your eyes a soothing effect.
---
Motion Settings
These settings are designed for particular motion modes.
When you are playing a game or streaming a gaming video it is recommended to switch to Gaming mode for 10 times better experience. The gaming mode reduces lagging. It is responsible for rapidly registering the input of the game on the screen.
If you are a gamer you will notice and understand the difference between a normal mode and a gaming mode better. For HDR gaming, ensure that HDMI 2.0 is enabled. If your TV is connected to a gaming device, it will automatically switch to gaming mode as soon as the game begins.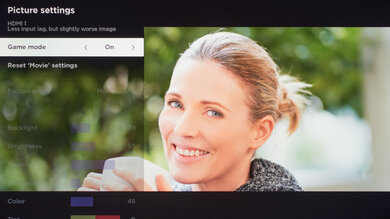 ---
SEE ALSO: [4 ways] How to fix TCL TV No Picture but Sound
---
Some display settings can only be adjusted using the Roku app. It is available for both Android and iOS. In an expert picture setting, you can adjust the basic picture settings as well as some advanced settings like Gamma and Noise reduction.
Gamma is responsible for the brightness of the image. And it is recommended to set it at 2.2 for Roku TVs.
Noise reduction usually improves the picture quality without compromising the picture resolution. But on TCL Roku TVs, it doesn't make a noticeable difference.
You can also calibrate the Color space to custom and adjust the White balance to 11pt.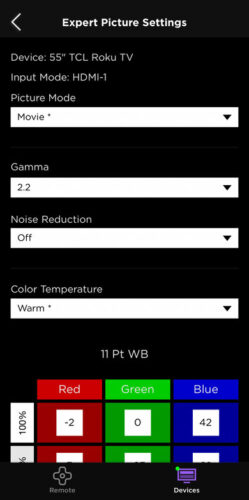 ---
SEE ALSO: [7 Ways] Fix TCL Roku TV stuck on Red Screen
---
Frequently Asked Questions
Q1. How do I get the best picture on my TCL Roku TV?
Answer: The best picture experience depends on what you are watching. If you are watching a movie then, picture mode can be the best option for you. Whereas, if you are playing a game, then gaming mode will suit you the best.
Q2. What is the best color setting for a TCL TV?
Answer: To know the best color setting, you need to know your requirement and understand the presets. Read the article to understand the best color setting for your TCL TV.
Q3. How much brightness and contrast for TV is good for eyes?
Answer: Usually, brightness up to 50 and contrast up to 90 is considered ideal. But it depends upon the TV model and your requirement.
---
Hope this article gave you an idea about the best color settings for your TCL Roku TV.
---
Further Reading:
How to look up my TCL TV serial number
[5 ways] Fix Disney Plus Not Working on TCL TV
[5 Ways] Fix TCL TV YouTube Not Working
[7 Ways] Fix TCL Roku TV stuck on Red Screen