Instagram is a well-liked networking service where users may publish and share visual content such as images and videos. The social networking sites controlled by Facebook have released a number of useful new functions in recent months.
The feature that appears to have profited the most is Direct Messages. You've probably seen the "this post is unavailable" warning at least once if you've ever received a post via Instagram direct messaging.
This is quite annoying if you're attempting to read a message that someone sent you and really wants you to see. This same message appears in other contexts as well. Concerns have been voiced by users who wish to see a Direct Message post but are unable to do so. The message that appears instead is simply, Post Unavailable.
In this piece, we'll look at one possible cause for Instagram's direct messages not showing up and how to fix them.
---
Why is my post unavailable on Instagram?
Short answer: Your post is unavailable on Instagram because you broke the Community Guidelines, used someone else's content without permission, the servers were down, your account was locked, or you deleted the post.
Because of anything on your account, certain accounts won't be able to see the posts you make. You have arrived at the right spot if you are curious about the reason why your Instagram post is unavailable.
There are a number of potential explanations as to why your post was removed from Instagram. Here are several possibilities:
Reason 1 – Violating Community Guidelines
If your post has disappeared from Instagram, it may have been deleted for breaking the site's rules. To keep the site welcoming and secure for everyone, Instagram enforces a set of rules and norms that users must abide by.
A warning should be sent to you if your post was deleted due to a violation of Instagram's rules and guidelines.
Reason 2 – Copyright issues
Your Instagram post could be removed for copyright reasons. If you upload content that does not belong to you without the owner's consent, Instagram may remove it in accordance with its intellectual property standards.
If you don't want your contributions taken down because you violated someone else's copyright, only share your original work.
Reason 3 – Servers down
Instagram will occasionally report that its servers are down, which may result in postings being removed or made unavailable. This may occur if there is routine maintenance being performed on the app or if there is a momentary disruption in service.
Reason 4 – Account Restricted
If Instagram is unable to display your post for any reason, including the possibility that your account is restricted, this indicates that Instagram has taken action against your account as a result of a previous breach of one of their policies or community guidelines.
It is essential to be aware that Instagram takes violations of its regulations seriously and may take action against accounts that continue to break its guidelines. This warning should be taken seriously by users.
Reason 5 – Post deleted
If your Instagram post is no longer viewable, it's conceivable that you removed it from your own account by mistake. If you aren't paying close attention, it's easy to accidentally delete one of your own posts on Instagram because users have the ability to do so.
---
How to see unavailable posts on Instagram
If you are unable to view a post on Instagram, it simply means that the account that uploaded it is either restricted to users of a certain age or is private, and Instagram does not allow you to view it.
You could be getting that notice for any number of reasons, and this is just one of them; thus, you will need to investigate the issue on your own and see what you can find out about it.
We have compiled a list of possible solutions on How to see unavailable posts on Instagram
Method 1 – Verify age
It is possible that the post will not be viewable by users of Instagram of all ages if it contains material that is banned by age. The Instagram community guidelines prohibit the publishing of graphic, violent, or otherwise inappropriate material.
Instagram may restrict access to the post in order to ensure that it complies with these standards. The limitation may apply only to users who are of a specific age or who do not have verified their age on the Instagram platform.
Underage users on Instagram cannot access content that is deemed to be inappropriate for audiences under the age of 18, including violent or sexually explicit material.
If you're above the age of 18, but a certain post is still locked, you can modify your Date of Birth in the settings to make it available.
Step 1- To access your profile, select either the profile or your photo in the bottom right corner of the screen.
Step 2- Tap Edit profile.
Step 3– Choose the "Personal information settings" option at the bottom of the screen.
Step 4- Tap Birthday, then enter your birthdate or tap the Update on the Facebook button instead.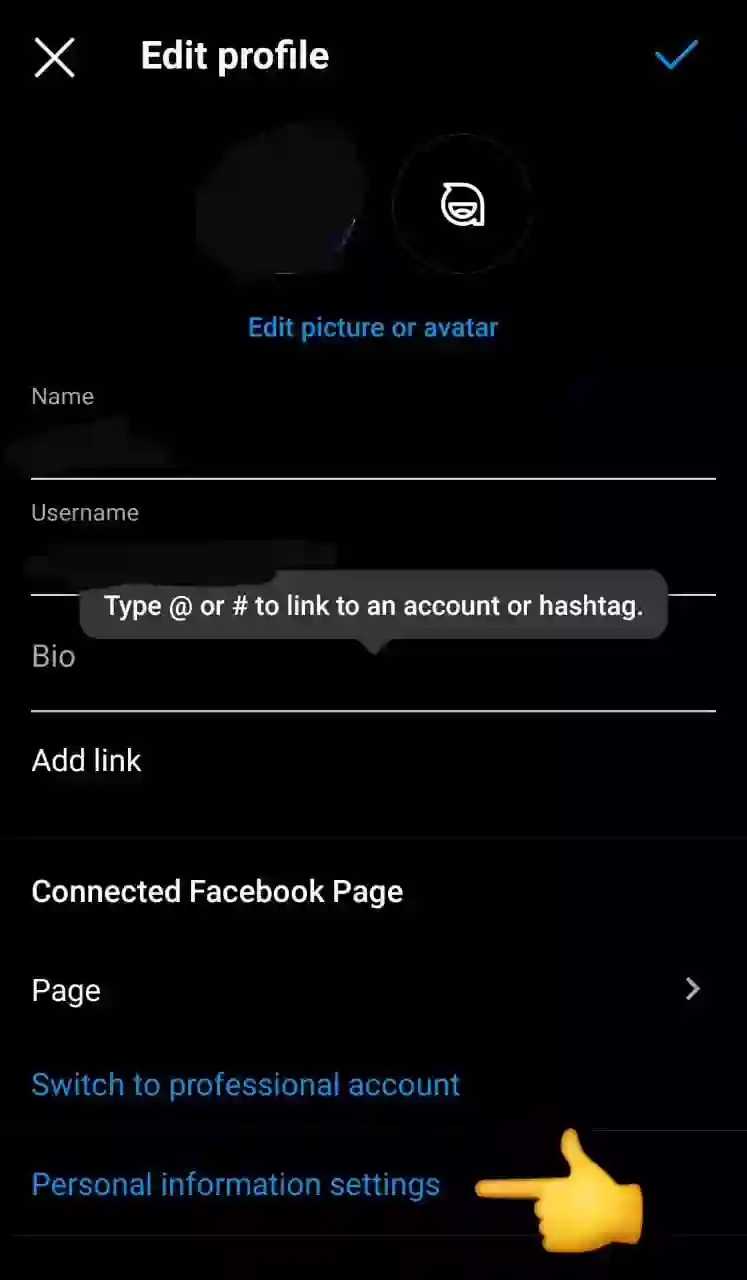 Try the other ways listed below if this one didn't work.
---
Reason 2 – Use another account
If the page's owner has banned you, you won't be able to see the page's material under any circumstances, irrespective of whether or not the profile is public or whether you are following it or not. With either option, you'll need to sign out of your main account.
If the user who shared the content is private, you'll need to use a different account to initiate contact by sending a Follow request. If and when that information is approved, you may be able to access it. However, If the post is from a public page, you can read it without revealing your true identity by logging out.
---
Reason 3 – Follow the private account
Alternatively, if the account that you are attempting to access is set to private, and you are trying to view a post that someone else has made, you will not be able to view their postings until they accept your request to follow them.
To gain access to the profile, you'll need to follow the page and wait for the administrator or account owner to approve your request to do so.
---
Reason 4 – Check the server
If you have reason to believe that Instagram is currently unavailable, you can check the status of Instagram's servers to determine whether or not the platform is experiencing any technical difficulties.
If you are able to verify that the server is down, your only option is to wait until Instagram fixes the problem before taking any further action. You might want to try checking back later on in the meantime.
---
Method 5 – Use the web version
If you are having trouble accessing Instagram through the mobile app, you can check to see if it is functioning properly by using the web version of Instagram. The following is a rundown of the actions required to use the web version of Instagram:
 Step 1– Launch your internet browser, and then navigate to the Instagram website.
 Step 2- Use the username and password associated with your Instagram account to get in.
 Step 3- On the web version of Instagram, you will be able to view the profile, posts, and feed when you have successfully logged in.
Step 4- If you can access Instagram normally through the website, the problem most likely lies with the mobile application.
---
Method 6 – Try another device
If Instagram is acting up on one of your devices, try switching to another and seeing if the problem still occurs.
In order to test out a different tool, please follow these steps:
Step 1– Try logging out of Instagram on the problematic device.
Step 2- Go to a different mobile device, tablet, or computer.
Step 3- Install the Instagram app on the new device or go to the Instagram website.
Step 4– Sign in with your Instagram username and password.
---
Method 7 – Ask a friend to share the screenshot/screengrab of the post
If you can't view a post on Instagram and you are interested in seeing what it looks like, you can ask a friend who has seen the post to take a screenshot or screengrab of it for you and then send it to you.
Consider the possibility that a screenshot or screengrab will not be accessible in the event that Instagram removes the post or the user erased it themselves.
---
Method 8 – Contact customer care
You can get in touch with Instagram's customer support team for help if you're having any problems.
You should anticipate a delay in a response from Instagram's support team after submitting a ticket. Message Instagram directly through their official social media pages if you don't hear back from them or if your problem isn't remedied.
---
SEE ALSO:
How To Hide Instagram Reels On Android, IOS
Instagram Account Suspended For 30 Days : 5 Ways To Recover
If You Unarchive A Post On Instagram Does It Repost 
---
Final words
The most widespread issue, known as "post unavailable," is something that almost every Instagram user has, at the very least, encountered at some point.
It's possible that different posts have different causes for why this keeps happening. There are a number of different approaches you can take to resolve this issue on Instagram, as was covered in the aforementioned tutorial.
Technical writer and avid fan of cutting-edge gadgetry, Abhishek has authored works on the subject of Android & iOS. He's a talented writer who can make almost any topic interesting while helping his viewers with tech-related guides is his passion. In his spare time, he goes camping and hiking adventures.
---
Stay connected with us for the latest updates! Follow us on Telegram and Twitter to join our vibrant community and never miss out on any exciting content."