Instagram Reels have been a hot cake forever, it feels. Once TikTok made short videos popular, every social media app tried to include them in one way or another as well.
Instagram Reels are an additional collection of short videos for users to scroll through. However, certain users are not fond of Reels, either partially or completely. This article covers how we can Hide Instagram Reels on Android and iOS.
---
How to Hide Instagram Reels tab on Android
Short answer: There are many ways to hide Instagram Reels tab on Android, such as using the web browser, or trying modified apps. You can also restrict Instagram usage by itself or from third-party apps.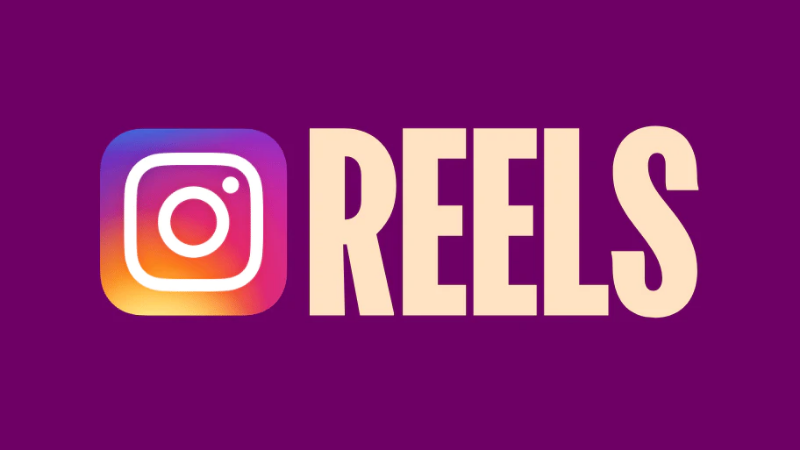 Method 1- Using Instagram on a Web browser
Using Instagram on the Web browser has a lot of perks. First of all, you can prevent the app from taking up extra space on your phone. This is ideal for people who rarely use Instagram and would not like to use the phone's resources.
Since Instagram on a browser, which can be accessed via www.instagram.com is not as advanced as an app would be for features, it also lacks the Reels section. This is yet again ideal for people who either do not like Reels popping up (trust me they pop up a lot, be it in the form of ads, posts, or general Reels suggestions).
If you have an addiction to Instagram Reels; that is, whenever you're free from work, and you decide to spend your time on Instagram Reels this will come in handy as well.
Method 2- Trying the 'Do not recommend' option
Instagram Reels provide an option to tap 'Do not recommend' if you are scrolling through certain Reels and do not find them appropriate, to your liking, or would simply not want to see them for other reasons, you can always tell Instagram to not show such content again.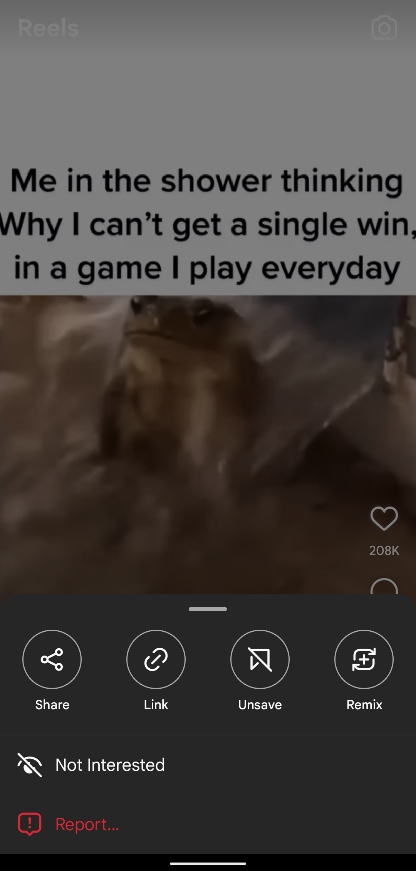 The 'Not Interested' option is located in the menu that can be accessed via the three vertical dot menu. Clicking on it pops up a window mentioning how the Reel would not be shown to you next time as well as an option to report if needed.
In most cases, you would not need to report the reels as long as they do not violate any terms and conditions but if you suspect, feel free to do so. The Report button has got a multitude of options to pick from which will remove and report the Reels from you on your behalf.
Method 3- Using Instagram's inbuilt timer settings
Instagram has an inbuilt timer setting that can help you to hide Instagram Reels on Android and iOS as well. This not only helps with hiding Reels but can help with controlling time spent on Instagram as a whole too.
Using this option Instagram restricts the user activity based on the amount of time you have set into it. It will also send you a reminder to take breaks if enabled.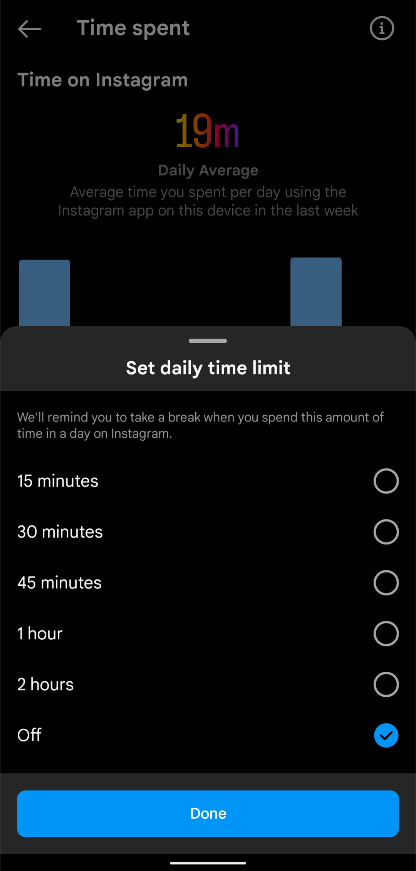 Thus, the daily time limit and reminder option are superb for users who lose track of time quickly.
Here is how you can use it:
Step 1: Open the Instagram app.
Step 2: Tap on the profile picture on the bottom right side of the screen.
Step 3: Tap on the three horizontal line menu.
Step 4: Select 'Your Activity'.
Step 5: Go to 'Time Spent'.
Step 6: Tap on 'Set Daily time limit'.
Using this option you can set the time limit for Instagram daily, be it 15, 30, 45 minutes, an hour, or two.
Method 4- Using the Digital well-being app
The digital well-being app comes with all Android phones now and helps in controlling the time spent on apps, notifications, and the like.
It can be used to monitor the number of times the app was opened, along with how many times the phone was unlocked as well as the number of notifications received.
The focus mode provided alongside it helps users to pause or disable apps and their notifications to avoid using them. Simply go to Settings and then to Digital Wellbeing and turn on Focus mode.
In Focus mode, you can select Instagram as one of the apps, and it would take place immediately, enabling you to open the app any further.
Method 5- Using VPN
With the use of a VPN, you can hide Instagram Reels from your Instagram app. Certain countries do not have Reels available on the Instagram app such as Bangladesh.
If you have a VPN that can connect to Bangladesh servers, you would notice that the Instagram Reels section disappears from the Instagram app, making it useful to hide Instagram Reels.
Simply download a good VPN app to connect to one of the countries where Instagram Reels are not available. Here is one of the available apps to try: Bangladesh VPN- Proxy VPN.
Method 6- Installing a modded Instagram app
Using a modded Instagram app has many added benefits. For starters, you can hide Instagram Reels from Instagram. Furthermore, the modded Instagram app lets you see messages without marking them as seen.
With a modded Instagram app you can download others' stories, posts, and videos without ever letting them know you checked their story out. Simply speaking, there are a lot of possibilities with the Modded Instagram app, however, do keep in mind that this app is not official and thus might not be safe for users who do not enjoy using unofficially created or modified apps.
Note: A simple Google search should provide a variety of modified Instagram apps to use. Choose the kind that is suitable for your needs as well as safe to download. We do not provide unofficial applications on our sites.
---
How to Hide Instagram Reels tab on iOS (specifically)
Method 1- Jailbreaking iOS
Hiding Instagram Reels tab on iOS is slightly different from that on Android. While you have a plethora of options on Android including a modified version of the app, you cannot have these on iOS devices due to their enhanced privacy features.
To remove the Instagram Reels tab you must have a jailbroken iOS, which while being similar to rooting your Android, is not as superb. The possibilities are expanded, but they can be hard to use given that a lot of tweaks and mods are made mostly for Android smartphones.
Keep in mind always that jailbreaking has its risks and any damages done to your device, including the device being rendered completely useless would not be our fault. You can refer to wikiHow, which has a detailed page dedicated to how to jailbreak various versions of iOS.
Once jailbroken, ensure everything is working properly and use the Cydia app store to download a modified version of Instagram that can work without the Reels tab. If this does not work, keep in mind that one can always use Instagram in a Web browser to avoid Reels.
---
SEE ALSO:
Instagram Account Suspended For 30 Days : 5 Ways To Recover
How To Delete Reels Draft On Instagram
How To Remove 2-Factor Authentication Instagram Without Login
---
Final words
In this article, we discussed how to hide Instagram Reels on Android and iOS and one common way to fix it on both systems. If you liked this article, make sure to check out (2023) How to Delete Reels Draft on Instagram.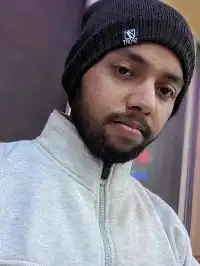 For someone who is a Medical School student, you certainly did not expect me to be here. But here I am, due to my fondness for technology, games and science. There is just something really sweet about technology that has helped in binding us together, so it is not surprising that I love to talk about it. And with the same technology, you could connect with me easily, so feel free to!
---
Stay connected with us for the latest updates! Follow us on Telegram and Twitter to join our vibrant community and never miss out on any exciting content."