Signal is one of the recent and popular messaging apps that brings all the basic features of any other apps out there. But there are some features with which Signal shines in its own way. Firstly, Signal is an open-source messaging app. So, you get a completely ad-free user experience which is great. Optionally, as a token of appreciation, you can donate the amount you wish to the team.
Next up, the user interface of Signal is simple, good looking and modern in nature. If we go with the reports from various sources like Slant, then Signal holds a much higher position than WhatsApp in user privacy and data security. Now, all this came into the picture when WhatsApp updated its privacy policy, users protested it and started searching for any reliable alternative. In this way, Signal came into trend in recent times.
As a result, the Signal team took note of this and started working to provide even better and useful features. So, we can expect more like this coming in the near feature. But as of now let us stick to the presently available features in Signal. One of these features is Note to Self.
---
Note to Self in Signal:
First, let us take a moment to get the exact idea and working of this feature in Signal. As the same suggests, Note to Self, is a special chat window within the app where you can maintain or create quick notes. These can be anything that you want to store. Be it any number to remember or any large important file that you want to maintain.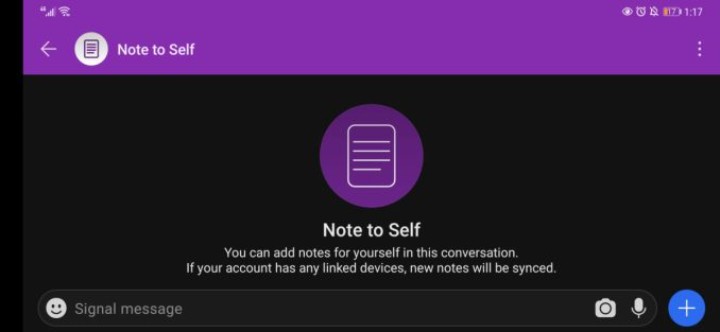 Now, this feature can act as a quick notes app or remainder calendar within Signal. Long story short, it is like chatting with yourselves which is maintained across your devices. Talking about devices, Signal is available on almost all platforms such as Android, iOS, Windows, Mac, Web app, etc. So, you can access all your notes and reminders with the help of Note to Self.
Coming to the part of how to enable, it is as simple as starting any new chat with a contact.
Just open the Signal app and click on the pencil icon in the bottom right corner.
Here you can see all your contacts who also possess the Signal account.
Tap on the search bar and type Note to Self.
Now, select it and start writing your notes or messages.
Also with the + sign, you can send files such as images, videos, docs, etc.
If you are using the desktop version then just go to the search bar at the top, type in Note to Self, select it, and start your session. It is as simple as that. I believe that once you start using this feature you will definitely love and appreciate it. Finally, works seamlessly quickly, and effectively.
SEE ALSO:
---
Conclusion: 
In summary, Note to Self has reduced your strain to maintain one more app on your device. Also, it can work as a file transfer software between your Android phone and Windows laptop, etc. On a side note, check disappearing messages, block/unblock users and delete your account in Signal. Lastly, do give it a try and also consider sharing this with your friends, they might also like it.