Walmart is an international chain of retail and grocery stores in the United States and is known as the world's largest company as a revenue provider.
It is also the world's largest private employer with approximately 2.2 million employees. Walmart is a family-owned company founded in 1962 by Sam Walton in Rogers, Arkansas. Sam Walton is a businessman and was a former employee of J.C. Penney who bought a Ben Franklin Store from the Butler Brothers in 1945.
Offering low-priced products purchased from low-priced suppliers, Walmart increased its sales in the first year by 45%. On July 2, 1962, Sam Walton opened the first Walmart Discount City Store.
---
What is a Walmart Receipt?
When you complete a transaction at Walmart, an associate will print or email you a receipt as proof of purchase for a return or for your personal records. This is a general receipt too, but since it is issued for purchases and transactions at Walmart, we call it Walmart Receipt.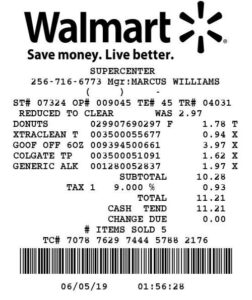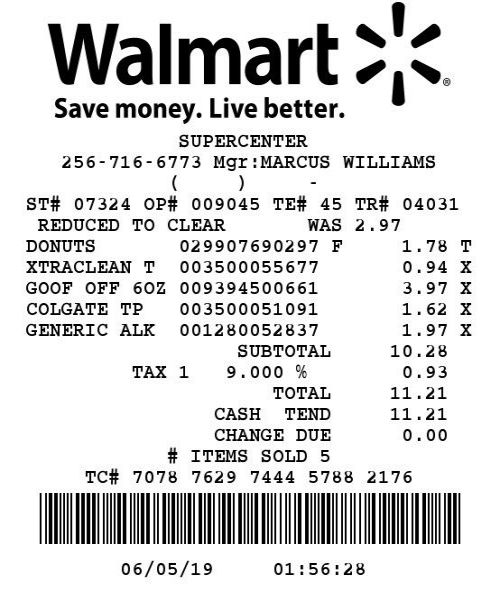 ---
Why you'd want a Walmart Receipt?
The most likely reason you'd want to keep a receipt is to return the item and keep it on hand to facilitate the process. Or, in other cases, the recipient of the item you gifted wants to return it.
There may be also other reasons why you'd want to do this.
Maybe you collect your receipts every month to look for savings and you no longer have that Walmart receipt. Some people like to have all the receipts for their records, and if you're one of them, you can't find a receipt for what you know you've bought at Walmart.
Whatever the reason, in short, there are more options for how to get a refund for your return if you have a receipt.
---
Various ways to fix Walmart receipt lookup not working
Method 1 – The recent order option on the app
You can always find the receipt in your Walmart account on your browser or the Walmart app.
For your convenience, it's always better to get yourself a Walmart account.
If you have the Walmart app installed, go to the recent order option on your account.
Then, select 'recent order' and find your order and select to see the details.
---
Method 2 – The location lookup
Another option if you've bought from a Walmart offline store –
Visit the Walmart Store Receipt Lookup page.
Enter the ZIP code of the city, state of the store, and select the store where the purchase was made.
Then select the purchase date. After that, select the type of card that you used for your purchase.
Enter the last 4 digits of the credit/debit card along with the receipt total.
Then, select Lookup Receipt.
---
Method 3 – Have Walmart Care help you if your Walmart receipt lookup is not working
This is one of the best ways to ensure you get the issue resolved at the earliest.
If you have bought the item in a store and used your debit or credit card, Walmart has an Electronics Payment Hotline that you can call at, that will allow you to get a copy of the receipt.
How to call the Walmart Hotline/Customer Care Team:
For any inconveniences, Walmart has an Electronics Payment Hotline.
You can use this hotline to get a duplicate receipt for items that you purchased using a credit card or a debit card.
You're gonna need to have the details of the location of the store where you made the purchase, the date of the purchase, the full number from the debit or credit card that you used to make the purchase, and a fax machine or a printer attached to your computer to receive and print the duplicate receipt from Walmart.
The phone number for the Walmart Electronics Payment Hotline is 479-277-2643.
---
Method 4 – Get Walmart eReceipts
For Walmart eReceipts in case you bought the item online:
This is even easier since you can print your receipt directly from the website.
Walmart eReceipt is a copy of your Walmart in-store purchase receipt and it is only available for Walmart in-store purchases only.
If you want to get your Walmart eReceipt sent directly to your mobile phone, you just need to enter your phone number when you are making your purchase.
---
FAQs
Q1. What should you do if you have lost your receipt or your Walmart receipt lookup is not working?
For a situation like this, you have to look up the zip code or city and state of the store location where the purchase was made.
Add the purchase date and total receipt amount of your items.
Use your financial statement to verify the purchase date and amount of your items, card type, and last 4 digits of the card number.
Then, go to the receipt lookup tool or page (linked above).
There, you enter the store location. Select purchase date.
Enter card type and last 4 digits of the card number. Select 'Debit' for all debit cards. Enter receipt total and the Captcha.
Finally, select Lookup receipt. It should give you an eReceipt you can print and use.
Q2. What happens when you want to return an item without a receipt?
When you want to return an item to Walmart, the refund will usually be in the original form of payment that you used to buy the item.
Whenever the Walmart receipt lookup doesn't work, Walmart will need to ask you for a government-issued photo ID for verification.
In case you are concerned about your privacy, according to Walmart, your information will be stored in a secured database of returns.
3. What options will you get when you approach Walmart for a refund or return?
When you want to return an item and you don't have a receipt, in case the verification process accepts it, you have different options:
You can change the item for another item.
-In case it is possible, the item can be sent back to the manufacturer for repair.
-You can get a cash refund in case the item you are returning is less than $25.
-You can get a shopping/gift card in case the item you are returning has a value equal to or greater than $25.
To know more about Walmart's return and refund policies, visit their support page here.
---
Conclusion
When shopping with Walmart or anywhere else, we should be aware of all the benefits made available to us by the vendor. The receipt from Walmart for your purchases is an important document which you'll need for the efficient transaction of refunds and returns.
We have listed in this article some ways to help you with the issue.
If you encounter any other methods, please let us know!
Thank you for reading and you should check out our other well-researched articles.
SEE ALSO: (6 Fixes) Why is my Walmart grocery app not working?