Some Facebook dating conversations can be so heartwarming that you may just want to open the chat and read those lovey-dovey texts repeatedly! And when you click on one chat, the inability to view it can be outright frustrating!
Users of the Facebook dating applications have often complained about the sudden disappearance of the conversations.
In this article, we provide you with a list of possible reasons for such an occurrence. We also go on to help you with this problem by explaining some easy and quick fixes!
---
Why did my Facebook dating conversations disappear
Short Answer: There can be many reasons why your Facebook dating conversation may disappear such as you are using an outdated app, glitches with Facebook Dating app or servers, they might have unmatched you, or the match has been expired.

1. You are using Outdated app
The first reason your dating conversations might have disappeared could be that you are not using an updated app.
If your app is not updated to the latest version there could be certain bugs or issues that might have caused your messages to disappear.
2. Technical or server glitches
It is possible that there was a technical glitch on Facebook's end that caused your conversations to disappear.
On the other hand, servers of the Facebook might be experiencing some other issues.
3. They might have unmatched or blocked you
Another potential reason why your conversation is disappeared on Facebook Dating could be that your match might have unmatched you.
On the other hand, they might have just blocked you in case they have changed your mind.
4. You may have deleted the chat accidentally
This is rare, but you might have accidentally deleted the conversation.
And as per Facebook Dating terms, you won't be able to recover once a chat has been deleted.
5. Your account might have been suspended
Another reason your Facebook Dating conversation are disappeared (especially if all the chats) could be that your dating account have been banned or suspended due to violations of community policies. Or Other user have reported your profile.
---
How to fix Facebook dating conversations disappeared?
So after all what can you do to fix your Facebook dating application? Try the following fixes to see if it helps!
Method 1. Update Facebook 
Another reason could be the usage of an older version of the Facebook Dating application. You should check the updates and ensure that it contains all the necessary bug fixes.
Open the App Store (iOS) or Google Play Store to update Facebook (Android). Then, in the search bar, type "Facebook" and select the app. Here, you will learn if there are any updates to make or not. 
---
Method 2. Delete the App Cache
Android users can resolve the issue of Facebook Dating not appearing by clearing the app's cache. Too much cache can corrupt apps, resulting in errors and poor performance. Clearing them is safe and may improve the performance of your app.
You'll need the following walkthrough:
Navigate to your device's Settings menu.
From the interface options, select Apps.
Go back and look for Facebook.
Select Storage, then Clear Cache.
Remove and reinstall Facebook
---
Method 3. Reinstall the application
If everything else fails, this may be the best option to fix Facebook Dating app. Fortunately, reinstallation is simple and does not wipe your account data.
---
Method 4. Check if Facebook is Down
If Facebook Dating does not appear notwithstanding the reboot, the issue may not be because of you. It's possible that the problem is on Facebook's end.
If this is the case, we recommend investigating whether Facebook's platform is experiencing issues.
Start by searching Twitter for the hashtag #facebookdown and see if it is trending. If you find recent tweets about it, the problem is most likely that Facebook's servers are down.
We would also suggest visiting the downdetector page for Facebook. Here, check the number of reports and user comments. If the reports are significant, wait for few hours till the servers get restored.

---
Method 5. Restart the device
A simple restart, as with most software problems, could potentially resolve this issue. This is due to the fact that doing so resets the phone's settings, RAM, and usage. It will restart the device, clear bugs, and re-establish connections.
Simply press the power button to restart or reboot an Android device. Hold it for a few seconds until you see a selection. After that, press the Restart button and wait for the device to restart.
If you're using iOS, you can hold down the home and power buttons at the same time. This should automatically restart the iPhone.
---
Method 6: Use another device
It might be the problem is specific to your device. In this case, you can try using another device (of your friend or family member)
To do this, Log into the Facebook app on that mobile device -> Tap three lines menu -> Tap Dating.
Now, check whether your chats are present or not.
---
Method 7. Seek Assistance from Facebook
Finally, if all these solutions don't prove to be helpful, then you better, contact Facebook's customer service center and request assistance. . Simply go to the Facebook help center and report the issue you're having.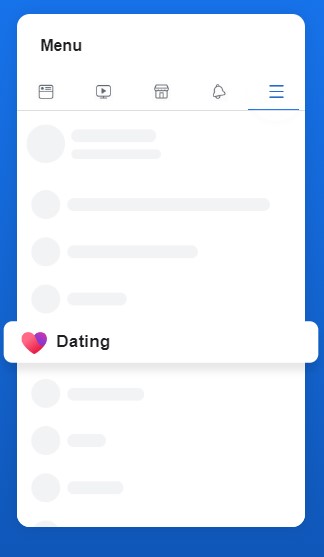 ---
SEE ALSO:
Does Facebook Dating Show You Active On Messenger
Why Is Facebook Dating Only Showing 5 Matches
Facebook Dating Matches Not Showing Up (Reasons & Solutions)
---
Final Words
Facebook Dating is among the most significant updates to the platform. Simply enable Facebook Dating and begin browsing. However, when Facebook Dating does not appear, it can be inconvenient.
Fortunately, there are multiple solutions to the problem, so it shouldn't be an issue for long. Hope you found your fix!
---
Further Reading:
Facebook Dating 'Check Back Tomorrow To Send More Likes' Meaning
What Is The Middle Button On Facebook Dating
Facebook Dating Symbols Meaning & Details
What Happens When You Like Someone On Facebook Dating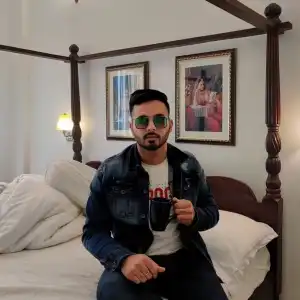 Ankit is an engineer by profession and blogger by passion. He is passionate to do all the stuff such as desiging the website, doing the SEO, researching for the content, writing tech blog posts and more.
---
Stay connected with us for the latest updates! Follow us on Telegram and Twitter to join our vibrant community and never miss out on any exciting content."