Coupons reduce the price of the item. Like all the other shopping apps, Shein too is famous for the coupons and discounts it offers to its customers. This article is about, Can you use more than one coupon on Shein. So let's get started.
---
Can you use more than one coupon on Shein?
You cannot use more than one coupon at a time on Shein now. We could do that earlier and, it was called coupon stacking, but now we cannot. But there are other methods which will help you reduce the cost of your purchase.
---
How many coupons can you use on Shein?
There are plenty of coupons that Shein offers, but we can use only one of them at a time.
---
How to use more than one coupon on Shein?
Method 1: Using Coupert
Coupert takes care of your coupons and cashback. Now let us see how you can use it.
Step 1: Open your browser
Open the browser on your PC or laptop. Make sure it is connected to an internet connection.
---
Now go to settings and then to extensions. Now search for Coupert. After finding the right app, click on install.
---
Step 3: Add to extensions
Now add it to extensions.
---
Now open your Shein account on the browser. Click on the Coupert extension. You will see the cashback and coupons available. Now use them while placing your order.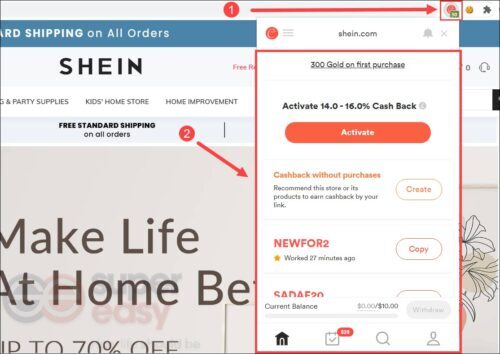 ---
Method 2: Use free points on Shein
Gaining some points on Shein is pretty simple. Some of the available options are given below.
Confirm delivery of orders
You can gain points by placing your order. You can save on Shein while buying. This point will help you reduce the price of the item on your next buy. For every dollar you spend, you gain 1 point each. As soon as you confirm the delivery, the points add on automatically to your account.
You can also track your delivery after placing your order and, it is free of cost. No additional charges are charged for tracking your item.
---
By writing reviews
You can earn points by writing reviews of the items. You must have heard about this for other e-commerce sites too. Reviews play an important for the company as well as the customers. Before buying any product most people check the reviews and then decide whether to buy the product or not.
So right reviews are important. So respecting your time and efforts in writing reviews, Shein doesn't let it go to waste. It gives multiple points for the ones who write reviews after using the items. It definitely has some criteria based on the different number of points.
The written reviews should have a minimum of 20 words and a maximum of 1000 words. The ideal word limit is 75- 500 words. You can gain up to 5 points by just posting a comment. But if you post a picture with it then you can get up to 10 points.
Also if your review is recognized as valid and is appreciated by the company then you can expect up to 50 points. Now if you don't know where and how you can submit the review then don't worry we got you covered. Open the website or the app.
Now tap on the item you want to submit your review on. Now write the review and click on submit. Remember the conditions written above for an effective submission.
---
Daily check-ins
You can earn points by simply opening the app. Make sure that you are logged into your account. The check-in options is present at the homepage of the app itself. You can track your check-ins and points adding to your account from there.
This hardly takes a second and, you can gain points on one tap. But also remember that you have to check in daily. Suppose if you miss out on any day, then the next day will be counted as day one of your check-in and, the points will be deducted.
But the app has a feature from which you can set a reminder for check-in. You can do that as per your convenience.
---
Download the app
Shein is not only restricted to its website, it also has an app which makes browsing items easier. You can gain points on your account by installing the app too. The app is available for both Android and iOS users.
On downloading the app one can not only gain points but also can avail of 15% off on their purchase through ordering from the app. The app is easy to use. It shows your account, points and, coupons in one place.
You can keep up with the latest trends by turning on the notifications. The app will notify you if something new is there in the store for you according to your preference.
You can download the app from the respective app stores. After installing the app on your phone, log in to your account. Now while ordering your item apply the coupon code APPONLY and avail a discount of 15% on your purchase.
---
Participate in free trials and contests
Shein offers a free trial where the users get new clothes for free. There is a free trial section on the app. It has some procedures and rules to follow. You can participate in the free trial as long as your account is not blocked. You can apply for the free trial 3 times a week.
When you are selected, the company sends you a package of new clothes. You then need to submit a review of the product within 10 days. Now, if your review meets the quality criteria then 20 points are awarded.
If your review is categorized as High quality then you can earn up to 100 points. Now if you don't know how to apply for it, read the next few lines very carefully. Open the Shein app. Now go to Me. This section has all the information about your account.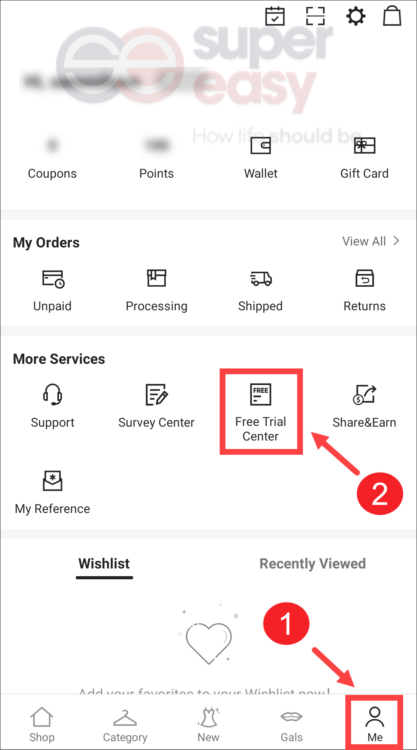 Now under the More Services section, click on Free Trial Center. You can see the items which are available for the free trial. Pick the item you want and click on Free trial.
---
SEE ALSO;
(7 Ways) How to use SHEIN points at checkout (2021)
When does SHEIN have Free shipping (2021)
(2021) Why SHEIN express shipping not available [Get it for free]
---
Hope the article solved all your queries.