Ever heard of Apple TV?
It has been ringing in people's ears as of late. It competes with household names like HBO, Netflix, Hulu, HotStar, Disney+, etc. in different regions of the world.
This article will tell you what Apple TV is and why you pay for it, like other streaming services.
Not only this, at the end of this article, you will have the knowledge of why you have to pay for a movie on Apple TV when you already have a subscription.
---
What is an Apple TV or Apple TV+?
Apple TV is a streaming media hardware from Apple Inc. which is currently termed as the world's largest technology company as per revenue and the world's most valuable company.
An Apple TV is a streaming media that you can easily plug into your TV and allows you to stream apps (such as Netflix, Hulu, HBO Max, and Disney Plus) from where you can watch your favourite shows and movies.
Its huge benefit is that it can effectively turn any dumb TV into a smart TV or even if you already own a smart TV, it allows you to run Apple's tvOS as opposed to your TV's smart interface.
Moreover, all the streaming boxes of Apple TV have dedicated processors that are designed to make things run as smoothly as possible.
---
What exactly is the Apple TV+ and how does it differ from Apple TV?
Apple TV+ is actually a subscription video-on-demand streaming television service by Apple Inc. that can be accessed from the Apple TV mentioned earlier. It features Apple Originals — award-winning series, compelling dramas, groundbreaking documentaries, kids' entertainment, comedies, and more — with new Apple Originals added every month.
It was originally announced in March 2019 during the Apple Special Event, where celebrities from Apple TV+ projects appeared on-stage. But, it officially debuted on November 1, 2019.
It can be compared to Netflix, one of the most renowned names in the industry.
---
Do you have to pay for Apple TV?
Apple TV+ isn't a free service so, you have to pay for it.
But Apple TV+ lets you share your subscription with up to five family members.
It is commercial-free, so you can watch your favourite shows without any interruptions. You can also download your favourite Apple Originals directly to your Apple device and watch them anytime, anywhere without a Wi-Fi connection.
---
You can check out various details of Apple TV here.
---
Apple TV subscription prices –
Yes, you have to pay for apple tv.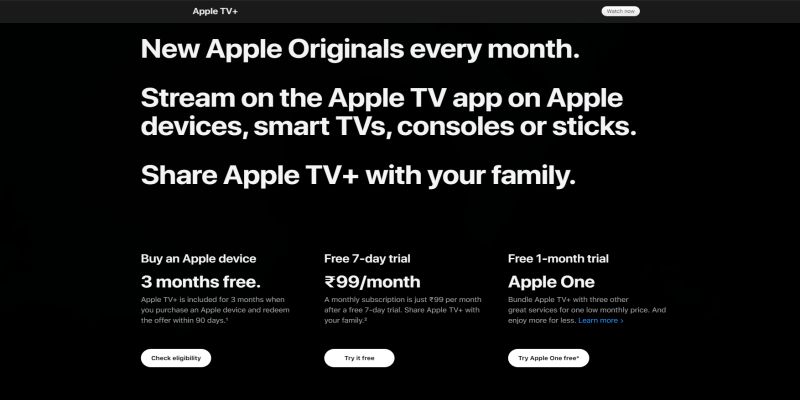 Although that is true, the good news is that the cost depends on which offer or subscription model you choose.
A monthly subscription is just ₹99 per month after a free 7-day trial which you get when you sign up.
Apple TV+ is included free for 3 months after buying an Apple device. (But it may be subject to availability on their official website)
Apple One, which bundles three other Apple services into a single monthly subscription also includes Apple TV+. The plans start at ₹195 per month.
The Apple Music Student Plan comes with a free subscription to Apple TV+.
---
Why do you have to pay for shows when you already have a subscription?
Unfortunately, yes, you have to pay for shows when you already have a subscription.
The particular reason for paying when you are already a subscriber is that you're getting access to Apple TV+, which is original Apple content.
This is a channel within the Apple TV app. Programs included in the subscription have the TV+ logo. These are free.
Apple TV+ is different from Netflix, Prime, etc. where everything is included in one app. Instead of focusing on providing its users with blockbuster films or popular classics, the Apple TV+ is heavily focused on its unique Apple original content and it can only be watched on Apple TV+.
Although the Apple TV app still offers the latest blockbuster movies and classics, you will have the option to buy or rent as they are not included with your Apple TV+ subscription. They are from the iTunes Store and are not free.
It has been reported that Apple TV spent almost 6 billion on content to feature the top A-list celebrities in their original films & TV shows such as the popular Apple Original drama, The Morning Show starring Jennifer Aniston, Reese Witherspoon, and Steve Carell, and an epic sci-fi drama, See starring Jason Momoa and Alfre Woodard. Also, Apple pays a royalty for the movies and series which are not under the Apple banner because they do not own the rights to them.
---
FAQs
And before we end the article here, we would like to share some faqs so at you will gain some useful facts about Apple TV while you are reading our article.
Q1. Which devices are fully compatible?
Given below is the full list of Apple TV compatible devices:
Apple TV (4K, HD, and 3rd generation), Roku (most models), Amazon Fire TV (most models), Google TV (with Chromecast), Samsung Smart TVs (2018 or newer), Sony Smart TVs, Vizio Smart TVs, LG Smart TVs (2019 or newer), Mac (macOS Catalina 10.15 or higher), PC (browser only), Android (browser only), Android TV (version 8 or higher), PlayStation 4, PlayStation 5, Xbox One, Xbox Series X, Xbox Series S.
Q2. How many devices can stream on at the same time?
Up to six devices can stream simultaneously.
Q3. Are Apple TV Plus shows/movies in 4K?
Yes, all Apple TV Plus shows and movies are available to stream or can be downloaded in 4K.
Q4. Are the shows on Apple TV Plus ads-free?
One of its benefits is that it does not have any ads.
Q5. Does Apple TV Plus have the feature of parental controls?
Yes, there are parental control options available for Apple TV plus and the set-top box too.
Q6. Can I get access to Apple TV+ from Amazon Fire TV?
Yes. The app is available on most Amazon Fire TV devices.
Q7. Can I connect my Apple TV to Bluetooth?
Yes, the Apple TV has Bluetooth, to connect your devices to your Apple TV you can simply go to Settings > Remotes and Devices > Bluetooth. From the list of available devices, select yours and it will be connected.
---
Conclusion
We hope this has clarified why you have to pay to watch certain movies on Apple TV even when you already have a subscription.
Thank you for reading and you should check out our other well-researched articles.
---
Further reading:
Fix: Apple TV Siri remote not working
Why is there no App Store on my Apple TV?
[Fixed] Why does Apple Music play random songs?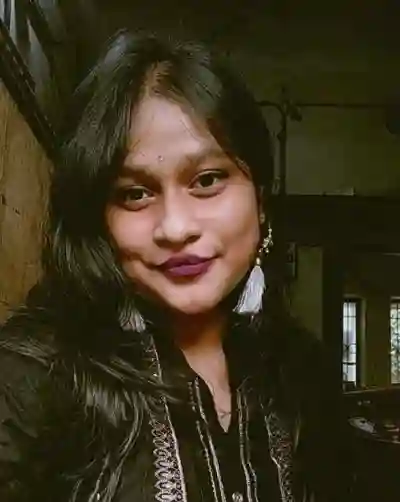 An anime aficionado who also maintains a keen interest in global developments in the fields of technology & gadgets. In her downtime, she can be found trying out all possible varieties of dumplings. A strong believer in animal rights, she can't help but pet every cat she sees.