When a user enters incorrect information for Snapchat's User Id and Password, the "Oops! We could not find matching credentials" error message appears.
This is how the situation plays out: Snapchat shuts you out of your account, then when you try to log back in after entering your login credentials, it screams "Oops!" and won't let you in.
This occurs despite the fact that you have provided the necessary credentials. Even after you have changed your password, there is a possibility that you will continue to receive the matching credentials problem.
In the following paragraphs, we will go over a variety of solutions to this problem. It is recommended that you go on to the subsequent approach if you are unable to resolve this issue using the first way.
---
What Does Matching Credentials Mean on Snapchat?
It's basically a sign of a login error, but as some users have pointed out, it often happens to people who are using the right credentials
When Snapchat users attempt to log into their accounts, they are frequently faced with the error message "Oops We Couldn't Find Matching Credentials." This is an issue that users of Snapchat have encountered on many occasions. Therefore, what precisely does all of this entail?
It's simply an indication of a log-in issue, which happens rather frequently even for users who are entering their credentials correctly:
It would appear that Snapchat has been locking users out of their accounts for a variety of reasons, most of which are unknown, which results in the "matching credentials" issue.
What is the most common cause for having an online account temporarily disabled? The application has detected some sort of shenanigans taking place, specifically that someone was attempting to access the information associated with your Snapchat account from an unknown location, or that the application simultaneously detected attempts to access the account from a wide variety of locations.
During the time that you are using Snapchat, it is possible that an unauthorized third party is attempting to access your account. The application has determined that at least one of the attempts to access the account was suspicious, and as a result, the account has been locked as a precautionary step.
---
Why does my Snapchat say we could not find matching credentials?
If you typed the incorrect username or password for your Snapchat account, the "Oops! We could not find matching credentials" error message will show on your screen.
A major problem known as the Snapchat Matching Credentials Problem is now affecting users of Snapchat all around the world. When users attempt to log in to their accounts, the following error message is given to them: "Oops! We could not find matching credentials."
The Matching Credentials error indicates that there was a problem with the login; nonetheless, this issue commonly occurs even when users use the correct credentials.
The error message often shows when Snapchat identifies a suspicious user attempting to log in to your account, at which point your account is temporarily locked down by Snapchat. In addition, if Snapchat has a cache that is either full or corrupt or if the app itself is out of date, this error may also occur.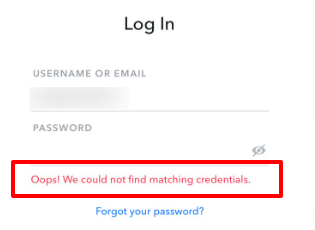 Reason 1-Poor Internet Connection
When the connection quality is low, Snapchat is unable to detect or recognize the credentials, which results in an error message being shown.
Utilize a quick connection and then determine whether or not the issue still exists after doing so.
---
Reason 2-Bugs and Glitches
The functionality of the software is hampered as a result. Therefore, Snapchat does not function correctly and generates problems while attempting to log in.
In order to get rid of these issues, you will need to update the application and then check to see whether the error still exists.
---
Reason 3-Corrupted files or Filled Cache
If the app's cache is full or it's corrupted, the app will not be able to obtain any app file to continue processing, which may cause problems for the user when they try to log in.
The user can address the issue by logging in by clearing the cache on their device.
---
Reason 4- Suspicious activity
When Snapchat identifies a potentially malicious user who is trying to access an account, it will eventually lock the account and request that the user ID is verified before it can be unlocked.
In this scenario, you can reclaim access to your account by going into your settings and changing your password.
---
Reason 5-Outdated App
When an app is not kept up to date, there is a greater likelihood that bugs may attempt to exploit the software and create difficulties.
Therefore, make sure that you utilize an application that is free of errors and installs all of the most recent updates.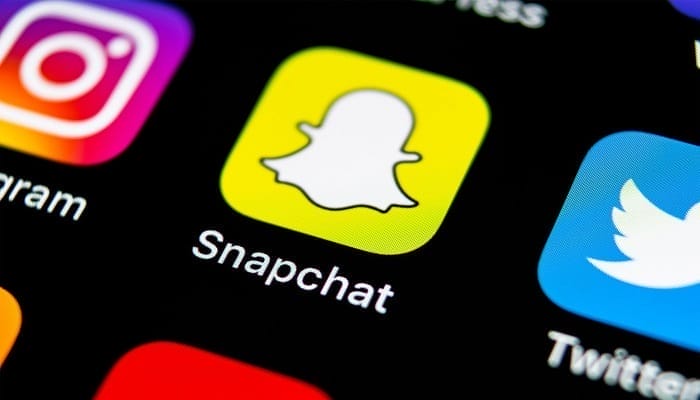 ---
How to Fix we could not find matching credentials for Snapchat
There might be a number of factors contributing to the fact that you are unable to successfully log in to your Snapchat account.
You can attempt the following solutions if you keep getting the "oops, we couldn't locate matching credentials" error message on Snapchat:
Method 1- Make a New Password
Snapchat will not open for the user and an error message will be shown if they input an incorrect User ID or Password. Therefore, check that the credentials you are adding are accurate before continuing.
Alter the password and then try to log in again if you are still having problems after doing so. The following is a list of the procedures that you need to take in order to change the password for your Snapchat account:
Step 1-Launch Snapchat, then enter your User name and Password
Step 2-If you continue to have problems, click the "Forget Password" button.
Step 3-Choose the option that corresponds to how you would like to have your password reset, then click Via Email.
Step 4-After entering the email address, select the option to "Submit." You will shortly get a verification email from Snapchat after resetting your password.
Step 5-Once you have opened the email, choose the link that is provided.
Step 6-Enter your new password twice for verification, and then select the Save option.
Step 7-Now open Snapchat and log in using the new password you just created. Once you've done so, check to see whether the issue still occurs.
---
Method 2-Update Snapchat
When the software is out of current, performance issues such as bugs and glitches are introduced, and an error message stating that Snapchat can't discover credentials is shown. As a result, it is essential to periodically update the application. Because every once in a while, the latest version will provide solutions to get rid of these problems and errors. The following is a list of actions that you may take to update the application:
Step 1-Simply go to the Google Play store.
Step 2-Now navigate to Manage Apps & Devices and click the Updates button once you're there.
Step 3-When the applications have opened, navigate to Snapchat and select the option to update it by clicking on it.
Step 4-After the updates have finished downloading, you will need to restart the app and enter its credentials. Verify whether or not the issue has been resolved.
---
Method 3- Check if your Snapchat account is locked
If you are still having trouble, you could check to see if the lock on your Snapchat account has been removed. In the event that Snapchat has locked your account, you will not be able to use your ID to log in. When a potentially malicious individual attempts to log in to your account, this issue typically arises. Therefore, Snapchat puts a temporary lock on the profile. You can restore your account and correct the issue by following the actions that are listed below:
Step 1-After entering the User Id, click the Forget Password button to continue.
Step 2-Choose the "Via Email" option, then input your email address after making your selection. You will soon get an email from the Snapchat support team.
Step 3-You may update your password by following the link provided inside the email.
Step 4-Now log in to the account, and check to see if the issue still exists or not.
---
Method 4- Delete Cache
The error message "Oops! We could not find matching credentials" displays if the app's cache becomes corrupted or full, which can happen when faults and malfunctions occur in the app. When this happens, Snapchat stops responding to its users, and they are unable to open their accounts. In this instance, you should delete the App Cache and then determine whether or not the mistake has been fixed.
If you choose to clear the app's cache, all temporary files stored within its directory will be deleted, and the app will be restarted. In addition to that, the bugs will be eliminated. Therefore, do the following actions:
Step 1– First, unlock your smartphone, and then head to the Mobile Settings menu.
Step 2-Next, pick the App option from the drop-down menu that appears after clicking on the App & notification option.
Step 3-Snapchat can be accessed by clicking further down. Choose the Storage option from the menu.
Step 4-Therefore, choose the option to Clear Cache, and then select Clear Storage.
Step 5-Launch Snapchat, log into it with your credentials, and check to see whether the problem still exists.
---
SEE ALSO: Why is Snapchat showing the wrong location of my friend (2022)
---
FAQs
Q1-Can we fix Oops We could not find matching credentials on Snapchat?
Yes, that's the simple answer. The method by which the problem could be resolved
By changing the account's password, we were unable to locate similar credentials on Snapchat. If this doesn't work, you can always contact Snapchat support for help.
---
Q2-What is Oops We could not find matching credentials on Snapchat?
An error message was shown. Oops, Snap's inability to log in may be the result of a problem with the log-in process. Even if there are a lot of different causes, having anomalous behaviors linked with a profile might lead to problems like these.
---
Final Words
Even deleting all of the app data from the cache won't address some of the problems you have while utilizing applications. Whether you run into an unexpected error while using Snapchat, you should look to see if other users are having the same issue.
To avoid seeing the "Oops! We could not find matching credentials" warning on Snapchat, be sure to keep your passwords secure and stay up to speed with the latest Snapchat upgrades.
---
Further Reading:
[7 Fix] Snapchat Location Not Working /Showing or updating
[6 Fixes] Snapchat was Unable to Open the Camera (2022)
Can Someone See If You View Their Snapchat Profile (2022)
Technical writer and avid fan of cutting-edge gadgetry, Abhishek has authored works on the subject of Android & iOS. He's a talented writer who can make almost any topic interesting while helping his viewers with tech-related guides is his passion. In his spare time, he goes camping and hiking adventures.
---
Stay connected with us for the latest updates! Follow us on Telegram and Twitter to join our vibrant community and never miss out on any exciting content."