$8.99 a month or maybe $74.99 a year and you settle in on your comfy couch to be greeted with nothing when you load your Starz account.
Drives all of us crazy right? Well, while the company still hasn't developed and launched any proprietary app for PC just yet, users can use the site via a browser or through their mobile device.
The effects can be seen manifested in issues like never ending buffering cycles, blank websites, unavailable players or inability to log-in to your account.
The root causes of these problems can be found in a number of reasons and here in this article we shall try to dive deeper into the problem and try to remedy a solution for each one.
---
Why is Starz not working on my computer?
Starz is an online service that requires a working subscription to use. Alongside a valid subscription, users also need good internet connectivity, an updated and compatible browser and some relevant plugins and add-ons. To troubleshoot your computer of any issues that may hinder you from accessing
Issue 1: Browser related problem.
Users can access their Starz account via their browser and since there has not been any app developed by Starz for PC in particular, the browser continues to be the most common medium through which most users will be interacting with Starz's streaming services.
As the browser is an important focal link here, any problems in the browser could also technically translate into a problem with the page.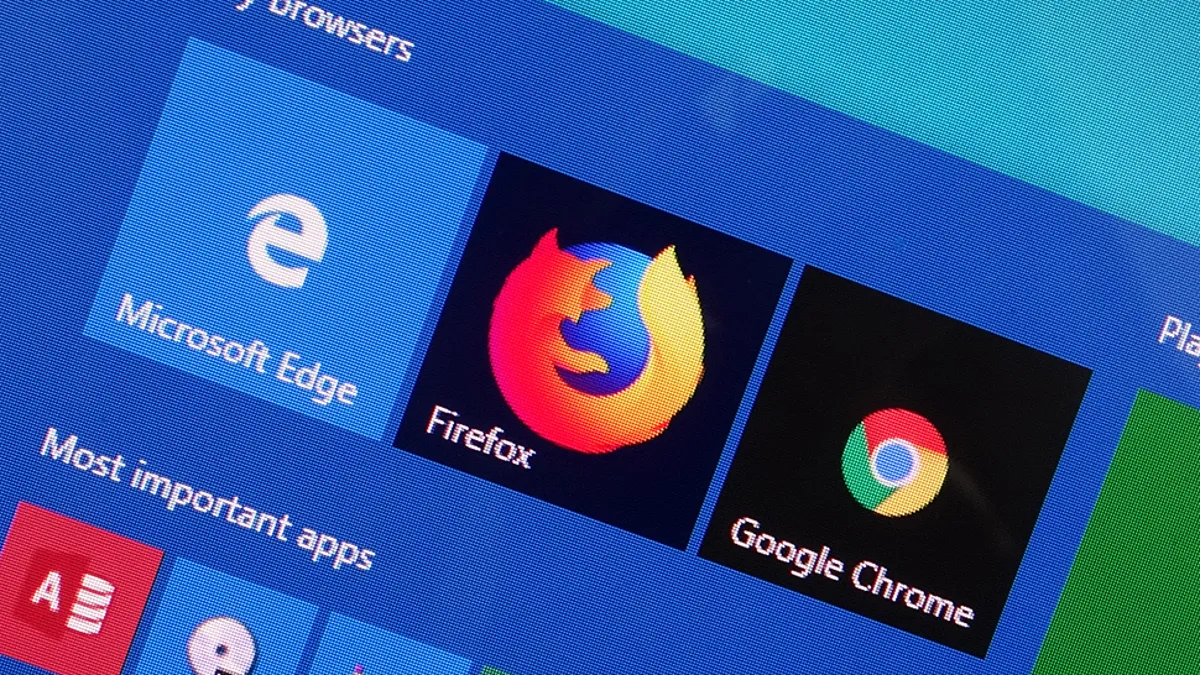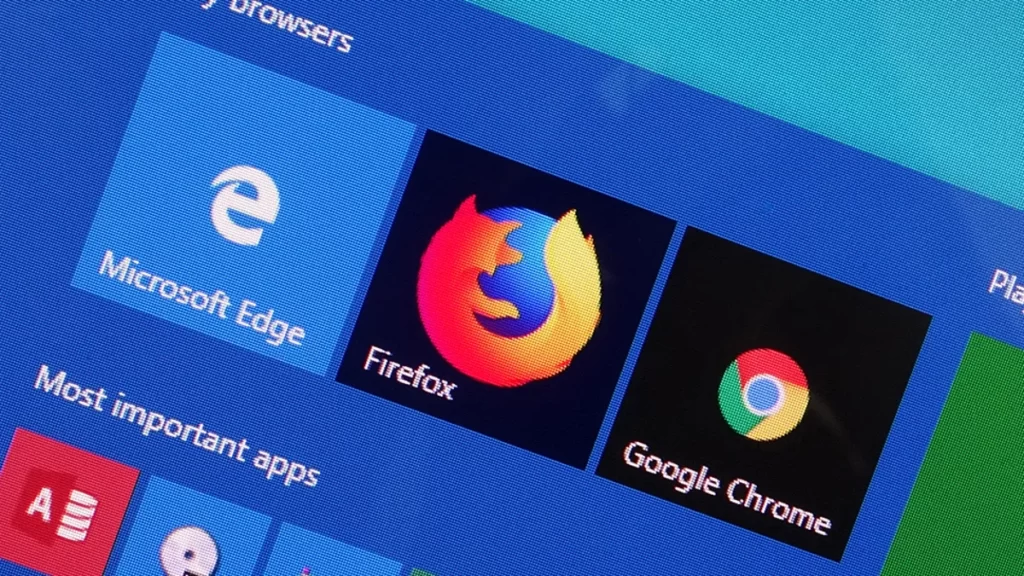 To have your browser running perfectly in its optimal condition make sure that you update your browser regularly.
Missing browser update can let users miss some important patches and fix required for the browser to run properly.
Many quality of life improvements will also be missed by users who forget to update their browsers.
Starz recommends its compatible PC browser as:
Users can use the links given above to download the latest versions of their preferred browser that is  compatible with Starz.
---
Issue 2: Corrupt Cookies and Cache.
Having corrupted cookies and cache stored locally by the site can also cause problems for users.
The site stores cookies and cache on to the computer so that the site loads faster whenever users visit the site again.
It also stores any relevant information of the user like log-in ID and credential, site preferences etc.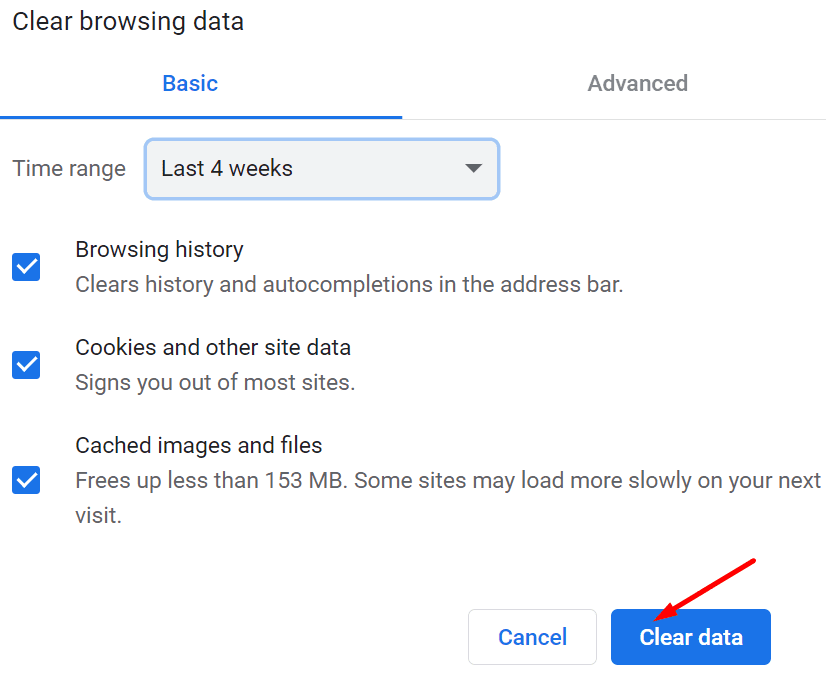 So if the Starz website is not loading properly on your PC, there is a a good chance that your browser has some corrupt site cookies and cache preventing the Starz page to load properly.
To clear your browser (we will be using chrome, for this example) off cookies and cache, follow the given steps:
Open  your browser.
Click on he three dots on the top right of the screen.
Hover your cursor over "More Tools".
Select "Clear Browsing Data", users can also use the Ctrl+Shift+Delete shortcut.
Press "Time Range" and click "All Time".
Finally press "Clear".
Users can load the Starz site after completing the given steps on a new tab.
When users load the page this time around, the page will load fresh, free from any user settings and preference.
Users will have to Log-in with their relevant credentials to be able to use Starz's services again.
---
Issue 3: Weak or Unstable Internet Connection.
A weak and unstable internet connection can also be the problem at times thus mandating a strong, fast and stable connection for viewing content on the site.
Since Starz offers most of its titles on the site in HD a minimum of 2.5 Mbps is required to load content comfortably.
However we recommend having at least 6 Mbps to have the best experience while operating their site.
Make sure that your ISP is providing you adequate speeds on your connection, user can check their speeds by heading to MLAB or  by typing in "check internet speed" on your browser.
Users can also do a soft reset of their internet connection by following the given steps:
Turn "Off" your PC.
Switch "Off" of your modem and wait for 1-2 mins.
Turn "On" your modem and PC.
Users might probably have to wait 1-2 minutes depending on their ISP for their connection to restore after turning "Off" their modem. Following the given steps will establish users with a new connection. If users continuously face bad or poor connectivity it is recommended to contact your ISP (Internet Service Provider).
---
Issue 4: Incorrect Log-In credentials
Incorrect credentials can also cause users problem while logging in as well and this issue is most likely to effect users while using the site/app on other platforms.
To use Starz's services users must have their correct ID and password.
Users can try logging in on other compatible device to check if the ID and password are correct.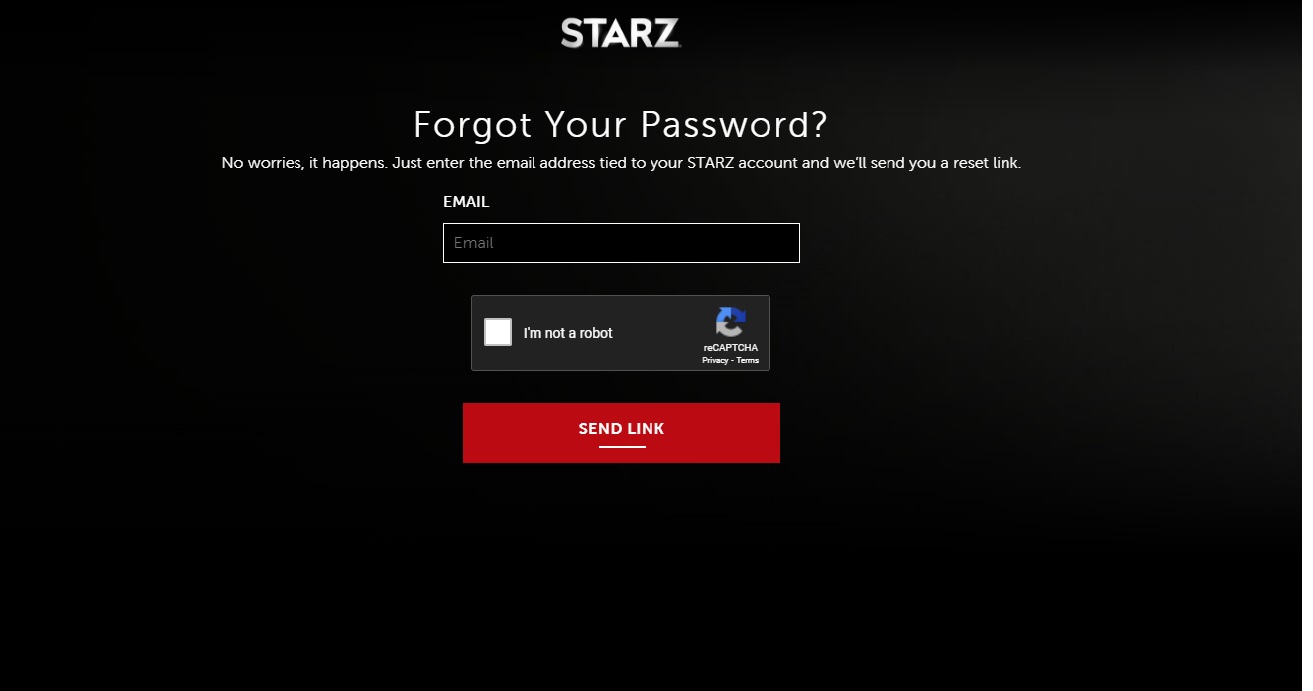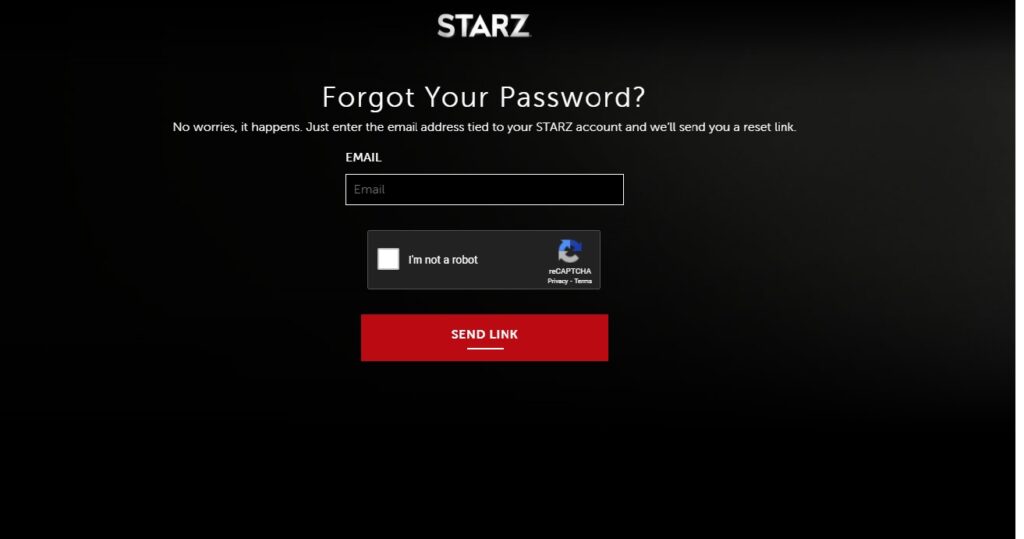 If users do not remember their correct user ID or password, follow the given steps:
Go to this link https://www.starz.com/us/en/login/forgot-password.
Enter your e-mail ID used to register your Starz account.
Log-in to your e-mail to receive a reset link.
Head to the reset link and change password.
Load the Starz website and login with your ID and new password.
Having even a single letter on your password or ID out of place can stop users access from their accounts. It is therefore necessary that users remember their ID and password properly at all times to avoid losing access to their Starz account.
---
Why is my Starz app not working on my smart TV?
Your Starz app on your TV just like on your PC can stop working for many reasons and most notably for reasons that may be similar in nature as well.
If your Starz account/app is not working on your Smart TV here is what users should do.
Check Internet Connectivity.
As most Smart TV come today with lots of productivity options, having a good internet connection is a must to get the most out of your TV.
If users do not have stable and fast internet connection then it is most likely that most of your user experience on web based apps will not be good.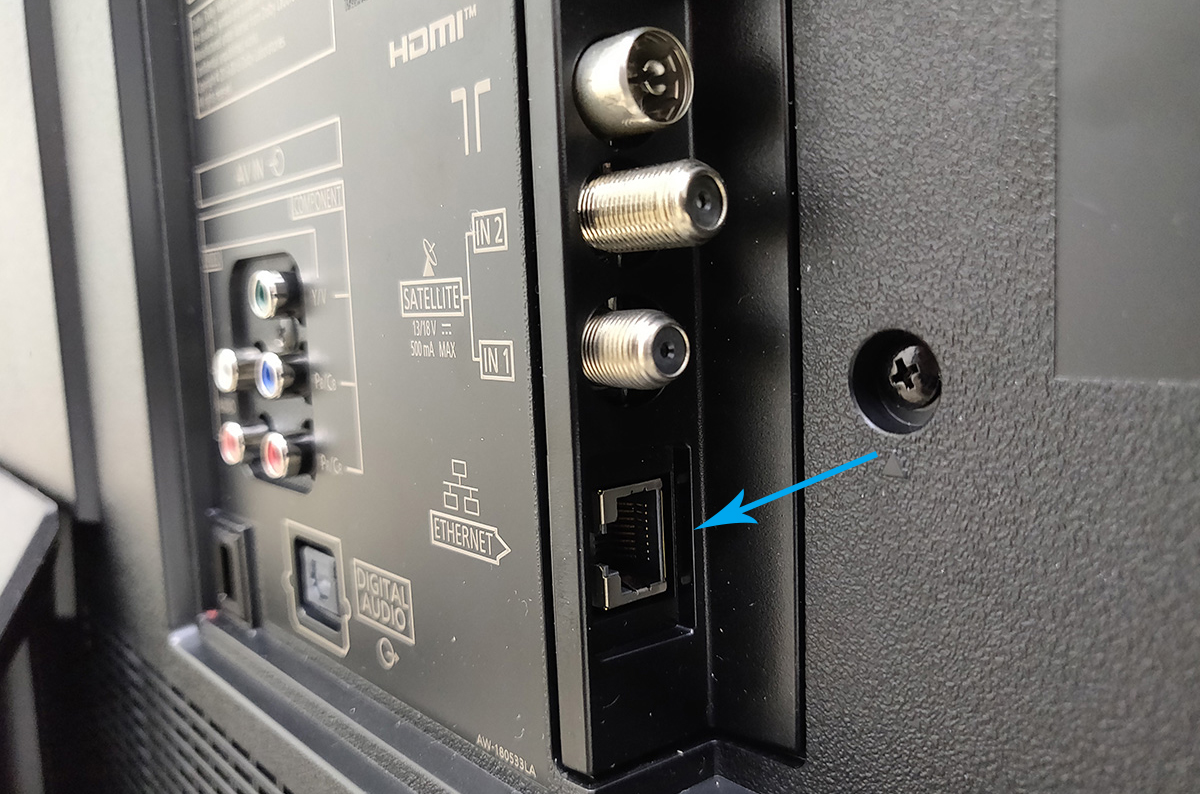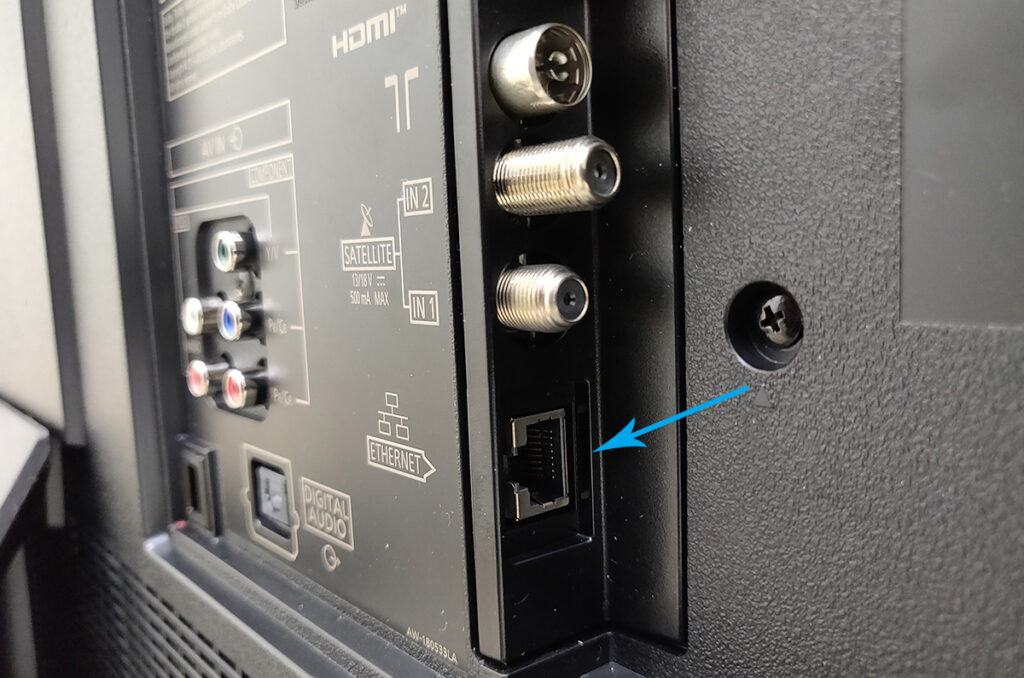 We recommend having an internet connection faster than at least 6 Mbps to enjoy content in FullHD . Users can try restarting their modem by switching it "Off" and turning it "On" if the connection is being unstable.
---
Check for Software update for Starz App.
Users need to keep their Starz app updated to get the best out of their TV and subscription. Having your app up to date on your TV brings you more features but also fixes any issues with the older version. We therefore recommend that users keep their App properly updated by heading into the TV's app store and updating in manually from there.
---
Use correct User ID and Password.
Your User ID and password are your two credentials that provide you exclusive access to your Starz account. Having a single letter or a character missing from your ID and password can deny users access from the site's services.
It is therefore important that you remember you ID and password correctly and always use the correct credentials for logging in.
If users cannot remember their User ID or password, they can have it reset by hopping on to a PC. From here users can follow the steps exactly mentioned as on "Issue 4: Incorrect Log-In credentials" in this article.
---
How to Fix Starz website not working ?
The official Starz website may sometimes stop working due to issues with Starz's server or incompatibility with your web browser.
Provided that you have a stable and fast internet connection and your cookies and cache are cleared, there should not be any other reason why the site should not be working.
We can however think of two other reason as to why Starz could stop working and are as follows:
Server Down
In case of issues with servers from the service provider's end, not much can be done by the user. User will basically have to wait until things get back in working order.
If users wish to confirm whether there is any issues with the user they can head to Downdetector to check if other users are facing similar problem with their account.
Servers can be down due to routine maintenance services as well.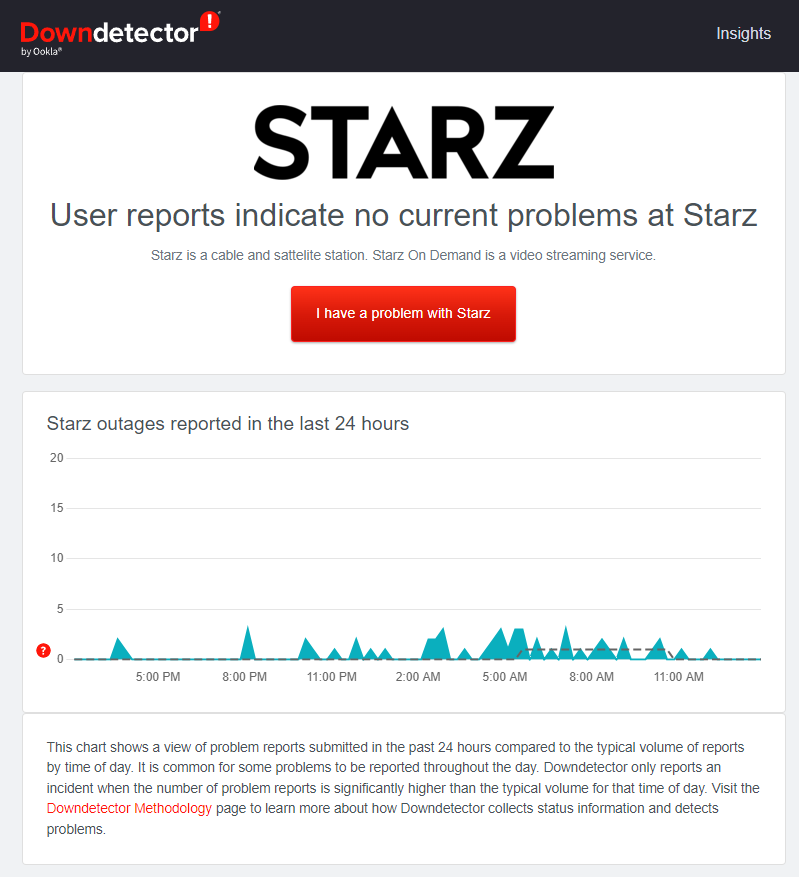 After servers are restored back to working order, users just need to use the site or app as usual. Nothing new has to be done from the end users side.
---
Incompatible Browser
There are many browsers out that users can choose from to access different sites from.
However, we advice using the ones recommended by Starz themselves. Incase, you are already using one of the recommended browser then you may want to switch to one of the other browsers recommended by Starz.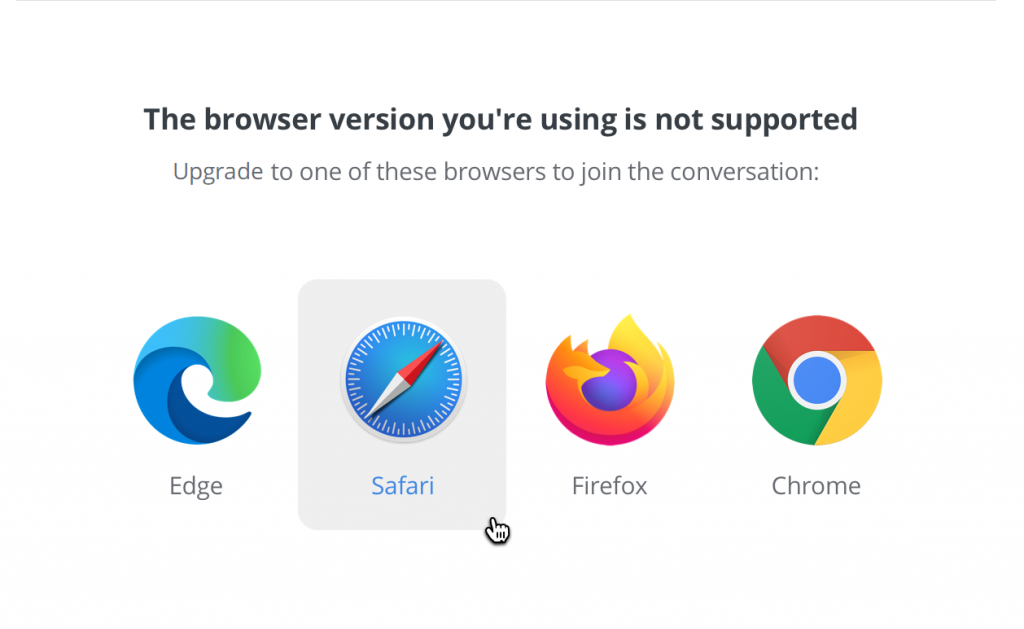 Also it is best to remember that an updated browser in essential and that certain issues can particularly affect certain browsers only.
Checking out whether the same problem persists on another browser is a good way to determine if the problem is isolated to you or affecting others as well.
---
FAQs
Q1. Does Starz run ads?
Ans: No, as Starz is a premium cable and streaming service it does not run any ads anywhere on their site.
Q2. How many devices can Starz be used on simultaneously?
Ans: Starz can be used on up to 4 devices simultaneously.
---
Final Words
Issues with your browser on your PC and Smart TV are pretty common. This issues can affect any streaming service, site or app and can continue to persist unless resolved properly.
We hope that this article has helped you resolve issues with your Starz account/app running on your PC and Smart TV.
We recommend you to keep this article bookmarked so that you can refer to it if problems reoccur again in the future.
---
Further Reading:
Can I Use the Starz App with Amazon Prime
How to retrieve deleted messages on Instagram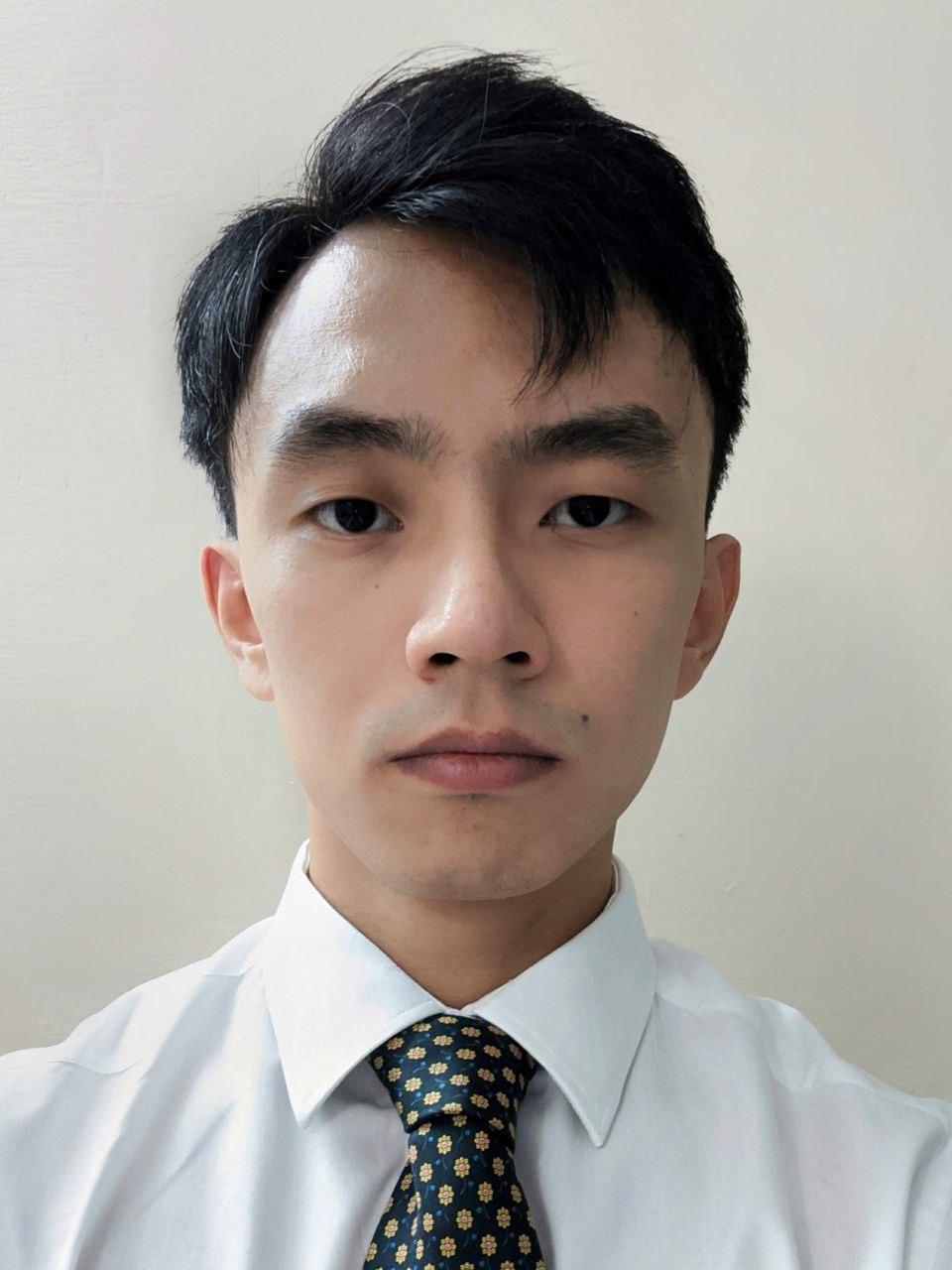 A perennial tech-head with a knack for words, sneakers and fast cars. Likes to be in the know, of anything upcoming and cutting edge. Will probably sit down and talk to anyone over a cup of coffee. The coffee has to be good.