Kodi, as we have mentioned a lot of times, is one of the best media player software for TV. One of the prime reasons for its popularity is because of add ons and ReleaseBB is one of them. For a specific task or set of tasks, you can find an add on available. So, in this way, you can select your set of add ons and thereby customize your viewing experience on Kodi.
All that is fine. But, sometimes even Kodi gets into trouble. It can be some issues in certain add ons, device-specific problems, or some others. Anyway, in this article, we will have a look at the recent issue. In recent times, many users are reporting the issues related to ReleaseBB. So, let's take a look at the actual reason that caused the issue and shall also address some solutions.
ReleaseBB Kodi add-on not working:
First of all, for those who do not know, ReleaseBB is an add on for Kodi that lets you watch TV shows and movies. ReleaseBB has a really good library of TV shows and movies. Also, it comes with features like up to 4K streaming, support for Bluray, CAM, DVD screener, etc. Even you get a good list of recommendations to watch that is based on your history. Last but not the least, you get a supportive GitHub help platform that is present to answer all of your queries and questions.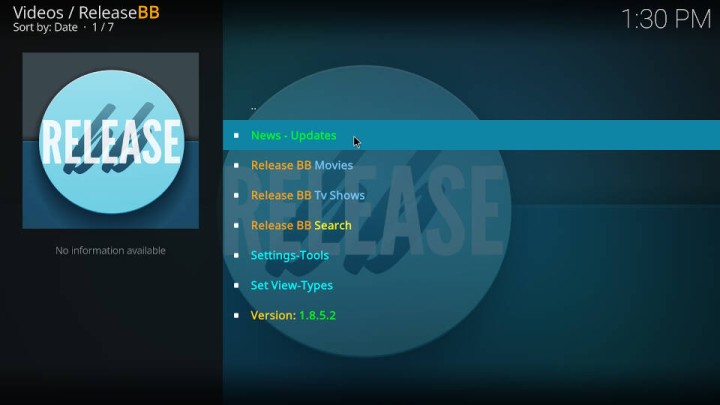 Despite all the bells and whistles, right now, the scenario of ReleaseBB is not well. It is because, in the past few days, many users are reporting some or other issues. And one of the most encountered issues is that you get an error message called "Index Error: list index out of range"...Error Type: < 'exceptions.IndexError'>. To make things even worse, now the new users or the one who is trying to install this add-on, it fails in either way.
So, first of all, one of the ways can be that you can try for different domains in the add on. But even here, the proxybb.com seems to be down. In that case, you can go with rlsbb.unblockit.dev and hope it works. Another possible solution can be that visit the GitHub repository of ReleaseBB and check for any latest update. If you get the update working on your device, then it will be great.
Last of all these, if none of them worked fine for your case, is to replace it. Yes, it is really hard to replace such a great add on with any other options out there. But, you are obliged and there is no other potential option available. There are many add ons, but Shadow add on is what you should look for. As one of the developers, Bugatsinho has recommended it. So, it should be really fine.
---
Conclusion: 
That being said, it would be really appreciable if we get to see the stable release update of ReleaseBB soon. Also, if any of your fellow viewers are facing the issue then make sure to share it with them. Also, have a look at the dedicated page for Kodi at our website here for more information.