If your Instagram faces recognition not working you have landed on the right page.
Here, we have provided the reasons why it may happen and how to fix it.
So, let's get started.
Instagram is always monitoring the actions that take place on your account. Instagram will request that you verify your identity if it discovers any unusual behavior on your account or if it is accessed from a source it is not familiar with.
This procedure can be finished by entering the password for your Instagram account or by providing the verification code that was sent to your telephone number.
However, Instagram will occasionally request a video selfie in order to confirm the user's identity. In the event that your Instagram account requires a video selfie as part of the authentication process.
Users have been claiming that Instagram's face recognition feature is not working for the past few days.
You may cure the Instagram video selfie verification problem by following the procedures that are listed below, and then you will be able to access your account again without any problems.
---
Why won't Instagram recognize my face?
Short answer: Instagram won't recognize your face if you have a bad Internet connection, use a third-party app, have a corrupted cache, are using an old version of Instagram, or Incorrect facial position
Instagram has added a new security measure to its platform to protect it from automated accounts and bots attempting to influence the site. This functionality has been available since the year 2020.
Instagram has begun requesting identity verification from its users if the firm suspects "possible inauthentic activity" on their part. However, the function was first released in 2020, but it wasn't until a few months ago that it began affecting thousands of accounts.
Almost daily, hundreds of user accounts were impacted by this issue. To begin, the selfie video verification process will only be available through the mobile app version of Instagram. Opening it in the browser will prompt you to confirm your information on the app before you can use it.
However, there are some circumstances in which the video selfie verification will not recognize your face. The following are a few of the reasons why this may occur:
Reason 1 – Poor Internet connection
One of the main reasons you are receiving this error is that your internet connection is too weak. With a poor connection, Instagram won't be able to send and receive data from its server, rendering the app inoperable. Rebooting your network connection is one possible solution to try.
---
Reason 2 – Use a third-party app
It's likely that Instagram may mark your account as suspicious if you've been using a third-party app to log in on a regular basis.
This is because Instagram places restrictions on the functionality of other apps. You should stop using that external software immediately.
---
Reason 3 – Corrupted data
It is possible that Instagram won't load correctly on your smartphone if it has corrupted data. This is yet another primary explanation for why this may occur.
The reason is, that corruption of this sort increases the likelihood that a cache problem. Because of the glitch, your phone's facial recognition feature won't be able to access any extra data.
---
Reason 4 – Outdated app
When a program is not kept up to date, there is an increased risk that bugs may try to cause disruptions in its operation. As a result, you need to check that the most recent updates have been installed on your system.
---
Reason 5 – Incorrect facial position
This mistake might have been caused by the wrong face posture you were using for Instagram face recognition. Position your face in the circle on Instagram to solve the problem.
---
How to Fix Instagram face recognition not working
People have reported seeing the error message "Issue loading video" or "Oops, an error occurred." if they try to post facial recognition selfies to the app via their device's camera. The procedures necessary to fix Instagram's broken facial recognition feature are outlined in the following paragraphs.
Method 1 – Restart the phone
In the event that facial recognition malfunctions when you launch the Instagram app on your mobile device, you should first try restarting your device.
This is fundamental technological knowledge that may be used in problem diagnosis. Put it to the test, and it will almost probably pass.
After rebooting your device, use the Instagram app to verify that the issue has been resolved.
---
Method 2 – Use another device
The second option is to perform the video selfie verification using a different smartphone. You are unable to utilize your own smartphone to complete the video selfie if you receive an error message throughout the process.
The message "Oops, an error happened," a blank/white/black screen, or the application crashing are all examples of errors. In the event that you are unable to continue with the video selfie, you will need to utilize the device of another person.
It may be an iPhone, or it could be an Android smartphone. When you finally get your hands on any other gadget, the first thing you need to do is log in to your Instagram account using it.
Then, make sure the device is at eye level and follow the directions that appear on the screen. This involves looking to the left, the right, and also above. After you're done, touch on "Upload" to submit your video selfie. If everything goes according to plan, you will immediately be signed in to your Instagram account.
---
Method 3 – Uninstall-Reinstall Instagram account
It's possible that removing the Instagram app from your device seems like a no-brainer to you. If you delete the Instagram app from your smartphone, wait a few days, and then reinstall it, you have a better chance of bypassing the video verification that is required to use the Instagram app. This is in comparison to the other solutions that are available.
If there is any damaged cached app data on the device, uninstalling the app will remove those files, and then reinstalling the app will make new, clean copies of those files.
After temporarily deleting the Instagram app from their smartphone, a small number of users have reported that they were able to successfully log in to their individual Instagram accounts. These users have shared their experiences on Twitter and YouTube.
It is unknown how many hours will pass before you will be able to download the software once more. It often takes this procedure three days to be effective, but there is a chance that it will work after only waiting for twenty-four hours.
---
Method 4 – Enable face recognition on Facebook
If you have a Facebook account, it may be possible for you to fix the video verification problem on Instagram by connecting the two accounts.
Facebook employs a technique called Face Recognition to determine whether images contain multiple versions of the same person by comparing the features of their faces to those of other people's faces.
To be more specific, not for the purpose of identification verifications. However, in order for this strategy to work properly, your Instagram account has to be linked to your Facebook profile.
To activate Face Recognition on your Facebook account, follow these steps:
Step 1- Start the Facebook app on the device you're using.
Step 2– To access the menu, select the "Hamburger icon " (also known as the Menu icon) located in the upper right corner.
Step 3– Click the "Settings & Privacy" button.
Step 4- After that, select "Settings " from the menu.
Step 5– Under the heading "Permissions," choose the "Face Recognition" option with your finger.
Step 6- To activate the Face Recognition function on your Facebook account, click the "Yes" button.
After you have finished the actions outlined above, you will need to uninstall and then reinstall Instagram. After that, revisit the video selfie verification process on Instagram by logging in with your credentials and starting over.
---
Method 5 – Clear Instagram app cache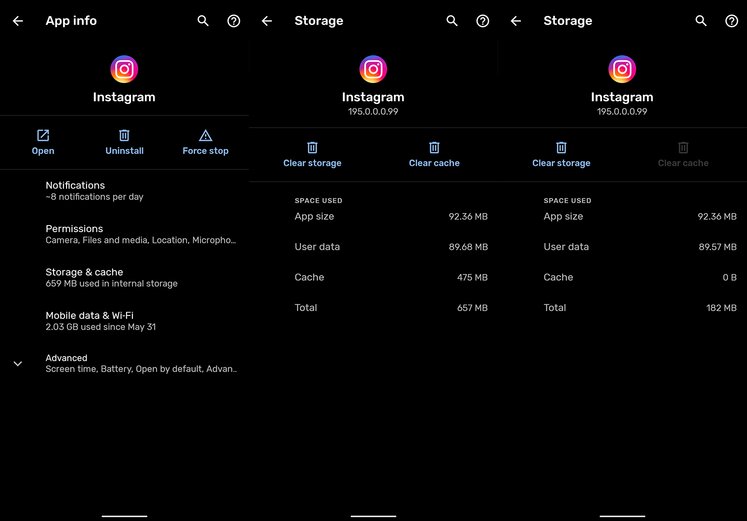 Please proceed through the actions outlined below to correct the video selfie verification problem on Instagram.
Step 1– Find the app called "Instagram" on your mobile device.
Step 2– Hold down the app's icon for a few seconds.
Step 3- To view the menu, use the I button. You will arrive at the page with information about the app once you have pressed the I icon.
Step 4- You will notice a number of different choices on the page. This encompasses terms such as "Notification," "Permissions," "Data use," and a great deal more.
Step 5– Simply go to the "Storage" tab by clicking on the word "Storage."
Step 6- Simply click the "Clear Cache" button.
You can go on to the following approach if the one that was just described to you did not allow you to access your account.
---
Method 6 – Contact Instagram support
If you've tried everything and nothing has worked, you may get in touch with Instagram's customer care to report the problem you're having with the app.
---
Final Words
Instagram distinguishes between actual users and bot users by having them submit a video selfie for verification. Anyone who is requested to prove their identity before accessing their Instagram account is required to do so.
However, on occasion, the verification procedure is unable to successfully validate a real user because of certain technological difficulties. In situations like these, the solutions that were shown should be sufficient to get around the verification mistake.
---
Further Reading:
Why does Instagram not show when last active
How to Fix Instagram white screen [7 ways]
Couldn't refresh my feed on Instagram am I blocked?
[10 Fixes] : Instagram activity feed not loading 
Technical writer and avid fan of cutting-edge gadgetry, Abhishek has authored works on the subject of Android & iOS. He's a talented writer who can make almost any topic interesting while helping his viewers with tech-related guides is his passion. In his spare time, he goes camping and hiking adventures.