Has fuboTV ever caught your attention? Are you familiar with its basic features? Uncertain, right? Nothing to worry about. The purpose of this article is to introduce you to many new things about "What Is Fubo TV". So, shall we begin? Certainly, we should.
---
What Is Fubo TV?
FuboTV is an American streaming television serving its service across several countries, for instance, the United States, Canada, and Spain, focusing primarily on live sports channels.
The app launched on 1 January 2015 as a soccer streaming service. Initially, FuboTV provided an all-sports service and subsequently adapted a virtual multichannel distributor model. FuboTV has a menu of the top cable channels and sports networks for a similar price compared to other services.
Research says the initial price of the service is $65 per month. Subscribers gain access to more than 90 prominent broadcast and cable channels with fuboTV.
There is no need for any cable box to operate fuboTV. You can directly stream content either live or on-demand from any device you are comfortable with.
The Starter package of FuboTV offers a variety of sports content for the sports freaks (most likely to incorporate you in their team) in your household. One should not disregard that fuboTV is not one-dimensional. It focuses on providing an assortment of non-sports channels too. 
They also provide "Pro" and "Elite" tier subscriptions to the ones who desire to watch more. Hence, it costs a bit more than the usual package ($70-$80 per month).
Here's the list of a few channels you will get to watch on fuboTV:
It has ABC*, CBS*, FOX* and NBC* as well as AMC, MTV, VH1, SHOWTIME, HGTV, MSNBC, FX, USA, Comedy Central, A&E, Food Network, E!, Discovery Channel, Lifetime and Disney Channel among other sports channels like BeIN Sports, Golf Channel, NFL Network, and ESPN.
---
How Does Fubo Tv Work?
You must have a stable internet connection to use fuboTV because it works over the internet like other online streaming services. Follow the steps mentioned to get started with fuboTV and get access to every exclusive plan.
Step-1: Navigate to the FuboTV website > Scroll down to "Which plan is right for you?" > Click "Start free trial."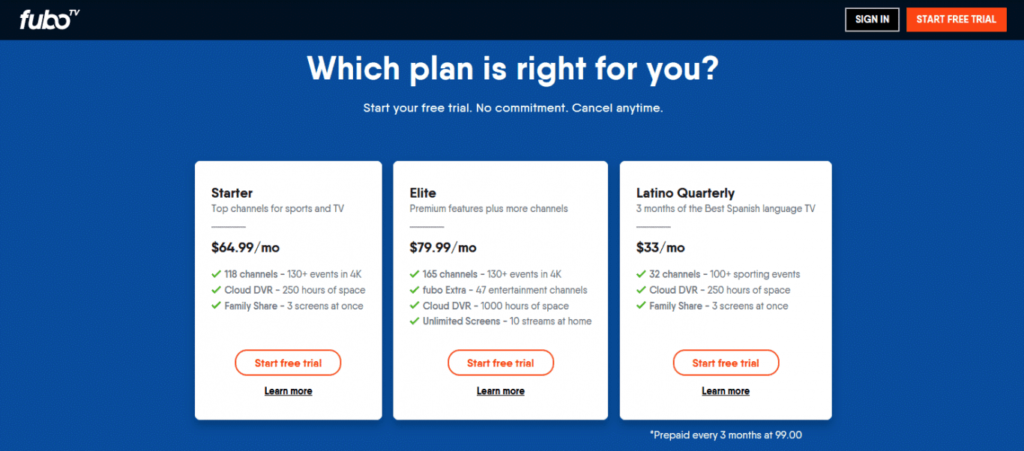 ---
Step-2: Create an account on fuboTV with the help of your email address > Verify your zip code and click on "CONTINUE."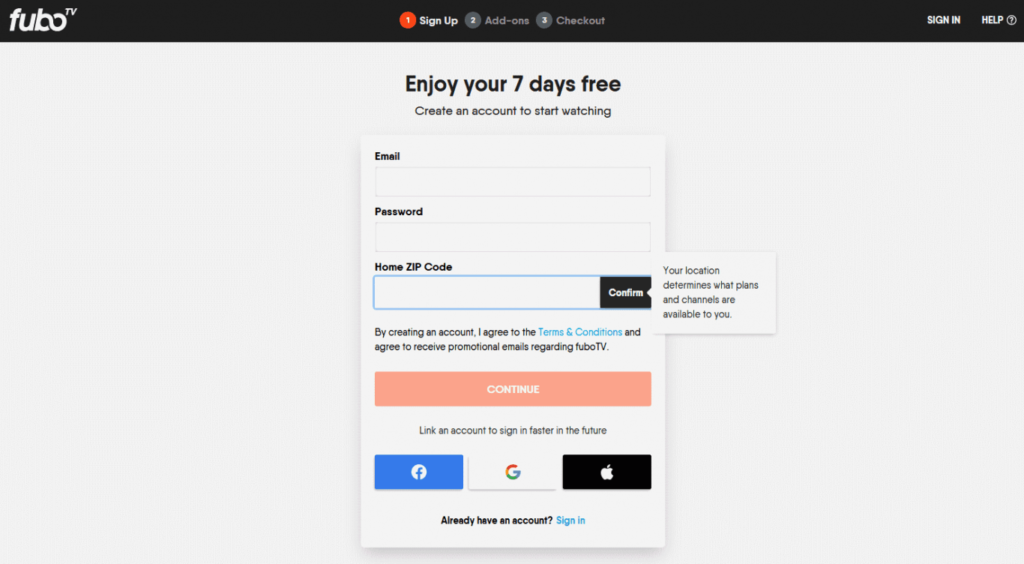 ---
Step-3: In order to verify, FuboTV will send a 6-digit code to your email address. Enter the code and click "Submit."


---
Step-4: Select from a variety of plans based on what interests you. I will attach a picture below for you guys. Go through the plans that interest you and then proceed further.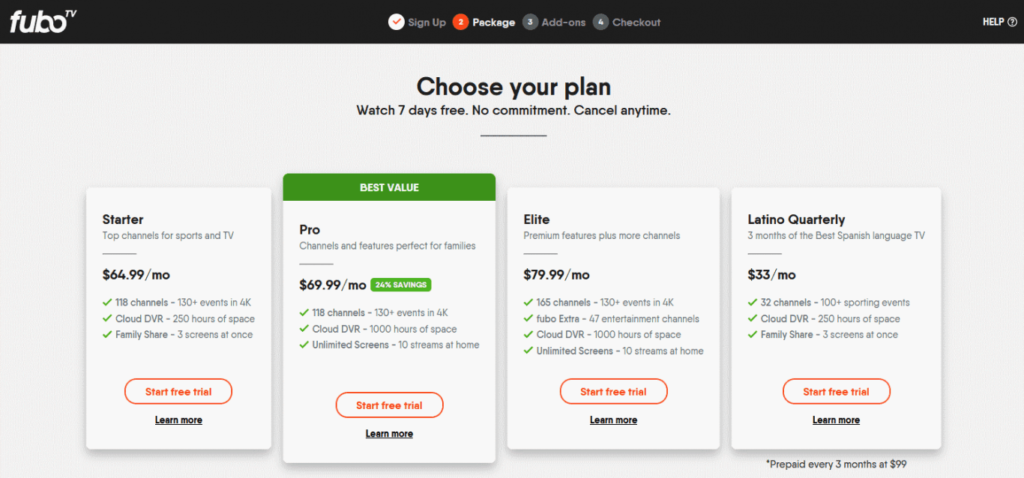 ---
Step-5: Then, choose how you want to pay. Either quarterly or monthly.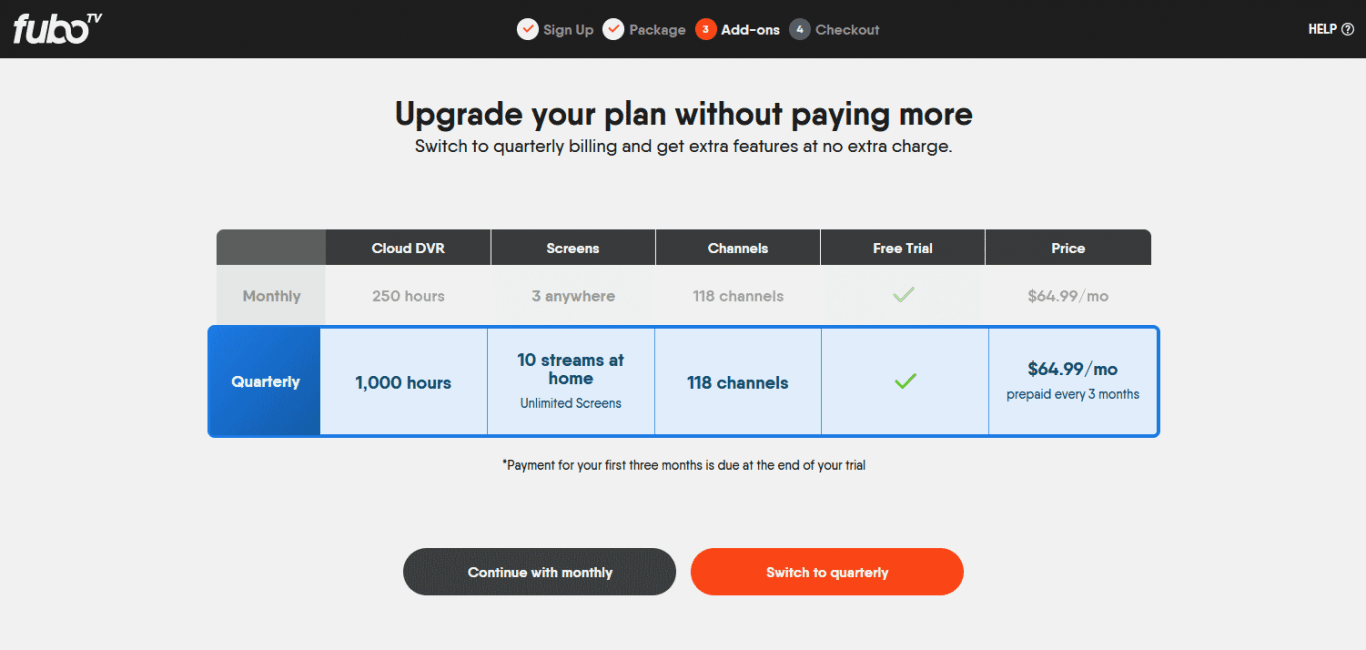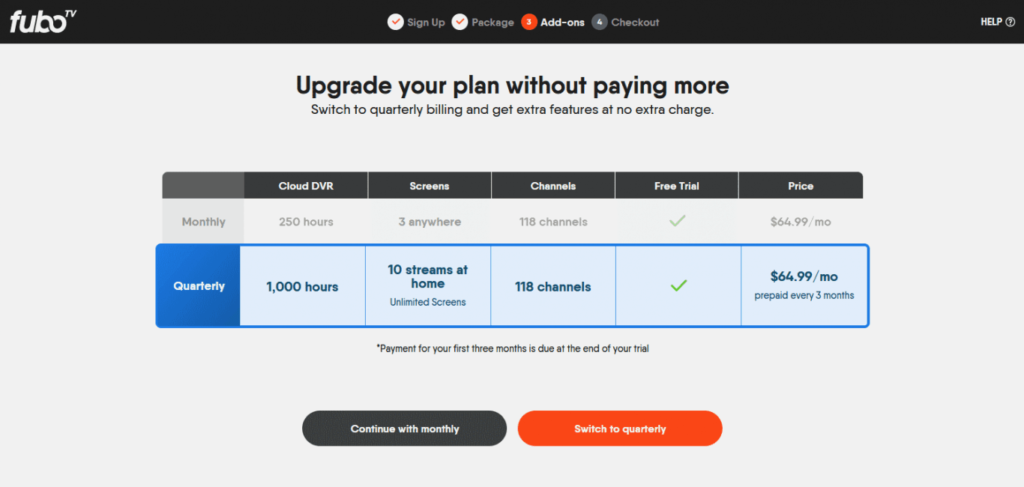 ---
Step-6: Next, you will be offered add-ons to purchase with the subscription (just like the toppings you choose while ordering a pizza). When finished, click "CONTINUE TO LAST STEP."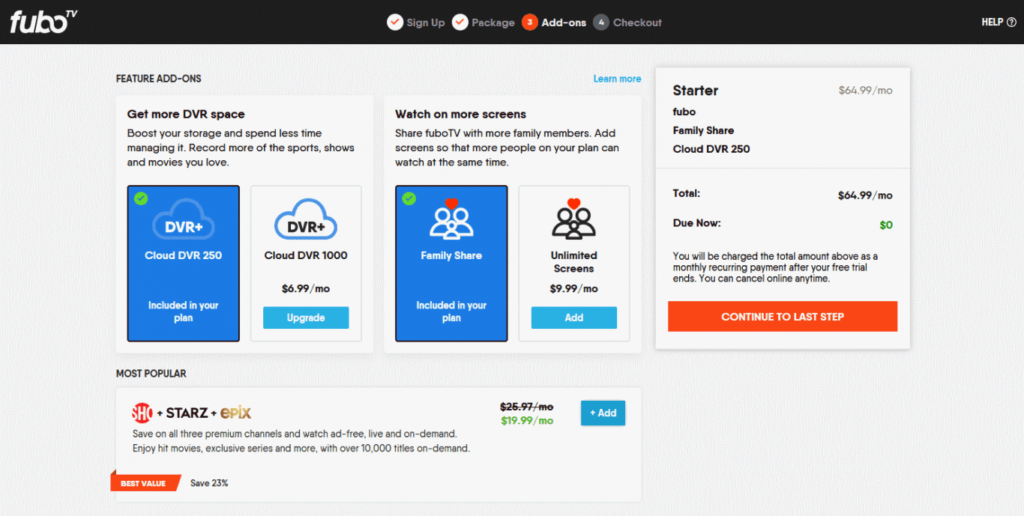 ---
Step-7: In the end, enter your payment details and click "START WATCHING FUBOTV."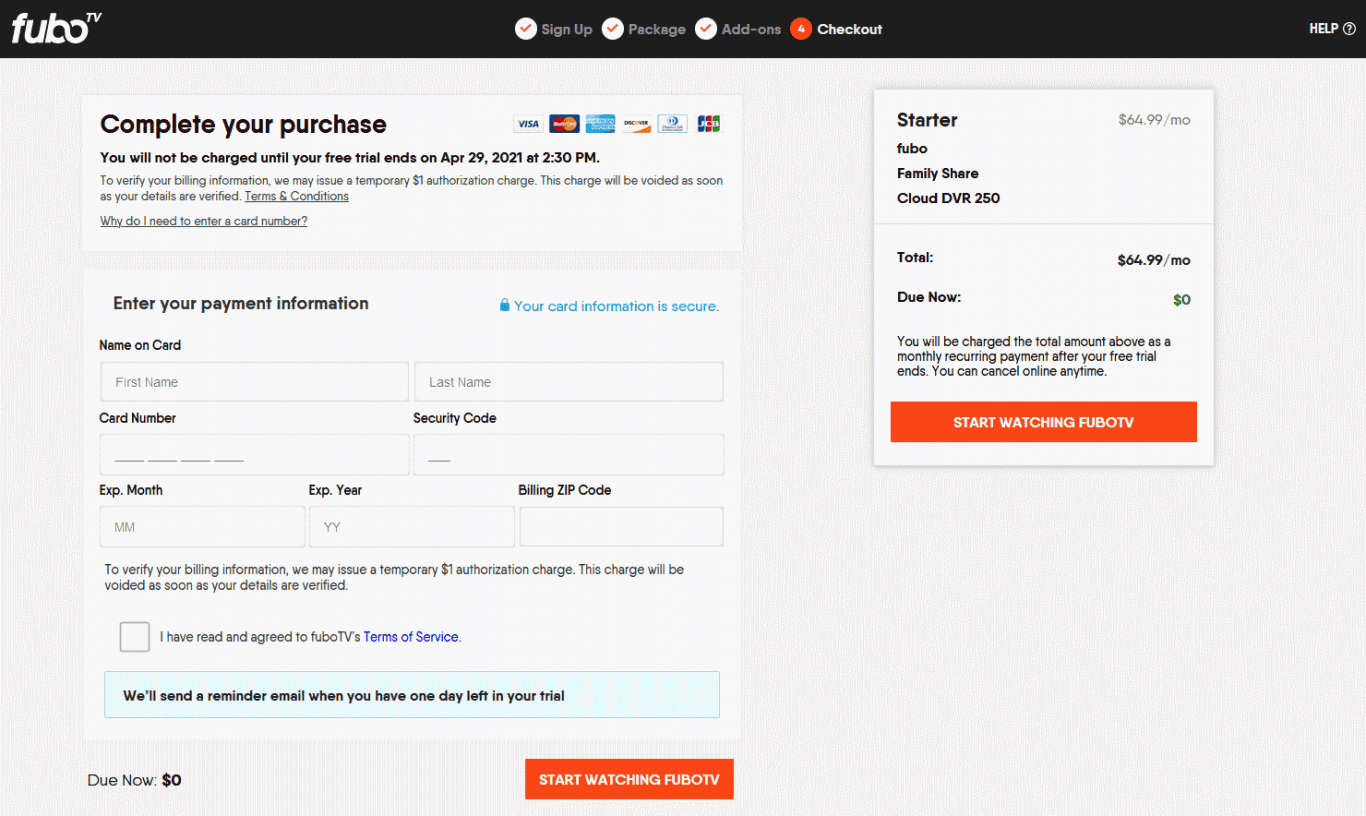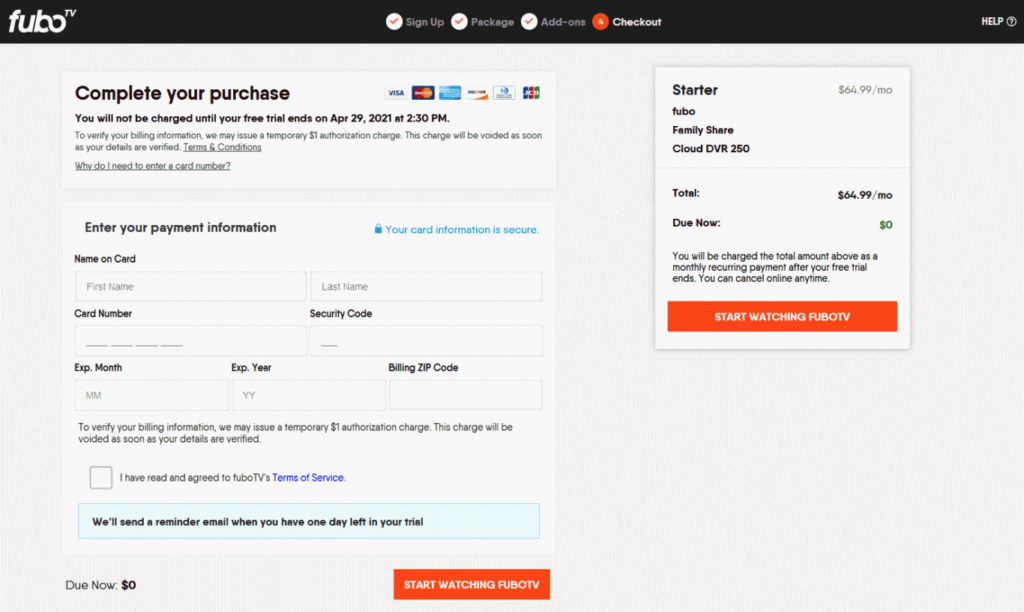 Enjoy "All Yours" fuboTV. You can cancel your subscription at any time you wish to.
---
Can you get FUBO on PS4, PS5?
The answer is a big fat NO! fuboTV isn't available on any of the PS (PlayStation). The PS4 is an amazing chunk of kit capable of many things, but Sony is very strategic regarding the software allowed on its hardware. Hence, PS4 is a delight for gamers.
There's one thing you need to know that Sony provides its TV streaming platform, and the company would possibly want you to subscribe to its aptly named PlayStation Vue service (now discontinued) before anything else.
Talking about the PS5! Unfortunately, FuboTV is not available on PlayStation 5 too. Apparently, now that Sony has shut down PlayStation Vue, that should be less of a problem, but we've still spent 2020 without FuboTV being available on PlayStation.
Also, there is no other way to sideload unsupported apps on any PS. Consequently, PS4 and PS5 lovers are out of luck as of now. 
---
FuboTV supported devices
FuboTV is currently available on various platforms, including Streaming devices, Web browsers, Smart TVs, Mobile devices, and much more! Check below to know more about compatible devices.
Web browser: most web browsers on PC, Mac, and Linux. 
Android: any version from 5.0 (released late 2014) onward.
Android TV: For instance, Sony, Sharp, TCL. The device must have Android OS 5.0 (Lollipop) or higher.
iOS: 
iPhone 6s or newer

iPad (iPadOS 13.1 or higher)

iPad Pro

iPad Air 2 or newer

iPad 5th gen or newer

iPad Mini 4 or newer

iPod Touch Gen 7 or newer

iOS v13.0 or higher
Chromecast: Ultra and 2nd gen or newer (late 2015).
TVs with Google Cast built-in:

Vizio SmartCast 3.0 TVs (AirPlay not supported)
Apple TV: 4th generation (late 2015) and later including tvOS 13 and beyond. 
Hisense: VIDAA Smart OS enabled TVs
Samsung Smart TV: 2015 and the newer ones. 
Xbox One: Xbox One, Xbox One S, Xbox One X 
Roku: supports all models but with limitations for units before 3700 (Oct 2016). 
Amazon Fire TV: supports all Fire TV devices and FireTV editions with Fire TV built-in.
---
Final Words
In the end, I would like to conclude the whole article by summing up all the major highlighted points to give you an idea of the topic "What Is Fubo TV" if you have directly jumped onto the conclusion (I'll suggest not to, but it's up to you). 
FuboTV is the world's best and the only sports-focused live TV streaming service with top leagues and teams, plus popular shows, movies, and news for its users.
You should have a stable internet connection to use fuboTV because it only works over the internet like others. You just need to complete a few steps in order to get access to fuboTV (refer to above).
We have also tried to enlist a few channels and devices compatible with fuboTV (again, refer to above). Then comes a question that can you get fuboTV on PS4 & PS5? The answer is NO! you cannot.
Just go through the article carefully once and get a brief solution to all your questions in a minute or two.
Hope you liked it and now you know "What Is Fubo TV"? Thank You!
---
Further Reading:
Can you watch Fubo on multiple TVs?
[2022] Can I share my Fubo TV account?
Can I cancel Fubo TV after free trial?
How to Fix FUBO TV when it keeps buffering (2022)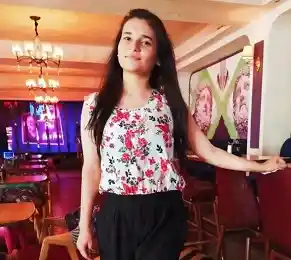 Sakshi is a Terpsichorean (dancing all her stress out), she always had a keen interest in writing creative content since her school days. Basically, balance & short-term goals are something she looks forward to. She's a big time foodie yet a fitness freak pursuing this job to fulfill her day-to-day needs.
---
Stay connected with us for the latest updates! Follow us on Telegram and Twitter to join our vibrant community and never miss out on any exciting content."