One well-liked social networking app is Snapchat. However, it is normal for some concerns to surface occasionally. Users have noted a few issues, such as the Snapchat video call not connecting.
The Snapchat Company has previously addressed the problems that led to this one. However, if the error persists, your device may have an issue.
Here is a guide to help you fix the issue of Snapchat 'Call Failed To Connect'.
---
Why won't my Snapchat calls connect?
Short answer: Your Snapchat call failed to connect due to issues with the internet or Snapchat servers, Snapchat login failure, outdated version (both app or device), technical bugs or you might be blocked.
Snapchat has experienced some functioning issues lately. The issue reported was with the inbox messages or, say, chatting texts and snaps sent by the users.
These features were not working, and these minor bugs were fixed, but a new bug appeared: Snapchat video calls are not connecting or, say, failed to connect.
Many users complained that their Snapchat video calls were not working. However, the company had already been aware of the issue and tweeted that they were rectifying it. 
Nevertheless, some customers continue to receive the "Call Failed to Connect" error. This error will pop up multiple times if the user tries to engage in a video call.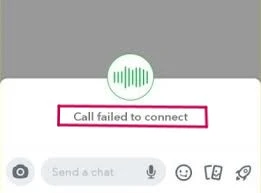 Another issue some users reported was that the Snapchat video call sound was not working. The other person was unable to hear them as they spoke.
---
Common Reasons for Snapchat Call Failures
Discover why your Snapchat calls have failed with this helpful list. Understanding the cause of the issue is the first step toward a successful call.
Lost Internet Connectivity
Snapchat Application Glitches
Snapchat Login Failure
Network Congestion/Server Issue
Old Version of Snapchat
Your friend removed or blocked you
Lacks Device Compatibility
Now, these issues are connectedness concerns. However, most people who encounter these issues have a strong internet connection. 
It might be a flaw in the program that only manifests itself after the Snapchat video calls are turned on.
Technical issues with your mobile device or internet network are another potential source of these errors. Like this old version, login failures might cause Snapchat video calls to fail to connect. 
We want to assist you in solving the issue with your application. In this manner, you can use the app's capabilities again and communicate with your loved ones.
---
Fix: Snapchat 'Call Failed To Connect'
As we mentioned, it is thought that problems in the Snapchat app—which the developer needs to fix—are the primary source of the problem. However, it is also possible that your device or internet connection may be having some problems.
We want to assist you in solving the issue. As a result, we have prepared the following extensive instructions on how to address the potential causes of this error:
Fix#1:
 Check your Internet Connection
Although it may seem intuitive, your Wi-Fi connection might go broken at inconvenient times. The failure of your data connection or Flight mode ON is another Reason. 
It would help if you verified that the internet connection on your network is active. If your internet connection is slow, you may still encounter errors despite being connected. This is usually due to an expired connection.
To fix this, you can Go to your settings and select your preferred Wi-Fi or mobile data settings from the menu. Also, restart your mobile data or switch to a better Network for a more stable connection.
---
Fix#2:
 Log into Your account again and clear the cache.
Let's start with the most straightforward solutions first. We'll explore alternatives before diving in. Sometimes, application data gets stored in cache memory, which can cause problems like Snapchat video calls not working.
Follow these steps:
Step 1:

 Open your Snapchat Application and

 log into

 your Snapchat Account.

Step 2:

 Open Application 

Settings

.

Step 3:

 Scroll Down, and in the Account Actions section, Click on 

Clear Cache.

Step 4:

 A pop-up Will appear. Click On 

Continue

.
---
Fix#3:
 Snapchat should be updated.
If you are not using the most recent version, you may experience issues with the application. Likely, the Snapchat version you're using does not enable video calls.
It is a common problem that can be resolved by simply removing the existing application. Then, depending on your device
For Android
For IOS
Go to the 

App Store

and download the most recent version of the application.
If, like everyone else, you also have this query that if you uninstall Snapchat, your data will get lost. Read this piece to learn the truth.
---
Fix#4:
 Review the Snapchat application permissions on your device.
If you are using the Snapchat app, it requires a few permissions to access your camera and device audio. It is essential if you intend to use a Snapchat video call. If not, your Snapchat video calls will not function.
To resolve this:
Step 1: Launch the Snapchat app.
Step 2: Go to the Settings page.
Step 3: Scroll down the Account Actions section until you locate the "Permissions" selection.
Step 4: Allow Snapchat permissions from there.
Step 5: Make sure that Microphone and Camera permissions are enabled.
---
Fix#5: Your Friend Has Removed/Blocked You
If the problem with Snapchat video calls only occurs with one person, the other person has most likely removed you from his friend list (or blocked) you. If this happens, you will see the phone ringing display while dialing, but your video call will not connect.
To reconnect via video calls again, request your pal to unblock you and re-add you on Snapchat.
---
Fix#6: Disable VPN connection
If you are also one of those people who use a VPN for securing privacy or other matters, maybe it's your VPN that's causing failed Snapchat call
You need to turn off your VPN connection. If you are using any external VPN app, launch it and turn it off.
If you are in a built VPN connection, go to settings, search for VPN, and turn it off.
---
Fix#7: Log out and Log in again
This is the simplest yet most ignored solution to almost every problem that occurs while using any application
log out of your Snapchat account from the application or browser and try logging in again.
---
Fix#8: Reinstall the Snapchat App
Sometimes, as said before, the problem isn't from the company's side, but instead, it's the application that's installed on your device.
It collects and stores data for a smoother user experience that might sometimes not work in favor of the application as well as the user; some bugs don't allow the application to update, so that's why you should uninstall it and reinstall it again from play store, app store or it's the official website.
---
Fix#9: Contact Snapchat Support
Up until this point, I have mentioned all the potential reasons and their solutions that you, as a user, can solve. However, even after this error still occurs, the best solution is to contact Snapchat support.
Here are the steps to contact Snapchat support:
Step 1: Launch the application.
Step 2: Go to settings.
Step 3: Scroll down until you see the Support section.
Step 4: Click on "I Need Help."
Step 5: Search for your problem.
Step 6: Get official support.
Sometimes, an issue with Snapchat occurs: people can't set or update their email addresses. I recommend you to read about it too Here.
---
SEE ALSO:
---
Conclusion:
In conclusion, we hope our guide has helped resolve any difficulties you may have had with your Snapchat video calls. We understand the importance of staying connected with your friends and family and are glad to have assisted you. 
Following our step-by-step instructions, you can enjoy uninterrupted video calls on Snapchat. If you have any further questions or concerns, don't hesitate to contact us anytime.
For more such content, check out our "See Also" and "Social Media" Sections. Thank you!
Hey there! I'm a skilled and dedicated content writer with a special gift for crafting well-researched and compelling stories. I take great pride in producing high-quality content that informs, educates, and entertains readers. I'm always striving to leave a lasting impact on my writing.