Microsoft Outlook most widely used by people for professional use has emerged to be one of the most prominent and secure email apps available. Through Microsoft Outlook, you can send emails, create vents on the calendar, and other task services. Microsoft Outlook was launched on July 31, 2012, and is owned by Microsoft Corporation.
There are over 400 million users worldwide on Outlook along with that outlook is available in 106 languages making it more accessible to users of all nationalities. Through Outlook you can send and get email messages, deal with your schedule, store names of your contacts, and track your errands. Outlook has become a generalized app that serves all purposes, not only is it used to send mails but also comes in handy in other departments as well.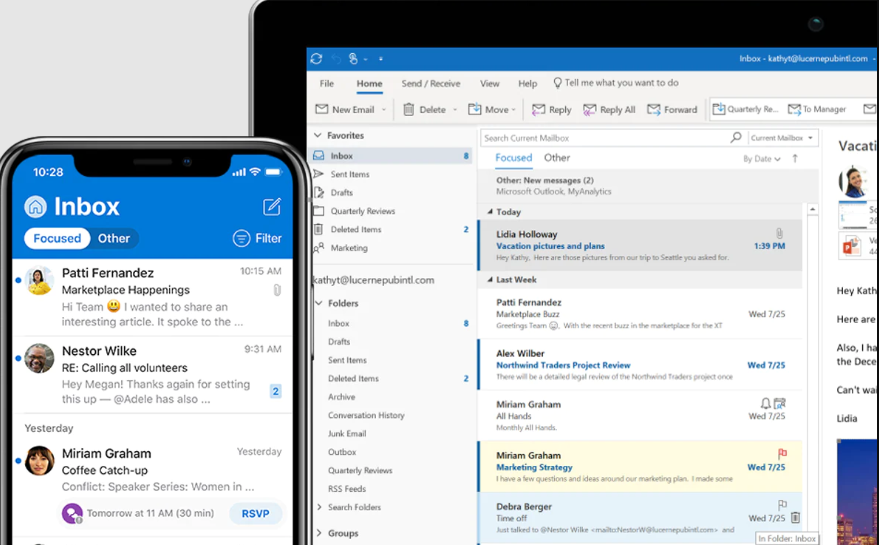 If you have a meeting or any event scheduled on Outlook, then Outlook will remind you about a certain manner and even a notification will pop up on your device to remind you to complete the task or to attend the event. You can't expect Outlook to automatically set up the tasks and events, you need to do it yourself, and while scheduling such things you can even set the date and time for it.
Outlook has a clean-up a folder that serves its purpose when you have multiple threads in your Inbox with dozens or even hundreds of messages in them? Chances are a lot of those messages are near-duplicates of one another. You've read them, you've responded to them, but you've never deleted them. You can use the Clean Up button to delete many of these messages, leaving only the messages that are unread or have unique information in them. By trying it you will be able to have fewer inbox messages.
Have you been facing issues with an encrypted connection to your mail server is not available in Outlook? Read on to learn: How to fix an encrypted connection to your mail server is not available Outlook?
---
Why can I not send encrypted emails in Outlook?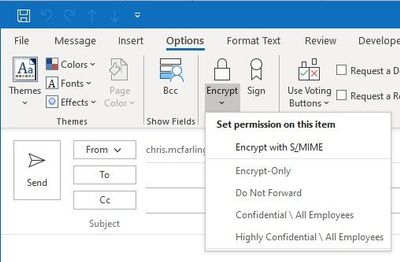 As we all are familiarly with encrypting an email message in Outlook means it's converted from readable plain text into scrambled ciphertext. Only the recipient who has the private key that matches the public key used to encrypt the message can decipher the message for reading. Encrypting feature has to be enabled on outlook just so that you don't face issues such as an encrypted connection to your mail server is not available in Outlook.
Often times, when people are using the older version of the app that still has glitches and has the old features, using features such as encrypted emails on Outlook, can be hampered. The new Outlook app or software launched by the company has the new features and is more compatible with the devices so through that having an older outdated app hampers the functionality of the software itself.
Cache files exist to improve the user experience. On-page elements like images, videos, and even text take some time to load. Cache files are known to enhance the user experience and even assist in making the software or app function properly so that you don't run into issues such as an encrypted connection to your mail server are not available in Outlook. When cache files get corrupted it can hamper your experience with the app and even cause you to face numerous issues while using the app.
It is common knowledge that Microsoft being one of the widely used tools on any device has shaped the way of mankind but there can be issues with the Microsoft server at times. When the server is down due to a malfunction then it can lead up to issues while sending encrypted emails on outlook as when the server is done you are unable to navigate through the software properly.
---
How to fix an encrypted connection to your mail server is not available in outlook?
As mentioned earlier there are numerous factors that affect the encrypted connection to your mail server is not available in outlook. You can resolve such issues by going ahead and enabling the encrypted mail feature, clearing the app or software cache on your device, and many more. Below there are a few methods listed to solve the issue, you can go ahead and try them out.
Method 1: Enable the Encrypted mail feature
By encrypting the mail, you will be able to make an authentication process that prevents messages from being read by an unintended or unauthorized individual. Through this only, the person who is authorized to view the mail will be able to access it and no other individuals can view it, which comes in handy while dealing with confidential documents.
To enable the encrypted mail feature on Outlook:
Open Outlook.
Then locate the File tap and click on it.
Click on Options then on Trust center.
After that head to "Trust center settings".
Click the Email Security tab.
Click the "Encrypt Contents and Attachments for Outgoing Messages" check box.
Click "OK
After enabling the encrypted mail feature, you can go ahead and try to check whether the issue that you have been facing has been fixed or not.
Method 2: Clear Microsoft Outlook cache
Cache files are there to assist in making the app perform faster. When the cache file gets corrupted it leads to numerous issues. Having cache files that are corrupted it can lead to hampering the users' experience with the app.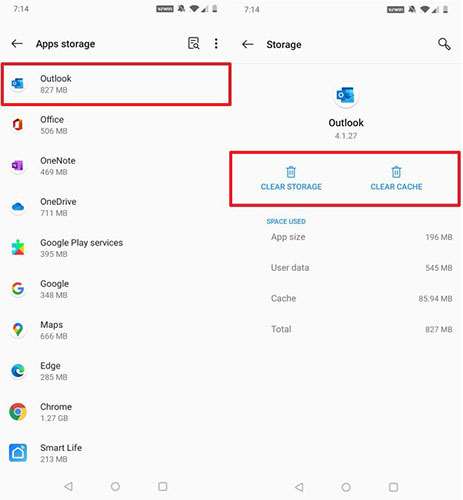 To clear cache for the Outlook app:
Locate settings on your device.
Head off to App Manager settings.
Navigate till you find Outlook.
After that tap on storage, then tap on "Clear cache".
To clear cache for the Outlook on PC:
Press Windows key+R.
In the Run dialog box, enter %caliphate%\Microsoft\Outlook and press Enter.
Double-click the Roam Cache folder to view the cache files. …
To delete the cache files, press and hold the Shift key while selecting all of the files.
After clearing the cache, you can go ahead and try to reopen Outlook again and try to send the encrypted mail to see whether the issue has been fixed or not.
Method 3: Update Outlook to a new version
Having an old version of the app installed on your device can be either smartphone or your Pc, the old version will have glitches and bugs that can lead you to face issues while using the app. By updating it o a newer version you will be able to access the new features without facing no issues.
To Update Outlook:
Head to the Play store on your device.
Then go ahead and search Outlook in the search box.
After that tap on the app and click on install.
After Outlook has been installed on your device, you need to go ahead and try to check whether the issue that you have been facing with the encrypted mail in Outlook has been fixed or not.
Method 4: Contact the Outlook Support Team
Often times when the server is down due to any sort of malfunction it not only imposes the user experience of you but also affects other people as well. So, when the server gets down certain features of the software or app start to act up and don't function as properly as they should.
You can go ahead and try to reach out to the Outlook support team to seek their assistance regarding this matter. Also, if the issue hasn't been fixed by following the above methods, then you can contact them as they will be happy to offer their help.
---
FAQs
Q1. Why is the outlook in safe mode?
Answer: If the program detects a problem at launch that prevents it from running, it will automatically turn to Safe Mode. This usually happens right after you install a new add-on that doesn't play well with your Outlook version.
Q2. My Outlook settings has been altered; how do I change it back to default?
Answer: Close the Microsoft Outlook, and open the Run dialog box by pressing the Win + R keys. 2. Enter the outlook.exe /clean views in the Open: box, and click the OK button. Then Microsoft Outlook opens by restoring the default views of all folders immediately.
---
Final Words
Outlook throughout its launch has provided excellent service to its users where they can avail numerous features and experience a professional environment that can be easily used and navigated about. Outlook has become one of the widely used platforms for emails in person as well as professional use.
Though sometimes issues can arise but they can be fixed by following the right method. We hope that this article helped you solve your issue. Do check out our other articles.
---
Further Reading:
[8 Steps] Fix Outlook inbox not showing all emails (2022)
(2022) How to Fix outlook Autodiscover not working