Bumble is one of the most famous dating apps out there, coming right after Tinder. With its unique system of letting female users initiate the conversation first in a heterosexual match, it has caught attention with its creativity.
However, getting unmatched on Bumble could be both unpleasant and troublesome for various reasons.
Here we discuss if unmatching on Bumble delete messages.
---
Does unmatching on Bumble delete messages
Short answer: Yes, unmatching on Bumble delete messages if you are the one who has unmatched. However, it will be greyed out for the users who have been unmatched.
Unmatching on Bumble can have a variable effect on your chat, depending on who unmatched whom.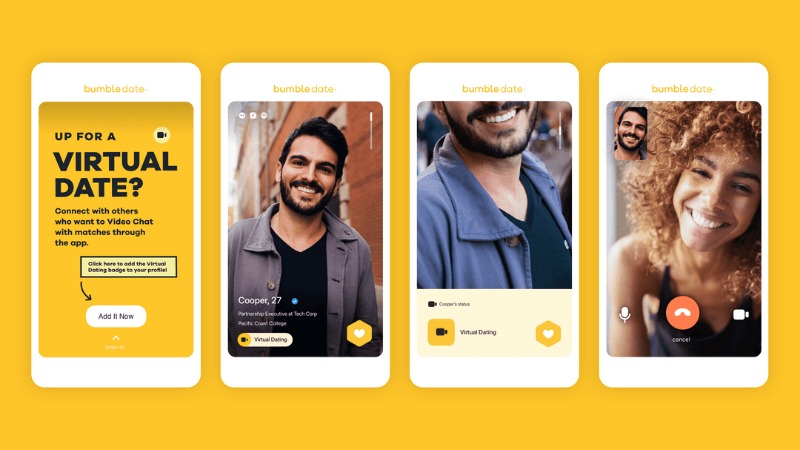 While previous Bumble apps had a different method, the later updates have introduced greyed-out chats and disappeared chat boxes to tackle the hacks and such issues. How exactly, you ask? We will explain that below.
‌If you have unmatched someone:
If you have unmatched someone on Bumble, which is not uncommon because of how people can turn out to be, then your match and chat box related to the concerned person would disappear.
You might have to close and reopen the app for it to take place, but it is usually real-time. Any chat or reaching out to the person afterward on Bumble through the chat is not possible afterward.
If you have been unmatched by someone:
If you were unmatched by someone on Bumble, instead of the chat box disappearing, it would be greyed out instead. You would not be able to message the person or contact them. However, several options such as reporting would be permissible.
The greyed-out chat box instead of a disappearing one ensures the safety of the person who is being unmatched. To avoid the incidents of a person committing scams, using fake profiles and abuse, and then unmatching, Bumble has decided to keep the previous chat available for the person.
This way, the chat can be reported by them if necessary and the Bumble team would consider the necessary action to be taken. Do keep in mind that unnecessarily reporting someone would have no effect and spam reporting various people without a specific reason might lead to a ban on Bumble as well.
---
How do I know if someone unmatched me on Bumble
‌As mentioned in the previous heading, knowing if someone unmatched you on Bumble is quite easy.
As you would be on the receiving side of unmatching on Bumble and using an up-to-date app, you would get a greyed-out chat box with the person who has unmatched you.
A greyed-out chat box stores the previous text and media messages in history but prevents the user from being able to communicate with the other person any further. This is quite helpful if someone has tried to scam/ abuse you and then unmatched.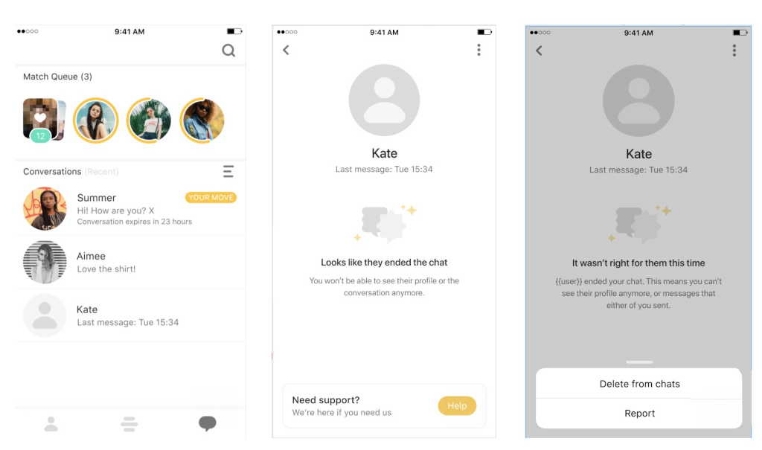 At times, the app would not gray out the chat box instantly when unmatched. If you are unable to reply to someone, or the messages being sent are not getting delivered, you might have to restart Bumble to confirm whether the person has unmatched you or not.
However, if the unmatching was done without any foul play from the other side, and you thought the chances of having a successful date were quite close, do not worry we have got a piece of good news for you!
---
If someone unmatched you on Bumble will they show up again
Unmatching on a dating site is quite common indeed. People can be impatient at times and even misunderstand the other person. In a digital environment, communicating with real feelings is tough.
If you reckon that you might have met your soulmate, we suggest going for the Backtrack option. While this option is only available to Bumble Boost and Bumble Premium users, it could be worthwhile if you have accidentally swiped left on the person and discarded the potential match.
As for the unmatched users, Bumble does ensure that the person does not come up on the list of potential matches again so finding them through the list is not possible.
We suggest that you delete the account and recreate it, to reset your list and hopefully find the person again. Do keep in mind that while this method is not illegal, Bumble does not take kindly to manipulating this method.
If you have tried deleting your account to make a new one more than five times in 60 days, you run the risk of getting banned permanently from the app on the credentials used. However, for a one-time issue, this might just work superb.
If you are considering getting the premium subscription or Boost for Bumble, the plans are:
A week of Bumble Boost costs $8.99, while a month of it would cost $16.99. Going for a three-month subscription means $33.99.  While these are not the best subscription packages out there compared to other companies, if you want the Backtrack and other features, it's worth it.
For the Bumble Premium, a week would cost $19.99 while a month is available for $39.99. A three-month subscription costs $76.99. Premium includes extra features such as travel and incognito mode.
You can check out the feature of both of these packages on the Bumble site by clicking here.
---
SEE ALSO:
Why Is My Conversation Disappeared On Bumble (4 Reasons)
Does Bumble Show When You Read A Message
Does '~ On Bumble 'Mean That User Has Not Opened App In A While
---
Final words:
In this article, we discussed whether unmatching on Bumble delete messages and how you can reach out to the person who was unmatched again.
While the solution was not a very easy one, as you risk losing your other chats, we hope it was worthwhile and that this article helped you find the one! If it did, check out Can Someone Find You on Bumble with Phone Number.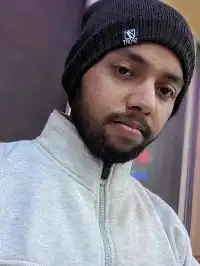 For someone who is a Medical School student, you certainly did not expect me to be here. But here I am, due to my fondness for technology, games and science. There is just something really sweet about technology that has helped in binding us together, so it is not surprising that I love to talk about it. And with the same technology, you could connect with me easily, so feel free to!
---
Stay connected with us for the latest updates! Follow us on Telegram and Twitter to join our vibrant community and never miss out on any exciting content."